The American elite Professional Basketball player Aaron Addison Gordon is the foremost performer for the Denver Nuggets of the National Basketball Association (NBA).
Aaron Gordon is a competent Basketball player who magnifies the game when the team needs him the most. He plays in a Small forward/Power forward position.
He began his career with Orlando Magic from 2014-2021. At present, he is in for Denver Nuggets. Additionally, he's also known for his stunning gameplay in the Slam Dunk Contest.
The Denver Nuggets look terrifying with the addition of Aaron Gordon to the team. He consistently hit the jackpot with his unreal shots and possession.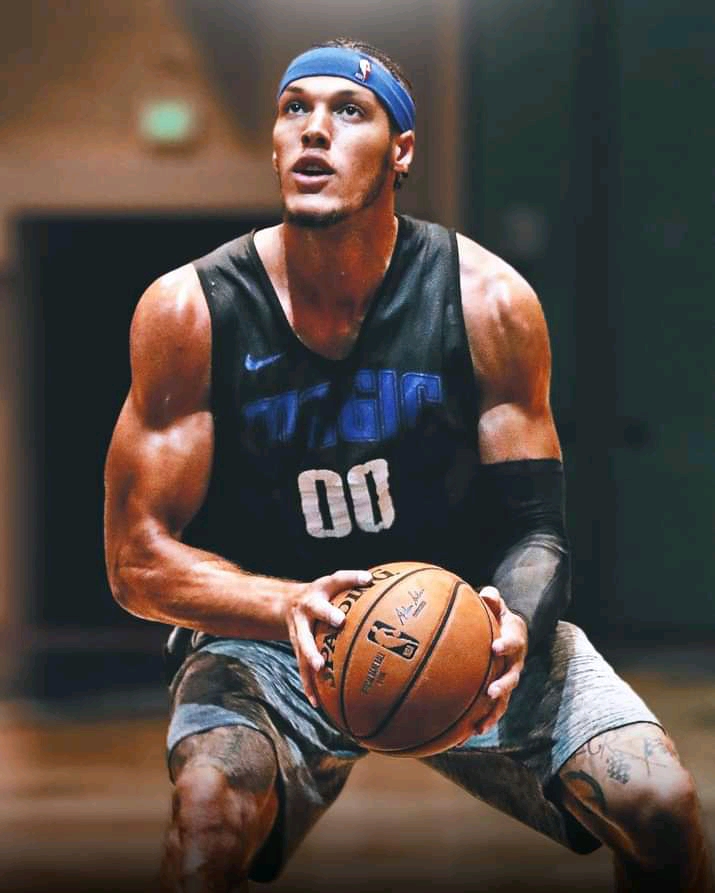 Aaron Addison Gordon is an intense Basketball player. He ceaselessly steals the show with his praiseful pass and versatile defensive technique.
An argument could be made, but he gave us the best dunk contest performance in 2016. His performance against the Brooklyn Nets in 2020 was one of his best achievements. However, his impact on the game has been incredibly stunning.
Everyone must be interested in knowing one of the best NBA players, Aaron Gordon, in better ways. However, this article will give you all the timely information about his career, life, records, family, and NBA history.
Before getting on further information, here are some quick facts about Aaron Gordon.
Quick Facts:
| | |
| --- | --- |
| Full Name | Aaron Gordon |
| Birth Date | September 16, 1995 |
| Birth Place | San Jose, California, United States |
| Nick Name | Aaron Addison Gordon |
| Religion | Not Available |
| Nationality | American |
| Ethnicity | Multiracial |
| Education | Archbishop Mitty High School |
| Horoscope | Virgo |
| Father's Name | Ed Gordon |
| Mother's Name | Shelly Davis |
| Siblings | A brother and a sister |
| Age | 27 Years Old |
| Height | 6 feet 8 inches |
| Weight | 107 Kilograms |
| Wingspan | 6-foot-7 |
| Hair Color | Dark Brown |
| Eye Color | Dark Brown |
| Body Type | Athletic |
| Profession | NBA Player |
| Professional Career Teams | Orlando Magic, Denver Nuggets |
| Draft Year | 2014 (Round: 1/Pick: 4) |
| Drafted By | Orlando Magic |
| Active Years in Basketball | 6 Years |
| Sexual Orientation | Straight |
| Marital Status | Unmarried |
| Girlfriend | Izabela Guedes |
| Kids | Not Available |
| Net Worth | $4 million |
| Salary | $18,000,0000 |
| Social Media | Twitter, Facebook, YouTube |
| Merch | Paperback |
| Last Update | June, 2023 |
Aaron Gordon | Early Life, Family & Childhood
Early Life
The professional Basketball player Aaron Gordon was born on September 16, 1995, in San Jose, California, United States. He is also known as Aaron Addison Gordon.
Gordon's father is Ed Gordon, and his mother's name is Shelly Davis Gordon. The NBA player also has a brother and a sister. His father is African-American, and his mother is of Caucasian ethnicity. Therefore, Aaron Gordon is biracial and refers to mixed ethnicity.
Ed Gordon is a former basketball star of San Diego State. His older brother, Drew too is a professional basketball player. Similarly, his sister Elisabeth used to play basketball for Harvard Women.
Gordon was born into a family that is very interested in sports. His brother and sister escorted him throughout his upbringing.
Aaron Gordon studied at Archbishop Mitty High School, in San Jose, California. He started his basketball journey right then and became competent in basketball from his early years.
He oversaw the victory at the Division ll state basketball championship in his Sophomore and junior seasons. Moreover, in 2013 he has titled the USA Basketball Male Athlete of the Year.
Basketball Career
College Career
On April 2, 2013, in a press conference, Aaron Gordon himself announced that he was committed to the University of Arizona. He went to college for a year that was from 2013-2014. He announced he would not finish his college career after being drafted into the NBA.
Also, read this article that may interest you Jerome Robinson Bio: Early Life, Basketball Career & Net Worth.
The decision was announced before the 2013 McDonald's All-American Game. His stunning performance led the team to taste a 110-99 victory. He was also named the tournament's MVP.
Aaron Gordon was nominated among 30 finalists for the Naismith college player of the year in February 2014. Therefore, he was named to the All-Pac-12 first team. He also achieved respect and earned Pac-12 Freshman Player of the Year.
NBA Career
In 2014, Aaron Gordon was appointed to the NBA draft by the Orlando Magic. He is an athletic forward who was selected 4th overall in the NBA.
After signing with Orlando Magic, he enrolled in the NBA Summer League. In season 2014-2015, he took part in the first 11 games. Sadly, he fractured his left foot, and he was ruled out right then.
Thus, he made his comeback to his basketball journey in January 2015. He's playing against the Oklahoma City Thunder.
No later, he recorded his first-ever career double-double with 10 points and more of that, 12 rebounds in a 97-90 win against the Milwaukee Bucks.
Slam Dunk Contest 2016
In the 2016 NBA All-Star Weekend, he took part in the Slam Dunk Contest, becoming a runner-up to Zach LaVine. It was the biggest showdown between the two of the greatest.
He had a career-high score of 33 points in a 113-108, losing to the Los Angeles Clippers in 2016-2017. The athlete again took part in the Slam Dunk Contest but didn't make it after the first round.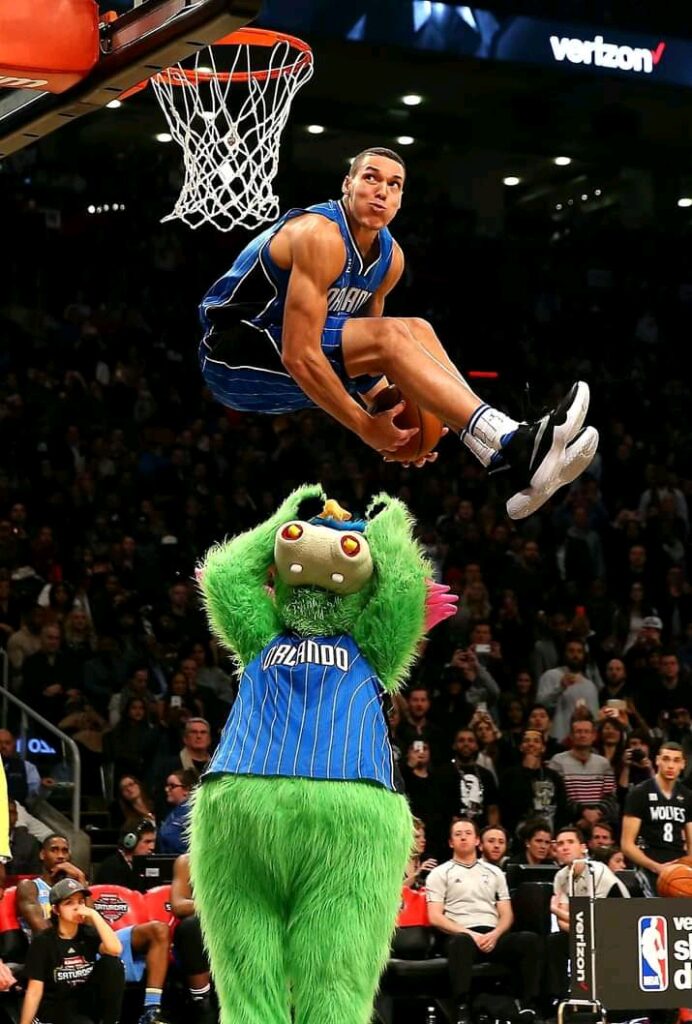 In the 2017-2018 season, he had a career-high of 41 points.
Also, in the 2018-2019 season, he re-signed with the same team Orlando Magic. In the team's season opener, he managed to have 26 points and 16 rebounds in a 104-101 win against Miami Heat.
Slam Dunk Contest 2020
Aaron Gordon then took part in the Slam Dunk Contest during the 2020 NBA All-Star Weekend. He came to be a runner-up to Derrick Jones Jr.
He recorded his first-ever career triple-double with 17 points and 11 rebounds in a 136-125 victory over the Minnesota Timberwolves.
Gordon earned a season-high 38 points, 6 rebounds, and 4 assists in a 121-113 win over the Brooklyn Nets. On March 22, it was announced that Gordon wished for a trade from the Orlando Magic.
Trade to Denver Nuggets
Aaron Gordon was traded to the Denver Nuggets on 25 March 2021. He had started in 25 games where he was captivating with 14.6 points, 6.6 rebounds, and 4.2 assists in 29 mins. He made a winning debut in a 126-102 against the Atlanta Hawks on March 28.
National Team Career
In 2011, Aaron Gordon guided Team USA to victory, rewarded with a gold medal at the FIBA Americans, which was the Under-16 Championship.
He then took part in the Under -19 FIBA World Cup held in Prague. He completed well with team-highs of 16.2 points and 6.2 rebounds.
Awards and Achievements of Aaron Gordon
All-American Third Team – SN (2014)

All-Pac-12 first team (2014)

Freshman of the Year (2014)

Male Athlete of the Year in Basketball USA (2013)

MVP of the McDonald's All-American Game (2013)

Parade All-American first team (2013)

Mr. Basketball California (2012, 2013)

Under-19 FIBA World Cup MVP (2013)
Acting Career
Along with being an exceptional athlete, he is also interested in Acting. Aaron Gordon made his acting debut in the sports comedy movie Uncle Drew by Charles Stone in 2018.
The main appearances in the movie are Chris Webber, Reggie Miller, Nate Robinson, Kyrie Irving, Shaquille O'Neal, and Aaron Gordon.
Aaron Gordon was cast as Casper Jones, who played the role of a streetball player. Overall, the movie was a commercial success and earned over $46 million, which was on a budget of $18 million.
Age, Height, & Weight of Gordon
The American professional Basketball player Aaron Gordon was born on September 16, 1995. Gordon is 27 years old as of now. His sun sign is Virgo.
Gordon is 6 ft. 8 in (2.03 m) tall, which means he is above average and an excellent height for the player. He has a tall and muscular physique.
His weight is 235 lb. (107 kg). He has a precisely maintained body. However, he has it all, the brains with the brawn.
Enjoy Reading: 12 Best Women's Basketball Coaches of All Time
Personal Life
The most frequently asked questions about Aaron Gordon are, is he dating or Single? Who is Aaron Gordon's girlfriend?
Aaron Gordon was in a relationship. He was dating Dakota Gonzalez. They dated each other for almost 4 years (since 2017). They are not married, though.
Dakota Gonzalez is also a former college basketball player, and for now, she has turned into a social media star.
According to some reports, Gordon is in a relationship with Izabela Guedes, a Brazilian model.
His dating rumors may vary on different online sources. He keeps his life private; it's harder to trace all of his breakups and hookups.
Aaron Gordon | Net Worth
One of the most popular basketball players, Aaron Gordon, has a net worth of somewhere around $4 million as of 2022.
His average salary is $20,000,000 per year. Moreover, he had signed a four-year contract extension with the Denver Nuggets.
So far, he has made $59,474,005 of earnings from his entire NBA career. He was the second-highest-paid player of the Orlando Magic in 2020.
The basketball player also earns a nice amount of money from different sponsorships.
Endorsement
In 2020 Gordon signed a partnership with a leading sports brand in China named 361°. He attended to be the new face of the company's basketball division. Partnership with the brand will encompass Aaron Gordon's signature shoe and support his Foundation and charity work.
Charity
Gordon and his family founded a charitable organization in 2018. He managed to make financial contributions to the Homeless Education Fund for public schools in Florida with the mission of helping children who were affected by the cancellation of classes during the coronavirus pandemic.
He is a co-winner of the 2019 Rich and the Helen DeVos Enrichment award for his contribution.
Social Media
Gordon is relatively active on Twitter, Facebook, and YouTube on social media platforms. His performance and reliability have compelled the public to follow him.
He keeps posting and giving updates about his events and accomplishments. He had motivational videos on his YouTube channel. Gordon is not active on YouTube for now.
Links are given below if you feel like exploring more about him on different social media platforms.
Facebook: 442 followers (as of Jan 2022)
Twitter: 197K followers (as of Jan 2022)

YouTube

: 29.5K Subscribers

(as of Jan 2022)
Also, read this article Dwight David Howard Bio: Career, Girlfriend, Kids & Net Worth
Frequently Asked Questions (FAQs)
Is Aaron Gordon Single or Dating?
Gordon was said to be in a relationship with Dakota Gonzalez, but his name also has been linked up with Brazilian model Izabela Guedes.
Does Aaron Gordon have a shoe deal?
Aaron has a shoe deal with a company based out of China which is 361 Degrees.
What number does Aaron Gordon wear with the Denver Nuggets?
The power forward/ small forward Gordon wears number 50 with the Denver Nuggets.