Adalberto Mondesi (pronounced as ah-daal-BAIR-toh) is a professional Dominican American baseball player for the Kansas City Royals of Major League Baseball (MLB).
He made his debut in the World Series on October 30, 2015, playing against the New York Mets. Hence, he became the first player in modern MLB history to debut the World Series with the Royals in Game 3.
To illustrate, Adalberto is a Shortstop and Second Baseman who exceeded his rookie limits during the 2016 season. Furthermore, Mondesi is a young player who will be a free agent only in the year 2024.
As we dig deeper into his life, we prepare get-to-go facts on the player.
Quick Facts about Adalberto Mondesi
Full Name
Raúl Adalberto Mondesí
Date of Birth
July 27, 1995
Birth Place
Los Angeles, California
Nick Name
Mondi
Religion
Christianity
Nationality
Dominican American
Ethnicity
Mixed
Zodiac Sign
Leo
Age
28 Years Old
Height
1.85 m (6 feet 0.83 inches)
Weight
84 kg (185.18 lb)
Hair Color
Black
Eye Color
Black
Build
Athletic
Father's Name
Raúl Mondesí
Mother's Name
Ada Mondesi
Siblings
An elder brother, Raúl Mondesí Jr.
A younger brother, Paul Mondesi
Education
N/A
Marital Status
Unmarried
Girlfriend
No
Profession
Baseball player
Position
Shortstop and Second Baseman
Agent
ISE Baseball
Affiliations
Kansas City Royals (2015–present)
Active Years
2011–present
Net Worth
Above $2 million
Social Media
Instagram, Twitter
Merch
rookie card, Autographed Items
Last Update
November, 2023
Physical Attributes
Mondesi is of athletic build standing at 1.85 m (6 feet 0.83 inches) while weighing 84 kg (185.18 lb). Additionally, he has a tan complexion with black, short, curly hair and black shiny eyes.
Furthermore, his oval face holds light patches of beard, and his body is adorned with beautiful dedicated patches of tattoos for his family.
Not to mention, all the tattoos have a significant meaning for him. His foremost tattoo was his mother's name, 'Ada,' on his left arm as we go further.
He also has his whole family members tattooed on his body and loads of artwork and decorations with his favorite Bible verses.
Adalberto Mondesi | Early Life
Mondesi was born on July 27, 1995, to his parents Raúl Mondesí and Ada Mondesi. He was born under Leo's star sign and grew up with his brothers Raúl Mondesí Jr. and Paul Mondesi in the Dominican Republic.
Adalberto was born in a supporting athlete family as his father used to be the 1994 National League Rookie of the Year.
Moreover, his father has played in 13 Major League seasons with the Dodgers (1993-99), Toronto (2000-02), the Yankees (2002-03), Arizona (2003), Pittsburgh (2004), the Angels (2004), and Atlanta (2005).
His elder brother Raul played for the Milwaukee Brewers and Tampa Bay Rays organizations to add to it. At the same time, his younger brother Paul is a catcher in the Royals' minor league system.
Having said this, his academic studies and childhood days are disclosed; hence, there is no single information about them.
Adalberto Mondesi | Career
Minor League
On July 27, 2011, Adalberto signed a contract with a $2 million bonus with the Kansas City Royals. However, he made his professional debut in 2012 with the Idaho Falls Chukars of the Rookie-level Pioneer League.
He finished his 2012 season with .290/.346/.386 hits and three home runs in 50 games. Therefore, Baseball America ranked him as the seventh-best baseball prospect.
As Mondesi advanced to the 2013 season, he played with the Lexington Legends of the Class A South Atlantic League, where he hit the cycle on May 27.
Thus, he closed the season, hitting .261/.311/.361 with seven home runs. Right after it, he was titled the Class A Lexington Player of the Year by the Royals.
Before the 2014 season's commencement, Baseball America named him the team's third-best prospect, while MLB.com ranked him as the 38th best prospect overall.
Afterward, he played for the Wilmington Blue Rocks of the Class A-Advanced Carolina League.
After his regular season, Adalberto played for the Peoria Javelinas of the Arizona Fall League.
As Mondesi featured in the 2015 All-Star Futures Game, he played for the Northwest Arkansas Naturals of the Class AA Texas League.
Kansas City Royals
In the 2015 World Series, Kansas City Royals added Mondesi to their active roster as he became the first player since Bug Holliday to make a major league debut during a championship series.
During Game 3 against theYork Mets, he pitched a hit for pitcher Danny Duffy and struck out pitcher Noah Syndergaard.
On November 2, 2015, they had their win against the New York Mets as they won in Game 5. Then, Mondesi started his next season in Double-A.
Moving forward, he had his unfortunate days as he suffered positive for clenbuterol, and hence, Major League Baseball banned him from the gameplay and was suspended for 50 games.
Originally, he was banned from 80 games ahead but later dropped it to 50 because he was given some ingestive substance via cold medicine.
Return to the Field
After his return, Mondesi appeared on August 16, 2016, against the Detroit Tigers. That was when he made his first major league home run against the pitcher Justin Verlander.
As he ended the season with .185/.231/.281 hits and nine stolen bases in 47 games, he was also named the youngest Royal to hit a home run since Clint Hurdle.
For the season of 2017, he featured in a total of 25 games in the major league and spent the majority of his time in AAA. By the end of the season, he had .170/.214/.245 hits with five stolen bases.
Minors called back Mondesi in July for the 2018 season to play as a shortstop regularly. Hence, he had .276/.306/.498 bats and hit 14 home runs with 32 stolen bases.
Consequently, Mondesi became the first player in Major League history to record at least 14 HR and 32 SB 75 games or fewer.
Advancing to the season 2019, Mondesi made his second Opening Day roster. Meantime, he made his career-high with an appearance in 102 games, where he recorded 9 home runs with 62 RBI.
As of 2020, Mondesi had batted .256/.294/.416 with 33 runs, 6 home runs, and 22 RBIs. Thus, it led the AL in both stolen bases (24) and caught stealing (8).
2020 Season
Kansas City was not doing well for 2020 due to the sealing of a deal and injuries of the players, and, of course, COVID-19.
Similarly, Mondesi also was not in good form; however, he turned the table by the end of the season.
In fact, he improvised so much that he was named MLB's American League Player of the Week for the final week of baseball.
The very week, he had a batting average of .615, on-base percentage (.655), and slugging percentage (1.154), as well as runs scored (10) and stolen bases (five). Hence, he finished the season with 24 steals to lead the Majors.
Adalberto is a consistent player who creates optimism everywhere he goes. The General manager Dayton Moore alongside the assistant general manager for international operations, Rene Francisco, can't take their eyes off him.
"Mondesi is just so talented," Moore said. "But I'd rather have productive players than talented players.
Obviously, if you have both, you've got guys that have a chance to be Royals Hall of Famers and Major League Baseball Hall of Famers, and they win MVPs."
Adalberto Mondesi | Injury
In the mid-July of 2019, Adalberto injured his left shoulder during a game as he dived for a foul ball mid-July against Chicago, hence, suffering a subluxation. After six weeks of rest, he returned to the field in September.
Despite this, he was told not to make dives during the game; however, he dove for a ground ball to his right in a game against the Twins, re-injuring the shoulder.
Short Outlook on the Story of the Name Change of Mondesi
Actually, it is a short story about a baseball player who changed his name from Raul Adalberto Mondesi to Adalberto Mondesi.
He wanted to distinguish his name from his family members to throw away the confusion; hence, he decided to go by his middle name.
Subsequently, Mondesi is known as Adalberto Mondesi at home, and when with his teammates, he is known as 'Mondi.'
"I just wanted to be different and use my [middle name]," Adalberto Mondesi said. "When I signed, [Adalberto] was the name I used.
Adalberto Mondesi | Career Stats
2020
Mondesi is considered a franchise centerpiece for the KC Royals. His stats as of 2020 is tabled below:
Overall Stats
| | | | | | | | |
| --- | --- | --- | --- | --- | --- | --- | --- |
| Season | Plate Appearances | Total Bases | Batting Average | No. of Pitches Seen | Reached On Error | Left On Bases | WalkOffs |
| 2016 | 149 | 38 | .271 | 515 | 4 | 59 | 0 |
| 2017 | 60 | 13 | .267 | 205 | 1 | 24 | 0 |
| 2018 | 291 | 137 | .335 | 1080 | 4 | 114 | 0 |
| 2019 | 443 | 176 | .357 | 1610 | 5 | 167 | 0 |
| 2020 | 233 | 91 | .350 | 847 | 2 | 108 | 0 |
| 2021 | 38 | 30 | .429 | 143 | 0 | 14 | 0 |
| MLB Career | 1214 | 485 | .339 | 4400 | 16 | 486 | 0 |
Adalberto Mondesi | Net Worth
According to sources, Mondesi's net worth is more than $2 million. He has a nice earning an annual salary of around $576,000 from the Kansas team. Furthermore, he signed a year contract with Kansas, which was worth $3,000,000.
Unlike every athlete, Mondesi also collects his revenue from various endorsements as he is signed with Adidas. Not to forget, he has a luxurious collection of expensive cars whose total worth is unknown.
You may want to know about Mike Trout – Net Worth, Instagram, Contract, Salary, Wife>>>
Adalberto Mondesi | Jersey
Mondesi wears jersey number 27 for the Kansas City Royals of the MLB. Here's a picture of him in his Kansas jersey: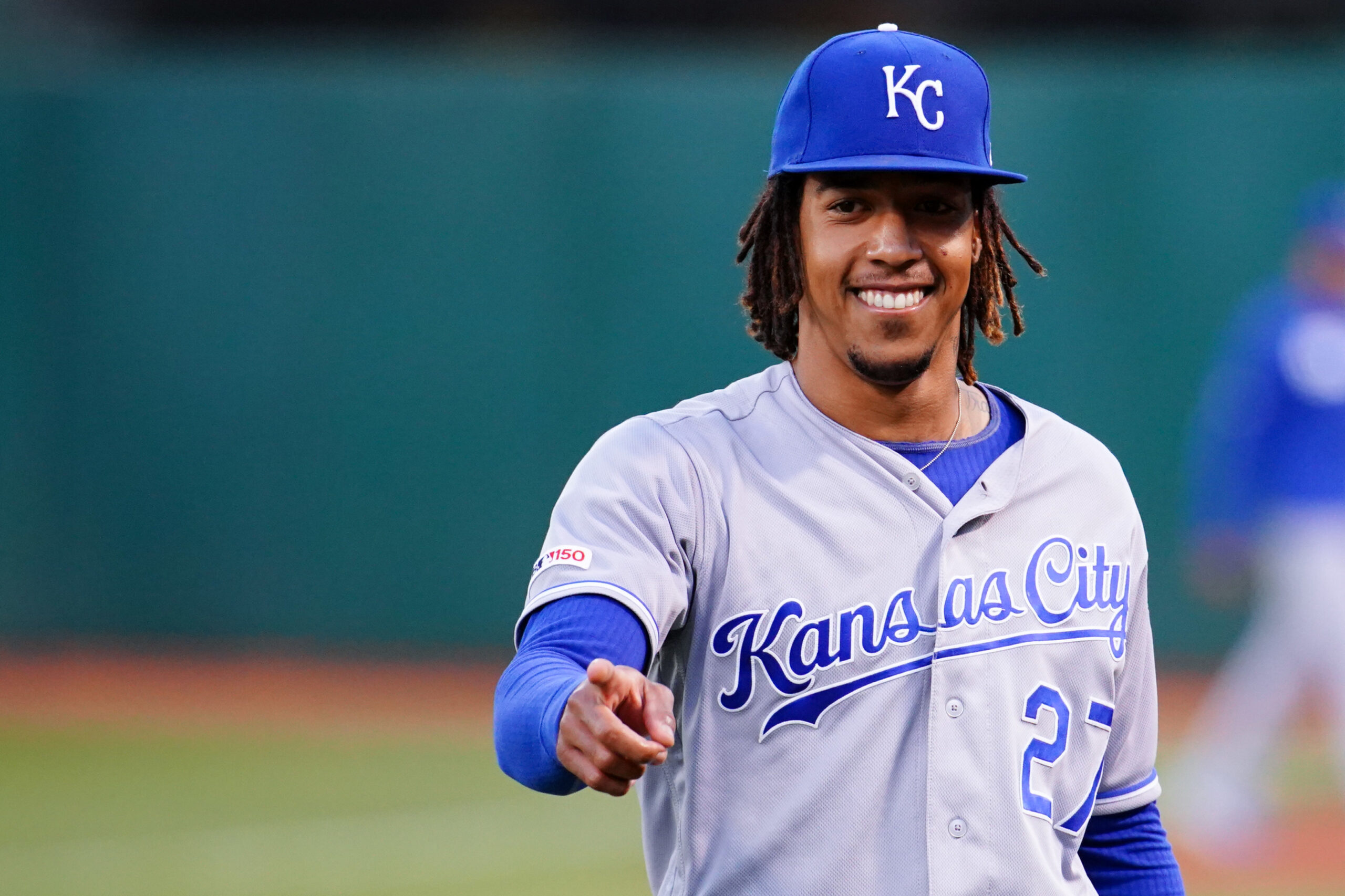 Adalberto Mondesi | Tattoo
Mondesi is a big tattoo geek. He believes that each of his tattoos has significant meaning in his life. In fact, he has inked all of his family members in his body.
His very first tattoo was dedicated to his mother. He inked his mother's name, 'Ada,' in his left arm.
Moreover, he has tattooed Yordano as well on his body. He has also inked Bible verses along with plenty of decoration and artwork.
Here's a picture of where most of Mondesi's tattoos are visible:
Adalberto Mondesi | Love and Social Media
Mondesi is a right-handed thrower and a both-handed batter. He is also one of the youngest players with a massive fan following.
However, like any other player, he keeps his personal life hidden, and hence, there is no news about him dating anyone.
Consequently, his high school dates or any other relationships are unknown; therefore, maybe he is currently single and is focusing first on his career and games.
Although Mondesi may not be an avid user of social media platforms, he keeps in touch with his fans.
Adalberto Mondesi FAQs
Is Adalberto Mondesi a switch-hitter?
Yes, Adalberto Mondesi is a switch-hitter (he can bat with both hands).
How fast is Adalberto Mondesi?
The average sprint speed of Adalberto Mondesi is 29.9 feet/second, which is a tick ahead of Gore and Hamilton.