NRL star Adam Reynolds is married to his wife, Tallara Reynolds. The two met during their high school days.
Adam Reynolds wife, Tallara, is the backbone of the family. According to Adam, "She keeps the clock ticking in the family."
Adam Reynolds, born on July 10, 1990, is a prominent Australian rugby league player, currently leading the Brisbane Broncos in the NRL.
Hailing from Sydney, he honed his skills at Matraville Sports High School. Inspired by rugby legends like Andrew and Matthew Johns, as well as Darren Lockyer, Reynolds' passion for the game grew.
His dedication extends to his brother, a constant source of motivation. In 2007, Reynolds showcased his talent by securing the Peter Sterling Medal as the competition's standout player.
With a stellar career that includes representing New South Wales and a 2014 NRL Grand Final victory with the South Sydney Rabbitohs, Reynolds continues to leave his mark on the rugby league world.
Adam Reynolds Wife: Tallara Reynolds Is Proud Mom Of Four
Rugby star Adam Reynolds got married to his wife, Tallara (Simon-Phillips) Reynolds, on November 30, 2016. The couple met each other during their high school days.
Adam became a father when he was just 18. Reflecting back, he says, "Being a dad put me on the straight path. It was tough at the time to raise a kid at that young age, but something that I don't regret."
Being teenage parents, life wasn't easy for Adam and Tallara. Juggling work, rugby, and family was tough. However, Adam and Tallara's families played a significant role in their journey, offering crucial support.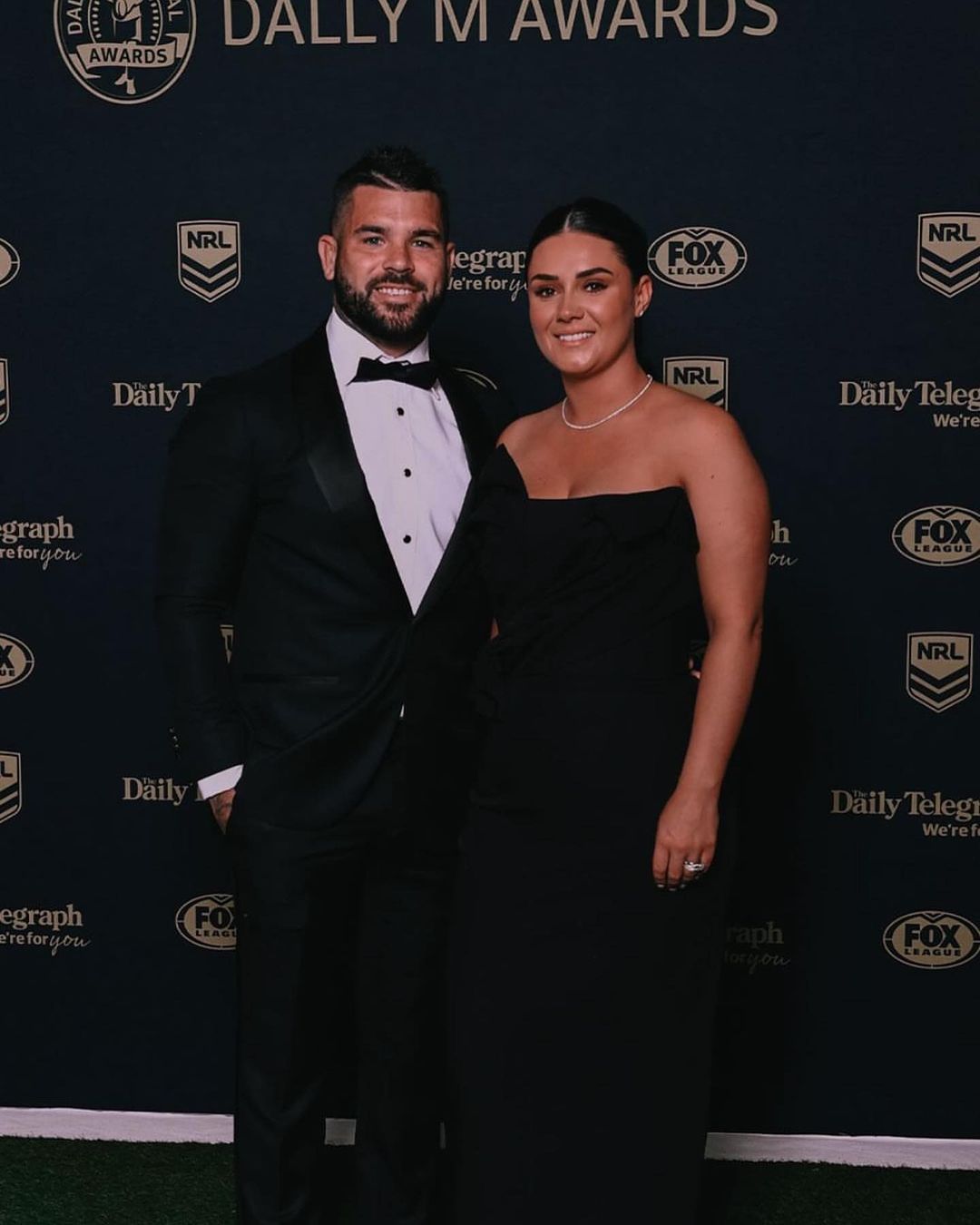 Tallara, a pillar of strength, handles the daily challenges of raising four children. She's essential to the family's well-being.
Adam acknowledges Tallara's vital role. He says, "Tallara is the backbone of the family. She makes things a lot easier at home."
Tallara's dedication allows Adam to focus on his rugby career. He deeply appreciates her unwavering support and the stability she brings.
Unfortunately, not much is known about Tallara's professional life as she has chosen to remain away from the public. She uses Instagram, but her handle is private.
Married Life And Kids
Adam and his wife are parents to four beautiful children. Their first child, Nakylah Iris, was born on August 7, 2009. A year later, on October 18, 2010, they welcomed their second daughter, Aaliyah Louise.
In addition to Nakylah and Aaliyah, the couple is also blessed with two more children, Kobe Jonathan and Zariyaa Brooke.
Despite his demanding rugby career, Adam makes it a priority to spend quality time with his family. He radiates love and devotion as a doting father, emphasizing the significance of maintaining a balance between his professional and personal life.
For Adam, his family is the anchor that keeps him grounded amid the whirlwind of rugby stardom. In interviews, he underscores the importance of being a role model for his children, instilling values both on and off the field.
In addition, Adam proudly attends to his children's milestones and achievements and takes pride in their accomplishments. He also encourages his children to chase their dreams and nurtures their passions.
Frequently Asked Question
Who is Adam Reynolds Wife?
Adam Reynolds wife is Tallara (Simon-Phillips) Reynolds.