Aitana Bonmati hasn't displayed her partner on her social media handle. The Barcelona star is rumored to be single and is focused on her athletic career.
Many have considered Aitana as the rightful winner of the 2023 Ballon d'Or award. The midfielder helped her side to a Champions League trophy and will start for Spain in the World Cup finals.
With her Barcelona teammate, Alexia Putellas sidelined due to injury in 2022, Aitana did most of the heavy lifting. She scored five goals and had eight assists during the CL tournament.
As Spain knocked out Sweden in the semi-finals, the lifelong Barcelona player is now relishing the chance of playing in the team's first-ever Women's World Cup final.
Aitana Bonmatí Partner: Who Is She Dating?
Aitana Bonmati doesn't have a partner and is currently single. The Barcelona midfielder has kept her romantic life out of the public spotlight.
With most soccer stars flaunting their relationship on social media, Aitana has decided to keep her posts strictly to her on-field achievements. Her recent posts are with her Spanish teammates and their heroics in the ongoing World Cup as they became first-time finalists.
So, even if Aitana is dating, we won't likely see her partner on her Instagram handle. The Barcelona player is currently at the peak of her career, so maybe she doesn't want her personal life to cause any distraction to her professional life.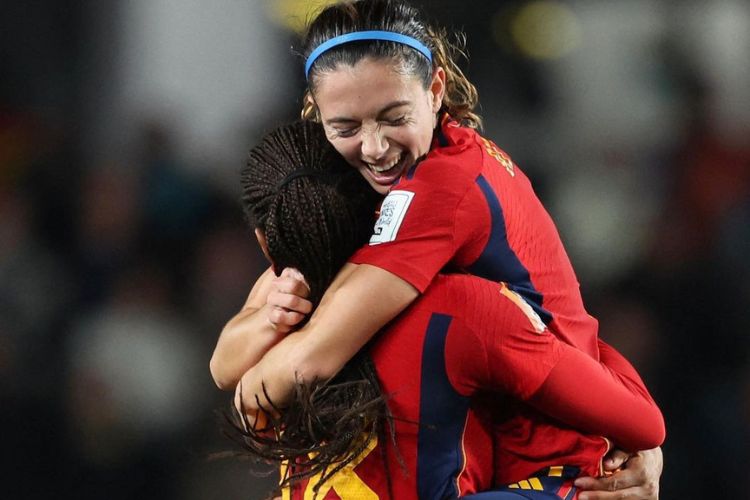 It's been an open secret in the soccer community for a while that Aitana will be the next Ballon d'Or winner. With her teammate and two times Ballon d'Or winner, Alexia Putellas ruled out of action for the entirety of the 2022 season due to an ACL injury, Aitana assumed larger responsibility in Barca's midfield.
In the 2022 season, Bonmati won Supercopa, their fourth consecutive league title, and the prestigious Champions League trophy. Now she might even add a World Cup medal to her CV.
Aitana Bonmatí Parents, Rosa Bonmati, And Vicent Conca
Aitana Bonmati's parents Rosa Bonmati, and Vicent Conca, have always been people who have fought for what they believe to be right.
When Aitana was born in 1998, the couple decided to give their daughter her mother's surname. They fought against the Spanish law at the turn of the millennium and made it possible for Aitana to use her mother's surname first and then her father's last name.
In her interview, Aitana said she sees herself reflected in them. She said, "They are an example: my human values are theirs. A lot of what I am today is thanks to them."
Aitana is the couple's only child and doesn't come from a soccer family. She said her parents' home is pretty much like a library. So, they also wanted her to focus on academics.
Last year Barcelona's midfielder enrolled at the Johan Cruyff Institute to pursue her master's degree in Sport Management. She received the full support of her parents and her agency, B-Engaged.
During a conversation, Aitana said her academic degree might help her in the future as an athlete's career is short, and stated she has a curious mind and is ambitious to learn something new.
Aitana's parents have remained away from the limelight despite their daughters' on-field success. The 2023 World Cup finalist hasn't shared any pictures of her family on social media and will probably keep it that way.