Al Iaquinta is a professional Mixed Martial Arts (MMA) player. Iaquinta is also a purple belt holder in Brazilian Jiu-Jitsu, a self-defense material art, and combat art.
He is a famous licensed real estate agent in Long Island. Iaquinta is known for having an unbeatable record in his amateur career. Also, he is currently ranked no.9 in UFC lightweight world rankings.
Al Iaquinta currently manages to do two jobs at the same time. He signed for the UFC in 2012. At the same time, he runs for buying and selling properties in his hometown.
Iaquinta is also an actor. He has played for two drama series, UFC on Fox (2011) and Choke Artist (2014). Besides these, Al also played a role in a crime thriller movie, The Last Operative (2019).
Before we know about his career, let's dive into his quick facts:
Al Iaquinta | Quick Facts
| | |
| --- | --- |
| Full Name | Al Iaquinta |
| Birth Date | 30 April 1987 |
| Birth Place | Valley Stream, New York, United States |
| Nick Name | Raging Al |
| Religion | Christianity |
| Nationality | American |
| Ethnicity | White |
| Education | Completed Associate Degree from Nassau Community College |
| Horoscope | Taurus |
| Father's Name | Jay Iaquinta |
| Mother's Name | Information Not Available |
| Siblings | Information Not Available |
| Age | 35 Years Old |
| Height | 5 feet 10 inches |
| Weight | 71 Kilograms |
| Hair Color | Light Brown |
| Eye Color | Black |
| Build | Muscular |
| Profession | MMA Fighter |
| Professional Career Winnings | 14 |
| Active Years in MMA | 13 Years |
| Sexual Orientation | Straight |
| Marital Status | Single |
| Wife's Name | Not Married Yet |
| Kids | No Kids |
| Net Worth | $3 Million |
| Social Media | Instagram, Twitter, Facebook |
| Last Update | March, 2023 |
Early Life, Parent, and Education
Al Iaquinta was born on 30 April 1987 in Valley Stream, New York. His father, Jay Iaquinta, is of Italian descent.
But there is no factual information about Jay. However, Iaquinta's mother's name is not disclosed to the public yet.
Want to read more? Please Read This: Felice Herrig Bio- MMA, UFC, Age, Next Fight, Nationality, Net Worth, Married
But during a UFC match, people spotted her. After winning the match, Iaquinta said, "My mother is the most supportive and uplifting, creative, and toughest person I know. I love you, mom."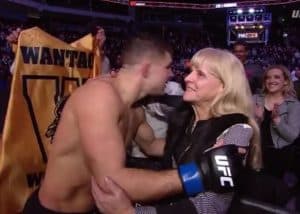 Iaquinta was born and raised in Valley Stream, where he completed his primary schooling. Al completed his high school at Wantagh High School.
After that, he went to Nassau Community College. In that college, Al earned an associate degree. While studying at Nassau, he also started to play as an amateur wrestler.
Iaquinta's Age, Height, and Weight
Al Iaquinta is 35 years old. He falls under the category of above 30 years old fighters.
Iaquinta is an old fighter in MMA. But he has no plans for retirement.
Also, Read This: Who is Dan Hooker? Early Career, UFC, and Net Worth.
Al has an adequate height of 5 ft 10 inches. He is above average MMA fighter. Al's height is also an advantage while fighting.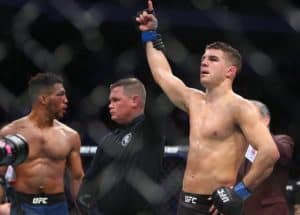 Iaquinta weighs around 71 kilograms. He does not look thin. Neither, he looks bulky. Iaquinta's body is subtle. He has a muscular six-packs abs body.
Iaquinta prefers doing exercise every day. He takes a diet to maintain his body. Al believes eating healthy can make a sound body.
Al has no passion for tattoos. He hasn't thought of getting one. That's why he hasn't carved it on his body.
Al Iaquinta | Career
After completing his studies, Al Iaquinta started amateur wrestling in 2007. He competed with several college mates at Nassau Community College.
He had a perfect record-breaking career of 14-0.
Wrestling campaigns kept an eye on Iaquinta. Ring of Combat approached him in 2012. In his first pro exhibition MMA match, he fought with Jon Tuck. He won his first pro-MMA match.
In season 15 of MMA, he entered into semi-finals by defeating Vinc Pichel. The referee made the decision unanimous. The match ran for five minutes.
Iaquinta's Professional Career
Al's career toppled when he got selected for professional MMA matches. His unbeatable career helped him to play with the most prominent MMA players.
Iaquinta is famous for his famous punches and elbow hits. His nickname is Raging Al. MMA fighters call him Raging because when he kicks from his elbow, the opponent gets smashed.
In 2011, Iaquinta's punch knocked down Gabriel Migoli. He finished The match With Migoli in only 26 seconds.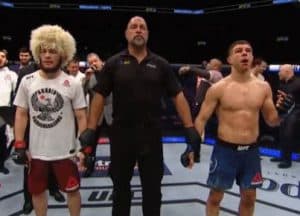 However, Al's career started to drizzle when he lost his first fight with Pat Audinwood. But this defeat did not make him hopeless. He returned to compete, Micheal Chiesa, with full enthusiasm.
During his career, Al has fought with some famous fighters. He fought with Diego Sanchez in 2017 and won the match via knockout in the first round.
In 2018, he competed with Russian fighter Khabib Nurmagomedev, an unbeatable pro-MMA fighter who retired in 2020.
In that match, fighter Connor McGregor assaulted Khabib and his teammates. His actions delayed the play for a while.
Iaquinta played a match in 2019 with Donald Cerrone. He was severely injured in the match, which was played for five rounds. It took him more than a year to get recovered.
Also, Read This: Khabib: UFC, Age, Wikipedia, Instagram, Net Worth & Wife
Likewise, he competed with MMA champion and pro Boxer Dan Hooker. Sadly, Al lost the match.
Raging Al played his latest fight in 2020. He faced Mike Perry at Chael Sonnen's Submission Underground 11 event. Sadly he lost the fight via the fastest escape time. But he is hoping to win another match this year.
Al Iaquinta | Injury
In April 2019, Al played with Donald Cerrone. The 155-pound fighter defeated Al with severe complications. In an interview, he said, "In the match, I fractured my nose, I broke many bones."
Iaquinta has not recovered fully till now. Bruises are still visible on his body. Iaquinta is lucky to recover at such a speed. However, he doesn't take the injuries seriously.
If you are interested in buying MMA gloves, click here>>
Raging Al said, " It is our professional job. Donald is a good man. He is a veteran; that's why I lost." People praised Al's generosity. Donald also lightly took the incident. They're still in touch with each other.
Al Iaquinta | Relationship, Wife, and Kids
Iaquinta is currently single. He has not tied his knots with anyone. Neither, he has any kids. Despite his age, Al has not worried about marrying.
However, there were rumors about Al and the Australian girl. Sadly, her name is not disclosed yet. Al loves to travel to Australia. He shows his gratitude to the Australians.
During an interview, Al told the media that he has no plans to get married. He is currently busy with his friends working for the real estate business. Raging Al also runs for a member rewards hotel program in America.
Salary and Net Worth
Raging Al $250,000-$500,00 per year. His salary bar is not fixed. Moreover, he earns per match. During the match with Khabib Nurmagomedov, Al earned $280,000 even though he lost the match.
But he earned $131,000 fighting with David Cerrone. Al also earns much from his business. Buying and selling houses in his hometown adds up to $100,000 per year. His total earnings count 3 million dollars.
Raging Al does advertisements with several brands. Nowadays, he has tied a contract with Octenum, a hand-sanitizer company. From the advertisement, Iaquinta also collects money.
Although Iaquinta earns a lot of money, he is a simple person. Sometimes, Al donates his earnings to charities.
Read This: Joanne Calderwood Bio: Age, Career, UFC, Boyfriend, Net Worth, IG Wiki
Social Media Presence
Al Iaquinta likes to use social media. He is currently present on Instagram, Facebook, and Twitter. He also uses a LinkedIn account to contact people for his business.
Al's Instagram is filled with partying captures and personal moments. He doesn't like to upload his professional things on Instagram.
Likewise, people also follow Laquinta in the Cameo profile to get the latest update on the MMA.
Some Queries about Al Iaquinta
Is Al Iaquinta Gay?
People rumor about Iaquinta, saying he is gay because he is not seen with a girl. In a survey, 33 percent of people thought Iaquinta a gay.
At the same time, he has not declared himself gay. Iaquinta is straight.
Does Al Iaquinta smoke Weed or Cigarettes?
There are no records or photographs to determine whether he smokes anything or not. But some people think Iaquinta uses steroids for his body. However, the rumors are not fact-based.
Do you want to continue reading? Michelle Waterson Age, UFC, MMA Fight, Next Fight, Husband, Net Worth, IG
Is Al Iaquinta Retired?
No, Iaquinta is active in MMA fighting. He has no plans for retirement till now. Despite his colleague's retirement, Iaquinta thinks he can fight for more years.
When and where did AI face Jorge Masvidal?
AI faced Jorge on April 4, 2015, at UFC Fight Night 63. In the fight, Iaquinta won the match via a controversial split decision.
When is Iaquinta's next fight scheduled for?
Since Iaquinta took some breaks after 2020, there is no information regarding the specific fighting schedule of his next fight in the coming days.