Are you familiar with Khabib Nurmagomedov? What is his profession? How did he become successful and well-known on a worldwide platform? How much income did he make in a year?
Khabib Nurmagomedov is a name you may be familiar with. At this time, he is renowned sufficient among the youngsters. We've gone through all there is to know about this Professional Mixed Martial Artist.
Similarly, Nurmagomedov is the very first Muslim fighter from Russia to win a UFC belt and a two-time Sambo world champion.
Khabib also won the undisputed UFC lightweight champion before he retired, 29 to be exact.
Because of his all hard work and dedication, he became a role model for millions. He has possibly the largest fan following in MMA.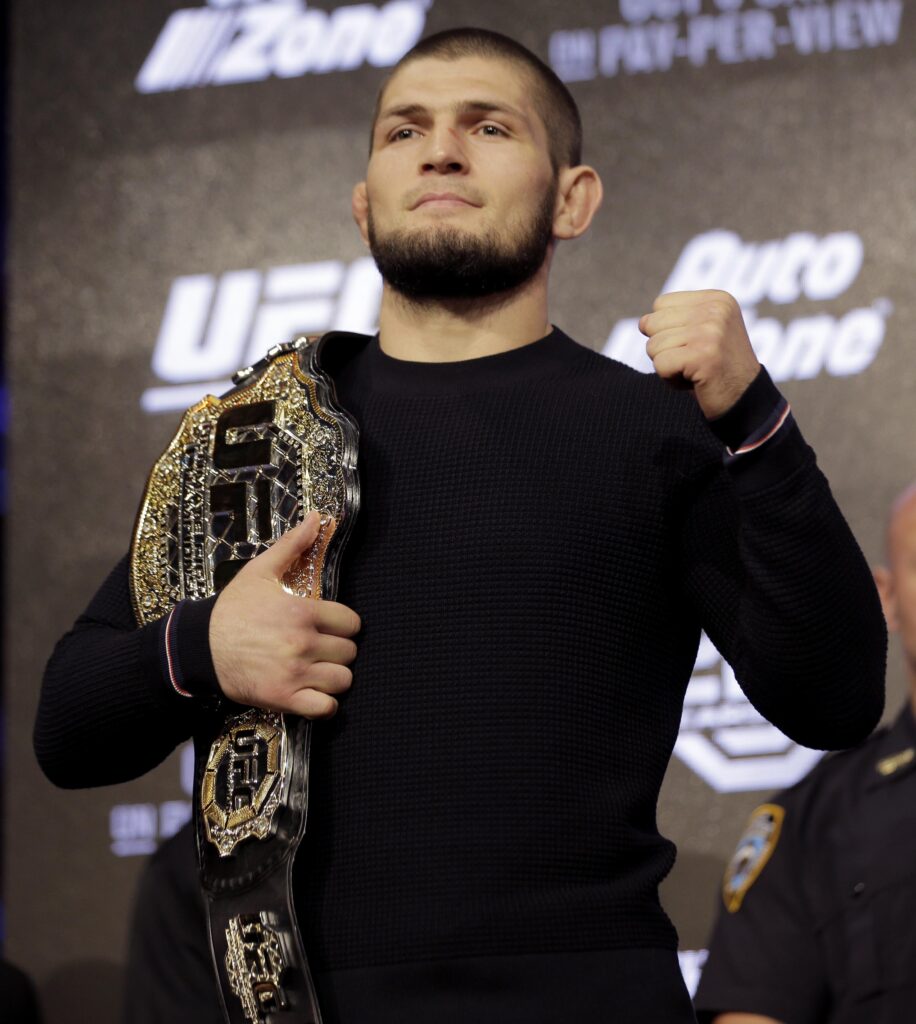 On the surface, the arena of mixed martial arts looks to be stunning. However, the duration of effort and attention that these athletes put into the sport. It is generally unknown to the general public.
Khabib, too, has gone through all of the necessary steps to achieve success. Aside from his extravagant lifestyle and accomplishments, he is known for his hard work, determination, and commitment.
The following article contains information about Nurmagomedov's profession, affairs, net worth, and other factors. It's now time to start on to the quick facts.
Khabib Nurnagomedov: Quick Facts
Full Name
Khabib Abdulmanapovich Nurmagomedov
Nick Name
Khabib Nurmagomedov (The Eagle)
Age

34 years old

Birthdate
20 September 1988
Birthplace
Sildi, Dagestan, Russia
Residence
Dagestan, Russia
Mother
Not Available
Father
Abdulmanap Nurmagomedov
Siblings
Muhammad Nurmagomedov and Amina Nurmagomedov
Nationality
Russian
Religion
Muslim
Wife
Patimat Nurmagomedova
Children
3
Height
5'10" (178 cm)
Weight
155 lb (70 kg)
Hair Color
Black
Eye Color
Dark Brown
Zodiac Sign
Virgo
Profession
MMA promoter and retired professional MMA artist
Plays
Mixed Martial Arts, Wrestling, Sambo, Kickboxing, Judo, and Freestyle wrestling
Active year
2008-2020
School
Not Available
University
Plekhanov Russian University of Economics
Team
American Kickboxing Academy
Status
Married
Trainer
Abdulmanap Nurmagomedov
Javier Mendez
Retired on
19 March 2021
Style
Sambo
Net Worth
$45 million
Social Media
Instagram, Twitter, Facebook
Websites
www.khabib.com
Merch
Shorts, Poster, Signed Items
Last Update
June, 2023
Khabib Nurnagomedov | Early Life, Family, And Education
Khabib was born on 20 September 1988 into an Avar Family as Khabib Abdulmanapovich Nurmagomedov. Also known as 'The Eagle' was born in the village of Sildi in the Dagestan ASSR's Tsumadinsky District.
Talking about his parents, his father, Abdulmanap Nurmagomedov, is one of the Khabib's primary sources of motivation and inspiration.
Moreover, Khabib's father had relocated his family from Sildi to Kirovaul. There, his father had turned the bottom floor of their two-story building into a gym.
Sadly, there is no details on his mother. Likewise, he has two siblings: Magomed, his older brother, and Amina, his younger sister.
Nurmagomedov was brought up with his siblings and relatives in the same house. When he saw people exercising at the gym, he became interested in martial arts. Khabib's childhood training includes battling a bear at the age of nine.
Ariel Helwani Bio: MMA Reporting, Controversies, UFC Ban & Family >>
Khabib Nurmagomedov relationship with his father
As we know, Khabib started wrestling at a young era, as do many other youngsters in Dagestan. He began when he was eight years old, under the instruction of his father.
Similarly, Abdulmanap, a distinguished athlete and a soldier of the Soviet Army, had wrestled since he was a child before receiving judo and sambo instruction.
Not only Khabib but Abdulmanap dedicated his life to mentoring Dagestan's children. He provides an alternative to the state's prevalent Islamic radicalism.
Khabib's family relocated to Makhachkala, Dagestan's capital, in 2001. He began wrestling at 12 and practiced judo at 15. Similarly, at 17, he returned to his father's combat sambo training.
Furthermore, the change from wrestling to judo, according to Nurmagomedov, was challenging. But his father's choice is to get him in competing in a gi jacket.
Abdulmanap was a professional instructor (senior coach) for the Republic of Dagestan's combat sambo national team. He has instructed multiple competitors in the sport in Makhachkala, Russia.
Moreover, in his childhood, Nurmagomedov was regularly involved in street battles before pursuing a career in mixed martial arts.
Along with his father, Khabib has got inspired by different people and players such as American boxers Muhammad Ali, Mike Tyson, and the Brazilian player Ronaldo is the inspiration of Khabib.
Sadly, Khabib's father and a long-time trainer was hospitalized in a state of unconsciousness (coma) in May 2020. He was affected by COVID-19 after undergoing heart surgery. He died on July 3, 2020, at the age of 57, at a Moscow clinic.
Khabib Nurnagomedov | Age, Height, And Weight
Khabib, the Russian Sambo expert, is perhaps one of the best combat sports athletes to have ever lived. He has a flawless professional track record.
Also, he has perfect and fitted physics because he comes from an athletic background.
As his date of birth, he turned in 34 as of 2023. Khabib stands tall at 5 feet 10 inches (178 cm) and weighs 155 pounds (70 kg).
Likewise, he has dark brown eyes and black hair. His zodiac sign is Virgo.
Khabib Nurnagomedov | Career
According to his wiki, Khabib has been fascinated with athletics since he was a child. It may be because his father was an athlete.
As a result of his father's influence, Khabib decided to pursue a career as an athlete.
Early Career
In September 2008, Khabib made his professional MMA debut. In less than a month, he had four victories. He won the Atrium Cup event for the first time on October 11th and later beat three at the Moscow competition.
Similarly, he was unbeaten for the following three years, defeating 11 of his 12 opponents. Shahbulat Shamhalaev, a prospective Bellator championship challenger, was finished in the first round with an armbar. It was his first time on the M-1 Global stage.
Khabib's 16–0 record in Russia's and Ukraine's regional circuits caught the UFC's interest. Khabib's father later disclosed in an interview that they have 11 legal lawsuits opposing the authenticity of Khabib's UFC contract.
Likewise, they arranged after losing six lawsuits and winning five others. Also, Khabib was allowed to proceed with his career after that.
Emmanuel Acho Bio: Wife, ESPN, Brother & Net Worth >>
Professional Career
Khabib started his professional MMA career in 2011 when he signed a six-fight contract with the UFC's lightweight division. Since then, 'The Eagle' has competed in several competitions and championships, claiming victory in many.
Moreover, the Eagle won a unanimous decision over Gleison Tibau at UFC 148 on July 7, 2012. Also, Tibau won the fight in 5 out of 6 media sources.
Likewise, he fought Pat Healy in his sixth UFC bout on September 21, 2013, at UFC 165. He was also declared the winner by unanimous decision.
Nurmagomedov won numerous fights after that. Then he established a new UFC benchmark with most knockdowns in a single bout with 21 successful takedowns out of 28 attempts throughout the fight.
"Climb the mountain so you can see the world, not so the world can see you." – Khabib Nurmagomedov
Moreover, Nurmagomedov's next bout was against Thiago Tavares at UFC on FX 7 on January 19, 2013. In the opening round, he KO'd his opponent.
Achievements
Atrium Cup
Pankration Atrium Cup 2008 tournament winner
Sherdog
Breakthrough Fighter of the Year
Beatdown of the Year 2016
2016 Comeback Fighter of the Year
Fightbooth
2013 Staredown of the Year (UFC 160: Abel Trujillo)
World MMA Awards
• 2016 International Fighter of the Year
2017 Performance of the Year (UFC 219: Edson Barboza)
Sambo
World Combat Sambo Championships (74 kg), in 2009: Gold
World Combat Sambo Championships 2010 (82 kg): Gold
Russian Combat Sambo Championships (74 kg), in 2009: Gold
ESPY Award
Awards
Nurmagomedov was awarded an "Honorary Citizen of Grozny" in October 2018. The mayor of Grozny, Ibrahim Zakriev, handed it to him following his victory over McGregor at UFC 229.
Ramzan Kadyrov, the leader of Chechnya, also gifted him with a Mercedes automobile. The Akhmad Kadyrov Foundation provided funding.
Likewise, Kadyrov bestowed the title of "Honored Worker of Physical Culture of the Chechen Republic" to his father, Abdulmanap.
Nurmagomedov and his father, Abdulmanap, were given the Order for Services to the Republic of Dagestan. It was honored by Head Vladimir Vasilyev on December 5, 2019, for its "significant contributions to sports in Dagestan."
Khabib Nurmagomedov | Girlfriend, Wife, And Kids
Many might not know this, but Khabib, The Eagle, is a married man. In 2013, Khabib married Patimat Nurmagomedova, with whom he has three children together.
On June 1st, 2015, they had their first child, a daughter named Fatima Nurmagomedova. Magomedov Nurmagomedov, their first son, was born on December 30th, 2017. Also, Husayn Nurmagomedov, their youngest son, was born on February 22nd, 2019.
Until today, no one has ever seen his wife's face. Conor McGregor, his arch-rival, mocked him for doing the same, posting a photo of him and his wife wearing a white veil and writing, "Your wife is a towel mate."
Of course, this was rude, but Khabib ended up having the final laugh in their battle. There was a photo of Khabib with a woman in a hijab.
Many people believe she is Khabib's wife; however, there is no confirmation.
Khabib Nurnagomedov | Net Worth, Salary, And Career Earnings
Khabib isn't renowned for flaunting his fortune like his competitors, but it doesn't mean he isn't wealthy. The Russian is one of the most well-known athletes who gained a fortune and earnings throughout his stint in the UFC.
Now, Khabib Nurmagomedov is one of the wealthiest MMA fighters. And his name is on the list of the most popular MMA fighters. Khabib's net worth is estimated to be $40 million as of 2021.
On the list of the wealthiest UFC fighters, he ranks third. Khabib's father told the Daily Mail in 2020 that his son is worth $100 million, but there is no evidence.
Besides this, Khabib is now exploring numerous business ventures. This covers but is not confined to nutrition, telecommunications, and mixed martial arts (MMA).
He has a huge social media following. Also, he is now teaching several boxers and has had great success doing so.
Khabib Nurmagomedov | Social Media Presence
Khabib is a popular figure in sports history and has many fans and well-wishers who have supported him throughout his life. Nurmagomedov is also the first Muslim to win a UFC title, originating from Russia's republic of Dagestan.
The Eagle has a large number of fans and a solid social media presence. Similarly, he is active on social media. He operates several accounts where he updates his daily status for his admirers.
Likewise, Khabib has almost 31.2 million Instagram followers as of October 2021, making him the most popular Russian. He has a Twitter with 1.7 followers and Facebook with 5.1k followers as of 2021.
He's also an MMA promoter, well recognized for his work with the Eagle Fighting Championship (EFC). He inked a deal with Russian club FC Legion Dynamo in 2021 to play association football.
Keith Jardine: Early Life, Professional Life, UFC & Hollywood >>
Khabib Nurmagomedov | FAQs
What MMA promotion did Khabib Nurmagomedov purchase, and how much did he pay for it?
For $1 million, Khabib purchased the Russian combat promotion "Gorilla Fighting Champion." He rebranded it "Eagle Fighting Championship."
Who won the fight between Conor McGregor and Khabib Nurmagomedov?
At UFC 229, Khabib Nurmagomedov defeated Conor McGregor to retain his Lightweight Championship. Likewise, Nurmagomedov forced The Notorious One to concede to the neck crank in the fourth round, giving him the victory.
Is Khabib Nurmagomedov a rich man?
Khabib is a rich man, according to the research, as his net worth is estimated to be over $40 million.