Albert Pujols is one of baseball's most shining stars. Albert, nicknamed "The Machine," is regarded as one of the best hitters of his generation.
The Dominican-born baseballer spent 11 seasons in the Major Baseball League (MLB) with the St. Louis Cardinals and more than nine seasons with the Los Angeles Angels.
Currently, Albert has signed under the Los Angeles Dodgers for a year. The baseball legend has not thought of retiring and thus, is the oldest active MLB player.
The baseball hero was a ten-time MLB All-star Champion, a three-time NL Most Valuable Player (MVP), and a two-time world series champion.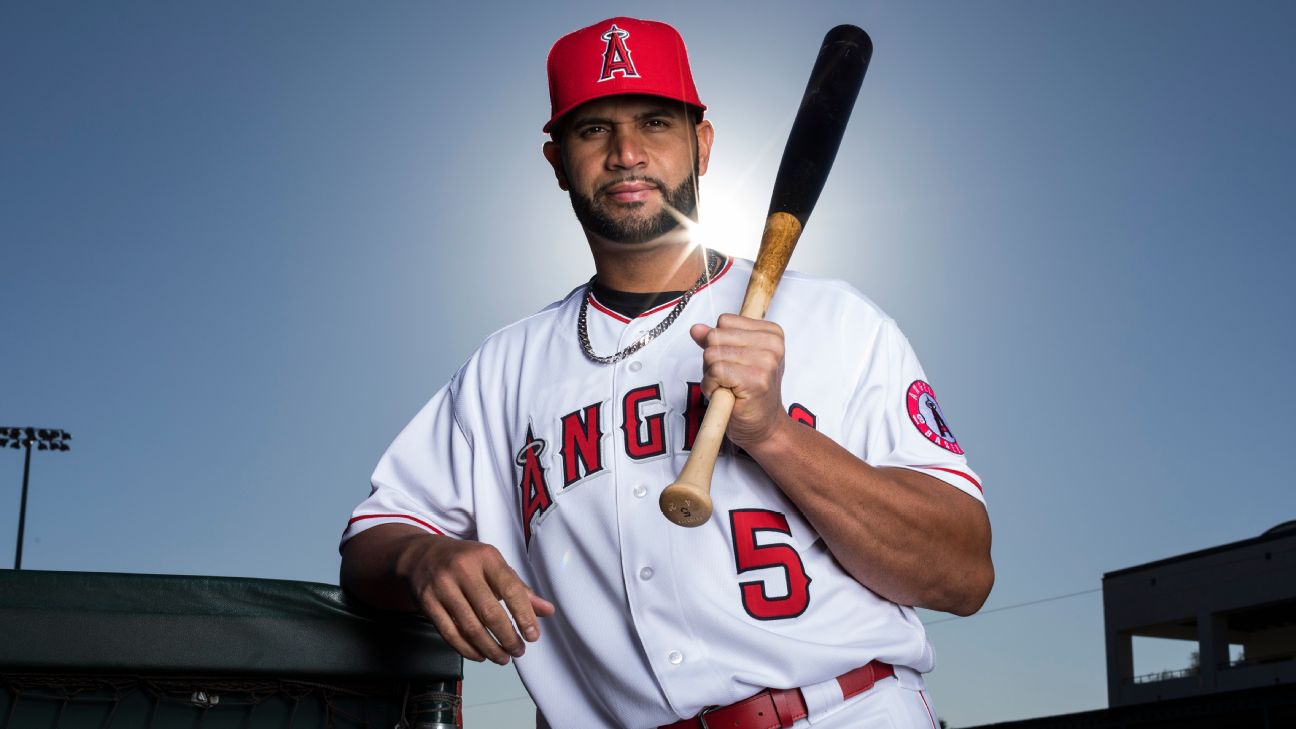 Albert is one of only five players in MLB history to reach the milestone of 2,000 RBIs. Also, he is one of just four players in MLB history to reach 3,000 hits and 600 home runs.
In this article, we will uncover how a Dominican immigrant, Albert Pujols, became one of the top baseball players in America.
But, before that, let's know some of his quick facts.
Quick Facts
Full Name
José Alberto Pujols Alcántara
Name
Albert Pujols
Nick Name
The Machine
Date of Birth
January 16, 1980
Age
43 years old
Birth Place
Santo Domingo, Dominican Republic
Nationality
American
Ethnicity
Dominican
Zodiac Sign
Capricon
Height
1.91 m
Weight
109 kg
Hair Color
Black
Eye Color
Black
Father's Name
Bienvenido Pujols
Mother's Name
Not available
Siblings
None
Education

Fort Osage High School
Maple Woods Community College.

Marital Status
Married
Wife
Deidre Pujols (m. 2000)
Children
5; Ezra Pujols, Sophia Pujols, Isabella Pujols, Esther Grace Pujols, Albert Pujols Jr.
Profession
Professional Baseball Player
League
Major League Baseball (MLB)
Bats and Throws
Right
Teams

St. Louis Cardinals (2001–2011)
Los Angeles Angels of Anaheim / Los Angeles Angels (2012–2021)
Los Angeles Dodgers (2021)

Debut Year
April 2, 2001 (MLB)
Status
Active
MLB Statistics
679 home runs, .297 batting average, and 3301 hits
Net Worth
$170 million as of 2022
Merch
On the Field with (Paperback), Autographed 3000th Hit Game Used Base
Social Media
Instagram, Twitter
Last Update
June, 2023
Albert Pujols | Early Life
Albert Pujols took his first breathe on January 16, 1980, in Santo Domingo, Dominican Republic. He was the only child in his family.
Albert's parents divorced when he was three years old. After that, his father took custody of him. He did, however, maintain cordial relations with his mother and stepfather.
Albert's father, Bienvenido Pujols, was a notable softball pitcher in the Dominican Republic. However, his divorce and retirement from his career had a huge toll on him. As a result, he became an alcoholic.
Albert, who was ten at the time, had to bring his father home from drinking every night with his friends. He had a difficult time because of his father's drinking.
The baseball prodigy mostly grew up with his grandmother, uncles, and aunts. His father didn't care about him. Instead, he used to take care of his father.
But, Albert never hated his father and his upbringing. Instead, he idolizes his father and says he matured early due to his father.
Later in 1996, Pujol's family moved to Washington Heights in New York for better opportunities. But, Albert was almost killed in the shoot-out that happened in the city.
The bullets whizzed past him, and he had a close call to death. After the shoot-out, the family moved to Missouri.
Albert grew up in Missouri and enrolled in Fort Osage High School there. He graduated from high school in December 1998.
Then, he studied at Maple Woods Community College, where he was given a baseball scholarship.
Albert Pujols | Baseball Career
How did he start Baseball?
Albert Pujols credits his father for his inspiration in baseball. Albert got familiar with baseball since his father was a baseball player and would take him to his games.
Watching his father play the games, he realized that he wanted to be like his father; he wanted to be a baseball player.
The baseball prodigy used to play baseball using limes for balls and a milk carton for a glove. Albert played in the streets with fellow neighbor kids.
When he was 12, Albert joined a youth baseball team where he competed in local competitions.
But, he couldn't pursue a baseball career in the Dominican Republic since his family soon moved out to the USA.
Lost and Found Through Baseball
Albert had difficulty adjusting to the USA as he didn't know English. In addition, it was a new place and culture that he wasn't familiar with.
In addition, his classes were taught in English, but he only spoke Spanish. Due to the language barrier, Albert couldn't make friends who would guide him.
Moreover, he was lost in this new country and had no idea what to do there.
But, he found one thing familiar there, and it was baseball. So, he enrolled in the baseball team and soon became a baseball star in high school.
He was named an All-state athlete twice and even received a Baseball scholarship at Maple Community College.
When at Maple Community College, he had a sensational debut game. His performance soon caught the eye of the St. Louis Cardinals, who drafted him in 1999 Major League Baseball in overall 402nd pick.
But, Albert initially turned down their offer but finally signed after they increased their bonus from $10,000 to $60,000.
This embarked on the professional baseball journey of Albert Pujols.
You may also like to read about Great Baseball Player, Gary Pettis>>
St.Louis Cardinals' Rising Star
Pujols started his professional career as a standby player, but he made his way into the gaming lineup.
In his first season, he batted an average of .329 with 37 home runs and 130 runs and was named the 2001 National League (NL) Rookie of the Year.
Albert put up impressive numbers in the following seasons, finishing second to Barry Bonds in the NL MVP voting (2002 and 2003).
Setting Records
Apart from this, the rookie star won plenty of other honors, including the 2004 NLCS MVP title and Silver Slugger trophies in 2001, 2003, and 2004.
In addition, he was elected NL MVP in 2005 after hitting.330 with 41 home runs and 117 RBIs.
Every season, Pujol improved his batting numbers, hitting .331 with 49 home runs and 137 RBIs and finishing as the runner-up for MVP for the third time.
He also had his best playoff performance that year, as he helped lead St. Louis to a four-game victory over Detroit Tigers in the World Series, bringing the Cardinals their first championship since 1982.
After ending the season with a.357 batting average and 116 RBIs, Pujols was awarded NL MVP in 2008.
Apart from this, he hit.327 with 47 home runs and 135 RBIs the following season, winning his third NL MVP award.
In 2011, Pujols suffered a minor setback, batting .299 for the first time in his career, with 37 home runs and 99 RBIs.
Yet, despite his lowered performance, the Cardinals had one of the greatest comebacks in baseball history to qualify for the postseason and eventually defeat the Texas Rangers in the World Series.
Signing with Los Angeles Angels
In 2011, he didn't extend his contract with the Cardinals. This became one of the hottest topics, and soon, after the rumor, he signed a 10-year, $254 million contract with the Los Angeles Angels.
But, In 2012, Pujols had his career lows in home runs (30) and batting average (.285), and the following season, he had to miss the final 61 games due to a leg injury.
This had a huge impact on his statistics. But, he did bounce back in 2014 with a .272 batting average and driving in 105 runs.
Despite hitting 40 home runs and setting a new career low in 2015, Pujols was named his first All-Star team with a .244 batting average in the Angels.
However, while his initial seasons with the Angels were better, the performance of Albert Pujols fell short of expectations.
In 2016, he headed the Angels with 116 RBIs and a.268 batting average. Apart from this, Pujols became the ninth player in Major League Baseball history to smash 600 career home runs on June 3, 2017.
However, he had a career-low batting average.241 at the end of the 2017 season. Pujols' 2018 season ended in August as he underwent season-ending knee surgery.
In 2019, he batted.244 with 23 home runs with the Angels, who finished their worst record since Pujol's arrival.
Signing with
Los Angeles Dodgers
After the contract with Angels expired, Pujols signed a one-year major league contract with the Los Angeles Dodgers on May 17, 2021.
He made his Dodgers debut as the starting first baseman against the Arizona Diamondbacks.
Albert Pujols |
Charitable Works
In 2005, Albert and Deidre Pujols founded the Pujols Family Foundation. The foundation raises awareness about Down syndrome and supports those who have it and their families.
It also helps the underprivileged in the Dominican Republic and supports individuals who have disabilities or are facing life-threatening diseases.
You may also like to read about the Greatest Hitter; Ted Williams>>>
Albert Pujols |
Wife and Children
The Uncommon Love Story
Albert found the love of his life early. He was just eighteen when he fell in love with Deidre, a 21-year-old single mother.
The couple met at the random club. Deidre was there in the same club for the girl's night out. She saw a tall young man who caught her eye instantly.
The two had a good talk in the club and decided to go on a date. The date was at Cheesecake Factory in Kansas City.
After knowing each other, Albert confessed that he lied about his age. Albert had said he was 21.
Deidre also confessed that she was a single mother of a child who had down syndrome. Their relationship seemed to have started with lies, and they both thought it wouldn't work out.
But, Albert confessed to Deidre, saying that he would love to marry her and raise her daughter.
The Marriage and Commitment
The couple then married on January 1, 2000. After marriage, Albert babysat her daughter, Isabella, when Deidre worked one of her three jobs.
When Albert was drafted as low as 402nd pick, he considered quitting baseball and seeking a job to support his wife and Isabella financially.
After his minor season, he landed part-time catering work at a Kansas City-area country club. It was hard for them to sustain themselves financially.
But, both of them became one's support system. The couple has five children Albert Jr., Sophia, Ezra, Esther Grace, and Isabella Pujols.
Albert Pujols |
Awards and Achievements
National League batting champion in 2003

Baseball America Major League Player of the Year in 2005

ESPY Award for Best International Athlete (2005 and 2006)

ESPY Award for Best MLB Player (2005, 2006, 2009, and 2010)

National League Most Valuable Player (2005, 2008, and 2009)

National League champion (2004, 2006, and 2011)

World Series champion (2006 and 2011)
Albert Pujols | Controversy
In 2013, Former MLB player Jack Clark accused Albert Pujols of using steroids as a performance enhancer.
The baseball star quickly denied the accusations saying that he had never used any drugs and the allegation had been made to ruin his image.
Clark reversed his statement, apologized, and stated that he "misspoke" after a threatened lawsuit.
Moving on, a Former MLB executive claimed Albert Pujols to be lying about his listed age. Well, there is no concluding statement from Albert's side on this topic.
But no matter what age he is, we hope to see Albert playing relentlessly.
Albert Pujols | Net Worth
The net worth of Albert Pujols is estimated to be $170 million. He earned the net worth from his career as a baseball star.
Albert earned $14.5 million during his time with the Cardinals. His final seven-year contract with St. Louis paid him $100 million.
His contract with Angels worth $254 million was the second-largest in baseball history at signing, trailing behind Alex Rodriguez's 10-year $275 million agreement with the New York Yankees.
The contract signed by Albert Pujols is only the third in baseball history to exceed $200 million.
With the Angels, his highest base salary was $28 million. In addition, he made an extra $7 million a year from endorsements at the peak of his career.
You may also like to read 13 Best Female Baseball Players in the World>>
Social Media Presence
Albert is fairly active on Instagram with 262k followers. We can find him posting random pictures on his account. He also has a page on Twitter and Facebook.
Frequently Asked Questions
Has Albert Pujols retired ?
No. while many speculated that Albert Pujol would retire after his contract with Los Angeles ended. He signed another contract with the Dodgers and said he has no intention of retiring any time soon.
Is Pujols a Hall of Famer?
Not yet, but based on his achievements and performance in baseball, he is likely to be drafted into the Hall of fame very soon.
Does Albert Pujols speak English?
When Albert moved to Missouri, he couldn't speak English. But, he learned to speak English to become an American citizen and scored a perfect 100 on the citizenship test.
How many home runs does Albert Pujols have?
Albert Pujols have 679 home runs. He is one of the players expected to hit 700 home runs after Alex Rodriguez.