Aleksandar Vukic's parents, Radoje and Ljiljana, are immigrants from Sarajevo who settled in Australia in the mid-1990s. The tennis player grew up alongside his older brother Vladimir.
The Australian tennis player Aleksandar considers his father to have made the biggest impact on his life. It is a fact that even his coach's agreed in the USA.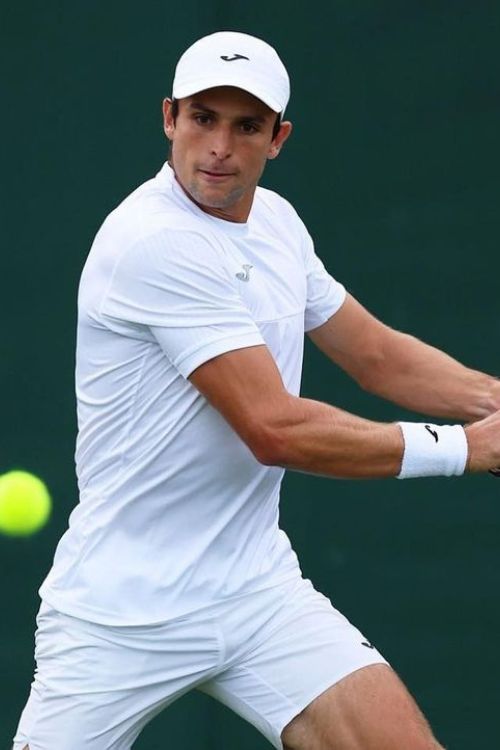 Vukic saw his parents build their lives from scratch in Australia while making sure his and his brother's needs were fulfilled. In 2020, Aleksandar broke into the top 200 and earned his first ATP Tour win a year later.
In 2023, Aleksandar made his Wimbledon debut and was victorious in his first round against Daniel Altmaier. But he lost out against Quentin Halys in the second round.
Aleksandar Vukic Parents, Radoje, And Ljiljana
Aleksandar Vukic's parents Radoje, and Ljilijana Vukic, left their homeland Sarajevo during the 1990s and immigrated to Australia.
It is understandable that for any immigrant family, it's hard to build their way from the ground up. Radoje and Ljiljana didn't want to leave their country, but due to the breakup of Yugoslavia, the tension was mounting.
So, for the sake of the better future of their kids, the couple had to immigrate away from their homeland, and they chose to start a new life in Australia. During their initial phase, the couple had difficulties finding jobs, but slowly and steadily, they settled in Downunder.
At first, Ljiljana and Aleksandar's older brother, Vladimir, took the flight to Australia. As males over 18 had to participate in the war, Radoje had to make his escape quick, and he came on a separate flight to Australia by blending with other families.
A family that began its life with only $1000 in Australia, Radoje and Ljiljana became engineers. His dad, Radoje, works as a Senior Technology Specialist at Telstra.
In an interview, Aleksandar said if it weren't for his supportive parents, becoming a professional tennis player would've been a far-fetched dream. He said there were moments of doubt in his tennis career, but his dad and mom were always there to push him on and root for his success.
Aleksandar's head coach in Illinois, Brad Dancer, said Radoje had the most influence on his son's tennis career. Stubbornness to succeed is what Radoje instilled in his son, and it was something even Dancer respected in the father-son duo.
Aleksandar Vukic Brother, Vladimir Vukic
Unlike his brother, Vladimir Vukic saw the horror of war as a child. He was born in Bosnia and had to escape the country with his mother before reuniting with his dad in Australia.
Vladimir Vukic, the older brother of Aleksandar Vukic, has an age gap of six years with his brother. In the beginning, Vladimir was the one who began playing tennis in their family. He was aged ten when he picked up the tennis racquet.
Whenever his brother would be playing tennis, Aleksandar would wait in the wings as a ball boy. But soon, the path of the two brothers career-wise separated.
If Aleksandar decided to make tennis his profession, Vladimir diverted from it. Vladimir worked as a summer analyst for Goldman Sachs before graduating from UNSW in 2012 with a degree in commerce and law.
He then joined Booz & Co as a senior associate in 2013 and worked there for three years before making his way to the UK. Vladimir enrolled at London Business School and graduated with an MBA in 2018.
While working on his MBA degree, Vladimir worked as an intern at Brookfield Asset Management and later joined them on a full-time basis as a private equity analyst.
In 2020, Vladimir returned to Australia and began working at Pemba Capital Partners as an investment associate and later earned a promotion to investment manager.
Vladimir joined Acis, one of Australia's largest providers of business and investment structures and restructures, in 2022 as a non-executive director. On his Instagram, Aleksandar has shared several pictures with his brother during their time in Australia.