Alex Cora is a Puerto Rican baseball manager of the Boston Red Sox who also played as an infielder for the team in MLB from 2005 to 2008.
Acting as manager for Red Sox, Alex Cora and chief baseball officer Chaim Bloom each addressed the Red Sox's 2023 roster status with roughly two months remaining in the off-season.
Red Sox renegotiated Cora's contract on November 14, 2018, with a club option for 2022, including an extension through the 2021 season; since then, he has been working for the team.
He was an MLB player, then turned as a bench coach and later became a manager, the first Puerto Rican manager to have won a World Series-winning team. He is a three-in-one fellow who has mastered taking along three professions mirthfully and has given more than a decade of his life to MLB.
Alex has remained successful in clinching World Series Champion Trophy three times. And also served as a coach to Houston Astros. That's a lot to count on his achievements, and more is yet to come.
What is his life like? How did he end up becoming a Boston Red Sox manager? What is his rate in the baseball industry? We shall figure out everything from his unknown past to his present success stories.
But before that, let's look at a quick fact about the multi-talented person, Alex Cora.
Quick Facts
Full Name
Jose Alexander Cora
Known As
Alex Cora
Birth Date
October 18, 1975
Birth Place
Caguas, Puerto Rico
Nick Name
Skipper
Religion
Not Known
Nationality
Puerto Rican
Ethnicity
Puerto Rican
Education
Bautista High School, University Of Miami
Horoscope
Libra
Father's Name
Jose Manuel Cora
Mother's Name
Iris Amaro
Siblings
Joey, Lydia, And Iris
Age
47 Years Old
Height
6 ft / 1.80 m / 180 cm
Weight
200 lb / 90 kg
Playing Style
Batted: Left, Threw: Left
Hair Style
Shaved Head
Eye Color
Brown
Awards
3-Time World Series Champion
Build
Athlete
Marital Status
Divorced
Former Wife
Nildamarie Lecleres (Ninda)
Relationship Status
In A Relationship
Girlfriend
Angelica Feliciano
Children
Camila Cora
Jeriel
Xander Gabriel
Islander Manuel
Profession
Former Baseball Player
Manager
Coach
Position
Former MLB Infielder, Second Baseman
Teams He Played For

Los Angeles Dodgers (1998–2004)
Cleveland Indians (2005)
Boston Red Sox (2005–2008)
New York Mets (2009–2010)
Texas Rangers (2010)
Washington Nationals (2011)

Team He Coached
Houston Astros (2017)
Manager
Boston Red Sox (2018–2019, 2021–present)
Net Worth
$10 Million
Salary
$8,00,000 Yearly
Currently Works For
Boston Red Sox
League
MLB
Active Since
1998-Present
Social Media
Twitter, Instagram
Merch
Autographed Baseballs
Last Update
January, 2023
Early Life And Family
Jose Alexander Cora was born on October 18, 1975, to his parents, Jose Manuel Cora and Iris Amaro, in Caguas, Puerto Rico. He grew up alongside his brother, Joey Cora, ten years older than him, and sisters Lydia and Iris.
He played all-time baseball while growing up; he considered the sports breakfast, lunch, and dinner, says his childhood coach Kiko Cordero.
Jose's father passed away due to colon cancer when Alex was thirteen. Manuel was a mentor in the little leagues in Puerto Rico, and because of him, Alex fell in love with baseball.
After his father's death, Joey took all the responsibility of home on his young shoulders.
Joey is another baseball infielder who performed for four major squads, including San Diego, the Chicago White Sox, Seattle, and Cleveland. He has served as a coach for the Pirates.
His mother, Iris, worked as a school secretary, and he thanks her for his brought up as a solitaire player. Alex went to Bautista High School in Caguas and graduated in 1993.
Lydia and Iris, his sisters, are busy with the work at Church and community serving as leaders.
Brother | Joey Cora
Joey Cora had an astonishing 11 years career at MLB. He held the position of second baseman playing for the San Diego Padres of the National League and the Seattle Mariners, Chicago White Sox, and Cleveland Indians of the American League.
The San Diego Padres had drafted him in the first round of the 1985 MLB draft. He last played for Cleveland Indians, which ended in a short period due to injuries.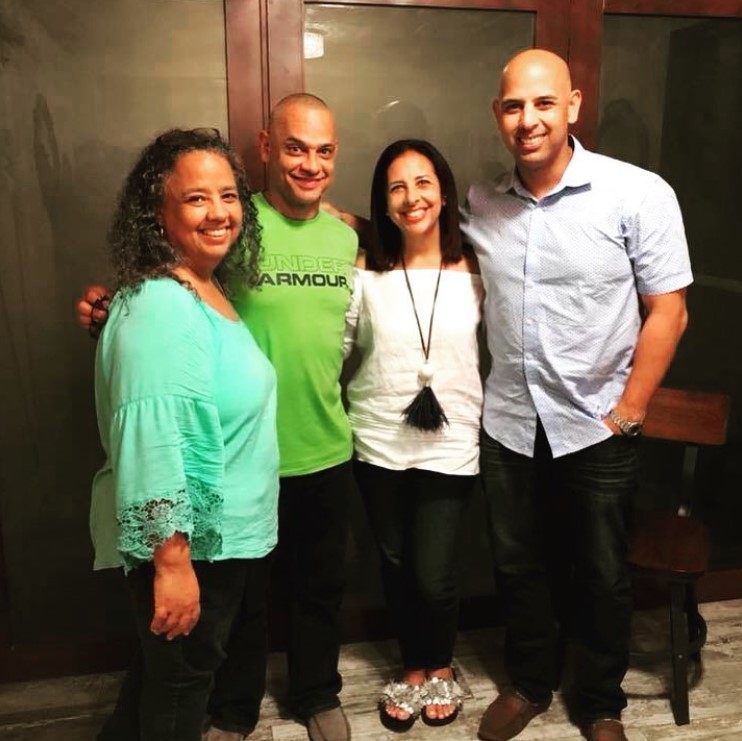 Moreover, he later signed a free-agent contract with the Toronto Blue Jays but retired without playing games with the team.
His coaching career began in 2003 with the Chicago White Sox. He has mentored and coached the Pittsburg Pirates since 2017.
As of 2023, Joey is a third base coach for the New York Mets.
Amateur Career
In the twelfth round, the Minnesota Twins selected Alex for the 1993 MLB draft but opted to play for the University of Miami.
During his time at Miami, Alex was titled to the College World Series all-tournament team in 1995 and 1996. Although they lost the title to Louisiana State University, they won it in 1996.
Baseball America rated him the best collegiate defensive player entering the 1996 First-Year Player draft. The Los Angeles Dodgers hired him in the third round of the 1996 entry draft. He was soon traded to play for the minor league Vero Beach Dodgers.
Alex kicked off the 1997 season with San Antonio Missions appearing in 127 games. He was also enrolled to play some parts in 1998, 1999, and 2000 seasons with Albuquerque Dukes appearing in 191 games.
MLB Career
Los Angeles Dodgers
Alex debuted in MLB major league on June 7, 1998, with the Los Angeles Dodgers against the Seattle Mariners.
He played with the Dodgers for the next seven seasons in 684 games. That's a huge number of games again.
Alex served mostly as a shortstop in both the 2000 and 2001 seasons. He also played as a second baseman for the Dodgers.
His brother, Joey, played as the starting second baseman for the same team.
Cleveland Indians
Alex appeared as a free agent with the Cleveland Indians in 49 games for the 2005 season.
Boston Red Sox
Alex entered the squad of Red Sox on July 7, 2005, where he appeared for 47 games and led the team to win the 2007 World Series Trophy.
He played in 83 games for the 2007 season. Alex kept playing for the Bostons for the regular four seasons until he was signed as a free agent on October 30, 2008.
New York Mets
Alex inked a one-year deal with the New York Mates on January 22, 2009. He appeared in a total of 144 games for the Mets.
They opted to extend the contract for the 2011 season, but unfortunately, that did not happen.
Texas Rangers
Alex again dropped back to signing with the minor league Texas Rangers on August 17, 2010. He was placed in Oklahoma City, where he played in 6 games. Later, he performed for the Rangers in four games and was awarded an AL Championship ring.
Washington Nationals
Alex played for the Washington Nationals in 91 games for the 2011 season. His last MLB performance was on September 28, 2011, with the Nationals against the Florida Marlins.
St. Louis Cardinals
Alex played winter baseball in Puerto Rico for the rest of the 2011 season. After which, he thought of retiring from winter baseball. Later, he went on signing a deal with the Cardinal on February 5, 2012.
Jersey
Cora wore jersey number 20 for the Boston Red Sox.
Coaching And Managing Career
Wrapping up his playing career, Alex switched to coaching and managing on November 15, 2016, when he opted to take a coaching job for the Houston Astros. With the Houstons, he went on to clinch the World Series Championship trophy for the second time.
Alex then moved on with his managerial job in 2017 for the Boston Red Sox. He eventually signed up for a three-year contract with the Bostons starting in 2018 and became the 46th manager.
He won the World Series Championship with the Bostons for the third time.
Moreover, while taking up the Bostons' job, he did not ask for anything but a good amount of donation to Puerto Rico after the hurricane ravaged the Island, regardless of asking for a salary, infringement, and other benefits.
Alex also served as a colour analyst for ESPN and ESPN Deportes from 2013 to November 2016.
Personal Life
Alex's personal life is as liberating as his professional life. He was previously married to Nildamarie Leclere's-Vazquez, aka Nilda.
With her, he has a beautiful girl child, Camila Cora, who is in her teen years now and is important to him in his life.
Also, Nilda has a son from her previous relationship, Jeriel, whom Alex adopted. However, we remain unknown for the reason they parted ways.
Current Relationship
Regarding his current relationship status, Alex is well set to marry Angelica Feliciano, with whom he shared twin children, Xander Gabriel and Islander Manuel, born in July 2017.
The family resides in Chestnut Hill, Massachusetts. Alex was joined by his fiance and twin kids on the field in 2018 while winning the ALCS and American League pennant.
Angelica has a brother named Jesus, a baseball player, who played for the Dodgers, the Washington Nationals, the New York Mets, and the Tampa Bay Rays, and he is close to him.
Besides his private affairs, there is one more interesting point to add, Alex is bilingual; he can speak both the Latino and American languages. You can find his signature on Amazon.
Houston Astros Controversy
Alex Cora had indulgence in the 2017 Houston Astros sign-stealing scandal, which led to a World Series title.
Cora was not the mastermind, but he accepted his part in the ill work. He served as the bench coach for Houston Astros then.
He was at the forefront, creating the system to steal signs and partnering as a key actor with Astros players Carlos Beltran.
Cora arranged for a video room technician to install a monitor that displayed the centre field camera feed outside the Houston Astros dugout.
The MLB did not allow a centre field camera at that time. However, it was permitted for player development under MLB rules.
Cora and the team used a monitor near the clubhouse so that they could decode the signs. They then banged on a trash can aiming to relay messages to their hitters.
He is quite popular among the trollers and memers. After his cheating scandal, his memes were widely shared on social media.
Net Worth
Alex has already notched the World Series Championship Trophy three times, once as a player and twice as a coach and manager. This accomplishment headline is enough to boost his level in the baseball industry.
He is the fine coach, player, and manager that the industry can ever have. Apart from that, his bilingual talent adds up to his leadership skills.
Alex has lived an extra lavishing life with his family through God's grace and hard work.
According to online sources, his contract with the Bostons pays him an annual salary of $8,00,000.
Alex Cora is assumed to have an accumulated net worth of $5-$10 million as of 2023.
Besides, Alex owns a housing property at Chestnut Hill worth $902,600 and a list of branded cars.
Alex also had to pay his ex-wife, Nilda, a good amount as alimony to settle the divorce. Though, we are still deprived of the amount in figures.
Social Media Presence
Alex is on Instagram and Twitter. His social media handles are flooded with family pictures. He is a proud father of four through his social media posts.
Alex also shares his love for his hometown and his parents; he is obsessed with keeping his fans intact with his random posts.
View this post on Instagram
Explore more about him by following his social media.
Twitter – @ac13alex with 80.7k followers
Instagram – @ac13alex with 117k followers
Popularity Graph
Alex Cora is a manager for the Boston Red Sox and a former MLB player.
The above graph shows Cora's popularity over the past twelve months.
Frequently Asked Questions (FAQS)
What does Alex Cora have to do with the Detroit Tigers?
The Detroit Tigers were considering hiring Alex Cora and A.J. Hinch for their managerial vacancy while both were suspended from MLB after the 2020 World Series. However, Alex was hired for the managerial posts of Boston Red Sox.
Why was Alex Cora suspended from the MLB?
Alex Cora had indulgence in the 2017 Houston Astros sign-stealing scandal, which led to a World Series title. Cora and the team used a monitor near the clubhouse so that they could decode the signs. They then banged on a trash can aiming to relay messages to their hitters.
Did Alex Cora play for the Triple-A Albuquerque Dukes?
Cora spent 1998, 1999, and 2000 with the Triple-A Albuquerque Dukes, hitting .264 in 81 games, .308 in 80 games, and .373 in 30 games, respectively.