Shubskaya, who also goes by Nastasiya Ovechkina, has acted as a pillar of support for her athlete husband since their marriage. From the looks of it, Alex is immensely thankful for having her in his life.
After a failed engagement, it seemed like Alex Ovechkin was having trouble finding love. But all our worries were put to rest when he set his eyes on the Russian brown-eyed beauty, Anastasia Shubskaya.
One of the greatest ice hockey players in NHL history, Alex Ovechkin, is married to model and actress Anastasia Shubskaya. The couple has two children together.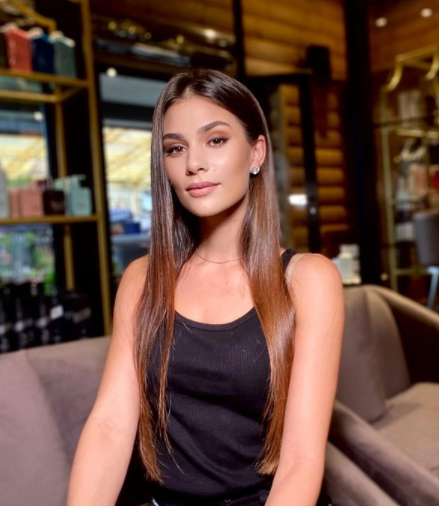 Anastasia and Alex are not afraid to show their appreciation for each other to the world. But how much do you know about the model?
Let us catch a glimpse of Anastasia Shubskaya's life through this article.
Alex Ovechkin Wife: Anastasia Shubskaya | Quick Facts
| | |
| --- | --- |
| Full Name | Anastasia Shubskaya |
| Nick Name | Nastasiya Ovechkina |
| Date Of Birth | November 16, 1993 |
| Birth Place | Switzerland |
| Residence | Moscow, Russia |
| Age | 29 |
| Gender | Female |
| Sexual Orientation | Straight |
| Height | 5'8″ (177 cm) |
| Weight | 60 kg (132 lbs) |
| High School | Not Available |
| University Name | Gerasimov Institute of Cinematography |
| Zodiac Sign | Scorpio |
| Religion | Not Available |
| Nationality | Swedish |
| Ethnicity | Swedish-Russian |
| Father's Name | Kirill Shubsky |
| Mother's Name | Vera Glagoleva |
| Siblings | Anna Nakhapetova, Maria Nakhapetova |
| Hair Colour | Brown |
| Eye Colour | Dark Brown |
| Skin Colour | Olive |
| Marital Status | Married |
| Partner | Alex Ovechkin |
| Kids | Sergio and Ilya |
| Profession | Model, Actress, Film Producer |
| Net Worth | $4 million |
| Salary | Not Available |
| Social Media | Instagram, TikTok |
| Alex Ovechkin Merch | Jersey, Gear |
| Last Update | March, 2023 |
Anastasia Shubskaya: Early Life, Education, and Family
Anastasia Shubskaya, the wife of Alex, was born on November 16, 1993, to Vera Glagoleva and Kirill Shubsky in Switzerland. She spent her childhood in Switzerland but later moved to Moscow, Russia, with her family.
Likewise, her mother, Vera, was an actress and film director, while Kirill, her father, is a businessman. In 2016, he became the CEO of JSC RT-Himkompozit, a Russian manufacturing enterprise.
Before meeting Kirill, Vera Glagoleva was married to actor, film director, and screenwriter Rodion Nakhapetov. They had two children together, Anna and Maria Nakhapetova.
Likewise, Anna is also an actress, and she has appeared in films like One War, Two Women, and The Sunday Daddy.
After her divorce from Nakhapetov in 1988, she remarried Kirill Shubsky.
Moreover, on August 16, 2017, Vera sadly passed away at a German hospital after losing her long battle with cancer. She was 61 at the time.
Nastasiya graduated from the Gerasimov Institute of Cinematography in 2014. Likewise, she went to New York Film Academy and took a four-week acting program.
Anastasia Shubskaya: Husband and Kids
Shubskaya and Ovechkin met for the first time during the 2008 Summer Olympic Games in Beijing, China. They danced together in one of the after-parties, but nothing much happened after their meeting.
When Alex came across one of Anastasia's photos on Instagram in November 2014, they talked again.
After that, they became close friends, and the relationship eventually turned romantic.
The couple shared the news of their engagement in September 2015. And they were indeed head over heels for each other since they decided on marriage so quickly.
Nastasiya and Alex had a private wedding with close friends and family on August 11, 2016. Likewise, the wedding took place at the Fourth Wedding Palace in Butyrskaya, Moscow.
They welcomed their first son, Sergio, on August 18, 2018. Sergio was named after Ovechkin's late brother, whom he cherished deeply. Their second son, Ilya, was born on May 27, 2020.
Sometimes Nastasiya likes to take her children to cheer for their father during his hockey games. She certainly looks forward to the day her children decide to become fine sportsmen like their father.
Anastasia Shubskaya: Career
Anastasiya Shubskaya is a professional model, actress, and film producer. She appeared in Russian movies like Ferris Wheel (2007) and Ka-de-bo (2007).
In 2014, lifestyle and beauty magazine Elle named Nasatasiya as one of the "Top 10 Bachelorettes in Russia."
Likewise, her modeling career began in 2015, and she started working with well-known magazines and photographers.
She is a social media personality and consistently engages with her fans and followers on her Instagram page.
Anastasia Shubskaya: Former Relationship
Shubskaya was engaged to a businessman named Artem Bolshakov. They had been together for three years. However, Artem's long business trips to the United States began to strain their relationship.
It was tough for them to maintain a proper connection after not seeing each other as often as they liked. Therefore, Nastasiya and Artem ultimately decided to part ways.
Alex Ovechkin Wife: Social Media
As a model and social media influencer, Anastasia Shubskaya likes to share different aspects of her life online. She is active on her Instagram account, and we get to see some of her stunning pictures from various photoshoots.
Not only that, she loves to share pictures of her two adorable kids and her loving husband. In addition, Anastasia is very close with her father and step-siblings.
Similarly, it is pretty apparent with the way they often appear on her social media posts.
Recently, she made a TikTok account, so make sure to check it out if you want more of her fun content.
Instagram: 513k followers
Tiktok: nastyashubskaya
Anastasia Shubskaya: Net Worth
Nastasiya has been working in the entertainment industry for a long time. Because of this, she has received multiple modeling and acting opportunities.
Anastasia Shubskaya has an estimated net worth of $4 million.
Her mother was a distinguished actress, and her father is a successful businessman, so she comes from a well-off family.
In addition, her husband, Alex Ovechkin, is a prominent figure in ice hockey who makes a handsome salary.
Alex Ovechkin: Why is he famous?
Alex Ovechkin is the captain and left-winger of the Washington Capitals of the National Hockey League (NHL).
Ovechkin made it into the list of esteemed ice hockey players and was named one of the 100 Greatest NHL Players of all time in 2017.
His professional ice hockey journey began in 2001 after becoming part of a Russian ice hockey club named Dynamo Moscow of the Russian Superleague (RSL).
In the 2004 NHL Entry Draft, Alex was selected in the first overall pick by the Capitals. However, he played for them only in the 2005-06 NHL season.
He received the Calder Memorial Trophy, otherwise known as the NHL's Rookie of the Year award. In addition, Alex Ovechkin has won multiple trophies for his unmatched skill and agility.
Firstly, he received the Maurice "Rocket" Richard Trophy nine times, winning it for the first time in the 2007-08 NHL season. The trophy is awarded to the leading goal scorer in the NHL.
Similarly, he was awarded the Art Ross Trophy for leading the league in points (2008). He also won three Hart Memorial Trophies (2008, 2009, 2013) for being the most valuable player.
Ovechkin also won three Lester B. Pearson Awards (2008, 2009, 2010) for being the most outstanding player each season.
His first Stanley Cup win happened in 2018 against the Vegas Golden Knights. Moreover, Ovechkin has won a World Junior Championship (2003) and three World Championships (2008, 2012, 2014) for Russia.
Alex Ovechkin: Early Life, Family, and Education
Alexander Mikhailovich Ovechkin was born on September 17, 1985, in Moscow, the capital of Russia. He is the son of Tatyana Ovechkina and Mikhail Ovechkin.
His mother is a former Olympic gold-winning basketball player, and his father was a former football player.
Therefore, as the son of two athletes, it was clear that Ovechkin was destined for greatness.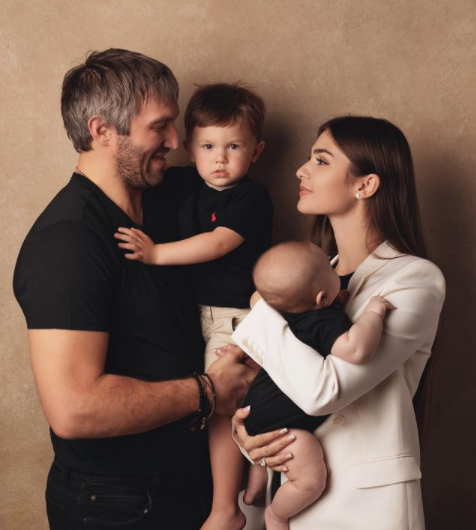 Alex was fascinated by hockey from a very young age. However, he was only two when he picked up a hockey stick for the first time.
Likewise, he went to a public school until 8th grade before joining Dynamo Moscow's sports school to focus on hockey.
Alex had two brothers, Sergio and Mikhail, but when Alex was ten years old, Sergio got into a car crash and succumbed to his injuries.
Ovechkin shared a strong bond with his brother, so it was a painful time in his life. However, he is eternally grateful to his brother for playing a massive role in his hockey journey.
Currently, Ovechkin has been studying Pedagogical Sciences to receive a Doctor of Sciences, a higher form of a doctoral degree in Russia.
Alex Ovechkin: Former Relationship
Ovechkin was seeing former Russian tennis player Maria Kirilenko before he met Shubskaya. Alex and Maria had been in a relationship since 2011, and they got engaged the following year.
Unfortunately, Kirilenko called off the wedding in July 2014. But she did not elaborate on why, so we will never know what happened between them.
Instead, she wished him success in life and did not have anything harsh to say about him in interviews.
Alex Ovechkin: Social Media
Ovechkin is not less than any influencer when it comes to social media. He makes sure to keep his fans and followers updated on everything new happening in his life.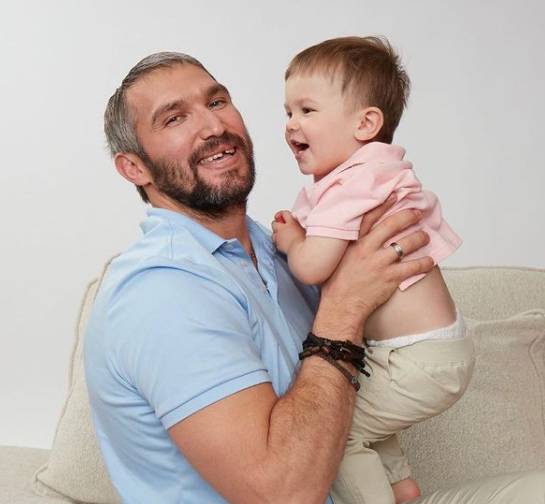 Whether it is a nice dinner with his wife, quality time with kids, glamorous parties, and sports events, we get to see it all on his social media.
Twitter: 2.5m followers
Instagram: 1.6m followers
Alex Ovechkin: Net Worth
Ovechkin is one of the wealthiest ice hockey players in the world. He signed a $124 million contract extension of 13 years with the Capitals in 2008. Consequently, his annual salary was $9 million.
In July 2021, he signed another five-year contract with the Capitals for $47.5 million.
Alex Ovechkin's estimated net worth is $60 million.
The three-time NHL Most Valuable Player owns multiple cars, including a Mercedes-Benz SL65 AMG and a custom Mercedes S63 AMG. On the other hand, he bought a $4.2 million residence in McLean, Virginia, in 2012.
Moreover, Ovechkin has worked with brands like Nike, CCM, Ethernity, and Gillette.
To know about her wealthy and famous husband: Alex Ovechkin Bio: Childhood, Career, Net Worth & Wife >>
Anastasia Shubskaya: FAQs
Who is Alex Ovechkin's wife?
Alex Ovechkin's wife is Anastasia Shubskaya, who is a model, actress, and film producer. They got married in 2016 and even have two kids together.
Where is Ovechkin's wife?
Ovechkin's wife, Anastasia, lives in Moscow, Russia. However, she often travels to the United States with her husband and stays for hockey games and public events.