The gorgeous Suzanne Villarreal Wood is the wife of an American professional baseball pitcher for the San Francisco Giants of the MLB, Alex Wood, aka "A-Wood."
Alex, originally Robert Alexander Wood, is a 32 year old who got his MLB break with the Atlanta Braves.
Aside from the Giants and the Braves, Alex has been part of notable teams in the major league, namely the Los Angeles Dodgers and Cincinnati Reds.
As part of the Dodgers, Alex won the 2020 World Series.
Wood was into baseball early on, as he also enjoyed the sport in high school and college.
He played for the Georgia Bulldogs at the University of Georgia before turning professional.
Alex Wood Wife
Suzanna Villarreal Wood is a gorgeous lady and the wife of the MLB pitcher Alex Wood.
However, she seems very private, and not much information regarding her is disclosed.
Looking at her social media, one can say that she loves to travel, spends time with her family, and is into fashion.
According to reports, Alex and Suzanna had been dating for a long time before finally tying the knot on November 25, 2017.
The gorgeous couple got married in the fabulous St. Regis Atlanta, Georgia hotel in the attendance of close friends and family.
Alex and Suzanna seemed to be living a very happy and blissful life and also have added a new member to their small family.
The pair share a baby boy named Asa Fransico Wood together, who was on September 27, 2022.
Being proud parents, the Wood family often share their son's picture on their social media.
Proposal & Wedding
Amazingly, the MLB champion asked Suzanna's mother before proposing to his future wife.
It happened while they were vacationing in St. Barts. Alex popped the question, offering Suzanne a stunning diamond ring he had designed himself and a love letter.
The proposal was overwhelming to Suzanne. They immediately started planning for their big day.
Suzanne began to search for the perfect wedding venue for her special day.
However, in a stroke of inspiration, she and her partner realized that the ideal location for their special day was none other than the city where their love story began.
Initially captivated by the idea of an outdoor celebration, the couple's perspective took an enchanting turn after experiencing the awe-inspiring ambiance of St. Regis Atlanta during a personal tour.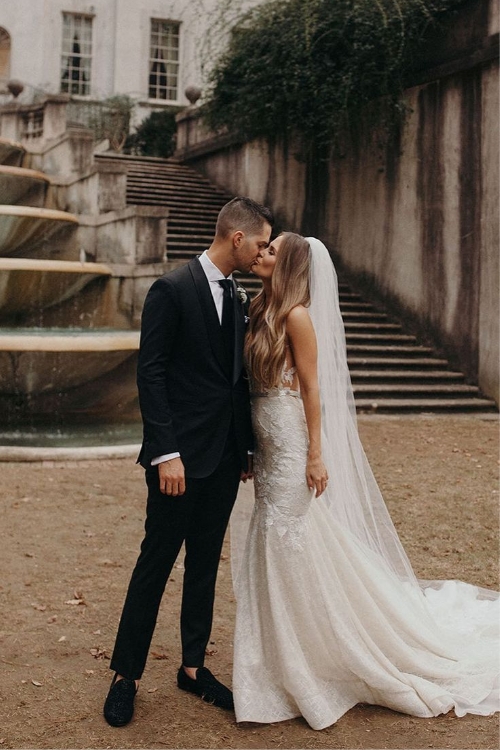 The ceremony exuded an irresistible sense of intimacy. The aisle, adorned with tall hurricane glasses filled with flickering candles, cast a mesmerizing and romantic glow, precisely as the bride had always imagined.
A breathtaking arbor, adorned with abundant lush flowers and vibrant foliage, served as the focal point for exchanging vows.
As the enchanting melody of "Sweet Disposition" by The Temper Trap filled the air, the bridal party gracefully commenced their procession, donned in elegant wine-colored dresses and clutching exquisite nosegays of pink and burgundy blooms.