Amanda Serrano elder sister, Cindy Serrano, a professional boxer, instilled the same passion into her. Following in her sister's footsteps, Amanda undoubtedly made the right decisions.
Amanda's sister, Cindy, began boxing training to lose weight but later fell in love with sports and pursued it professionally. Watching her sister's career flourish, Amanda, too, developed a passion for sports.
Today, Amanda considers her sister as her ultimate inspiration and role model. Her sister also never lacks to provide her with the support she needs.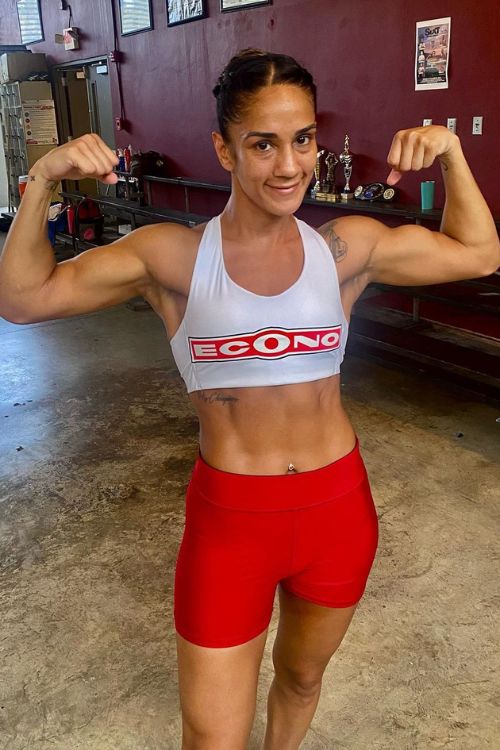 The Puerto Rican-born athlete Amanda Serrano has gained prominence in three professional fields- boxing, mixed martial arts, and wrestling.
Widely popularized for her powerful punches, Amanda holds forty-five wins inside the octagon. Well, among her boxing wins, thirty of them are via knockouts.
Currently, she is the undisputed featherweight world champion, having won the WBO, WBC, IBO, and WBA titles.
To top it off, she holds the Guinness World record for having claimed major titles in more weight divisions than any other female boxer in history.
The two-time WBO's Female Boxer of the Year is the only Puerto Rican to achieve this feat.
However, her MMA career is not as remarkable as her boxing career. Nicknamed "The Real Deal," Amanda recently signed with the Professional Fighters League (PFL), further pursuing her career.
With her recent desire to enter the WWE soon, Amanda has been training under Jonathan Figueroa.
Amanda Serrano Sister Cindy Serrano Is Also A Boxer
Born on May 8, 1983, Amanda Serrano's older sister, Cindy Serrano, shares the same professional path as her. With their athletic charm, the Serrano sisters rule the boxing world together.
She debuted professionally in September 2003, defeating Kathy Rodriguez by a four-round unanimous decision. Since her debut, she secured multiple wins along with some defeats.
Glancing at her stats, she holds twenty-seven wins inside the boxing ring, among which ten are through knockout.
Also, Cindy has competed in different weight divisions, including Featherweight, Super Featherweight, Lightweight, and Welterweight.
Highlighting her career major success, she held the WBO female featherweight title from 2016 to 2017.
Throughout her career, she consistently delivered strong performances setting a benchmark. However, she hasn't been active in sports since 2018, after her last match against Katie Taylor.
Regarding her personal life, Cindy is in a marital relationship with her husband, Jordan Maldonado, a personal trainer and gym owner. He is the one who trains and manages Cindy's litter sister, Amanda's boxing career.
Amanda Serrano Parents
Born on October 9, 1988, Amanda Serrano is one of the kids of her parents, whose names are undisclosed.
Amanda grew up alongside her family in Carolina, where her grandparents lived. But later, her family relocated to New York and joined the large Puerto Rican community there.
Living within the community, she grew up in a Puerto Rican cultural haven where traditional food and salsa music were typical.
Talking about her parents, they have maintained a low-profile life with scant details available about her. Though not publicly but from behind, they have always supported their daughter's dream.
Earlier in her career, although Amanda's father encouraged her boxing decision, her mother showed some reluctance.
After achieving success, her mother too supported her aspirations and goals. Today their parents feel proud of where their daughters have reached.