With the soaring popularity of former boxer Andre Ward, fans are curious to learn more about Andre Ward wife, the couple's married life, and children.
Andre Ward is an American former professional boxer whose professional journey lasted from 2004 to 2017.
The former boxer first started boxing in 1994. He competed as an amateur in the 2004 Summer Olympics and secured first place. In the same year, he debuted as a professional.
Andre came to global prominence as a boxer in 2009 after winning the World Boxing Association (WBA) super middleweight title.
In 2011, he defeated the WBC super middleweight champion, Carl Froch. He was rated as #1 by Ring magazine and earned the vacant Ring magazine and lineal titles. Also, he earned the Fighter of the Year title from The Ring.
Similarly, in 2016, Andre won the WBA, International Boxing Federation (IBF), and World Boxing Organization (WBO) titles. For this, Ward earned the Comeback of the Year title by The Ring.
Andre Ward Wife
Family man Andre Ward exchanged vows with his long-time girlfriend, Tiffiney Ward, in 2009.
The couple met each other during their high school days. Andre wishes his wife a happy birthday on the 21st of March every year.
Likewise, the couple are parents to four children- three sons named Micah Ward, Andre Ward Jr, and Malachi Ward and a daughter named Amira Ward.
The couple currently reside in Danville, California, along with their children. They live a peaceful and happy life.
Tiffiney is active on Instagram, and she constantly posts pictures of her children and family. However, not many details are available regarding the children's personal life.
When Andre was an active boxer, his wife and his children used to show up to his games to cheer and support him.
After retirement, Andre spends most of his time with his family. They constantly travel and enjoy time with one another.
Andre Ward Family
Former boxer Andre Ward was born in San Francisco, California, to Frank Ward and Madeline Arvie Taylor.
His father was an Irish American, and his mother is African American.
Andre's father was the one who inspired and encouraged him to pursue a boxing career. His father used to take him to the U.S. Karate School of the Arts, where he developed his interest.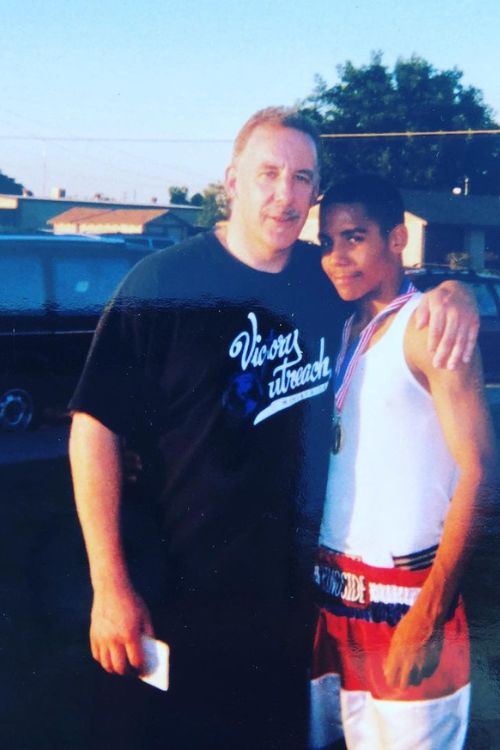 Ward grew up with his brother Jonathan Ward. They shared a strong bond and support.
Andre has mentioned his parent's addiction affected him and his brother. After his parent's drug addiction, they were raised by Virgil Hunter, whom they considered a godfather.
Later, his father died in 2002, at 45, due to a heart attack. Andre remembers his father for encouraging him in his life.
Andre Ward Retirement
Former boxer Andre Ward announced his retirement from boxing on October 21, 2017.
He publicly announced his retirement through his website. Andre released a statement stating that he no longer had the desire to fight anymore. He thanked everyone who was part of his journey and showed immense respect for boxing.
He even tweeted a video as a part of his announcement.
Andre retired as his body could not take up the rigors of boxing. He has suffered from multiple injuries, which include shoulder and knee injuries.