Have you ever felt a vulnerable influence that shivers your insides? Andrew McCutchen is an infectious American professional baseball player who will shake you just by being himself.
He is garrulous, personable, determined, who has exuberance gameplay, and what not else. At present, he serves as a baseball outfielder for the Philadelphia Phillies of Major League Baseball (MLB).
Moreover, McCutchen started his play on the baseball field in eighth grade; however, he began his professional career through the Pittsburgh Pirates.
To date, he has achieved and motivated tons throughout his journey. Notably, he is a four-time Silver Slugger Award winner (2012–15) and a Gold Glove Award winner in 2012.
Likewise, he has also been awarded the prestigious Roberto Clemente Award in 2015.
Prior to in-depth dive into his journey, the mentioned general facts would give you a rough trail of his life.
Quick Facts:
Full Name
Andrew Stefan McCutchen
Date of Birth
October 10, 1986
Birth Place
Fort Meade, Florida
Nick Name
Cutch
Religion
Christian
Nationality
American
Ethnicity
Afro-American
Zodiac Sign
Libra
Age
36 Years Old
Height
1.8 m (5 feet 10 inches)
Weight
88 kg (197 lb)
Hair Color
Black
Eye Color
Dark brown
Build
Athletic
Father's Name
Lorenzo McCutchen
Mother's Name
Petrina Swan
Siblings
Loren McCutchen
Education
Fort Meade High School
University of Florida
Marital Status
Married
Wife
Maria Hanslovan (m. 2014)
Kids
Steel Stefan McCutchen, Armani X McCutchen
Profession
Baseball player
Position
Outfielder
Affiliations
Pittsburgh Pirates (2009–2017)
San Francisco Giants (2018)
New York Yankees (2018)
Philadelphia Phillies (2019–present)
Active Years
2009-present
Net Worth
$ 30 million
Social Media
Instagram, Twitter
Merch
Autograph, Signed Jersey, Baseball Card
Last Update
June, 2023
Where is Andrew McCutchen from? Early Life, Family & Education
McCutchen was born on October 10, 1986, to his parents Lorenzo McCutchen and Petrina Swan.
Along with his parents, Andrew grew up with his sister Loren McCutchen in Fort Meade, Florida. To illustrate, his parents had him during their teenage days.
Therefore, he lived with his mother while his father attended Carson–Newman University in Jefferson City, Tennessee.
Moreover, his father used to play as a running back on the football team but gave up on his dream of making the National Football League close to his son.
Prior to it, he became a church minister as soon as he arrived at Fort Meade in 1989 to marry Petrina, which they did on August 1, 1992.
As for McCutchen, he started playing varsity baseball as an eighth-grader at Fort Meade High School.
Altogether, he had batted .591 with his senior year total of .709, as he hit 16 home runs and 42 runs batted in (RBIs).
Additionally, he was also on the track team and football teams. During his freshman year, Andrew was also a part of a state title-winning 4 × 100 m relay.
Not to mention, he was also a top football recruit in the state of Florida, with his high school position being a wide receiver.
However, he went to play baseball, although he was offered a full-ride scholarship to the University of Miami to play football.
How old is Andrew McCutchen? Age, Height, and Weight
Having been born in 1986 makes Andrew's age 36 years currently. Likewise, the MLB baseball outfielder shares his birthday on October 10, making his birth sign Libra.
Andrew is an Afro-American descent with a tan complexion. He is a man of heavy athletic build, standing aloof at 1.8 m (5 feet 10 inches), and weighing 88 kg (197 lb).
Furthermore, he is quite famous for his dreadlocks hair, which he cut on March 25, 2015.
Interestingly, Andrew later sold them through MLB's website via auction, with all proceeds benefiting Pirates Charities.
Andrew McCutchen | Career
During his earlier years at the University of Florida, the Pittsburgh Pirates selected Andrew for the 2005 MLB Draft in the first round with 11th overall.
Thus, he left the University of Florida and signed a $1.9 million bonus contract with the Pirates.
The Year 2005
In his foremost year, he played for the Rookie GCL Pirates and the Class A- Williamsport Crosscutters.
There he recorded his combined hits of .310/.419 (2nd in the Gulf Coast League)/.433 with 2 home runs and 17 stolen bases in 210 at-bats.
In the meantime, he stood second in the league with 29 walks having 36 runs, third with 3 triples, and fifth with 13 stolen bases.
Moreover, he was also named the #50 prospect in the minor leagues by Baseball America.
The Year 2006
McCutchen started the season as a full-time professional player as he played almost the whole time of the season for the Class A Hickory Crawdads.
Furthermore, he became a postseason SAL All-Star as he started the South Atlantic League's All-Star team.
Besides, a few of his season's time was dedicated to the Class AA Altoona Curve as he batted a combined .294/.359/.450 with 17 home runs and 23 stolen bases in 531 at-bats.
Therefore, by the end of the year, the Pirates titled him the Minor League Player of the Year.
Not to mention, he was again named the #13 prospect in the minor leagues by Baseball America, followed by Baseball Prospectus, who named him the #15 prospect.
The Year 2007
Throughout the year, he played for the Altoona, as well as for the Class AAA Indianapolis Indians, as he recorded 265/.329/.388 combined hits with 11 home runs and 21 stolen bases in 513 at-bats.
Additionally, he was also featured in the Phoenix Desert Dogs playing on the Arizona Fall League All-Prospect Team as they named him the Rising Star.
Following it, Baseball America named him the #14 prospect in the minor leagues, while Baseball Prospectus named him the #24 prospect.
The Year 2008
For the season 2008, McCutchen played for Indianapolis, making a record of .283/.372/.398 bats with 12 home runs, which stood him in the 10th position for the International League.
His 68 walks stood him 3rd in the league, 34 stolen bases as the 7th, and 145 hits as 9th, all recorded in the 512 at-bats.
The entire season Andrew bagged various titles as he was a mid-season International League All-Star, an All-Star Futures Game selection, and the Triple-A All-Star Game Top Star.
Likewise, he has been named the #33 prospect in the minor league by Baseball America and the #25 prospect by Baseball Prospectus.
As Andrew again played for the Indianapolis, he recorded .303/.361/.493 with 4 home runs and 17 stolen bases in 201 at-bats.
Pittsburgh Pirates
On June 3, Pittsburgh Pirates traded starting center fielder Nate McLouth to the Atlanta Braves as they gained McCutchen.
MLB Debut
The next day, Andrew was called up for the MLB debut, which he commenced with the match against the New York Mets as he featured the game as a center field and batting leadoff.
As he started his first career single with off-starter Mike Pelfrey, he recorded two singles, one RBI, three runs scored, and a stolen base in four at-bats.
Not long after it, he added his first career four-hit game facing McLouth and the Braves. His two hits included triples; hence, he became the first Pirate with two triples in a game behind Tike Redman.
Sinking deeper into the month, Andrew gained his first MLB home run on June 17 against Francisco Liriano of the Minnesota Twins.
Following it on June 25, he had his first MLB walk-off hit from Matt Herges of the Cleveland Indians.
Not to mention his August 1st gameplay against the Washington Nationals, he had scored three home runs and six RBIs with a 4-5 win.
During it, he had taken a solo home run in the first inning against Nationals starter Craig Stammen and a two-run shot in the fourth inning from reliever Tyler Clippard.
In addition, he had also taken a three-run homer in the sixth against Logan Kensing.
As he received the grand slam, he became the 10th Pirate rookie ever to hit three home runs in a single game.
Ten days forward, he played against the Colorado Rockies at Coors Field and claimed his career-high three bases.
Moreover, on August 25, he faced Brad Lidge of the Philadelphia Phillies thus, earning his first walk-off home run.
2009 Result
Hence, his newbie season ended with a .286/.365/.471, with 9 triples (6th in the National League), 81.48 stolen base percentage (6th), 12 home runs, 54 runs batted in, and 22 stolen bases in 108 games.
Additionally, he stood fourth in the National League Rookie of the Year Award with 10 assists (3rd among NL center fielders) and a 2.53 range factor/game (4th). Therefore, he closed the year being the Baseball America Rookie of the Year.
The Year 2010
McCutchen started the year as the Pirates' everyday center fielder. He played his season's first game on May 14 against the Chicago Cubs as they recorded a win of 5-for-5 with five runs scored in a 10–7.
In the meantime, Garrett Jones also recorded five hits; hence, Andrew, alongside Garrett, became the first Pirate duo to accomplish the feat.
By the end of the season, McCutchen drew comparisons with Tampa Bay Rays All-Star Carl Crawford as he finished career-best numbers, with .327 hits and a .901 OPS.
Thereafter, for the 2010 National League All-Star Team, pitcher Evan Meek was named the pIrates representative which Andrew wasn't selected.
Meek commented, "McCutchen was "very deserving" and should have gone as well."
Besides, McCutchen recorded .226 hits in August and .326 hits, 22 runs, and 17 RBIs in September. In the duration from September 3 to October 3, he had 12 multi-hit games.
Therefore, he ended the season with .286/.365/.449 while adding 94 runs, 16 home runs, 56 RBIs, and 33 stolen bases (5th in the National League), with a 21.6 power-speed number (9th).
Similarly, he made 8 assists (3rd of all NL center fielders) and 2 double plays from the center field (5th).
The Year 2011
Andrew was featured as a replacement for the injured Ryan Braun at the 2011 Major League Baseball All-Star Game in Phoenix.
He kickstarted the season, recording a ninth-inning homer against the Houston Astros with at least 20 home runs and 20 stolen bases.
Hence, he became the first to achieve such a feat in a single season behind Nate McLouth.
By the end of it, Andrew had .259/.364/.456 bats with team-highs of 23 home runs, 23 stolen bases, 87 runs, and 89 RBIs.
Along with it, he had 89 walks and a 23.0 power-speed number, which stood him as the fourth in the National League.
Not to mention his 414 putouts, 5 double plays, and 2.73 range factor/game. Hence, he was placed as the Pirates' representative for the Hank Aaron Award.
The Year 2012
Right after 2011, McCutchen dealt a six-year, $51.5 million contract extension with the Pirates, with a $14.75 million club option for 2018.
Furthermore, he replaced the injured Giancarlo Stanton in the Home Run Derby and was also named a 2012 NL All-Star.
He recorded 4 home runs in the first round but couldn't make it till the second round.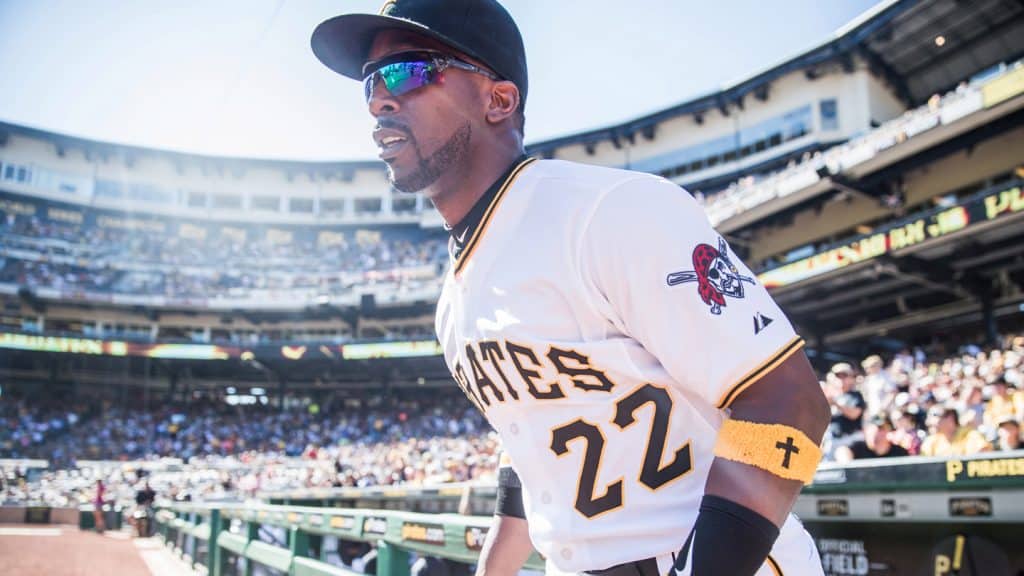 In June, he has titled the Player of the Month, followed by his first NL Player of the Week Award on July 8.
Likewise, he won the same award the next week; thus, being the only player to do so after Jason Bay.
As he had a score of .446 hits with seven home runs and 15 RBIs, he was again awarded the Month's Player.
Thus, he was the player after Bobby Bonilla to win two consecutive awards in the same season.
2012 Result
At the end of the season, Andrew had .327/.400/.553 bats, with 194 hits and 269 times on base, scored 107 runs, had 128 singles, 24.3 power-speed number.
Additionally, he had 13 intentional walks, 31 home runs, and 70 walks. He also stole 20 bases with a .997 fielding percentage and a 2.37 range factor/game.
Besides, he was third in the National League Most Valuable Player Award voting, standing with San Francisco's Buster Posey and Milwaukee's Ryan Braun.
He bagged his first Louisville Silver Slugger Award as the top offensive center fielder in baseball.
To add, he also won a Rawlings Gold Glove Award and was named a 2012 NL Wilson Defensive Player of the Year in the outfield.
The Year 2013
McCutchen stood first as he received 108,147 votes in a week and hence, was featured on the cover of the baseball video game MLB 13: The Show.
The second time, he appeared on the back cover of the same magazine. Moving forward, he made his 100th career base on April 3, followed by his 100th career home run.
He had faced Milwaukee Brewers pitcher Yovani Gallardo on September 3. He also claimed the All-Star for three straight years.
2013 Result
At the end of the season, he made .317/.404/.508 bats with 185 hits and a 23.6 power-speed number, 78 walks, and 12 intentional walks.
Besides, he had 97 runs, 121 singles and 38 doubles, 21 home runs, 84 RBIs, and 27 stolen bases. This marked him as the player to have 20 or more stolen bases for five consecutive years.
Moreover, he recorded 3 double plays and was 3rd with 11 assists, contributing the Pirates to winning record.
Therefore, Andrew took the National League MVP title over St. Louis' Yadier Molina and Arizona's Paul Goldschmidt.
Furthermore, he claimed his second Silver Slugger Award and his second NL Most Outstanding Player Award.
The Year 2014
McCutchen was awarded the NL Player of the Week Award on June 15 and the NL Player of the Month Award.
On July 4, he faced their in-state rival Philadelphia Phillies, where he hit 4-for-5 with two RBIs. On July 13, he had another NL Player of the Week Award.
Moving forward, on September 10, he had his first inside-the-park homer against the Phillies. Along with it, he had his fourth All-Star game.
2014 Results
Andrew batted .314/.410 /.542 with a .952 OPS. His bases had 69 extra-base hits, 297 total bases, 84 walks, an 85.71 stolen base percentage), a 20.9 power-speed number, 38 doubles, 25 home runs, 89 runs, 8 intentional walks, 18 stolen bases, and 83 RBIs.
Successfully, he bagged his third consecutive Silver Slugger for NL outfielders.
The Year 2015
Andrew reached his 1,000th career hit on April 29, followed by the NL Player of the Week on May 24.
Even after it, he got his fifth consecutive year's All-Star, where he hit a solo home run off Tampa Bay Rays pitcher Chris Archer which marked him as the 6th Pirates to homer in an All-Star Game.
Furthermore, on August 9, he claimed the NL Player of the Week Award alongside the NL Player of the Month.
2015 Results
Altogether Andrew had batted .292/.401 /.488 with 23 home runs, 9 sacrifice flies, 98 walks, 12 intentional walks, a career-high with 96 RBIs, 12 hit by a pitch, 36 doubles, 276 total bases, and 11 stolen bases.
It is followed by his 2 double plays, 7 outfield assists, and a .994 fielding percentage. This contributed to the Pirates' third consecutive Wild Card berth with a 98-win season.
As for the result, McCutchen won his fourth straight Silver Slugger, receiving the 2015 Roberto Clemente Award. He also stood 5th in the voting for National League MVP.
The Year 2016
Eventually, Andrew hit three home runs in a single game against the Colorado Rockies, ending a 3-for-23 slump on April 26.
However, he had his lowest average batting this season with .256/.336/.430, with 24 home runs and 79 RBIs. he ended 3rd in the NL in outfield putouts and 5th in center fielder fielding percentage.
The Year 2017
In 2017, McCutchen revealed his wish to stay with the Pirates for the rest of his career as he heard about his trade to the Washington Nationals during the 2016 Winter Meetings.
For the same reason, he had googled his name in anticipation of the trade. Moving forward, Andrew teamed with the United States national baseball team for the 2017 World Baseball Classic in March.
During the semi-final match against the team Japan, he took RBI single in a 2–1 victory for Team USA.
Following it on March 22, he contributed to the 8-0 win against Team Puerto Rico; hence, the United States claimed its first gold medal.
Afterward, he became the National League Player of the Month with .411 hits, six home runs, and only 12 strikeouts in June.
He made his first career grand slam on September 26 and the title of NL Player of the Week on October 1. In the end, he made .279/.363/.486 bats, with 28 home runs, 11 stolen bases, and 88 RBIs.
This was all his 139 appearances in center field and, for the first time in his career, 13 appearances in right field, and his 9 outfield assists were 4th in the National League.
PNC Park Record
As of 2018, Andrew had 676 games played with 2,873 plate appearances, where he had 2,468 at-bats, 751 hits, and 208 multi-hit games.
Among all these, he had 478 singles, 161 doubles, 20 triples, 92 home runs, 6 walk-off home runs, 7 multi-homer games, 357 RBI, 415 runs, 22 sacrifice flies,345 walks, 41 intentional walks, and 471 strikeouts.
Not to forget, McCutchen was 2nd of all Pirates players in career power-speed numbers, 4th in home runs, 7th in walks, extra-base hits, and sacrifice flies, 9th in doubles and intentional walks, and 10th in total bases and hit by pitch.
San Francisco Giants
At the beginning of the 2018 season, McCutchen was traded to the San Francisco Giants for Kyle Crick, Bryan Reynolds, and $500,000 of international bonus slot money.
Moving forward, Andrew's first game in it was against the Los Angeles Dodgers, where he had six hits and four RBIs.
As further, he gave his final hit in a three-run walk-off home run during the 14th inning. By the end with the team, he had featured in 130 games, batting .255 with 15 home runs and 55 RBIs.
New York Yankees
Before the end of the 2018 season, Andrew was traded to the New York Yankees in exchange for infielder Abiatal Avelino and pitcher Juan De Paula.
Right afterward, McCutchen shaved off his beard to meet the Yankee's personal appearance policy's regulations.
He also had to change his always number 22 jersey to number 26 as the 22 was assigned to Jacoby Ellsbury.
Hence, he had batted .255/.368/.424 with 20 home runs, 95 walks, 14 stolen bases, and 65 RBIs.
Philadelphia Phillies
On December 12, 2018, McCutchen had a three-year contract signed with the Philadelphia Phillies. It was worth $50 million, with a $15 million club option and a $3 million buyout for 2022.
Advancing to June 3, McCutchen had a knee injury during the match against the San Diego Padres and, thus, attended the MRI scan the next day.
As per the result, he had a torn ACL (Anterior Cruciate Ligament Injury) and was sidelined for the rest of the season.
Furthermore, he did surgery to reconstruct the ACL in his left knee and repair a medial meniscus on June 14.
In the meantime, before the injury, he had batted .256/.378/.457 with 10 home runs and 29 RBIs in 219 at-bats.
Therefore, he led the NL with 43 walks and ranked 3rd with 4.45 pitches per plate appearance, and 5th with 45 runs.
Throughout his 2019 season, he appeared as the 7th most active major leaguers in career triples, 8th in career power-speed number, and 10th in a career on-base percentage.
The Year 2020
After missing the majority of the 2019 games, 2020 came as a good year for McCutchen.
Although he struggled in the beginning months, however, near the end, he gave his best individual offensive performances.
To illustrate, he had 3-for-4 with a home run, double, and three runs against the game with the Rays. This season, he started 52 games out of 60 with 36 games in the left field and 16 as the DH.
Andrew McCutchen | Awards and Recognition
McCutchen is one of the best baseball players who have made it this far from his own will and intuition. Many see him and believe him and rely on him.
According to the Atlanta Braves manager Bobby Cox, "Hitting. Running. Defense. Throwing. Mccutchen's got it all.
He catches the ball like Andruw Jones did when he was 19. You can't hit a ball [past him] out there. He's got lightning in that bat too."
Baseball America Rookie of the Year (2009)
Home Run Derby participant (2012)
5× Major League Baseball All-Star (2011, 2012, 2013, 2014, & 2015)
National League Most Valuable Player Award (2013)
5× National League Player of the Month Award (June 2012, July 2012, June 2014, August 2015, & June 2017)
6× National League Player of the Week Award (July 8, 2012; July 15, 2012; June 15, 2014; July 13, 2014; May 24, 2015; August 9, 2015)
2× Players Choice Award for National League Outstanding Player (2012, 2013)
Rawlings Gold Glove Award at outfield (2012)
Roberto Clemente Award (2015)
4× Silver Slugger Award at outfield (2012–15)
Andrew McCutchen | Career stats
How much is Andrew McCutchen worth?

Net Worth and Salary

Andrew McCutchen has been active as a baseball player since 2009. Since his MLB debut, McCutchen has played for significant clubs and has benefited from it.

He has had a very successful career as a baseball player. He is reported to accumulate a $30 million net worth with a $7.2 million salary from his baseball career.

Apart from his salary and contract, McCutchen has also benefited from endorsement deals and sponsorship from some major brands.

You might be interested in reading: <<Keone Kela, Early Life, Education, Career, Net Worth>>>
Is Andrew McCutchen single? Personal Life and Girlfriend
McCutchen is married to his longtime girlfriend, Maria Hanslovan. They had known each other from the start before his stardom days.
He romantically proposed to her on December 11, 2013, episode of The Ellen DeGeneres Show, and got married in 2014. His winning line:
"I've always envisioned that I would be on the highest mountain in the world, and my voice would be as loud as a lion's roar …. so the whole world could hear me tell you how much I love you."
Following it, the duo had a child on November 27, 2017, and named Steel Stefan McCutchen. They were blessed again with another child in 2019, naming him Armani X McCutchen.
Social Media Presence:
Andrew McCutchen is an active social media user and has massive admirers who follow him on his accounts. He is one of the popular players on networking sites.
Some FAQs:
How much is an Andrew McCutchen rookie card worth?
Andrew McCutchen's rookie card price ranges from $0.99–$4.98.
Is Andrew McCutchen in the hall of fame?
No, Andrew McCutchen is not in the hall of fame to date.
Who is Andrew McCutchen playing for now?
Andrew McCutchen currently plays for the Philadelphia Phillies of Major League Baseball(MLB).
Is Andrew McCutchen injured?
Andrew McCutchen tore the anterior cruciate ligament in his left knee in the 2019 season. After his injury, Andrew had surgery and undertook rehabilitation.
How many All-Star Games has Andrew McCutchen won?
Andrew McCutchen has won All-Star games five times in five consecutive seasons (2011–2015)