Anthony Black, an American basketball player, has a brother named Beckham Black, who possesses equal talent in basketball.
Anthony Black is an American basketball player who played college basketball for the Arkansas Razorbacks.
He grew up in Duncanville, Texas, and attended Coppell High School before transferring to Duncanville High School for his senior year.
Despite eligibility issues, Anthony made an impact, averaging 13.5 points, 5.8 rebounds, 4.0 assists, and 2.2 steals per game. His talent and potential as a player earned him a five-star recruit rating, and he ultimately chose to play for Arkansas.
During his freshman year at Arkansas, Black became a starting guard and showed some promising skills on the court.
Anthony had notable performances in the 2022 Maui Invitational Tournament. He averaged 22 points over three games and earned recognition as the Southeastern Conference (SEC) Freshman of the Week.
He earned a spot on the SEC All-Freshman team at the end of the regular season. Anthony chose to relinquish his remaining college eligibility and join the 2023 NBA draft, where scouts projected him as a potential first-round pick.
He also represented the United States in the 2022 FIBA Under-18 Americas Championship as part of the under-18 basketball team.
Anthony Black Brother Beckham Black
Anthony Black's brother, born on January 30, 2010, is an avid basketball player. Beckham Black possesses remarkable scoring abilities and effortlessly outmaneuvers defenders on the court.
Beckham has gained significant attention on YouTube, with numerous videos showcasing his basketball skills on the court.
Fans speculate that Beckham may surpass Anthony in skill and talent due to his young age.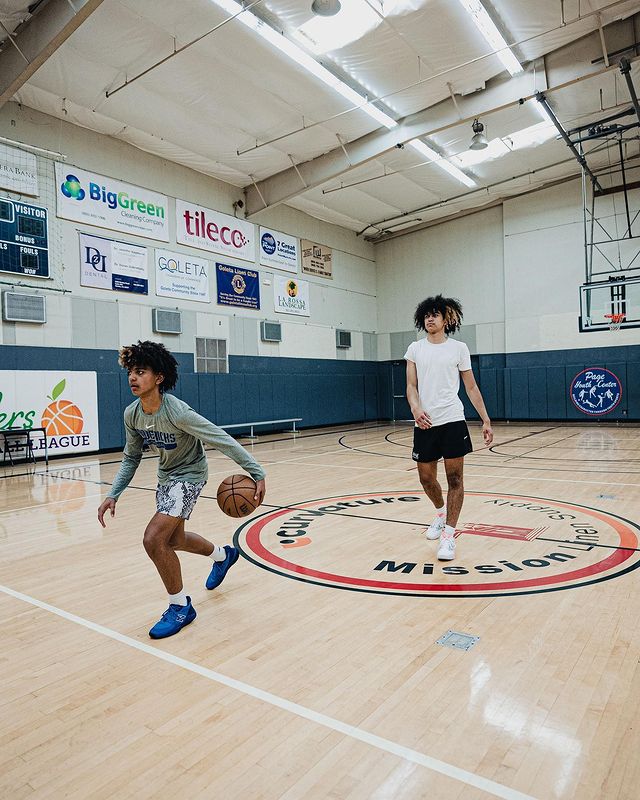 On Instagram, Beckham Black goes by the username @beckamblackk. Despite having only two posts, he has already amassed an impressive following of over 6,642 followers.
The brothers share an intense and intimate bond, often seen practicing together to improve their respective abilities.
Anthony holds his brother in high regard, expressing great pride in Beckham's accomplishments and skills.
Coach And Soon To Be Step Dad David Peavy
David Peavy serves as the CEO of David Peavy Enterprises and holds the Head Boys' Basketball Coach position at Duncanville High School.
However, his most significant role is that of Anthony's coach and soon-to-be stepfather.
Anthony's coach, David, and Anthony's mother, Jennifer, have been residing with their children under the same roof for over four years.
Despite not being officially married, Anthony considers David his stepfather.
David is an accomplished figure in the world of high school basketball. He boasts an impressive track record, having secured the 4-time Texas 6A State Champion title.
His exceptional coaching skills and leadership have not gone unnoticed, as David earned the esteemed titles of 2022 Max Preps and Fab50 National Champion.
In recognition of his outstanding performance, David was honored as the Max Preps Coach of the Year in 2021. He also received the Dallas Morning News Coach of the Year award in the same year.
Parents And Family
Anthony Black was born to Jennifer Black and Terry Black, who also have sports backgrounds. Terry played high school basketball, while Jennifer was a soccer player during her university years.
In an interview with Pro Insight, Anthony revealed that he also has a sister. He further stated that she participates in track and field. However, only a little information is stated about her.
While there is limited information about their parents' professions, one thing is sure: they consistently show up courtside to support Anthony in his basketball games.