The 49ers' defensive end, Arik Armstead, earned a net worth of $26.8 million or more in his seven-year-long NFL career.
In March 2020, Armstead signed a five-year extension contract worth $85 million with the San Francisco 49ers.
Regarding his most significant contribution to his team, Arik posted ten sacks and took the 49ers to the 2019 Super Bowl.
This athletic phenomenon was born to Guss Armstead and Christa Armstead on 15 November 1993.
Besides his parents, his elder brother, Armond Armstead, supported and consistently mentored Arik throughout his career.
Moreover, Armond himself is a great football player and a proud brother.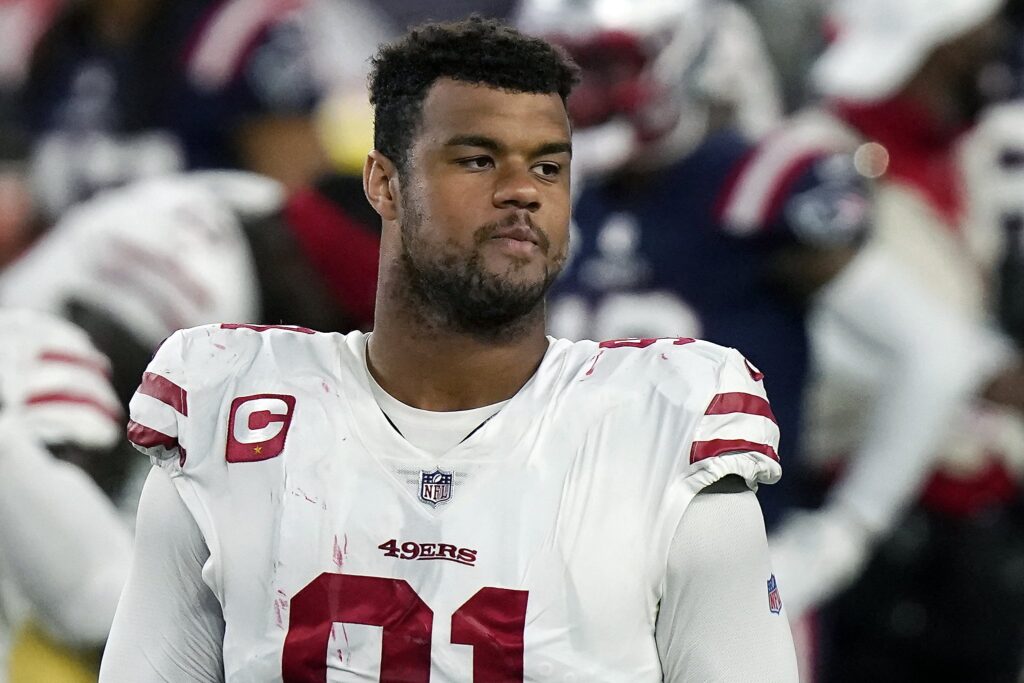 Arik started his football career at Pleasant Grove High School in Elk Grove, California.
In addition to football, Armstead also played basketball in high school. But he continued football and committed to college football.
Finally, Arik got selected by the San Francisco 49ers in the 2015 NFL Draft in the first round.
After that, Arik's NFL career took off like nothing else before. Now, Arik is living his dream and his brother Armond's dream of becoming an NFL player.
The devoted athlete Arik is one of the brightest NFL stars who actively contribute to society through various means.
Let's check some quick facts about Arik before further exploring his lifestyle, wealth, and social contribution.
Quick Facts about Arik Armstead
| | |
| --- | --- |
| Full Name | Arik Armstead |
| Birth Date | November 15, 1993 |
| Birth Place | Sacramento, California, USA |
| Nick Name | Not Available |
| Religion | Not Available |
| Nationality | American |
| Ethnicity | Black |
| Education | Pleasant Grove High School, University of Oregon |
| Horoscope | Scorpio |
| Father's Name | Guss Armstead |
| Mother's Name | Christa Armstead |
| Siblings | Armond Armstead (brother) |
| Age | 30 years old |
| Weight | 132kg (290 lb) |
| Height | 6'7″ (2.01 m) |
| Build | Muscular |
| Profession | Professional Football Player |
| Position | Defensive end |
| League | National Football League |
| Current Team | San Francisco 49ers |
| Married | Yes |
| Wife/Partner | Mindy Harwood |
| Children | Amiri (Daughter) |
| Net Worth (2022) | $26.8 million |
| Agent | Chafie Fields |
| Agency | Wasserman |
| Sponsors | Nike, Toyota Motor |
| Retirement | Active |
| Social Media | Instagram, Twitter, Facebook, LinkedIn |
| Merch | Football Autographed Card |
| Last Update | November, 2023 |
Arik Armstead | Contract | Salary | Net Worth
The athletic soul, Arik, makes most of his earnings playing football. Besides playing football, Armstead is an active endorser of various brands.
Endorsements and sponsors are likely to add value to his total net worth.
On May 16, 2015, Armstead signed a four-year contract of $9.84 million with the San Francisco 49ers.
If we break down Arik's total earnings, he made $5,888,257 in his rookie year in 2015. Similarly, Armstead earned $882,392 in 2016.
In 2017, his annual earnings went up to $1,329,785 and $1,777,177 the following year.
The rising star Arik's annual earnings skyrocketed in 2019 to $9,046,000.
Then, a blockbuster fortune knocked at the Armstead's door.
A Five-Year Extension
In 2020, Armstead got a five-year extension of a massive amount of $85 million.
That year only, Armstead made $20,000,000, $17,500,000 of which was the signing bonus.
Through Arik's new contract, he earned $15 million in 2021 and is expected to make another $15 million in 2022. Similarly, Armstead will get $16,740,000 in 2023 and $18,260,000 in 2024.
Apart from this, Armstead makes $250,000 a year through various endorsements.
As of early 2022, Arik Armstead's net worth of $26.8 million will likely increase in upcoming years through various ventures.
You may want to read: Eli Manning Bio: NFL, Family, Career & Net Worth >>
Net Worth of Arik Armstead in Different Currencies
Let's look at Arik Armstead's net worth in different currencies, including BitCoin.
| | |
| --- | --- |
| Currency | Net Worth |
| Euro | €23,615,758 |
| Pound Sterling | £19,751,466 |
| Australian Dollar | A$ 37,253,608 |
| Canadian Dollar | C$ 33,561,774 |
| Indian Rupee | ₹1,993,593,040 |
| BitCoin | ฿698 |
Arik Armstead | Lifestyle | Houses | Cars
There is not much information available about Armstead's lifestyle. How much his House/apartment cost, how high his House is, and which car he rides are unknown.
Looking at his net worth, it is likely that Arik is living a comfortable life. However, for various reasons, his lifestyle is now hidden from fans and followers.
But, we can often get glimpses of Arik's personal affairs through his social media accounts like Instagram.
For example, on Instagram, we can see Arik spending quality time with his beloved wife, Mindy, at beautiful locations.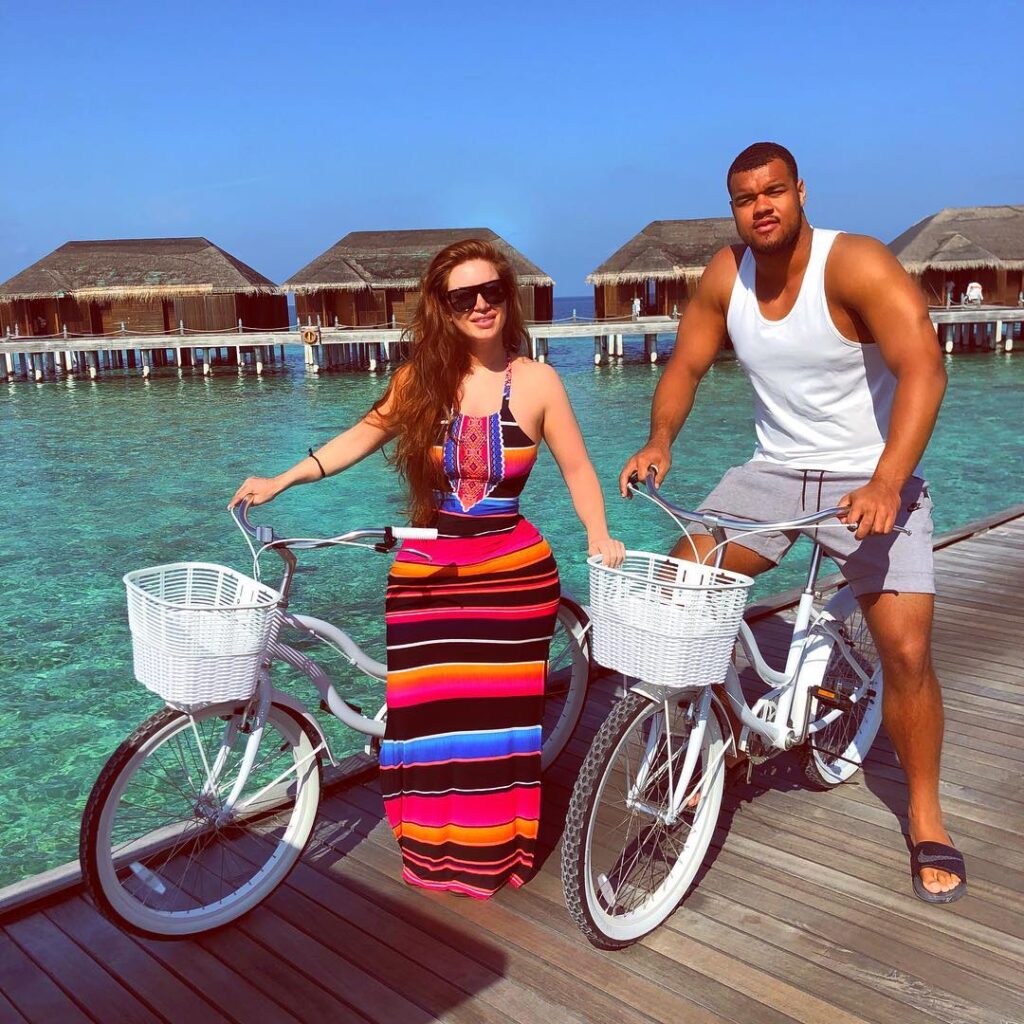 Instead of showing off his luxurious life, Arik is focused on bringing societal changes.
Besides being a football player, Arik is an active speaker for societal injustices.
Arik Armstead | Charity | Donation
The kind-hearted player, Arik, has been exclusively contributing time and money to people in need.
Last year, Armstead was one of the most active contributors to the COVID relief program.
He donated $50,000 of his own money to Mercy Housing and raised $200,000 with Bayside Church to help students taking classes online.
The donation provided 350 Chromebooks and one year of internet service to families with multiple students in their houses.
Moreover, the donation also included education kits consisting of books and supplies.
The package also served healthy snacks for kids who could not attend school due to the pandemic and relied on school lunches.
Arik knows the scarcity of good education and food for lower-income families and neighborhoods.
Armstead Academic Project
In 2019, Armstead initiated a foundation named Armstead Academic Project, which promotes educational equality. Armstead Academic Project has a mission to
"Ensure every student, no matter their socioeconomic status has direct access to quality education through a positive learning environment and resources needed to thrive and be successful."
Moreover, AAP offers programs to help and empower vulnerable and underserved students, including educational and creative workshops, scholarships, and school supply programs.
Arik is aware that whatever he has achieved today is because of his excellent education and involvement in sports.
Therefore, he wants to create similar opportunities for less fortunate students in his hometown.
COVID-19
Besides food and education, Arik is ready to assist during the hiring process in the employment sector.
Due to the pandemic, millions of people lost their jobs last year in 2020. But unfortunately, the problem is not only the lost jobs but also the hiring biases.
To bring equality on the hiring front, Arik has partnered with Humanly, a platform that selects and schedules job interviews at a large scale.
The philanthropic footballer Armstead strongly believes in and advocates; it's the if-not-me-then-who approach.
Also, read Peyton Manning Bio: Early Life, Career & Net Worth >>
Endorsements | Sponsors
According to Forbes ranking, Arik was listed as #59 in the world's highest paid-athletes list in 2020. In addition, he made $250,000 through various endorsements in 2020.
Moreover, this social activist is sponsored mainly by Nike and Toyota motors.
Arik's Career Highlights
The NFL star Arik grew up watching his brother play football. Arik admitted that he wanted to become like his brother Armond.
Unfortunately, Armond Armstead, a well-trained and deserving candidate, could not make it to the NFL, but his younger brother Arik became an NFL star.
Initially, Armstead started his football career in high school in Elk Grove, California, and he continued to college.
He scored 126 tackles and 7.5 sacks in his high school career. According to Rivals.com, Arik was a four-star recruit and the sixth-best defensive end in his class.
Arik redshirted the first year of his college career, which gave him more time to prepare. Then, after a successful college career, Armstead made his way to the NFL.
In the 2015 NFL draft, the San Francisco 49ers selected Arik in the first round with the 17th overall pick.
Armstead completed his rookie year with 19 combined tackles and two sacks in 16 games on the defensive end.
Moreover, Arik completed three seasons in 2017, 2018, and 2019. Then, the team placed Arik on the COVID-19 reserve list on 16 November 2020.
But after nine days, he returned to the active player list. The NFL champion is exclusively active with his new extension contract with the San Francisco 49ers.
Three Facts about Arik Armstead
Arik looked up to his brother Armond Armstead when he was a kid and wanted to play like him. Armond is a former defensive tackle for the Toronto Argonauts of the Canadian Football League who could not continue his football career due to his health issues.

In 2019, Arik started Armstead Academic Project to advocate educational equality.

Arik married Mindy Harwood on the 20th of June, 2020.
Shannon Sharpe Bio: Early Life, College, NFL & Controversies >>
Quotes
"To just keep fighting and to keep playing. It was a hard loss, but we must fight through adversity and find a way to win."
"It's football. It's fine. I mean, yeah. It's a mindset. You just have to go out and play football. That's all it is."
"It was just an end-breaking route. When I see the ball, I take the ball. When I turn the corner, all I see is the end zone. I was like, I got to get there."
FAQs
Who is Mindy Harwood, and what does she do?
Mindy Harwood is the wife of the NFL football player Arik Armstead. She is a medical doctor.
Likewise, Harwood got her degree from the University of Buffalo medical school. Arik and Mindy have a daughter named Amiri.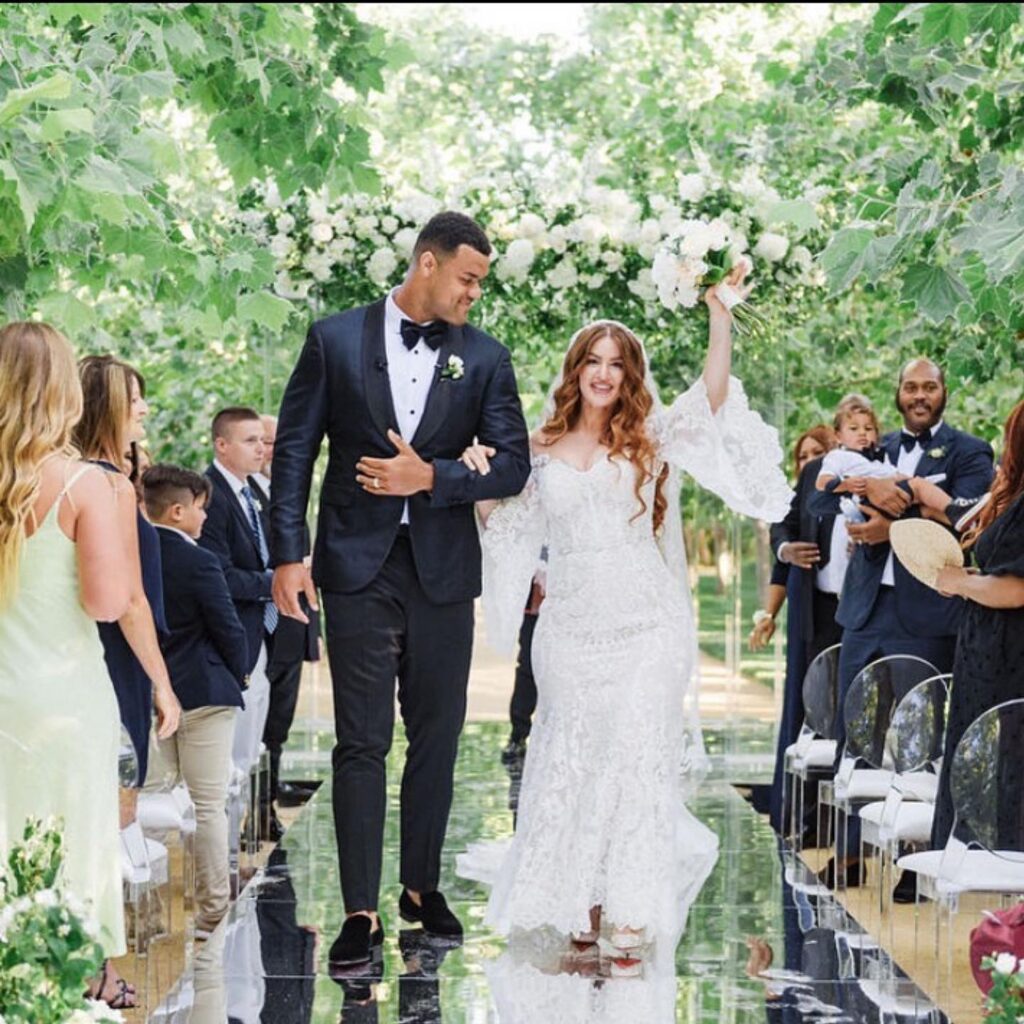 When did Arik get drafted?
The San Francisco 49ers selected Arik in the first round with the 17th overall pick in the 2015 NFL draft.
How tall is Arik Armstead?
The athletic soul, Arik, is 6 feet and 7 inches tall. This behemoth player has a matching physique that makes him attractive.