Does the 2018 Daytona 500 winner Austin Dillon have kids? The answer is yes. The 'Austin Dillon's Life in the Fast Lane star and his loving wife, Whitney Ward, entered the world of parenthood in 2020 with the birth of their first child — a son they named Ace — in June 2020.
In January 2023, the pair announced that they are expecting their second child together! More on this in the section below.
Dillon's athletic pedigree is nothing short of striking. He comes from a family with a deep love for motorsports, with his grandfather Richard Childress serving as the owner of the Richard Childress Racing team.
Similarly, his father, Mike Dillon, works as RCR's general manager.
Quick Facts
| | |
| --- | --- |
| Full Name | Ace Dillon |
| Known As | Ace |
| Birthdate | June 14, 2020 |
| Age | 2 Years Old |
| Birthplace | Lexington, Kentucky, United States |
| Current Residence | Lexington, Kentucky, United States |
| Father | Austin Reed Dillon |
| Mother | Whitney Ward Dillon |
| Grandfather | Mike Dillon |
| Grandmother | Tina Dillon |
| Great Grandfather | Richard Childress |
| Siblings | Expecting A Sister |
| Nationality | American |
| Eye Color | Dark Brown |
| Hair Color | Brown |
| Ethnicity | White American |
| Zodiac Sign | Gemini |
| Religion | Christianity |
| Association | Austin Dillon's Life in the Fast Lane (Reality TV Show) |
| Net Worth | $12 Million (Austin Dillon's) |
| Social Media | Instagram (Austin Dillon) |
| Last Update | June 2023 |
Austin & Whitney's Love Story
The North Carolina native NASCAR star Austin Dillon and Whitney Ward first connected in 2015, approximately a year before Austin popped the question.
Austin surprised his better half, Whitney, getting down on one knee and popping the question during their joint trip to the Bahamas in 2016.
He Tweeted, "That's gold," alongside the couple's official engagement announcement on August 10, 2016.
On December 9, 2017, taking their relationship to the next level, the pair exchanged their wedding vows at Austin's family Childress Vineyards in Lexington, North Carolina.
Two years later, the pair announced their pregnancy in December 2019, and Whitney debuted her baby bump at Austin's Daytona 500 competition.
Ace's Birth
On June 14, 2020, the Dayton 500 winner, Austin, shared an Instagram post revealing their son was born with a caption,
"Wow, @whitneydillon, you amaze me every day! This, by far, is your biggest feat yet. My love for you and @acedillon3 is Agape Love. Hardest thing I've ever had to do was say goodbye to go race today. Hopefully, we bring back a trophy for Ace on the first day we welcomed him into this world! 👶🏻♠️".
He announced the birth of his baby boy Ace with a photo of the new family of three in a hospital room.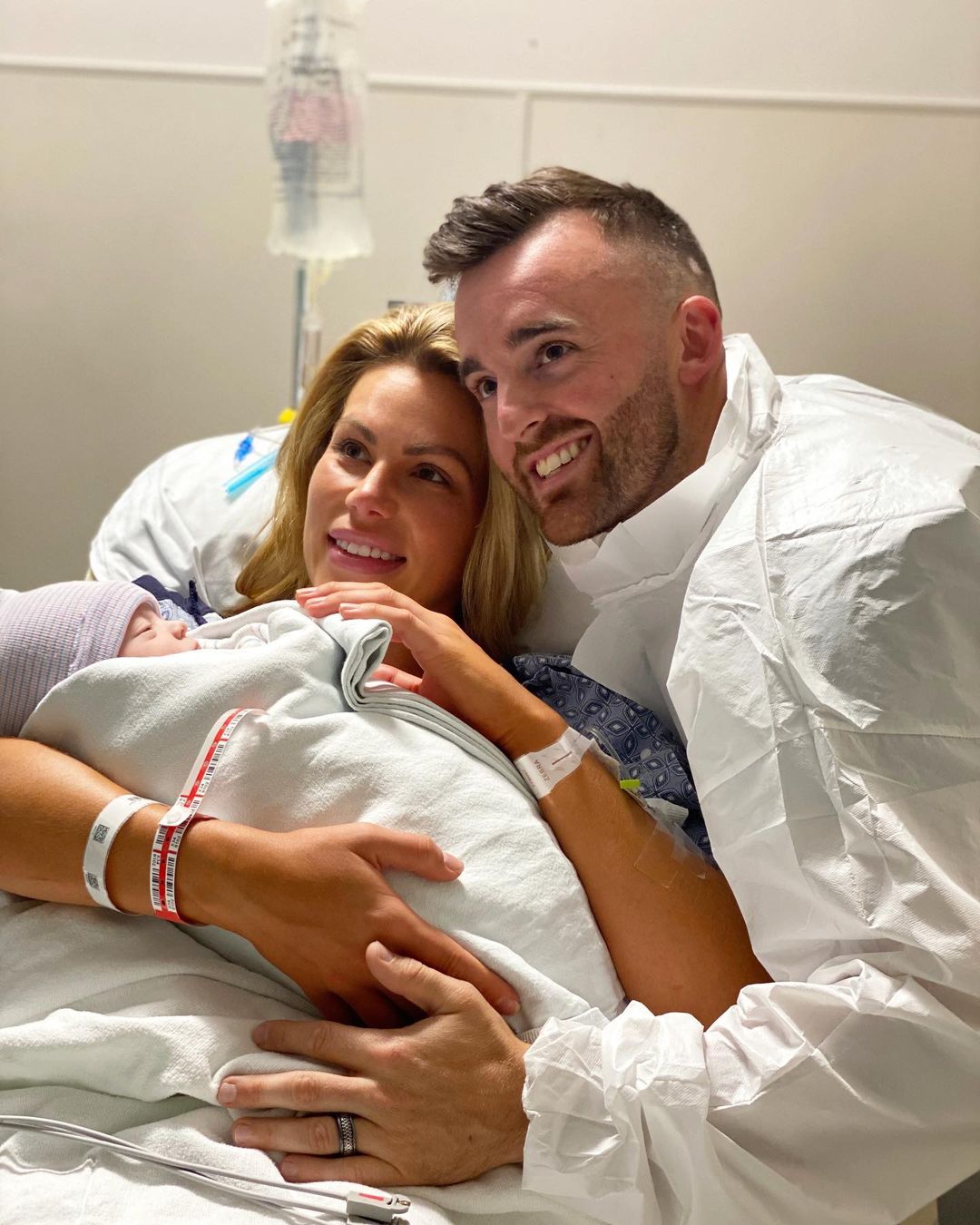 Similarly, Whitney took to her Instagram and shared a cute picture of Ace with a heartwarming caption that read,
"Welcome to the world, Ace RC Dillon 🥰 Our sweet baby boy was born early on June 14, 2020! He's the sweetest little chunky monkey I've ever seen in my life. Thank you Jesus for blessing us with this beautiful baby boy 🙏🏼".
At birth, Ace weighed 9 lbs. 2 oz. and measured 21.5 inches.
Second Child
In January 2013, Austin Dillon's Life In The Fast Lane stars revealed their son Ace is going to be an older brother.
Whitney took to her Instagram on January 13 to share a picture of her, her NASCAR driver husband Austin, and their adorable 2-year-old Ace, all beaming with happiness as they held up an ultrasound revealing the wonderful news of a new addition to their family.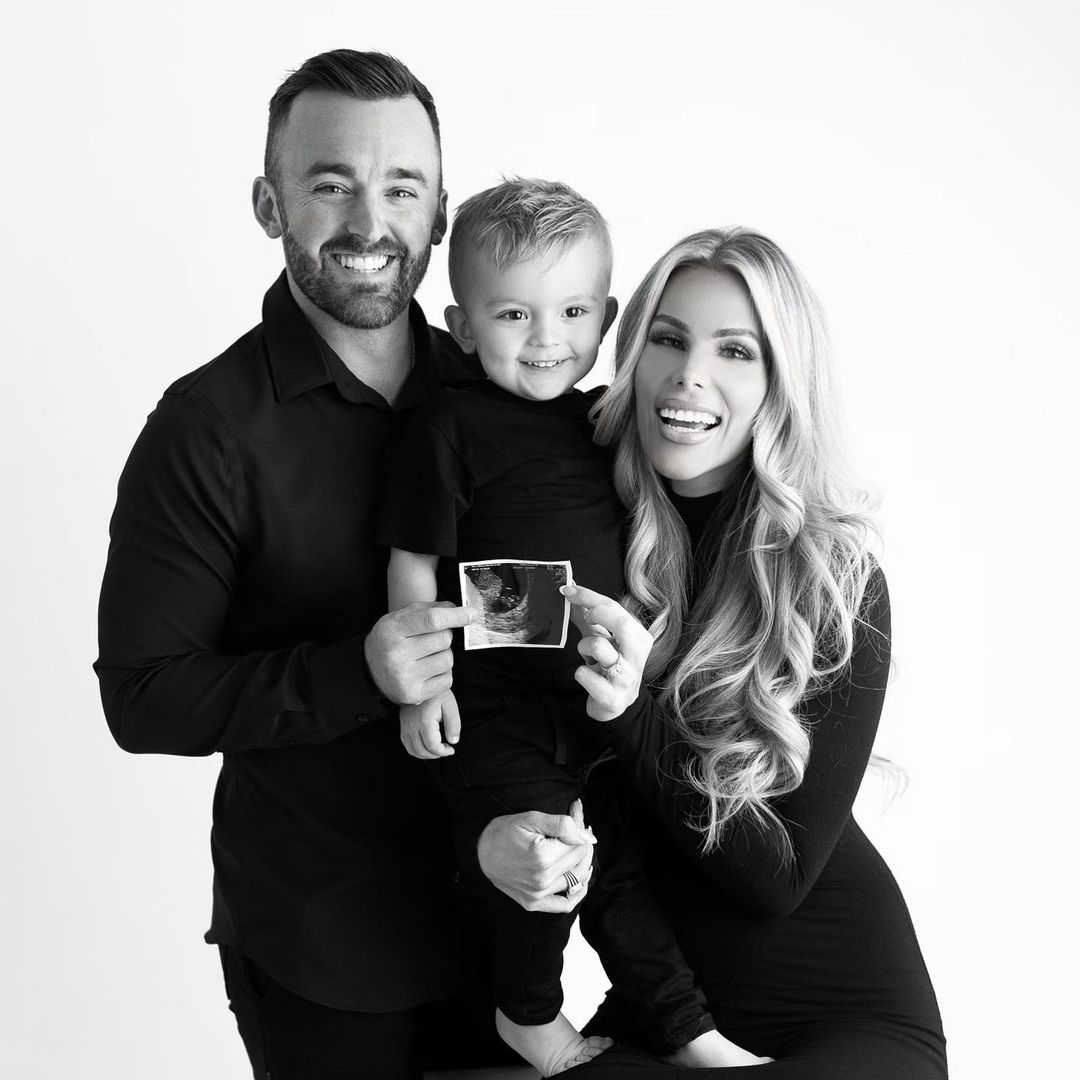 She captioned the picture, writing, "Dillon party of FOUR 🫶🏼
Thank you Jesus for this journey".
It did not take long before her best friend and co-star of the reality show Austin Dillon's Life in the Fast Lane, Mariel, and Paul Swan, jumped and congratulated them on the wonderful news.
The news of the new member in the Dillon family could not have come at a more exhilarating time for Austin because aside from NASCAR track, he had also been promoted to the GM position of the Carolina Cowboys Professional Bull Riding (PBR) team.
Despite his already busy schedule, he seems eager to explore new opportunities and challenge himself by delving into management roles.
It's an exciting new chapter in his career, and it's natural to wonder how he will manage the demands of his busy professional life while raising two children.
Gender Revel
Fans and followers of the Dillons were curious about the gender of their second child, and on January 19, they extinguished the fire of curious fans by revealing the gender in style.
Both Austin and Whitney took to Instagram and posted the same pictures and videos of Austin shooting a gun and the explosion with pink smoke.
They captioned the video and photo carousel that read, "What a blaze. It's a girl! 💕".
Whitney is due around October 2023.
Parenthood Challenges
During a June 2022 interview with Us Weekly, Austin Dillon opened up about his approach to parenthood and how he makes it a priority to be fully present during his family's downtime.
He emphasized the importance of quality time with loved ones and how he strives to make the most of every moment, he has with them.
By focusing on being present and engaged, Austin ensures he creates meaningful memories with his family that will last a lifetime.
Since the birth of Ace, Austin, and Whitney have been even more focused on their family and ensuring that they create a nurturing environment for their child.
When asked to compare the challenges of NASCAR driving to the difficulties of raising a child without hesitation, the 33 year old emphasized that parenting was unequivocally the more challenging of the two.
Despite the intense pressure and high stakes of racing, Austin explained that the joys and challenges of parenthood are in a league of their own.
Austin Dillon's Life in the Fast Lane
Ace RC Dillon's mother, Whitney, starred in season 1 of the CMT reality TV show Racing Wives, which first aired in 2019. It ran for eight episodes before the coronavirus.
As of now, the show's fate remains uncertain, as it has not been officially canceled or renewed. Despite ongoing speculation and anticipation from fans, the network has yet to decide on the show's future.
However, if you want to see more of Austin's personal life, including his relationship with his wife and their only son, then tune in to the show Austin Dillon's Life in the Fast Lane.
The first season of the show premiered on June 23, 2022.
Even though there is no news about the second season, we assume it should air somewhere around June this year.
Austin Dillon
A highly accomplished NASCAR driver with a Daytona 500 and two NASCAR championships under his belt, Austin Dillon has been making waves on the track this season as well with his impressive performance.
As a full-time participant in the NASCAR Cup Series, Austin drives the No. 3 Chevrolet Camaro ZL1 for RCR, a team owned by his grandfather, Richard Childress.
He comes from a racing family, with his older brother Ty Dillon also competing full-time in the NASCAR Cup Series and his father Mike Dillon serving as RCR's general manager.
With such a strong racing lineage, Austin has proven himself to be a skilled and tenacious driver, consistently pushing himself and his team to excel on the track.
Whitney Ward Dillon
Whitney Dillon was born on August 21, 1990, in Soddy Daisy, Tennessee, United States, to her parents, Rick Ward and Shawnee Ward.
After graduating high school, she received a full academic and athletic scholarship and enrolled at the University Of Chattanooga, Tennessee.
She completed her education with a B. A. in Communication degree with a minor in Marketing in 2012.
While at Chattanooga, she was on the cheerleading team. She also did cheerleading for the Tennessee Titans of the NFL for four years.
She currently runs an online boutique named Shop The WM, which she co-founded with her best friend and co-star, Mariel Swan.
The boutique offers luxury and elegant jewelry pieces.
They started the company to make pieces that inspire women to look and feel beautiful.
Similarly, she runs a blog named The BFF Blog along with Mariel. They started the blog to empower women worldwide at every age.
Unknown Facts About Austin Dillon
Austin Dillon has a net worth of $12 million as of 2023.
He has a trading card collection.
He is a huge Lil Wayne fan.
Frequently Asked Questions (FAQS)
What is Austin Dillon's nickname?
Austin's nickname is "The Ace", a moniker he received from his mother. Now we know why he named his son Ace.