A highly accomplished NASCAR driver with a Daytona 500 and two NASCAR championships under his belt, Austin Dillon has been making waves on the track this season as well with his impressive performance.
But how well do you know 'The Ace' on a personal level? Is he in a relationship or married?
Unfortunately, single ladies, the handsome driver, is already taken. He exchanged his vows with his beautiful wife, Whitney Dillon, a savvy businesswoman in her own right, in 2017.
In this article, we will try to give out every detail regarding the handsome NASCAR driver's wifey.
So please sit back, relax, and enjoy the article who knows, you might learn something new.
Quick Facts
| | |
| --- | --- |
| Full Name | Whitney Ward |
| Known As | Whitney Dillon |
| Nickname | Whitney |
| Birthdate | August 21, 1990 |
| Age | 32 Years Old |
| Birthplace | Soddy Daisy, Tennessee, United States |
| Current Residence | Lexington, Kentucky, United States |
| Father | Rick Ward |
| Mother | Shawnee Ward |
| Siblings | One Brother (Jackson Ward) |
| Nationality | American |
| Marital Status | Married |
| Husband | Austin Dillon (m. 2017-Present) |
| Children | Ace Dillon (Expecting A Daughter) |
| Built | Athletic |
| Sexual Orientation | Straight |
| Eye Color | Dark Brown |
| Hair Color | Black |
| Height | 5 ft. 8 in/1.73 m/173 cm |
| Weight | Not Known |
| Ethnicity | White American |
| Zodiac Sign | Leo |
| Religion | Christianity |
| Profession | Businesswoman, Reality TV star |
| Education | University of Chattanooga, Tennessee |
| Favorite Dancer | Julianne Hough |
| Favorite Music Genre | Hip Hop |
| Association | Austin Dillon's Life in the Fast Lane (Reality TV Show) |
| Net Worth | $12 Million (Austin Dillon) |
| Salary | Not Known |
| Social Media | Instagram, Twitter |
| Last Update | June 2023 |
Early Life & Education
Early Life
Whitney Dillon was born Whitney Ward on August 21, 1990, in Soddy Daisy, Tennessee, United States, to her father, Rick Ward, and mother, Shawnee Ward.
Whitney often shares appreciation posts to her parents on her Instagram handle. Her posts are not only inspiring but also heartwarming, especially when she expresses gratitude towards her mother.
In one such post, on the occasion of Mother's Day, she poured her heart out in appreciation of the woman who has been her guiding light throughout her life.
Whitney grew up with her younger brother Jackson Ward in Tennessee. Jackson, who turned 31 on March 28, 2023, graduated from Middle Tennessee State University with a degree in engineering on May 7, 2017.
He has been married to the 26 year-old Macie Wheeler since July 27, 2021.
Education
Talking about Whitney's education, after graduating from a local high school, she received a full academic and athletic scholarship and enrolled at the University Of Chattanooga, Tennessee.
She completed her education with a B.A. in Communication degree with a minor in Marketing in 2012.
While at Chattanooga, she was on the cheerleading team. She also did cheerleading for the Tennessee Titans of the NFL for four years.
Career
Austin Dillon's loving wife, Whitney Dillon, is now a successful businesswoman and a reality television star.
However, like everyone else, her initial days were full of ups and downs.
During her college time, she worked as an Executive Assistant. At the time, she was juggling a whole bunch of different stuff at once.
She was pursuing her college education, cheerleading, working part-time from 8 to 4, and also working towards getting her pilot's license.
In an interview with Tennessee Titans in 2015, she was asked about her five years goal, to which she replied,
"I'm the biggest dreamer/goal-oriented person you will ever meet. Whatever it is, big or small, I write it down and go for it."
"Fast forward to Whitney in five years, and here is what you will see: I will have finally met Germimia in Haiti on a mission trip. I'll have my pilot's license, and I will be working for Monster Energy as a Monster Girl."
The Blossoming of Love Between Austin & Whitney
Whitney Ward and the North Carolina native Austin Dillon first connected in 2015, nearly one year before they got engaged.
After dating for almost a year, Austin popped the question during their joint trip to the Bahamas in 2016.
On August 10, 2016, he Tweeted, "That's gold," alongside the couple's official engagement announcement.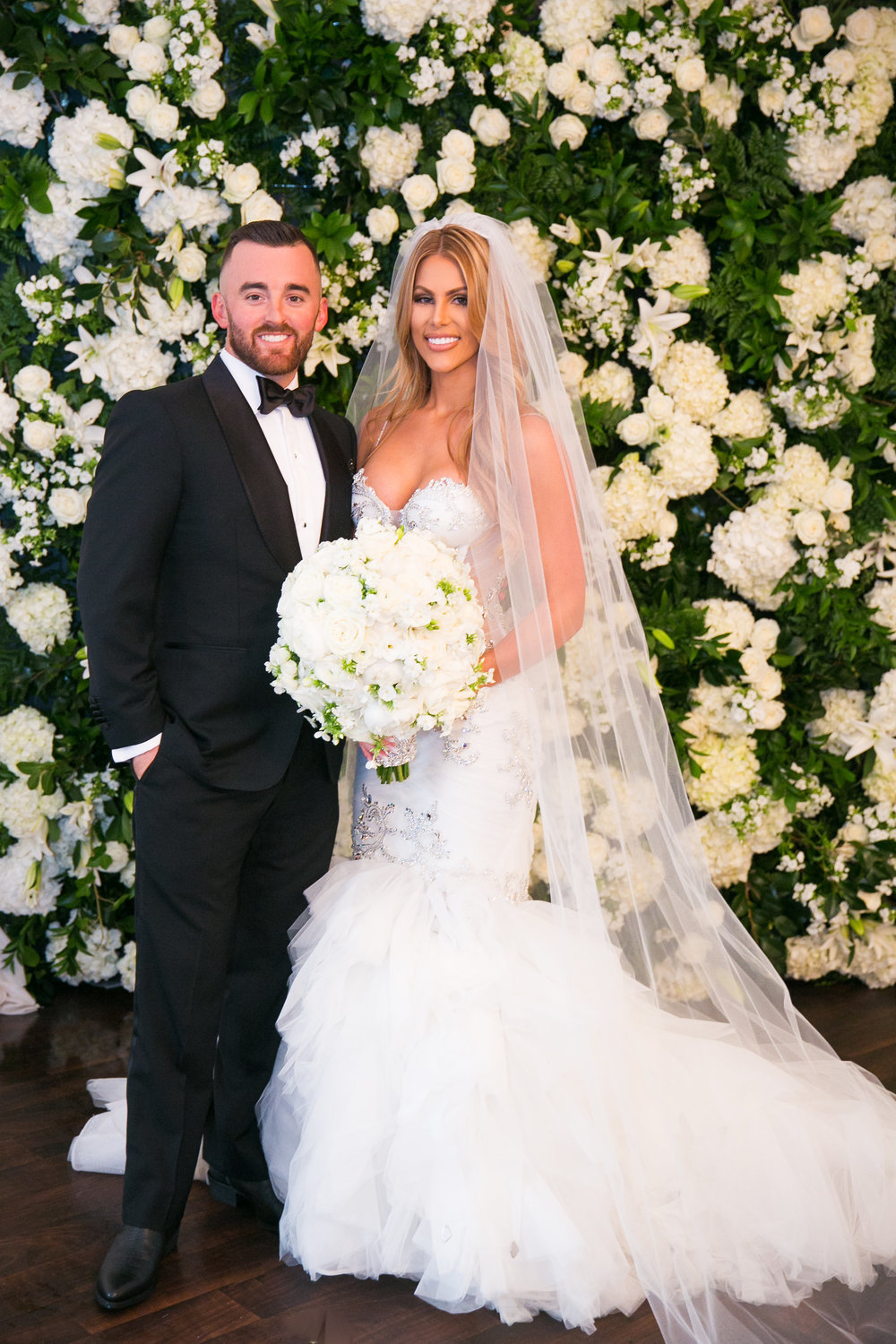 On December 9, 2017, the pair exchanged vows at Austin's family Childress Vineyards in Lexington, North Carolina. (The winery is owned by Childress.)
Almost two years later, they announced their pregnancy in December 2019, and Whitney debuted her baby bump at Austin's Daytona 500 competition.
On June 14, 2020, Austin shared an Instagram post revealing their son was born with a caption,
"Wow, @whitneydillon, you amaze me every day! This, by far, is your biggest feat yet. My love for you and @acedillon3 is Agape Love. Hardest thing I've ever had to do was say goodbye to go race today. Hopefully, we bring back a trophy for Ace on the first day we welcomed him into this world! 👶🏻♠️"
On January 2023, the pair announced they are expecting their second child, a daughter, via Instagram.
Whitney Dillon Other Endeavors
Austin Dillon's wife, Whitney Dillon, runs an online boutique named Shop The WM, which she co-founded with her best friend, Mariel Swan.
The boutique offers luxury and elegant jewelry pieces.
They started the company to make pieces that inspire women to look and feel beautiful.
Similarly, Whitney runs a blog named The BFF Blog along with Mariel. They started the blog to empower women all around the world at every age.
Reality TV
Austin's wife Whitney starred in season 1 of the CMT reality TV show Racing Wives, which first aired in 2019 and ran for eight episodes before the coronavirus.
The show has not been canceled yet and has not been renewed.
However, if you want to see more of the NASCAR driver's personal life, including his loving relationship with his wife Whitney and their only son Ace then tune in to the show Austin Dillon's Life in the Fast Lane.
The first season of the show premiered on June 23, 2022.
Though no news about the second season is out, we are assuming it should air somewhere around June this year.
Net Worth
While there are no exact numbers on race car driver's wife Whitney Dillon's net worth, we are assuming that she is worth at least $500k given her businesses and reality TV stints.
However, it is known that NASCAR drivers make an astonishing amount of money from race wins and sponsorships.
According to some sources, the Daytona 500 winner Austin Dillon has a staggering net worth of $12 million as of 2023.
Dillon comes from a well-known racing family, including his father, Mike Dillon, brother Ty Dillon, and grandfather, Richard Childress.
His family owns Richard Childress Racing which was founded by Austin's grandfather Richard Childress.
Richard Childress is worth an impressive $250 million, a fortune Austin might inherit someday.
Unknown Facts About Austin Dillon
Austin Dillon has a trading card collection, and it includes cards from multiple sports.
Austin loves hip-hop music and is a huge Lil Wayne fan.
Some of his acting credits include the TV shows SEAL Team and Rosewood.
Frequently Asked Questions (FAQS)
Which car does Austin Dillon drive?
Austin Dillon competes full-time in the NASCAR Cup Series. He drives the No. 3 Chevrolet Camaro ZL1 for his grandfather-owned, Richard Childress Racing.
Who is The Ace in NASCAR?
Whitney's husband Austin is nicknamed The Ace, a name he received from his mother.