Bear Bryant was a collegiate football player and an American coach. He is mostly known as the head coach of the University of Alabama football team.
Moreover, Bryant is considered the greatest college football coach of all time. He was a legend, a symbol of power, moral uprightness, and accomplishment to many.
Bryant won six national titles and thirteen conference championships during his 25-year career as Alabama's head coach.
He also held the record for most victories (323) as a head coach in NCAA football history until he retired in 1982.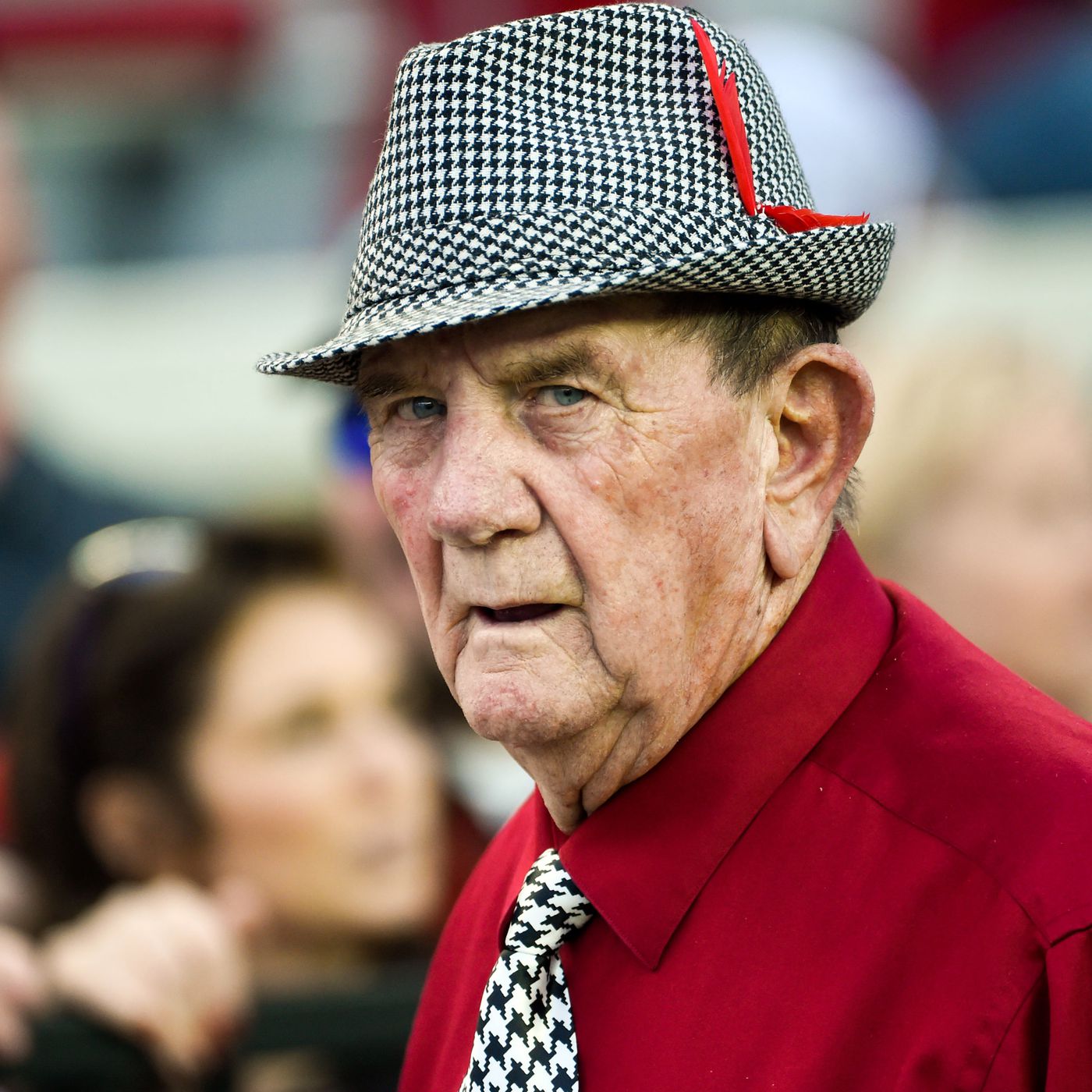 Today we are here with everything you need to know about the legendary figure in American football history, Bear Bryant.
So, if you do not know about Bryant or want to know more, follow us until the end, and you will be good to go.
Firstly, have a look at some quick facts.
Quick Facts
| | |
| --- | --- |
| Full Name | Paul William Bryant |
| Nickname | Bear Bryant |
| Date of birth | September 11, 1913 |
| Place of Birth | Moro Bottom, Arkansas |
| Nationality | American |
| Ethnicity | Not Known |
| Religion | Christianity |
| Horoscope | Virgo |
| Chinese Zodiac sign | Ox |
| Food Habit | Non-vegetarian |
| Sexual Orientation | Straight |
| Father's name | Wilson Monroe |
| Mother's name | Ida Kilgore Bryant |
| Siblings | 11 |
| High School | Tuscaloosa high school |
| College | University of Alabama |
| Profession | Head coach, football player |
| Height | 6 feet 2 inches |
| Weight | 180 pounds at the age of 13 |
| Playing Career | 1933-1935 |
| Position | End |
| Coaching Career | 1936-1982 |
| Retired on | 1982 |
| Hair Color | Brown |
| Eye color | Blue |
| Married Status | Married |
| Wife's name | Mary Harmon |
| Children | Two |
| Salary | Not known |
| Net worth | 65 million dollars at the time of death |
| Social Media | None |
| Died on | January 26, 1983 (aged 69) |
| Place of Death | Tuscaloosa, Alabama |
| Merch | Bear: The Hard Life & Good Times of Alabama's Coach Bryant (Hard Cover) |
| Last Update | December, 2023 |
Bear Bryant: Early Life and Family
Paul William "Bear" Bryant was born on September 11, 1913, in Moro Bottom, Arkansas. His mother's name was Ida Kilgore Bryant. Likewise, his Father's name was Wilson Monroe.
Bryant was born into a low-income family. His Father, Wilson, was a farmer and his mother, Ida, looked after the family.
When Bryant was still tiny, his Father became ill. As a result, his mother, Ida, was compelled to run the farm.
Bryant had a big family. His parents had 12 children altogether. He was the eleventh one.
Paul's mother wished for him to become a clergyman. However, Bryant persuaded his mother by telling her that "coaching is a lot like preaching."
Bryant began playing football for Fordyce High School as an eighth-grader. He played the offensive line and defensive end for the squad that won the 1930 Arkansas state football title during his senior year.
Get to know the 13 Best NFL Coaches of all Time>>>
Bear Bryant: Body Measurements
The American head coach was born in 1913. It was just a year before World War I started. So, we can say that Bryant witnessed many struggles and tragedies during his lifetime.
He was born in the Ox year, according to the Chinese calendar. Oxen are used as farming tools in an agricultural society.
Bryant was born into a low-income family and had a farm, so the Chinese zodiac was quite a fit for Bryant.
Moreover, the ox zodiac also attaches the symbol of diligence, honesty, and persistence. Bear Bryant was no different.
Through his honest behavior, persistency, and magnetic charisma, Bryant won the hearts of many during his life.
He was also a legendary figure; people looked to him for inspiration.
About Bryant's body measurements, he was 6 feet 1 inch tall when he was 13. He grew up to become 6 feet 4 inches tall as an adult.
Moreover, Bryant weighed 180 pounds at the age of thirteen. His other body measurements are not known.
Bryant had blue eyes and brown hair. Further, he does not have any tattoos carved on his body.
Bear Bryant: Playing Career
In 1931, Bryant earned a scholarship to play football at the University of Alabama. Moreover, the American player also had to enroll in a Tuscaloosa high school to continue his education during the fall semester.
Bryant had earlier dropped out of high school before receiving his diploma.
Likewise, Bryant was also a member of Alabama's 1934 national championship squad and played end for the Crimson Tide.
During his time with the club, Bryant was the self-described "other end," playing opposite the excellent star, Don Hutson.
Later, Hudson became a Pro Football Hall of Famer and a star in the National Football League.
In 1934, Bryant was named to the second-team All-Southeastern Conference. Likewise, in 1933 and 1935, he was named to the third team.
Similarly, in a 1935 game against Tennessee, Bryant played with a partially fractured leg.
Moreover, Bryant was also drafted in the fourth round of the 1936 NFL Draft by the Brooklyn Dodgers. However, Bear Bryant never played professional football.
Bear Bryant: Coaching Career
Assistant
Bryant obtained a coaching job at Union University in Jackson, Tennessee, after graduating from Alabama University in 1936.
However, he departed when he was given an assistant coaching post at the University of Alabama under Frank Thomas.
The squad went on to have a 29–5–3 record over the next four years. In 1940, Bryant moved to Vanderbilt University to work as an assistant under Henry Russell Sanders.
Likewise, Paul was given the head coaching job at the University of Arkansas after the 1941 season.
Soon after, though, Pearl Harbor was destroyed, and Paul turned down the offer to join the U.S. Navy. He was an assistant coach with the Georgia Pre-Flight Skycrackers in 1942.
Also, read: Hal Mumme's Bio: Football, Coaching Career & Family>>>
Maryland
In 1945, the Maryland Terrapins hired Bryant as their head coach. Bryant led Maryland to a 6–2–1 record in his lone season there.
Harry Clifton "Curley" Byrd was the president and former football coach of Maryland University. However, Bryant and Byrd often clashed with each other.
The most notable instance occurred when Bryant was on vacation, and Byrd welcomed back a player who Bryant had suspended for breaking team rules.
Bryant departed Maryland after the 1945 season to become the head coach at Kentucky University.
Kentucky
Bryant was the head coach at the University of Kentucky for eight years. In 1947, Kentucky made its first bowl appearance.
Likewise, it won its first Southeastern Conference title in 1950. Both achievements were only possible because of Bryant's leadership.
Moreover, the 1950 Kentucky Wildcats football team ended the season with an 11–1 record, including a Sugar Bowl victory over Bud Wilkinson's top-ranked Oklahoma Sooners.
However, after the 1953 season, Bryant quit the job. Bryant believed Adolph Rupp's basketball team would always be the school's premier sport despite leading Kentucky's football team to its highest point.
Texas A&M
Bryant took the position of head coach at Texas A&M University in 1954. While at Texas A&M, he also served as athletic director.
In 1954, the Aggies had a dreadful 1–9 season, which began with the notorious training camp in Junction, Texas.
Two years later, the American coach led the 1956 Texas A&M Aggies to the Southwest Conference title with a 34–21 win against the Texas Longhorns in Austin.
Bryant's standout running back, John David Crow, won the Heisman Trophy the following year.
Likewise, the 1957 Aggies were in championship contention until they fell to the #20 Rice Owls in Houston, speculating that Alabama would pursue Bryant.
Alabama
Bear Bryant is most widely known as the head coach of Alabama. Bryant coached at Alabama for 25 years.
During his coaching years, the Alabama team earned six national crowns in 1961, 1964, 1965, 1973, 1978, and 1979. Moreover, they also won thirteen SEC Championships.
Furthermore, Bryant's win over in-state rival Auburn on November 28, 1981, coached by former Bryant assistant Pat Dye, was his 315th head coach.
It was the most of any head coach at the time. Bear Bryant's overall coaching record was 323–85–17.
Bear Bryant: Medical Condition
Bryant smoked and drank heavily throughout his life, deteriorating his health in the late 1970s.
Bryant went for alcohol treatment after collapsing due to a cardiac crisis in 1977 but only lasted a few months there and resumed drinking.
Likewise, the American coach had a minor stroke in 1980 that weakened the left side of his body and another cardiac event in 1981.
Moreover, in his later years, Bryant was on various drugs.
He met preacher Robert Schuller on a plane journey shortly before his death, and the two chatted extensively about religion, which impacted the coach.
Bryant felt significant for concealing his smoking and drinking habits from his mother.
Death
Bryant went to Druid City Hospital in Tuscaloosa on January 25, 1983, after having chest trouble.
He died a day later after having a massive heart attack while being prepped for an ECG.
Dr. William Hill, Bryant's physician, expressed surprise that Bryant had been able to coach the Alabama team to two national titles in his final five years of life, considering his deteriorating health.
Bert Bank and the N.B.C. Radio Network were the first to report Bryant's death.
Bear Bryant: Controversies
Racism
During his days in Alabama, Paul was accused of racism for refusing to recruit black athletes for years.
Bryant said that the current social milieu and the overwhelming presence in Alabama of known segregationist George Wallace prevented him from doing so.
However, Bryant eventually persuaded the administration to allow him to do so. As a result, Wilbur Jackson was recruited as Alabama's first black scholarship player. He signed in the spring of 1970.
Defamation Suit
Bryant sued The Saturday Evening Post in 1962 for publishing a story by Furman Bisher accusing him of pushing his players to engage in violence during a 1961 game against the Georgia Tech Yellow Jackets.
Six months later, "The Story of a College Football Rig" was published in the magazine, accusing Bryant and Wally Butts of scheming to fix their 1962 game in Alabama's favor.
Wally also filed a libel suit against Curtis Publishing Co.
In August 1963, the U.S. District Court for the Northern District of Georgia ruled in Butts' favor. However, Curtis Publishing Co. went on to appeal to the Supreme Court.
Curtis Publishing was compelled to pay the amount of 3,060,000 dollars in damages to Butts in the case of Curtis Publishing Co. v. Butts, 388 U.S. 130 (1967).
The case is significant because it sets the parameters for a news agency to be held accountable for defaming a "public person."
In January 1964, Paul secured a separate out-of-court settlement with Curtis Publishing for $300,000 on his lawsuits.
You might also be interested in reading Brent Venables: Football, Coaching, Family & Hardships>>>
Bear Bryant: Awards and Achievements
During his lifetime, Bear Bryant was awarded many honors and achievements. In 1949, he was inducted into Omicron Delta Kappa in Kentucky.
Likewise, Bryant was also the 12-time Southeastern Conference Coach of the Year. Similarly, the portion of 10th Street which runs through the University of Alabama campus was renamed Paul W. Bryant Drive in his honor.
Further, Bryant was also the three-time National Coach of the Year in 1961, 1971, and 1973. Moreover, the national coach of the year award was named the Paul "Bear" Bryant Award in Bryant's honor.
Alabama's Denny Stadium was also renamed Bryant–Denny Stadium in his honor in 1975.
Likewise, Bryant was also named Head Coach of Sports Illustrated's NCAA Football All-Century Team.
Many may not know that Bryant had also received 1.5 votes for the Democratic Party Presidential nomination at the highly contentious 1968 Democratic Convention.
The achievement of the American legend does not end here.
Bear received the Golden Plate Award from the American Academy of Achievement in 1979. The Plate was awarded to him by Tom Landry, the Awards council member.
Further, in February 1983, President Ronald Reagan awarded the Presidential Medal of Freedom to Bryant.
Roger Hallmark, a country singer, also recorded a tribute song in Bryant's honor. Likewise, Charles Ghigna also wrote a poem as a tribute to Bryant.
Bear Bryant: Net Worth
The American player and the head coach had an extraordinary football careers. He won many awards and achieved considerable success that also helped amass a large amount of wealth.
According to various sources, Bear Bryant's net worth was approximately $65 million at his death.
Coming from a low-income family and growing up to become a millionaire is not an ordinary feat.
Frequently Asked Questions
Is Bear Bryant on social media?
The former coach of the NFA, Bear Bryant, died on January 26, 1983. Hence, he cannot be found on any social media now.
How did "Paul Bryant" earn the nickname "Bear Bryant"?
When Bryant was 13 years old, he accepted the challenge to fight a bear at a carnival for $1. During the fight, he even had his ear bitten by the bear.
After the fight, Paul began to be known as Bear Bryant. Moreover, the nickname stuck with him forever, even in his later professional career.
Was Bear Bryant Married?
The American player and head coach, Bear Bryant, was married. In June 1935, Bear secretly got married to Mary Harmon. They had two children together.
The first child, Mae Martin, was born nine months after marriage. Likewise, their second child, Paul Bryant Jr., was born in 1944.