Bec Rawlings is a Mixed Martial Arts (MMA) fighter from Australia who competed in the Strawweight division.
Furthermore, she also boxes the original form of boxing which is bare-knuckle boxing. Recently, she was released from UFC and competed professionally at a Bare Knuckle FC event.
Despite a lack of motivation and courage as a teenager, she gives her opponents a good fight.
According to her, MMA was less about escaping her demons and more about facing and battling them. She is an inspiration for anyone trying to pull themself out of a dark place in their life.
Besides that, she is also the mother of two adorable sons. She divorced her husband after he physically and emotionally abused her.
Nevertheless, she is a great mother to her children. As of now, Rebecca is a single mother raising her sons. However, she is linked with a professional boxer who is also a good friend.
Not to mention, MMA fighter is very famous and successful. With her constant effort and hard work, she is one of the most prominent fighters in the UFC.
Moreover, her colleagues, coaches, and fans continuously praise and appreciate her performance.
Before getting into details about the MMA fighter and boxer's life, here are some quick details about her.
Quick Facts about Bec Rawlings
| | |
| --- | --- |
| Full Name | Rebecca "Bec" Rawlings |
| Birth Date | 11 February 1989 |
| Birth Place | Launceston, Tasmania, Australia |
| Nick Name | Rowdy |
| Religion | Christian |
| Nationality | Australian |
| Ethnicity | White |
| Education | Not Available |
| Horoscope | Aquarius |
| Father's Name | Not Available |
| Mother's Name | Mary Rawlings |
| Siblings | Not Available |
| Age | 34 Years Old |
| Height | 5 feet 6 inches |
| Weight | 117 lbs |
| Hair Color | White |
| Eye Color | Green |
| Build | Athletic |
| Profession | MMA Fighter, Boxer |
| League/Event | UFC, Bare-Knuckle FC |
| Division | Flyweight |
| Active Years | 2011-Present |
| Marital Status | Divorced |
| Ex-Husband | Dan Hyatt |
| Kids | Two; Zake and Enson |
| Net Worth | Approx. over $115,500 |
| Social Media | Instagram, Twitter |
| Merch | Autographed Items, Jersey |
| Last Update | December, 2023 |
Bec Rawlings | Early Life, Family, And Education
Bec Rawlings was born in Launceston, Tasmania, Australia, to Mary Rawlings and an unnamed father. As a child, she was very active and keen on sports.
The athletic Rawlings was full of energy and played basketball. Furthermore, she was into gymnastics.
However, when the fighter stepped into her teens, she struggled with her weight and motivation. The inability to lead an active and healthy life upset her as she used to be very athletic.
She reportedly went into a dark place for a long time. But, Bec found her athletic self when she was introduced to MMA in 2010.
The Australian artist was 22 back then and decided to pursue a career in the mixed martial arts world.
Today, Rowdy is considered one of the best fighters and the most outstanding athlete in MMA. She completed her school-level education in Tasmania and moved to Brisbane to further her MMA career.
You Might Be Interested In UFC's Strawweight fighter, Michelle Waterson Age, UFC, MMA Fight, Next Fight, Husband, Net Worth, IG.
Bec Rawlings | Age, Height, And Weight
The champion fighter is approaching 32 on February 11, 2021. As she boxes, she trains and goes to the gym often. Hence, she is very fit and has a beautiful body. Rawlings weighs about 117 lbs and is 5 feet 6 inches tall.
Bec Rawlings | Professional Career
MMA Fighting
Before UFC
The Australian fighter got intrigued by MMA through her ex-husband, who is also a fellow MMA fighter.
She started her journey in her birthplace, Launceston, Tasmania, before moving to Brisbane, Australia, seeking better opportunities. Rowdy made her first appearance in an Australian competition in 2011 at Brace 12.
Bec fought in the bantamweight division in "fight of the night" against Rhiannon Thompson. However, she lost her debut fight.
Nevertheless, she bounced back with wins against champion fighters such as Sarah Morrison, Daniela Marjanovic, Rachel Sheridan, and Christina Tatnell in a row.
Thereafter, with her unique and exceptional style and fighting skill, she soon caught the Invicta Fighting Championships' attention.
As a result, Rebecca signed a three-year contract and competed in the strawweight division. Due to an injury, she debuted a little late. Nevertheless, she gave her best but eventually lost to Carla Esparza.
When she fought outside of Australia for the first time, the media coverage and fan craze led the Invicta FC president Shannon Knapp to admit she hadn't seen anything like it.
Moreover, Rowdy was voted as the Favourite Female Fighter in 2012 by the Women's Mixed Martial Arts Awards.
Bec won the award with 265 votes from WMMA fans, 70 more than her opponent. Furthermore, she won her next fight via submission in the first round.
However, she lost her next fight at Invicta FC 6: Coenen vs. Cyborg by unanimous decision.
UFC Career
When her contract with Invicta ended, she was assigned to the newly created women's strawweight division in UFC.
Furthermore, she was fighting to win the first women's edition of The Ultimate Fighter. Bec was Coach Gilbert Melendez's 7th pick and was initially supposed to face American MMA fighter Justine Kish.
However, Kish's knee injury prevented her from fighting, so she was replaced by another American MMA fighter Tecia Torres.
Nevertheless, the mother of two did not manage to be the first female to win the TUF title. In 2012, Julianna Nicole Peña became the first woman to win "The Ultimate Fighter" championship.
Following her career after TUF, she lost her debut performance at The Ultimate Fighter: A Champion Will Be Crowned Finale by unanimous decision.
Nonetheless, the Australian fighter fought against Lisa Ellis at the UFC Fight Night 65 and won through submission in the first round.
However, Rebecca was replaced in her next fight with a newcomer as she sustained an injury during the fight. After her return, she lost her fight to a knockout from Paige VanZant.
Despite reasonable efforts, she again lost her next match at UFC Fight Night: Bermudez vs. Korean Zombie. Moreover, she was fined 20% of her purse when her weight exceeded the strawweight limit.
Then, she subsequently lost her match with Jessica-Rose Clark at UFC Fight Night: Werdum vs. Tybura and Ashlee Evans-Smith at UFC 223.
After losing four-fight continuously, she was let go from UFC. From there, she signed with Bellator but lost her debut match via submission in the second round.
Don't Forget To Check Out MMA Fighter, Nicco Montano Bio: MMA Career, Ethnicity, Net Worth & Wiki.
Bare Knuckle Boxing
Following an MMA career, she was enthusiastic about the original way of boxing, which is bare-knuckle boxing.
Shortly after that, she made her appearance at the Bare Knuckle FC event. She won her debut fight against Alma Garcia on June 2, 2018.
Likewise, Bec also won her second bare-knuckle bout by a split decision. Again, at the Bare Knuckle Fighting Championship 4, she had a victory against Cecilia Flores in Cancun, Mexico.
Take A Look At Fighter, Felice Herrig Bio- MMA, UFC, Age, Next Fight, Nationality, Net Worth, Married.
Bec Rawlings | Fight Records
| | | | | |
| --- | --- | --- | --- | --- |
| RESULT | Against | METHOD | R | TIME |
| WIN | Elina Kallionidou | Decision (Unanimous) | 3 | 5:00 |
| LOSS | Ilara Joanne | Submission (Kneebar) | 2 | 3:35 |
| LOSS | Ashlee Evans-Smith | Decision (Unanimous) | 3 | 5:00 |
| LOSS | Jessica-Rose Clark | Decision (Split) | 3 | 5:00 |
| LOSS | Tecia Torres | Decision (Unanimous) | 3 | 5:00 |
| LOSS | Paige VanZant | KO (Head Kick and Punches) | 2 | 0:17 |
| WIN | Seo Hee Ham | Decision (Unanimous) | 3 | 5:00 |
| WIN | Lisa Ellis | Submission (Rear-Naked Choke) | 1 | 4:09 |
| LOSS | Heather Clark | Decision (Unanimous) | 3 | 5:00 |
| LOSS | Mizuki Inoue | Decision (Unanimous) | 3 | 5:00 |
| WIN | Jasminka Cive | Submission (Armbar) | 1 | 3:30 |
| LOSS | Carla Esparza | Decision (Unanimous) | 5 | 5:00 |
| WIN | Christina Tatnell | TKO (Punches) | 1 | 0:37 |
| WIN | Rachel Sheridan | Decision (Majority) | 3 | 3:00 |
| WIN | Daniela Marjanovic | Technical Submission (Rear-Naked Choke) | 1 | 0:21 |
| WIN | Sarah Morrison | Submission (Armbar) | 2 | 1:30 |
| LOSS | Rhiannon Thompson | KO (Head Kick) | 1 | 2:30 |
Bec Rawlings | Marriage, Domestic Abuse, And Kids
Marriage And Kids
Rawlings was previously married to Dan Hyatt. Her husband is also an MMA fighter who introduced her to the mixed martial arts world.
It was because of him; she was inspired to pursue a career in MMA and fighting. Shortly, the friendly relationship developed into love, and the duo was married.
However, their relationship was very toxic and volatile, and the pair filed for divorce in 2013. In 2014, Bec started dating another mixed martial artist named Ben Wall.
Sadly, the relationship didn't work out, and in 2018 she moved on to professional boxer Adrian Rodriguez.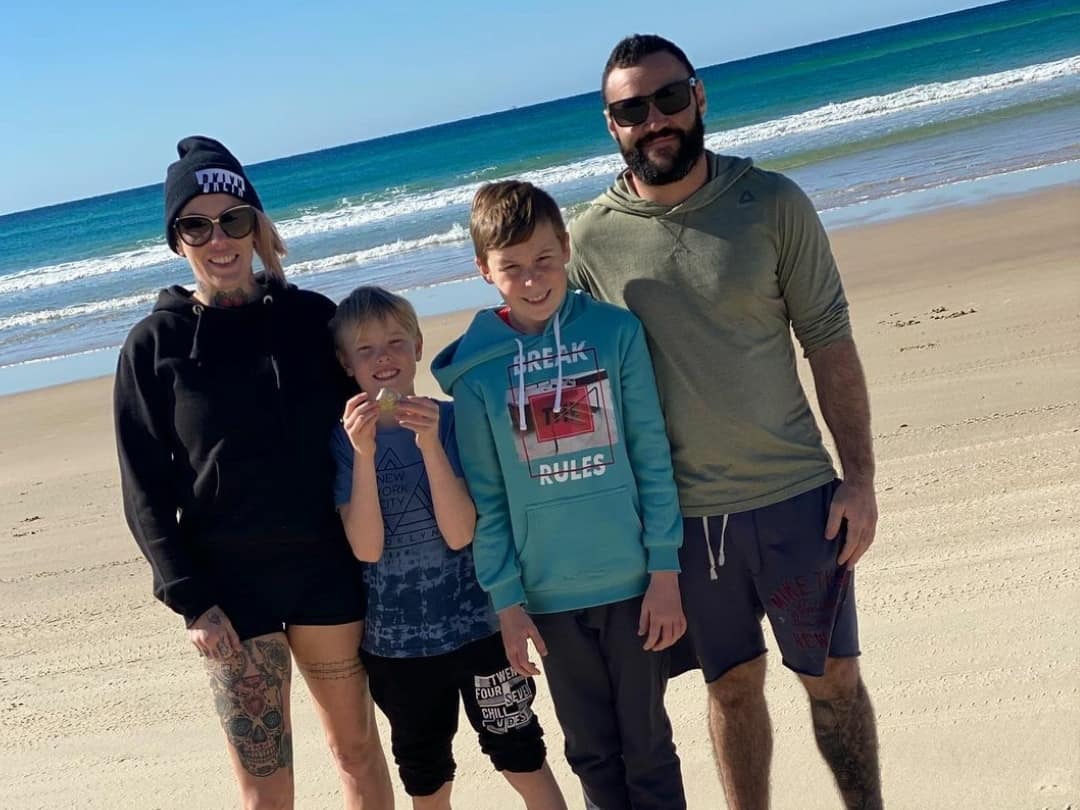 Besides that, the boxer was previously Bec's friend who helped her with housing when she escaped her abusive husband.
As of now, she is still dating him and is very much in love. Adrian is a caring and perfect role model for her children.
Rebecca has two kids, namely Zake and Enson. Zeke is her first child with an ex-boyfriend before her marriage. Her second child is her first child with her ex-husband Hyatt.
Domestic Abuse
The MMA fighter accused her husband, a fellow MMA fighter, Dan Hyatt, of physical and mental abuse.
Furthermore, she even filed an official police complaint against him, which resulted in a trial. Besides that, Hyatt's former teenage girlfriend also accused and complained against him of physical abuse.
After accusing him, the Australian fighter received backlash and threats from his fans. He also denied all the allegations and called Rawlings a liar.
However, later on, he admitted to slapping and hitting Bec in front of the kids. Moreover, he also confessed to abusing drugs like ketamine, acid, ice, cocaine, speed, and steroids.
Not to mention, he even threatened Rebecca that he would hurt her kids, which was the last straw for her.
That night, after he fell asleep, she took her kids and escaped her abusive husband. She also revealed that her ex-husband continuously mistreated her oldest son Zake.
Apart from that, other girlfriends have also accused Hyatt of violence and abuse. Hence, Hyatt was found guilty and sentenced to prison.
He is on probation and is strictly instructed to attend Family Violence Offender Intervention Program.
Bec Rawlings | Net Worth And Salary
The MMA fighter's exact net worth is not available.
However, according to recent studies, her net worth is found to be $115,500. Besides that, she also earns a little over $30 thousand with her experience and fighting skills.
Moreover, she is sponsored and endorsed by several well-known brands. Bec reportedly owns a beautiful house in Australia, where she resides with her kids.
Furthermore, she is always traveling and visiting different places as her career requires.
>> Karolina Kowalkiewicz Bio: Eye, Record, Net Worth, UFC, Career, IG Wiki <<
Bec Rawlings | Social Media Presence
Rawlings is quite a famous fighter among fans and media. Hence, she is on Instagram with 210 thousand of followers.
She usually shares pictures of her phenomenal body, workouts, and fellow fighter friends. Besides that, the mother of two occasionally shares photos with her kids and dogs.
The WBF Latin America Champion is also on Twitter with 86 thousand followers since she joined in February 2012.
Bec has over 23 thousand tweets and mostly shares about her work, matches, and colleagues. Furthermore, she uses her platform to raise awareness about domestic violence.
Common Queries about Bec Rawlings
What happened with Bec Rawlings' husband?
Bec Rawling's husband was sentenced to jail after he was found guilty of abusing his wife in front of their kids and assaulting other girlfriends.
Dan got out recently and is currently on probation. He also admitted to abusing drugs and was diagnosed with Borderline Personality Disorder.
Hyatt was sentenced to 14 months in prison for the abuse of three women. However, seven months of the sentence was suspended. As of now, he is strictly instructed to attend Family Violence Offender Intervention Program.
Who is Bec Rawlings' dating?
Since 2018, the Australian fighter is dating professional boxer, Adrian Rodriguez. He had helped Bec escape her abusive husband and provided her children with housing.
Did Bec Rawlings train with Conor McGregor?
Bec Rawlings trained at the popular Straight Blast Gym in Dublin, Ireland. In 2019, she shared a video clip of her training with Conor McGregor. She first met McGregor in The Ultimate Fighter.