Nicco Montano is a champion to the world, and more specifically, to the people she shares her origin with.
For those who don't know, Montano is a professional American mixed martial artist. She is affiliated with the Ultimate Fighting Championship (UFC).
UFC is a mixed martial arts promotion company based in Las Vegas, Nevada, United States. Montano currently fights in the bantamweight division of the UFC.
Actually, Mixed Martial Arts (MMA) is classified into several divisions based on the fighter's weight. The fighters in the bantamweight division weigh between 126 and 135 lb.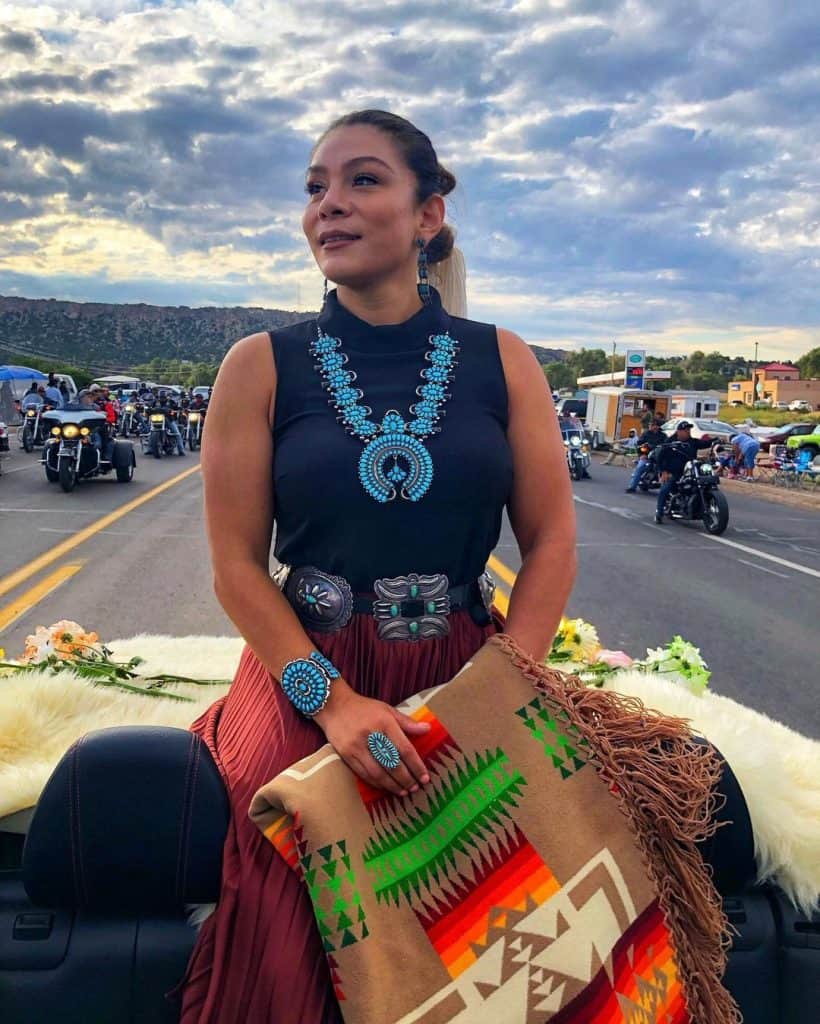 Moreover, Nicco comes from a community with a proud but scattered athletic tradition. She has succeeded in making her people proud, indeed.
Likewise, she is very fond of her native culture. The support from her native brothers and sisters is what keeps her going.
Notably, Montano also had the privilege of coming forward as the inaugural UFC Women's Flyweight Champion. She is truly a woman with guts and determination.
Now, let's get closer to knowing this wonderful woman's story.
Nicco Montano |
Quick Facts
Full Name

Nicco Rae Montano

Birth Date

December 16, 1988

Birth Place

Lukachukai, Arizona, United States

Religion

Christian

Nationality

American

Ethnicity

Dine, Chickasaw, and Hispanic descent

Horoscope

Sagittarius

Father's Name

Frank Montano

Mother's Name

Connette Blair

Age
34 Years Old
Height

5 feet 5 inches (165 cm)

Weight

57 kg (125.66 lbs.)

Reach

65 inches

Body type

Athletic

Eye color

Dark Brown

Hair Color

Brown

Education

Chinle High School, Arizona

Arizona State University, Mesa, Arizona

Fort Lewis College, Colorado

Profession

Mixed Martial Art (MMA) Fighter

Current division in MMA

Bantamweight

Previous division

Flyweight

Honor

Inaugural of UFC Women's Flyweight Champion

Style

Boxing,

Brazilian jiu-jitsu

Stance

Southpaw

Affiliations
Fights out of

Albuquerque, New Mexico, United States

Professionally active since

2015

Coached by

John Wood

Marital Status

Unmarried

Relationship Status

Not Known

Children

None

Net Worth

$150 K

Social Media
Instagram, Twitter
Last Update
June, 2023
Nicco Montano | Early Life, Family & Education
Nicco Montano was born on December 16, 1988, in Lukachukai, Arizona, United States. She was born to parents Frankie Montano and Connette Blair.
She was raised in the Navajo Nation, the largest native American in the United States.
Nicco grew up with her mother and her side of the family. In fact, Nicco, as a child, never got the opportunity to know her father personally.
Moreover, Nicco's father died when she was 18. Nicco's father lived in Farmington, New Mexico.
The father-daughter duo didn't meet very often. But whenever they did, it would be at the gym.
You might be interested in reading: <<Johny Hendricks Bio: Age, Career, MMA, Wife, Kids, Net Worth, IG Wiki>>
Fighting: Nicco always had it in her subconscious mind.
Nicco's father Frankie Montano was a boxer, coach, and promoter. He spent most of his life at the gym. In fact, he was a big name when it came to boxing in Farmington.
Nicco didn't like visiting her father at his gym. Since she lived with her mother and her side of the family, she was fed biased notions regarding her father.
Her parents didn't have a happy marriage. Nicco never understood her father's inclination towards boxing and the gym.
However, she didn't have grudges towards his passion. Frankie Montano often talked about his desire to see Nicco as a fighter.
Moreover, every time Nicco visited Farmington, people recognized her as Frank's daughter, and they would ultimately assume her to be a fighter.
Although she was resistant towards the concept of fighting, little Montano was still seen hitting the bag and mitts with her father at times.
Regardless, she never hesitated to express her unwillingness to be a fighter. Everything that she had with her father either revolved around his gym or his boxing.
Hence, Nicco must have been fascinated with the fighting world, at least subconsciously, at some point in her childhood.
Don't forget to check out: <<Felice Herrig Bio- MMA, UFC, Age, Nationality, Net Worth, Married>>
Nicco Montano's descent
Nicco Montano calls herself a 'native' or 'indigenous.' She prefers these terms over the popularly used 'Native American,' which sounds merely like a government label to most natives.
She is of Dine, Chickasaw, and Hispanic descent. 'Dine' refers to the Navajos people. In fact, Nicco was raised in the Navajo Nation.
Her mother is half Navajo and half Chickasaw. Her father is Hispanic. Henceforth, that makes Nicco a quarter Chickasaw, a quarter Navajo, and half Hispanic.
Nicco Montano is the first Native American to be a UFC Champion.
Montano is pretty big in the Southwest region of the United States. She is the representative of her entire community to where they call a bigger picture of America.
Nicco Montano, with her victories, wishes to be the shining light of her native culture. She wants to use her fame and the platform to voice for the betterment of her indigenous people.
Education
Nicco Montano first went to Chinle High School in Arizona, United States. She graduated from there in 2006.
After graduating, Montano then went to Arizona State University in Mesa, Arizona. However, she transferred to Dine College in Tsaile, Arizona.
Accordingly, she got admitted to Fort Lewis College in Durango, Colorado, for her final study venture.
Nicco Montano | Mixed Martial Arts (MMA) Career
Beginning
When Nicco's father died in 2006, she would visit Farmington and Four Corners MMA to receive Brazilian jiu-jitsu training.
Nonetheless, she still wasn't confident about pursuing fighting as a career. Similarly, she got indulged in learning cardio kickboxing.
The people she trained together with, and even her coaches, insisted on participating in an amateur MMA fight. Eventually, she turned out to be supremely good.
Montano then got struck by theories explaining the connection between what she was doing and what her father dreamt of her career.
Further, Nicco Montano joined Durango Martial Arts Academy while she was attending Fort Lewis College in Durango.
There, she received the opportunity to explore her love and passion for martial arts.
Likewise, Nicco Montano transitioned to Albuquerque, New Mexico, around the end of 2015. She did so to train at Fit NHB.
Initiation
Nicco Montano had a successful amateur MMA career. She held a record of 5-0. She finally made her professional debut in MMA in November 2015.
Montano first competed for King of the cage. In fact, she won the King of the Cage Women's Flyweight Championship.
She then got associated with The Ultimate Fighter 26 in August 2017. Moreover, she gained a record of 3-2 before her association with The Ultimate Fighter.
You might also want to read: <<Big Boss Man Bio: Personal life, Wrestling Career, Death & Wiki>>
The Ultimate Fighter
Nicco Montano got selected in The Ultimate Fighter Crew 26 along with 16 other MMA Artists.
Her first performance at TUF premiered on August 30, 2017, on FS1. She represented Team Gathje at the TUF.
Montano had to compete against Lauren Murphy in the fourth-opening round tournament of the episode. In fact, Montano won the fight via unanimous decision after two rounds.
Further, Nicco Montano competed against Montana Stewart, aka Montana De La Rosa, in the fourth and quarterfinal matchup.
Montano completely dominated the course of action. In fact, she defeated Montana Steward via a unanimous decision.
Similarly, Montano of Team Gaethje fought with Barb Honchak of Team Alvarez. Nicco Montano again defeated her opponent via a unanimous decision.
You can watch Nicco Montano's biography and records on the website of Sherdog Australia.
You might also be interested in reading: <<Khabib: UFC, Age, Wikipedia, Instagram, Net Worth & Wife>>
Ultimate Fighting Championship (UFC)
Nicco Montano is the first person to win the Women's UFC Flyweight Championship.
Nicco Montano was ready to compete in the opposition of Sijara Eubanks for the UFC belt in December 2017.
However, it could not happen as a consequence of Sijara's deteriorating health condition. Eubanks indulged in cutting more weight than most male fighters.
Likewise, she agreed to have faced a miscalculation during her weight cut, preventing her from achieving the 125-pound limit required for the tournament.
Kidney failure (
2017/2018)
She also had to undergo kidney failure due to excessive and unhealthy weight cut from "The Ultimate Fighter 26" Finale.
Roxanne Modafferi stood up as Eubank's replacement. Nicco Montano proved her worth by defeating a tough opposition via unanimous.
Thereupon, she received UFC's inaugural women's flyweight title and "The Ultimate Fighter 26″ crown.
Consequently, Montano got the Fight of the Night Bonus. She was incredibly proud of the verdict as she had earned it solely with her hard work.
Nicco Montano was about to fight for the UFC 228 card on September 8, 2018, in Dallas, United States.
However, her feud was canceled and scheduled against Valentina Shevchenko. Later, she was removed as a candidate after she failed to weigh for her UFC 228 bout.
In fact, she was taken to the hospital before the weigh-in as a precautionary measure due to health deterioration.
Montano also experienced issues with her kidneys, an imbalance of electrolytes, and high sodium levels.
Moreover, she showed extreme disappointment for the UFC's decision to strip off her belt.
Nicco Montano received six months of suspension from USADA after testing positive for the banned substance, ostarine.
She tested positive for ostarine in an out-of-competition test conducted on October 25, 2018.
She then accepted a six-month period of ineligibility that began on November 15, 2018. Basically, she was suspended from competition for the time being.
You can watch Nicco Montano's career statistics at UFC stats.
2019/2020
Further, Montano was expected to participate in the women's bantamweight bout against Sara McMann on July 30, 2019.
However, McMann could not compete because of an injury. Julianna Pena stood up as the replacement for McMann. Nicco Montano had to face a loss via a unanimous decision.
Montano was then expected to compete with Macy Chiasson on February 15, 2020, at UFC Fight Night 167.
However, she could not compete in her bantamweight bout at UFC, owing to an injury. Shanna Young replaced her in the tournament.
Furthermore, Nicco Montano was scheduled to compete against Julia Avila on August 8, 2020, at UFC Fight Night 174.
Nonetheless, the bout was rescheduled to UFC Fight Night 176 because Montano's coach tested positive for Covid-19.
Similarly, Nicco Montano also tested positive for Covid-19, and the bout had to move to UFC Fight Night: Holm vs. Aldana. But Montano walked off the bout because of some travel restrictions.
Julia Avila was then rescheduled to compete with Sijara Eubanks at UFC Fight Night 177 on September 12, 2020.
Click <<Nadia Kassem Bio: Mixed Martial Arts, Family, career, & Wiki>> to read about UFC fame Nadia Kassem.
Nicco Montano | Net worth
Montano has received massive fame as an MMA champion. When you have good fame, money comes searching for you. According to reports,
"Nicco Montano's net worth is around $150K."
Nicco has talked about her experiences with poverty in several interviews. She earns good money these days because of her hard work. She deserves every bit of it and much more.
Nicco Montano – Justin Watson Controversy
In December 2021, Nicco Montano accused a person named Justin Watson of assaulting her. She took to her Instagram explaining the abuse she faced from the guy in a hotel in Texas.
Montano stated that she was stomped, kicked, and her hair was pulled. She then had to run down the hallway of the hotel in an undressed state.
An individual from the hotel then heard her and came to her assistance. Montano then revealed that she was admitted to the hospital.
Her manager, Ricky Kottenstette, also addressed the situation saying that Montano had scans done for the injuries sustained and was expected to be released later in the very day.
Former #UFC flyweight champ Nicco Montano has two disturbing posts of what looks to be domestic violence to her IG story 2 hours ago. Looking for confirmation if it's legit, a hack, or what. Anyone know of Justin Watson as her significant other? #MMA @AntWalkerMMA @MrMWells pic.twitter.com/mriXAmqIIw

— Jason Burgos (@JasonBurgosMMA) December 1, 2021
Social Media Presence:
Instagram: 44.1k followers
Twitter: 6,550 followers
Some FAQs:
Did Nicco Montano test positive of Covid-19?
Yes, Nicco Montano tested positive for Covid-19. She has recovered now.
What is Nicco Montano MMA record?
Nicco Montano has a professional MMA record of 4 wins, 3 losses, and 0 draws.
What is the issue with Nicco Montano vs. Carol Rosa bout?
The fight between Nicco Montano and Carol Rosa was scheduled for the UFC event on February 6, 2021.
Did Nicco Montano win Nicco Montano Vs Julianna Pena?
No, Nicco Montano lost the fight via unanimous decision.
Does Nicco Montano have belt?
Yes, Nicco Montano has a purple belt in Brazilian Jiu-Jitsu under Chris Jones.
Is there any documentary on Nicco Montano?
Yes, there is a sports documentary based on Nicco Montano titled "Warrior Spirit." The documentary displays all the highs and lows of Nicco's MMA career, from her inaugural UFC women's flyweight champion to her release from the organization.
Why was Nicco Montano pulled out from her fight with Karol Rosa?
According to reports, Nicco Montano was pulled out from her fight with Karol Rosa due to the recommendation of a neurologist during a pre-fight medical.
Nicco was still dealing with injuries she suffered during a car accident, so her fight with Karo Rosa was canceled. The fight between Nicco and Karol was scheduled for UFC Vegas 18 on February 6.
Later, the UFC picked Joselyne Edwards to replace Nicco Montano and fight Karol Rosa on that date. On the other hand, Nicco has to wait 12 weeks before being cleared for the next fight.