It is not often that we hear a girl's contribution to sports. So, you can imagine the excitement one has when hearing Becky Hammon's name. The former basketball player is a three-time All-American basketball player for the Colorado State Rams.
At the moment, the sensational point guard is active as a coach; in fact, she is the first full-time female assistant coach in the four major professional sports in North America. Also, Becky is the first woman to be a head coach in the Summer League.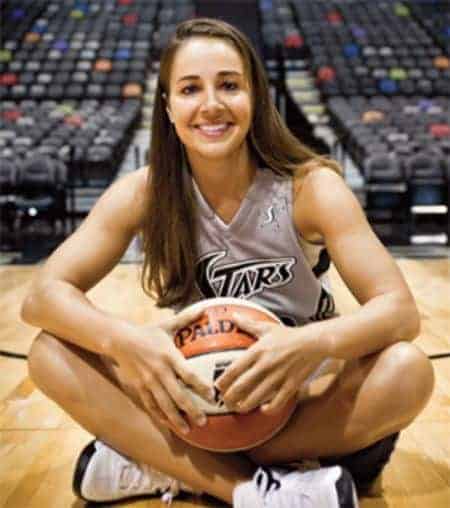 Today we will be talking more about Becky and her achievements in the NBA career, before and after retirement. Everything from her personal life to professional life will be discussed here.
Becky Hammon: Quick Facts
| | |
| --- | --- |
| Full Name | Rebecca Lynn Hammon |
| Birth Date | March 11, 1977 |
| Birth Place | Rapid City, South Dakota, US |
| Nick Name | Big Shot Becky |
| Religion | Christianity |
| Nationality | American/Russian |
| Ethnicity | White |
| Education | Colorado State University |
| Horoscope | Pisces |
| Father's Name | Martin Hammon |
| Mother's Name | Bev Hammon |
| Siblings | Brother |
| Age | 43 years |
| Height | 5 feet 6 inches(168 cm) |
| Weight | 62 kgs(136 lbs) |
| Shoe Size | 7.5 (US), 39 (EU) |
| Hair Color | Blonde |
| Eye Color | Hazel |
| Body Measurement | N/A |
| Figure | Slim |
| Married | No |
| Profession | Assistant Coach |
| Active years (As Coach) | 2014-present |
| Active years (As Player) | 1999-2012 |
| Position | Point Guard |
| Number  | 25 |
| Net Worth | $500 thousand |
| Social Media | Instagram, Twitter, Facebook |
Age and Body Measurements: How Tall Is Becky Hammon?
The tenacious player on the court and a total softie outside, Becky Hammon was born in the year 1977, which makes her 43 years as of now. At the same time, she celebrates her birthday every year on the eleventh of March. Also, Hammon's star sign happens to be Pisces, known for their intelligence, skills, and they are often recognized as an excellent communicator.
In terms of physicality, the former basketball player stands at 5 feet 6 inches(168 cm) and weighs around 62 kgs, which are approximately 136 lbs. And without a doubt, she has an athletic figure, built from years and years of training on court.
However, the former point guard has not revealed the number when it comes to her figure. We will get back to it soon enough.
Contrary to her athletic physique, Hammon has soft features that consist of her hazel eyes and small face. Along with her short blonde hair, all of them go well with her fair skin complexion.
Early Life and Education- Where Did Becky Hammon Go To College?
Former player and currently a coach, Becky Hammon was born as Rebecca Lynn Hammon in Rapid City, South Dakota, the United States of America. She is the daughter of her Russian parents, Bev Hammon and Martin Hammon. 
Likewise, Hammons is a natural-born American citizen and later became a naturalized Russian citizen back in 2008. After that, she represented the Russian national team in the 2008 and the 2012 Olympics. 
Hence, at the moment, Becky holds dual citizenship in America and Russia. Also, her ethnic background is white, and as for her religion, she is a devout Christian.
As for her education, the star player went to Stevens High School and later attended Colorado State University. 
Early Career and Prime Years
There is no doubt that Becky is one of the skilled players in the Women's Basketball team. Talking about her skills, Hammon learned all basic basketball techniques at home while playing along with her older brother and father.
With time, Becky polished her skills on home court. Not to mention, she played basketball at Stevens High School and was even named South Dakota Miss Basketball as a junior.
Likewise, as a senior, Hammon received the South Dakota Player of the Year award after averaging 26 points, four rebounds, and five steals per game. In her graduation in 1995. Hammon was voted female class athlete by her classmates.
However, her small stature failed to capture the attention of college basketball recruiters. But she managed to grab the attention of Colorado State assistant coach, and that is how she played for the Rams in her college years.
Hammon truly flourished in her college years as an athlete. She helped her team advance to the NCAA Tournaments' Sweet Sixteen by scoring 33-3 record in the 1998-99 season. 
Not to mention, that same season, Becky got the WAC Mountain Division player of the year title, even surpassing the University of Utah's player, Keith Van Horn as the WAC's all-time leading scorer.
Even after that, she kept making records after records, including 2740 points per game, field goals of 918, 539 free throws, 365 three-point field goals, and 538 assists, setting Colorado State all-time records.
Similarly, on November 12, 2004, Colorado State inducted her in the University's Sports Hall of Fame. Also, her jersey number 25 was retired at Moby Arena on January 22, 2005. 
What Does Becky Hammon Do?- Professional Years
Often doubted for her appearance, Becky started her rookie career in stable motion. She was signed to the WNBA on May 12, 1999, and joined the New York Liberty, backing up starting point guard Teresa Weatherspoon. Hammon instantly became favorite among Liberty fans with her aggressive plays at both ends of the court.
Likewise, Becky took over the point guard position in 2003 and became the team co-captains the following year. Not to mention, that same year, she signed with Colorado Chill, a new team in the WNBL.
But her anterior cruciate ligament injury prevented her from playing more than two games. Despite all that, she ended the 2005 season with her 2000th WNBA career point.
Similarly, on April 4, 2007, Hammon was traded to the WNBA's San Antonio Silver Stars and instantly made her high carer averages of 18.8 and 5.0. It was in San Antonio, Becky earned the name "Big Shot Becky" because of her ability to make in crucial moments.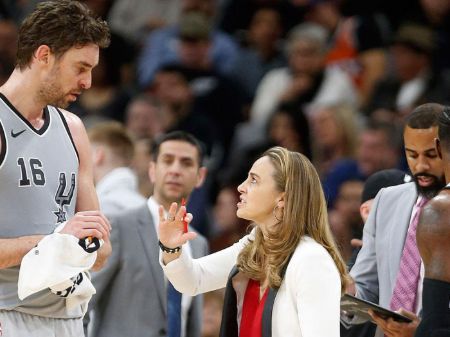 The following year also proved to be fruitful for Becky as she averaged 17.6 ppg and 4.9 APG leading her team to WNBA playoffs for a second straight year. On August 31, 2011, Hammon scored 5000 points, making her the seventh player in WNBA history to do so.
Moreover, in 2014, Hemmons retired from the WNBA, and the next year, she was inducted into the Ring of Honor during halftime of the game between the New York Liberty and the Seattle Storm. Her No. 25 jersey was retired on June 25, 2016, by the San Antonio Stars.
Back in Court As a Coach
Even after her successful career as a player ended, Becky came back to a coach after her retirement. On August 5, 2014, she became an assistant coach for the Spurs, making her the second female coach in the NBA history, right after Lisa Boyer.
Her contribution to the NBA's San Antonio Spurs' caught the attention of head coach Gregg Popovich. During the hiring media announcement, Greg spoke fondly of her. He said,
"I very much look forward to the addition of Becky Hammon to our staff. Having observed her working with our team this past season, I'm confident her basketball IQ, work ethic, and interpersonal skills will be a great benefit to the Spurs."
Not to mention, throughout the league, she earned the respect of many NBA players. Pau Gasol, one of the prolific basketball scorers, even praised her skills as a coach, comparing her talents to the NBA's male coaches.
"I've played with some of the best players of this generation… and I've played under two of the sharpest minds in the history of sports, in Phil Jackson and Gregg Popovich. And I'm telling you: Becky Hammon can coach. "
To this, he added,
"I'm not saying she can coach pretty well. I'm not saying she can coach enough to get by. Also, I'm not saying she can coach almost at the level of the NBA's male coaches. I'm saying: Becky Hammon can coach the NBA basketball period."
Also, on July 3, 2015, Hammon became the first-ever female head coach and led the Spurs to the Las Vegas Summer League title. Furthermore, she became the first woman to be part of an All-Star coaching staff at the 2016 NBA All-Star Game. 
What Is Becky Hammon Salary?- Net Worth and Income
Currently, active as a coach, Becky had a successful year as a player on the court. According to an online source, Becky Hammon, the former point guard, has an estimated net worth of $500 thousand. 
Likewise, as a coach, Becky is assumed to make a yearly income amounting to $200 thousand, if not more. Sadly, the information on her assets and other properties are unknown at the moment.
Is Becky Hammon Married?- Relationship Status
Already in her 40s, many people have bee curious about Hammon's marital status. Well, it seems the star player has been busy on the court rather than outside of it. Becky is still single as of now.
However, there is rumor surrounding her sexuality. While some claim she is dating her girlfriend, Brenda Milano, other claims that she is in a relationship with fellow basketball player, Tony Parker.
Sadly, nothing has been proven, and Hammon has yet to confirm the news. It seems the 43 years old is busy with her career as a coach at the moment, to think about other things.
Online Presence
Instagram–  127k Followers
Twitter–  65.8k Followers