Belinda Bencic is a Swiss professional tennis player with six singles titles and two doubles titles on the WTA Tour. She recorded her first-ever WTA clay-court title and won the Billie Jean King Cup for the first time in history with the Swiss team in 2022.
Imagine being a 14-year-old and making your debut at a professional tournament against fully grown adults. How would you feel? Nervous? Scared?
Well, don't spend too much time on your thoughts because we have an article about a girl named Belinda Bencic who went through those same circumstances.
Let's get started as we will tell you whether that 14-year-old made it to the top or fizzled out as many before.
You will also find details regarding Belinda's net worth, career earnings, family, relationships, age, height, and social media.
So, without further ado, let's get started.
Belinda Bencic | Quick Facts
| | |
| --- | --- |
| Full Name | Belinda Bencic |
| Date of Birth | March 10, 1997 |
| Birth Place | Flawil, Switzerland |
| Father name | Ivan Bencic |
| Mother name | Dana Bencic |
| Siblings | Brian Bencic |
| Marital Status | In a relationship |
| Boyfriend | Martin Hromkovic |
| Ethnicity | White |
| Age | 26 Years Old |
| Profession | Tennis Player |
| Nationality | Swiss |
| Height | 5'9″/1.75 m/175 cm |
| Weight | 69 kg/152 lb. |
| Eye Color | Dark Brown |
| Hair Color | Light Brown |
| Record | 274-151 (Singles), 56-49 (Doubles) |
| Career Titles | Six (Singles), Two (Doubles) |
| Build | Muscular |
| Net Worth | $5 million |
| Online Presence | Instagram, Twitter, Facebook |
| Merch | Tennis Ball, Gear, Tennis Racket |
| Last Update | November, 2023 |
Where is Belinda Bencic from? Early Life & Family
Belinda Bencic was born to her parents, Ivan Bencic and Dana Bencic, on March 10, 1997, in Flawil, Switzerland.
Her father was a professional hockey player back in the day, while Bencic's mother was a regular housewife. Her parents are of Slovakian descent and migrated to Switzerland long ago.
Along with her parents, Belinda grew up with her brother, Brian Bencic, who also plays tennis professionally.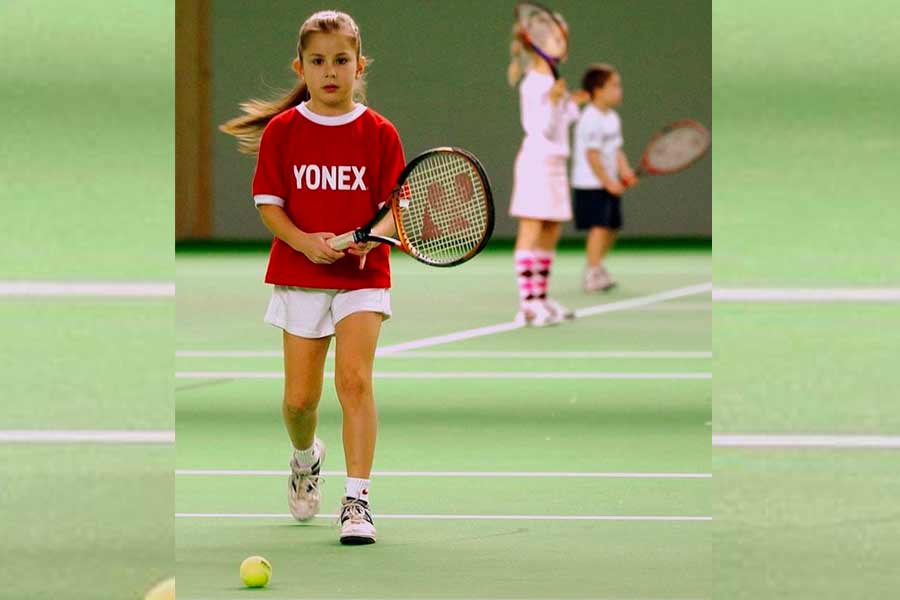 All in all, everyone in the family is or has been involved in sports except the big dog of the house, Dana.
During her childhood, another Slovak Swiss player, Martina Hingis, was one of the best players. Thus, young Belinda fell in love with her and wanted to be just like her idol, Hingis.
The Swiss player started playing tennis at the age of 2. By the time she was seven, Bencic was training with her idol, Martina's mother and coach, Melanie Molitor, daily.
As a result, by the time Belinda was 16, she had already won two junior Grand Slams at Wimbledon and the French Open. Additionally, she was also the no.1 ranked junior player at that time.
Belinda Bencic | Age, Height & Nationality
Belinda was born in 1997 and is 26 years old. The Flawil native was born on the 10th of March, making her birth sign Pisces.
People who fall under Pisces are typically generous, positive, and creative, which are outstanding traits to have.
Moving on, Bencic stands at 5 feet 9 inches (1.75 m) and weighs around 69 kg (152 pounds).
Like many other sports, height plays a significant role in tennis as you can serve much more quickly and reach farther.
Being an athlete, Benic takes good care of her body and does several workouts to maintain her physique.
Regarding her nationality, Belinda was born in Flawii, Switzerland, making Belinda a Swiss citizen.
Belinda Bencic | Professional Career
Belinda started her professional career at the age of 14, which is quite mind-boggling because, at her age, most of us were still in high school.
Returning to the subject, Bencic made her debut at the ITF Women's Circuit in March 2011, shortly after her 14th birthday.
After that, she played in low-category tournaments for several years before making her Grand Slam debut at the 2014 Australian Open. But, sadly, she bowed out in the second round to the eventual champion, Li Na.
Another significant moment of her career came when she entered the top 100 of the WTA rankings for the first time in her career.
To explain, Belinda reached the semifinal of the Charleston Open, where she defeated four players in the top 100 rankings.
She also won the WTA Newcomer of the Year award. Since then, the Swiss player has steadily risen to the top of the women's game.
In fact, Bencic reached the no.4 spot, also her highest to date, in the WTA rankings in February 2020.
Although Belinda has not won any Grand Slam titles, she has now won six singles and two doubles.
Furthermore, the 5-foot-9 tennis star reached the semi-finals of the US Open in 2019, which is her best result at a Grand Slam event where she defeated then No.1 Osaka for the third time that season.
2020 – Present
Bencic showed brilliant performance at the 2020 Tokyo Olympics defeating Jessica Pegula, Misaki Doi, French Open champion Barbora Krejčíková, Anastasia Pavlyuchenkova, Elena Rybakina, and Markéta Vondroušová in the final becoming the first Swiss women to win the gold medal in singles. She also bagged a silver in the women's doubles.
In February 2021, Bencic reached the final of the WTA 500 Adelaide International event. She also reached the quarterfinals of the 2021 US Open, defeating Arantxa Rus, Martina Trevisan, Jessica Pegula, and Iga Świątek before losing to eventual champion Emma Raducanu.
The Swiss tennis star recorded her first-ever WTA title on clay after defeating fourth seed Ons Jabeur.
Thus, considering all things, we believe that Bencic will eventually win not only one but multiple Grand Slams.
We also see her as a future no.1 who will dominate women's tennis for a long time, like her countryman, Roger Federer.
Belinda Bencic | Ranking
As of this writing, Belinda is ranked 12th in the WTA rankings. Although it might not seem impressive, the Swiss international has reached higher than that.
You can find the latest news, matches, results, live scores, records, and other details related to Belinda Bencic on the Flashscore website.
Belinda Bencic | National
Fed Cup
At the tender age of 14, Belinda made her debut for the Switzerland Fed Cup team in 2012. She played her first live rubbers in 2014, and along with Bacsinszky, she led their national team to a 4-1 win over Brazil.
In the World Group, Switzerland made their way to the semifinals in 2016 and 2017. They were eliminated twice by the Czech Republic in 2016 and 2018.
However, in 2022, Bencic won the Billie Jean King Cup for the first time in history, with the Swiss team defeating the Czech Republic in the semi-final and Australia in the Final.
Hopman Cup
Bencic and Roger Federer competed at the Hopman Cup for three consecutive years from 2017. The duo won the tournament for two straight years after losing to France in 2017.
Olympics
After suffering from injury, Belinda did not get to represent her country at the Rio Olympics. However, she made her debut in Olympics at the 2020 Tokyo Olympics.
Belinda Bencic | Net Worth & Salary
As of 2023, Belinda has a net worth of $5 million, mainly from her professional tennis player career. Besides, she also earns from endorsing different brands like Adidas.
Bencic has been playing professionally for eight years now. And in those eight years, Bencic has earned over $10 million in prize money.
Furthermore, tennis players don't earn a yearly salary because they are not contracted to anyone. Instead, they have to depend on their prize money.
Similarly, Belinda made $271,000 in 2020 and also won the cup in the lucrative Dubai Open. As a result, Bencic bagged $522,000 as her prize money. In doing so, she also became the highest earner at that tournament.
Net Worth Of Belinda Bencic In Different Currencies
Let's look at Belinda Bencic's net worth in different currencies.
| | |
| --- | --- |
| Currency | Net Worth |
| Euro | €4,699,200 |
| Pound Sterling | £4,125,275 |
| Australian Dollar | A$7,406,225 |
| Canadian Dollar | C$6,794,900 |
| Indian Rupee | ₹41,33,80,000 |
| BitCoin | ฿297 |
Belinda Bencic | Marriage, Husband & Relationship
Talking about her relationship, Belinda is not a married woman. However, she is in a serious romantic relationship with her boyfriend, Martin Hromkovic.
Interestingly, Martin is 15 years older than his love and plays professional soccer. The couple reportedly started dating back in 2018 and have been together since.
The couple has not been involved in any scandal over the years. Instead, the bond between the two lovebirds has grown much more with time.
Alexander Zverev
However, Belinda was in a relationship with Russian tennis star Alexander Zverev.
Moreover, the two met each other during a junior training camp. AFTER THAT, the pair spent a while together before breaking it off.
Nevertheless, that is in the past and should be left there. As of now, Belinda is in a loving and happy relationship with her lover, Martin.
And judging by the love between the two, we think their wedding will be on the cards very soon.
Belinda Bencic | Social Media Presence
The Swiss tennis player is a star and idol for many aspiring tennis players. She made headlines after debuting in a professional tennis game at just 14.
Belinda has earned thousands of fans all over the world. She is available on different social platforms. She posts pictures of her practice sessions, tournaments, and vacations.
Instagram: 420k followers
View this post on Instagram
Twitter: 185k followers
Facebook: 322k followers
Belinda Bencic | Popularity
Debuting in a professional tennis game at just 14 and defeating one of the greatest tennis players Serena Williams, she certainly paved her path to the fame she has now.
The above graph shows the fluctuating popularity of Swiss tennis players based on Google searches in the United States over a year.
Belinda Bencic | FAQs
What is the secret of Belinda Bencic's weight loss?
During one of her interviews, Belinda Benic mentioned that she doesn't follow a strict diet to lose weight but eats balanced and healthy food to stay fit and active. She also does different workouts and exercises.
Who is Belinda Bencic's new coach?
Belinda's new coach is Dmitry Tursunov. Besides she is also helped by her boyfriend, Martin Hromkovic, her fitness coach.
Has Belinda Bencic won a Grand Slam?
No, Belinda Bencic hasn't won any Grand Slam titles to date.
What language does Belinda Bencic speak?
Belinda Bencic speaks three languages fluently; English, Slovak, and Schwyzerdütsch.
How many WTA titles has Belinda Bencic won?
Belinda Bencic has won six WTA singles titles and two doubles WTA titles.