Roger Federer is a Swiss-born retired professional tennis player in his early 40s. He won a silver medal in men's singles tennis at the 2012 Summer Olympics and won a gold medal in men's doubles tennis at the 2008 Summer Olympics.
Tennis is one of the most privileged and loved sports of all time. The fan-following of tennis is a lot bigger than we think.
When we hear tennis, the first few names that strike our minds are Rafael Nadal, Roger Federer, and Serena Williams.
Although more players have been able to cast their names into the prestigious trophies of the tennis world.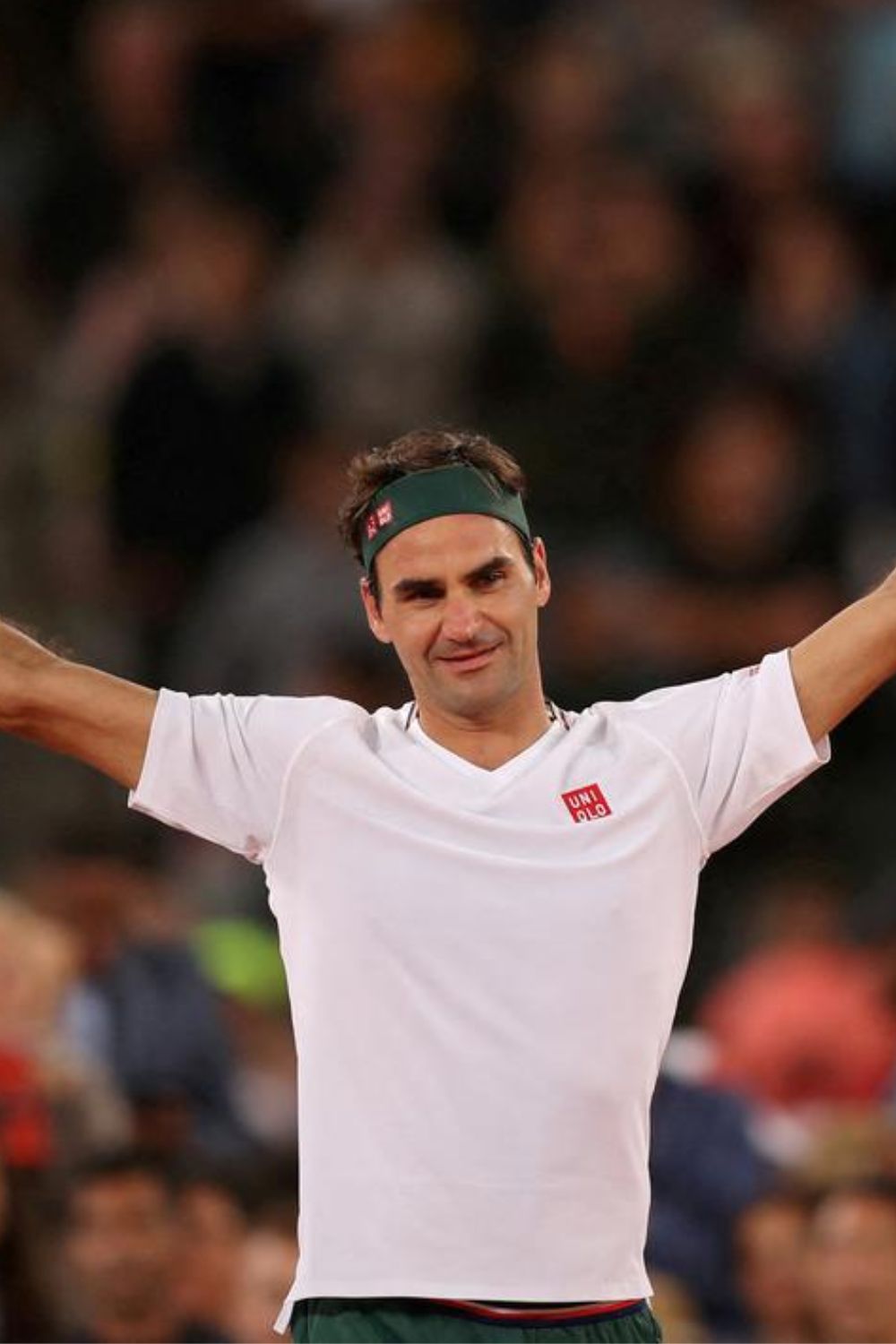 These legends are the ones who have reached the peak of success just through their skills and passion.
Roger Federer is a tennis legend who has been playing as a professional tennis player since the late 90s.
His keen interest and passion for sports have helped him become one of the greatest players of all time.
In addition to that, Roger is one of the world's richest sportspersons and announced his plan for retirement in September 2022.
Here, we will learn more about the legend's life, struggles, and the fruit of that struggle.
We have listed detailed information about different stages of his life. Let us begin the journey of 'the making of Roger Federer.'
Roger Federer | Quick Facts
Full Name
Roger Federer
Nickname
Fed-Ex (Federer Express)
Profession
Tennis Player
Date Of Birth
August 8, 1981
Birth Place
Basel, Switzerland
Zodiac Sign
Leo
Age
42 Years Old
Father's Name
Robert Federer
Mother' Name
Lynette Du Rand
Married
Yes
Spouse's Name
Mirka Federer
Spouse's Profession
Ex-Tennis Player
Children
4 Children (Two Pair Of Twins)
Religion
Christianity
Height
6'1″/1.85 m/185 cm
Weight
85 kgs/190lbs
Eye Color
Brown
Hair Color
Dark Brown
Favorite Tennis Player
Pete Sampras
Favorite Food
Italian & Japanese Cuisine
Favorite Singer
Gladiator & James Bond Series
Favorite Film
Lenny Kravitz
Favorite Music Band
AC/DC
Favorite Shot
Forehand
Hobbies
Gold Playing, Skiing, playing Cards & Playstation
Career Titles

103 ATP Singles Titles
20 Grand Slam Singles Titles
Record Eight Men's Singles Wimbledon Titles

Olympic Games

Gold Medal- Men's Doubles Tennis- 2008 Summer Olympics
Silver Medal- Men's Singles Tennis- 2012 Summer Olympics

Networth
$550 Million
Salary
$70 Million
Coach

Peter Carter (1991–2000)
Peter Lundgren (2000–2003)
Tony Roche (2005–2007)
Severin Lüthi (2007–2022)
José Higueras (2008)
Paul Annacone (2010–2013)
Stefan Edberg (2014–2015)
Ivan Ljubičić (2016–2022)

Merch
Tennis Card, Book
Social Media
Facebook, Instagram, Twitter
Last Update
November 2023
Roger Federer | Early Life
Roger was born in a place in Switzerland called Basel in the year 1981, on August 8.
Although he lives in Switzerland, the man is said to have dual citizenship. This makes him Swiss and a South African as well.
He was born to a Swiss father, Robert Federer, and an Afrikaner mother, Lynette Federer.
Lynette is originally from South Africa. The family consists of another child, his sister, Diana. Diana is currently married and is the mother of twins.
The legend stopped schooling at the age of 16 after completing the mandatory nine months of education. He wanted to focus on the sports career of his choice, tennis.
Federer was born in Basel, he grew up in a place near the French and German border. Consequently, he is very fluent in four languages – Swiss German, Standard German, English, and French.
Except for these languages, he also speaks Italian and Swedish quite well. However, his native language is Swiss German.
Like every male citizen in Switzerland, Roger was admitted to compulsory military service in the Swiss Armed Forces.
Unfortunately, he was classified as unsuitable and was not required to fulfill his military obligation.
He was quite passionate about tennis from a young age and served as a ball boy in the Basel Tournament.
Similarly, he was also very fond of badminton, basketball, and soccer. Federer was a supporter of FC Basel and the Swiss National Football team.
Roger Federer | Age, Body Measurement & Nationality
Age & Body Measurement
As we know, Roger was born in 1981 and is currently 42 years old.
Although he crossed his 40s, still he looks as young as ever, suggesting that he has a happy and fulfilled life.
Roger is a tall man with a height of 1.85 m, which makes him taller than an average European male.
Consequently, his height has no doubt helped him a lot in tennis too. His last reported weight is said to be 187 lbs.
Roger Federer | Career
Federer was very fond of tennis and started playing sports at the age of 8, and became Switzerland's Junior Champion when he turned 14.
In 1998, Federer made his debut on the Swiss Davis Cup team and became the world's youngest player to end the year in the world's top 100 list.
At the age of 18, Roger finished the tournament at number 64.
Roger started playing in the high-class championships after his breakthrough at the age of 18. Consequently, he quickly built a reputation and name for himself.
His tennis matches were so extreme that other world-renowned personalities spectated him play the sport.
His matches against Rafael Nadal and Novak Djokovic, who have been considered Roger's rivals, have always been phenomenal to watch. He has played about 40 to 50 matches with Nadal and Djokovic.
In 2021 & 2022
In January 2021, Federer withdrew 2021 Australian Open due to knee surgery. Novak Djokovic surpassed him on 8 March 2021 as the ATP number 1 ranked player. On 10 March, he returned to the ATP Tour at the Qatar Open.
Federer lost his opening match to Pablo Andújarat in three sets at the Geneva Open.
In the 2021 Halle Open, Federer lost to Félix Auger-Aliassime (who was 20 at the time), the biggest age 19 years age difference in Federer's 1,521 career matches, and was seeded fifth.
At Wimbledon, Federer advanced as the oldest Wimbledon quarterfinalist in the Open Era, breaking the record held by Ken Rosewall, following wins over Adrian Mannarino, Richard Gasquet, 29th seed Cameron Norrie, and 23rd seed Lorenzo Sonego.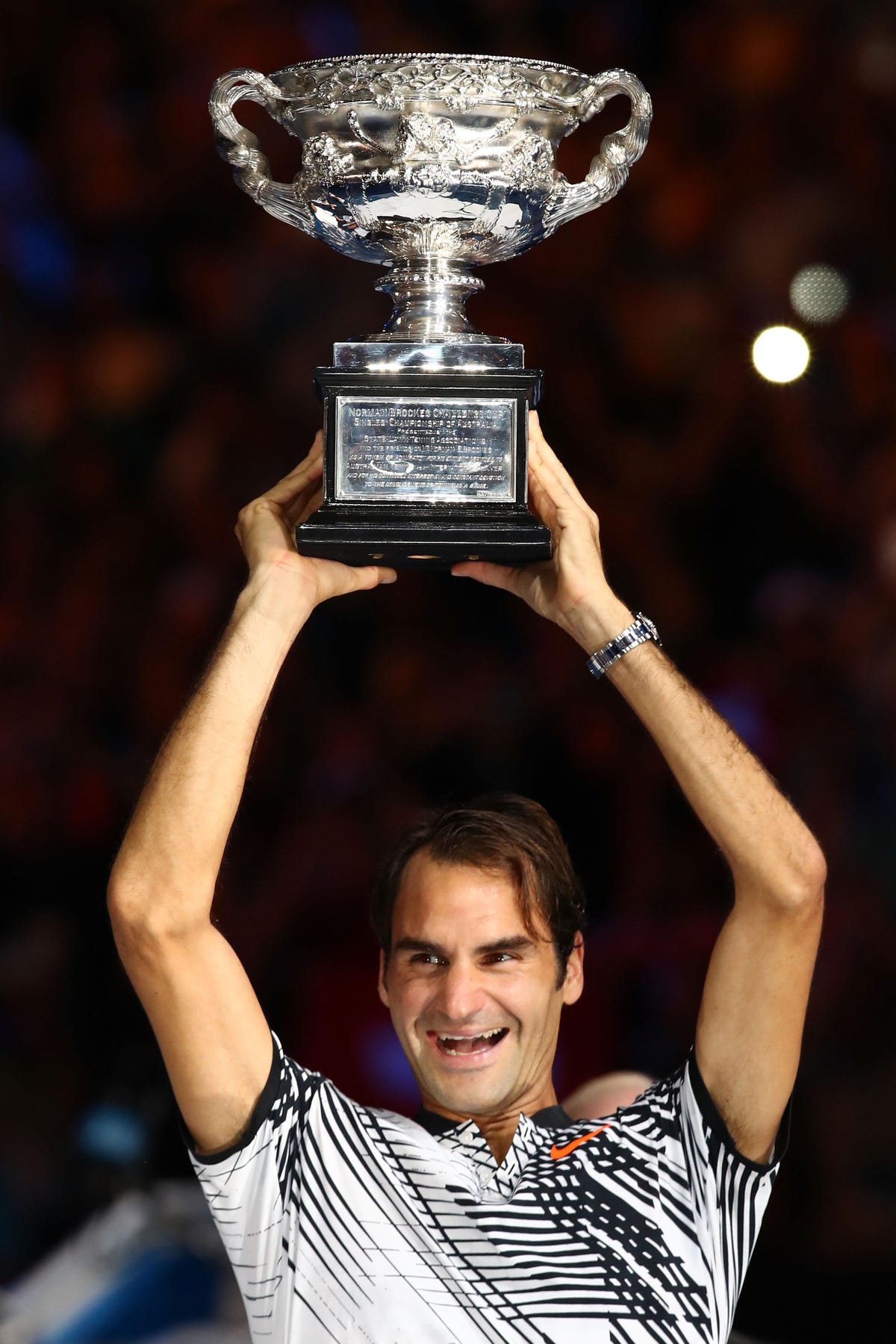 However, he then lost to 14th seed Hubert Hurkacz in the quarterfinal in straight sets for the first time in 19 years at Wimbledon.
On 15 August, Federer underwent another knee surgery after a further injury during the grass-court season. He withdrew from the US Open, but he hoped to make a return to the tour in 2022.
Federer did not play after Wimbledon 2021 and became unranked for the first time since his professional debut on 11 July 2022.
However, Federer announced his plans for retirement after the 2022 Laver Cup. He was set to return to the tour at the 2022 Laver Cup in September, noting that the Laver Cup would be his final ATP event.
Federer's final match, 1750th on tour, resulted in a loss in doubles partnering with Rafael Nadal against Jack Sock and Frances Tiafoe.
Achievements
His first-ever win in a grand slam tournament was in Wimbledon. He won the 2003 Wimbledon against Mark Philippoussis with a score of 7-6, 6-2, 7-6.
After that win, his winning streak continued till 2018. He has won 6 Australian Opens, 1 French Opens, 8 Wimbledon, and 5 US Open championships.
In total, the man has played 31 finals and has won 20 titles, which makes him the player who has won the most Grand Slam tournament titles.
Federer also won a gold medal and a silver medal at the Olympics in 2008 and 2012.
Similarly, the legend holds the record of winning the highest number of titles at the end-of-the-year tournament with his six wins.
In addition to all these, his other awards include ATP Player of the Year (5 times), ITF World Champion (5 Times), Stefan Edberg Sportsmanship Award (13 times), and Laureus World Sportsman of the Year (5 times), to name a few.
Federer has a long list of records. Here are the most significant ones:
Most Grand Slams of all time: 20
Most Grand Slam finals: 30
Most weeks as World No. 1: 310
Most consecutive weeks (male or female) as World No. 1: 237
Only male player to have won 3 different Slams 5 times (6 AO, 8 Wimbledon, 5 USO)
Most consecutive Grand Slam finals, semifinals, and quarterfinals: 10, 23, and 36, respectively
Most Wimbledon titles: 8
Oldest player to be ranked World No. 1 (36 years)
Most year-end championship titles: 6
Most matches played on the ATP tour without retiring
Most consecutive finals won: 24
Roger Federer | Wife & Children
Federer is married to a professional tennis player, Mirka.
It has been reported that they first met while they were competing for Switzerland at the 2000 Sydney Olympics.
Unfortunately, Mirka had to retire early due to a foot injury that she had sustained during her plays.
On April 11, 2009, they got married at a small wedding with their close relatives and near and dear friends.
In 2009, Mirka gave birth to identical twin girls, and she again gave birth to another pair of male identical twins in 2014.
The twins can be seen in the spectators' seats in almost all of their father's major tournaments. Roger has said that he does not like to travel without his family. Hence, he takes his wife and children wherever he goes.
One fun fact is that Roger has admitted that he used to confuse his children in the early days.
Since they have two sets of identical twins, it got even more complicated for the parents.
Book | The Roger Federer Effect
Simon Cambers, the co-author of The Roger Federer Effect, describes how the book's implication was done and what he learned from writing about the recently-retired Swiss Tennis player.
Simon says, "We both conducted the interviews and put the book together in addition to our daily jobs, having regular Zoom chats with each other to discuss chapters."
The book was originally due for March 2023 publication, but once Federer announced his retirement at the Laver Cup in September, they worked closely with Pitch Publishing and got the book published by the end of October 2022.
The book is out on all the online sites to buy.
Roger Federer | Salary & Net Worth
Roger is one of the richest athletes in the world. He is one of the world's highest-paid athletes, according to the Forbes website.
He is reported to have a net worth of about $550 million and with $70 million annual salary.
Roger Federer's Association of Tennis Professionals (ATP) career earnings totaled $130 million.
At the time of his retirement, he stood with the third-highest amount earned behind the $131 million earned by Rafael Nadal and $159 million earned by Novak Djokovic.
He is sponsored by Japanese apparel brand Uniqlo with a $300 million deal and has a $15 million deal with Rolex.
The brands that Federer endorses are Credit Suisse Group (ADS), Lindt & Sprungli, JURA, Louis Vuitton, NetJets, Sunrise Communications AG, Switzerland Tourism, And Wilson Sporting Goods.
Federer won about a hundred million dollars from his career, but his off-the-court earnings are higher. Roger has earned around $1 billion from endorsements during his career.
Roger is a part of the exclusive billionaire athlete club alongside Arnold Palmer, Jack Nicklaus, Lebron James, Lionel Messi, Michael Jordan, Floyd Mayweather, Cristiano Ronaldo, Tiger Woods, and Michael Schumacher.
But, the huge earnings have not changed the man a bit. He gives more to the needy through his foundations and charity organizations.
Federer is a kind-hearted man and works continuously to help the ones in need.
Trivia
He is scared of rollercoaster rides.
Early in life, he preferred tennis over other sports, including badminton, cricket, football, and basketball.
At the age of 16, he gave up his academics to pursue a tennis career.
He rose to the top 100 tennis players in 1999.
After winning his first Wimbledon title, Roger Federer received a milking cow that he named "Juliette" and played his maiden final at the Marseille Open in 2000.
Roger Federer opposed equal pay for female athletes because he thought women could never match the amount of time male athletes spend practicing.
He is currently collaborating with the Haitian government to provide water and sanitary services as an ambassador for UNICEF.
Quotes
"What I think I've been able to do well over the years is play with pain, play with problems, play in all sorts of conditions."― Roger Federer
"I have to fit holidays around tournaments, particularly the grand slams, in Melbourne, Paris, London and New York."― Roger Federer
"You know, I don't only play for the record books."― Roger Federer
"My dad said if you become a tennis professional just make sure you get into the top hundred, because you have to make a little bit of money. You make a living so you can pay your coaching and, you know, your travels."― Roger Federer
Roger Federer | Social Media
Federer has handles with almost more than 35 million followers on platforms like Facebook, Instagram, and Twitter.
He is most active on Instagram and Twitter, where he posts regularly. He has about 11.1 million followers on his Instagram.
Looking at his Instagram, we can see that he regularly posts about his life events, training, and sponsors. We can also see posts related to his friends and families in it.
Recently, he posted about the honorary 2022 Swiss Sports award he got in the Sports award event.
View this post on Instagram
On Twitter, he has about 12.8 million followers and 2.1k tweets. But he has got the most number of followers on his Facebook account,18 million followers.
We can safely assume that he gets paid through his social media too, but that's not all; he is also active on stuff that requires social awareness as he reaches millions of people through his social media.
The Search Graph
Roger is considered the GOAT in tennis, which means he has a lot of fans who admire him.
His graph illustrates his fans search for him many times and keep up with him. With his announcement of retirement in 2022, his search rate hiked.
Frequently Asked Questions (FAQs)
What is the next tournament for Roger Federer?
Federer announced his plans for retirement after the 2022 Laver Cup. So that indicates he is not taking part in tournaments, currently.
How many Grand Slam titles has Federer won?
Roger has a record of 20 Grand Slam titles.
Mentioned here in chronological order, 2003 Wimbledon, 2004 Australian Open, 2004 Wimbledon, 2004 US Open, 2005 Wimbledon, 2005 US Open, 2006 Australian Open, 2006 Wimbledon, 2006 US Open,
2007 Australian Open, 2007 Wimbledon, 2007 US Open, 2008 US Open, 2009 Roland Garros, 2009 Wimbledon, 2010 Australian Open, 2012 Wimbledon, 2017 Australian Open, 2017 Wimbledon, 2018 Australian Open.