Ben Banogu's wife, Ana Banogu, has been the talk of the town after the couple got married in both Nigerian and Catholic traditions.
The wife of Ben, Ana, has been with him for a long time, and she is his biggest supporter.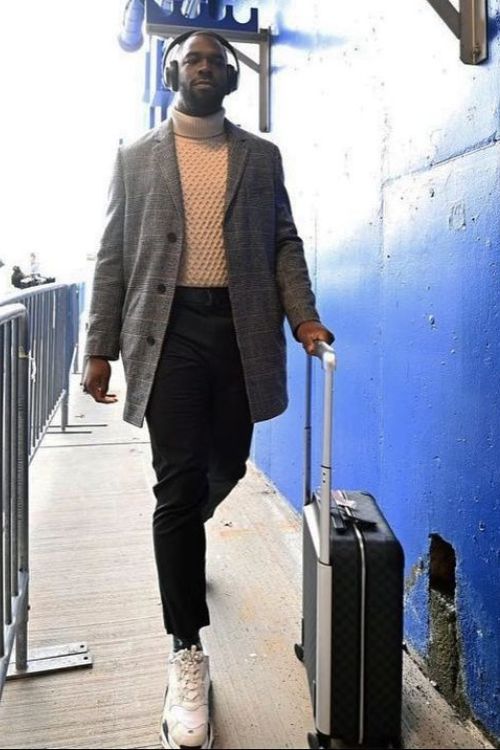 Benjamin Chinomso Banogu was born in Nigeria on January 19, 1996, and is a professional American football defensive end for the Dallas Cowboys of the National Football League (NFL).
Banogu was only six months when his family moved to the United States from Nigeria in hopes of a better future.
He was raised in McKinney, Texas, where he went to nearby Prosper High School. It was from there that he started getting actively involved in sports competitions.
Bangou has always been of athletic nature and was better in sports when compared to his friends.
During his high school years, he competed in track & field, football, and basketball for the Eagles.
Banogu committed to play football at the University of Louisiana at Monroe by signing a letter of intent.
He played with them for one season and later transferred to Texas Christian University, and graduated on December 16, 2018.
Banogu is a hardcore anime fan and says Goku from Dragon Ball Z is his role model.
Who Is Ben Banogu Wife Ana Banogu?
Ana Matamoros and Ben Banogu got married on March 25, 2023, in Acapulco, Guerrero, Mexico, at the Banyan Tree Cabo Marqués.
Ana has been working as the Vice President of Operations at EllieGrid based in Great Houston. She has been serving in this position she has held since April 2020.
Before this, she also worked as a Technical Project Specialist at Flex in Austin, Texas, from June 2019 to April 2020.
Even during her student life, Ana was working to get valuable experience in order to excel in her career.
She worked as a Tech Project Specialist Intern in Flex itself during a three-month internship from June 2018 to August 2018.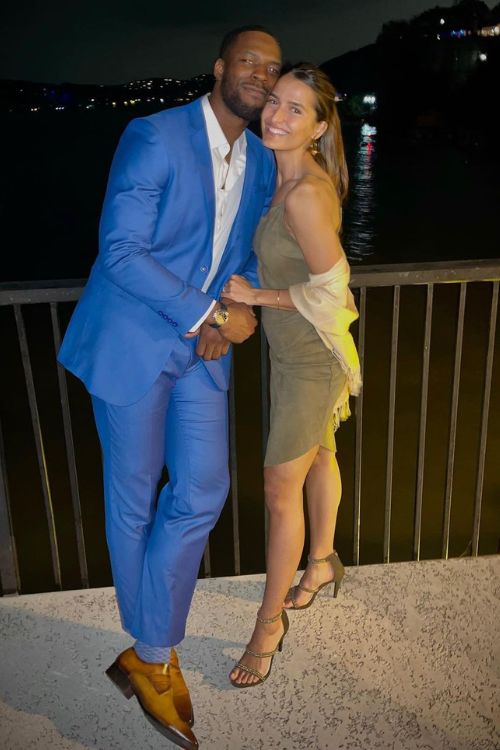 Her educational background includes a Bachelor of Engineering (BE) degree from Texas Christian University, which she successfully completed between 2015 and 2019.
Ana and Ben dated each other for a long time before getting married. However, the manner that they met has not been revealed to the public yet.
The WAG loves soccer and is an FC Barcelona fan, and on top of that, she loves traveling around the world.
She is an adrenaline junkie and enjoys adventure sports, even jumping off a plane (Sky-diving) on one occasion.
Ben Banogu And Ana Banogu Wedding
The couple had the wedding of their dreams, and the wedding weekend included several events, such as a cocktail hour at the Banyan Tree Cabo Marqués.
Even a Golf Tournament was held at Vidanta Golf Acapulco – Casa Club.
Initially, a Nigeration celebration of the wedding was hosted where the Bride and Groom flaunted Nigerian attires and danced and sang Nigerian songs.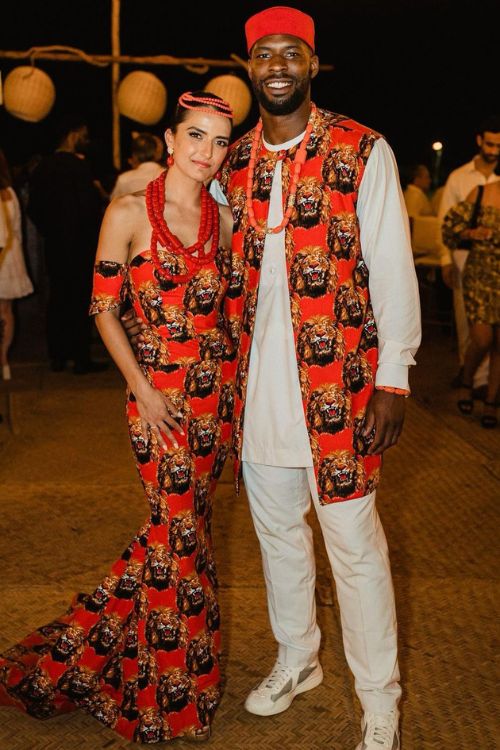 All the other attendees were wearing white, while Banogu's side was also suited in Nigerian attire.
The wedding itself was held in a Catholic ceremony with cocktails, dinner, and a reception.
Ben Banogu Family: Parents And Siblings
As we have earlier mentioned earlier, Ben is of Nigerian descent, and he moved to the US when he was only six months old.
Ben tries to keep his family away from the eyes of the public hence the identity of his father is unknown as of yet.
However, his mother, Ugochi Banogu, is the star of the family. After the family moved to the US, she was working several jobs to meet ends.
Currently, she works as a practitioner after earning a nursing degree from UT Arlington.
The family is a large one with five sons, which includes Ben himself. His brothers are Prince, Michael, Wisdom, and David.
Ben is the second youngest son of the family and also the start of the family.
All of his brothers attended the same school, Prosper High Schoo. Additionally, the brothers loved playing football when they were kids.
But only Michael and Ben played football in college. His family has been the biggest pillar of support in his life.