Every individual depicts a different character. At times, one takes quite a long time to bloom, and it doesn't mean that it is a defect.
Yes, we will add the late bloomer, Ben Coates, who promised through his skills quite late.
Not to mention, it is all thanks to New England Patriots, who didn't give up on him as he didn't give up on himself.
Altogether, they bonded in a long relationship for nine years in the National Football League (NFL). Apparently, he also played for the Baltimore Ravens; however, it was short-lived.
Coates was a five-time Pro Bowler and two-time first-team All-Pro during his decade-long career with Super Bowl appearances.
Even after his retirement, Coates made it back to NFL as a coach. Additionally, he is quite known as a surprise star with downfield explosiveness.
Quick Facts:
Full Name
Ben Terrence Coates, Jr.
Birthdate
August 16, 1969
Birthplace
Greenwood, South Carolina
Nickname
None
Religion
Christianity
Nationality
American
Ethnicity
African American
Zodiac Sign
Leo
Age
53 Years Old
Height
6'5″/1.96 meters
Weight
245 lb/111 kg
Hair Color
Black
Eye Color
Black
Build
Athletic
Father's Name
Ben Coates
Mother's Name
Mozella Coates
Siblings
Seven siblings; three brothers and four sisters (name unknown)
Education
Greenwood High School
Livingstone College
Marital Status
Married
Wife
Tanya Coates (2020-Present)
Former Wife
Yvette Coates
Kids

Lauren Coates, Brianna Coates, Destiny Coates, Bryanna Coates, Brittany Coates, Ben Coates III, Natasha Coates, Christopher Coates

Profession
Former football player
Coach
Position
Tight end
Affiliations
New England Patriots (1991–1999)
Baltimore Ravens (2000)
Active Years
1991–2000
Net Worth
$10 million
Social Media
Instagram
New England Patriots Merch
Jersey, Autograph, Signed helmet, Hoodie
Last Update
May 2023
Ben Coates | Early Life, Family & Education
Coates (fully named Ben Terrence Coates, Jr.) was born on August 16, 1969, in Greenwood, South Carolina. Sadly, Ben Coates hasn't disclosed his parents' names to date.
However, according to sources, his parents used to work in a cotton mill, where his mother did the third shift while his father worked the first shift.
Apparently, Ben didn't have a glorious and fun childhood. Unfortunately, it was rather messy and barely going alongside his seven siblings.
As explained by Coates, they were living in a three-bedroom house, where four boys, including him, shared a bedroom, and the other four girls had one room to share.
Education
Coates attended the Greenwood High School in southern California. In the meantime, he found his passion for football during his senior year and started to charge into it.
By the end of his high school days, he got offers from three colleges; Savannah State, Johnson C. Smith, and Livingstone.
Therewith, Ben Coates became the first person from his family to enroll in college.
Among the choices, he decided to devote himself to Livingstone College, located in Salisbury, North Carolina.
Furthermore, Coates was a multi-sports player featured in gridiron (North American Football), as he broke all its records.
Besides, he also indulged himself in the Phi Beta Sigma fraternity through the Untouchable Upsilon Chapter.
Altogether, Coates finished his college career with 103 receptions for 1,268 yards and 18 touchdowns.
Even though he had a glamorous career, Coates had little notice outside the CIAA, as he was from a non-notable school.
Later, in 2018, Coates was also inducted into the Central Intercollegiate Athletic Association Hall of Fame.
<< Ziggy Ansah is a professional football player who has served as a defensive end for many famous NFL teams. Find more information about him right here >>
Ben Coates | Professional Career
Coming out of such a small school, Ben Coates was lesser known and wasn't taken seriously.
Additionally, his talent was dominated and overshadowed as even his college was unknown athletically.
New England Patriots
Thus, as an unknown prospect, he barely got by the 1991 NFL Draft, where he was the 124th overall pick in the fifth round.
However, his journey didn't come smoothly after the draft, as he struggled for two years to make an impact.
To elaborate, Coates had posted ten catches for 95 yards and a two-yard touchdown in his rookie season.
The next year, he maintained 20 catches for 171 yards and three touchdowns.
However, it was good that the Patriots were patient with him while everyone doubted him.
Following it, when the Patriots drafted Drew Bledsoe, he also changed into something extra.
At the same time, they also changed their coach, and it was Bill Parcells who took over the franchise as a head coach.
With their arrival, Coates made a connection as Parcells continuously used Bledsoe and Coates together. The very year, Coates exploded with 53 catches for 629 yards and eight scores.
Later, the next year, 1994, came as his breakthrough point, where he had caught 96 passes.
Additionally, he also surpassed Todd Christensen's record for 1,174 yards receiving and appeared in his first Pro Bowl game.
Apparently, the following year, he led his team to Super Bowl XXXI, after he had 62 catches for 682 yards and nine touchdowns.
Afterward, Coastes didn't have that spectacular performance as in 1994, but he did quite decent with the New England Patriots for the remaining seasons.
To illustrate, from 1995 to 1998, Coates never had catches less than 62; however, the year 1999 got quite messy for him.
Moreover, he had the lowest catches to date with 50.8 percent and later was released by the Patriots.
Baltimore Ravens
After nine long seasons with the Patriots, Coates moved to play for the Baltimore Ravens, where he won Super Bowl XXXV.
In addition to that, he only had a season-long journey with the Raves, and after it, he decided to retire.
You can find the NFL stats, results, scores, and much more information about Ben Coates on the ProFootballReference website.
Retirement and Career Statistics
After his season with Baltimore, Coates went on for retirement. As he retired, Coates was the fourth all-time leading receiver at a tight end in NFL history.
To elaborate, he was behind Ozzie Newsome, former teammate Shannon Sharpe, and Kellen Winslow.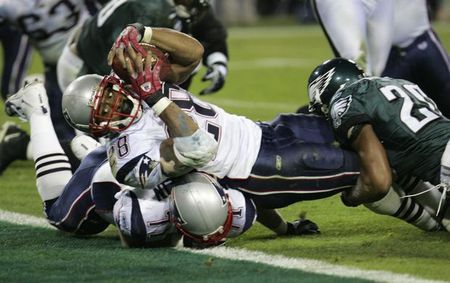 Altogether, Coates has maintained 499 receptions for 5,555 yards and 50 touchdowns in the total of 158 games he played. Some of Coates' career highlights are listed below.
5× Pro Bowl (1994–1998)
2× First-team All-Pro (1994 & 1995)
Second-team All-Pro (1998)
Super Bowl champion (XXXV)
New England Patriots All-1990s Team
New England Patriots 50th Anniversary Team
NFL 1990s All-Decade Team
New England Patriots Hall of Fame
Ben Coates | Post Retirement
Right after his retirement, Ben Coates commenced his career as a head coach in his alma mater, Livingstone College. Following it, he also coached in NFL Europe.
Similarly, he reunited with his former coach, Bill Parcells, during his internship as an assistant coach with the Dallas Cowboys.
For long years, Coates was an entry-level coach, and after head coach, Romeo Crennel and his staff quit.
Coated starred as the offensive coordinator in 2009 at CSU after spending a North Carolina high school season.
Before this, he had coached in many firms like the Cleveland Browns, replacing Rob Chudzinski.
Later, in 2008, Coates was inducted into the "New England Patriots Hall of Fame."
<< Rodney Peete is a former professional football player who plays in the NFL. Read more about his life right here >>
Ben Coates | 1998, Season of Turmoil
After a successful career and days, Ben Coates faced a season of struggles. From his injury to cases to deaths, Coates faced all the tragedies at once.
Initially, Coates lost his sister and mother, which left him emotionally unbalanced.
As per the sources, Coates' mother, Mozella, died of a brain tumor. Additionally, he also faced sprained right ankle in the Patriots' season opener.
Apparently, the injury made him miss the first game of his career, and he suffered for the rest of his season.
"Eventually, they're going to replace me. I can't play forever. Hopefully, I can teach these younger guys the techniques that are going to help them out." – Ben Coates quotes
Domestic Assualt Charges
In the meantime, Coates was later arrested on charges of assaulting the mother of one of his children.
In addition, Coates' then-girlfriend Jennifer Marshall of Norton charged cases onto Coates for domestic assault and battery, as the story goes.
The duo actually shares a daughter named Destiny. As stated by Marshall, Coates had threatened to knock her out, and he even threw her on top of their car's hood.
Following the incident, Marshall had sustained a scrape on her arm, later treated at a hospital.
However, Ben's attorney, Peter Barlow, went against the evidence when the story came into the limelight.
As he shone a light on the incident, he stated how the victim threatened the football player in the days before the incident.
Additionally, the story goes like Marshall visiting Coates, and as soon as she saw him, she started to assault him.
Therefore, as a defense, Coates stood up for the act. However, as the police appeared, she was out of the scene with her car.
Altogether, Coates pleaded innocent (not guilty) to the charges, and as a result, he had to pay $1,000 cash bail.
Ben Coates | Net Worth & Salary
Ben Coates had a flourishing professional career. From his successful career, he has received much fame and wealth.
According to sources, the former legendary player, Ben, has an estimated net worth of $5 million. Most of Coates's earnings are from his career as a football player.
The talented player had played a total of 17 seasons in the NFL. Not to mention, Coates also used to endorse the brand Reebok.
He has worked hard throughout his life and deserves every penny of his massive wealth.
Ben Coates | Family
Ben Coates is a happy family man. He shares a happy life with his wife, Tanya Coates, and their kids.
He was formerly married to Yvette Coates.
Social Media Presence:
Instagram: 2.3k followers
Twitter: 78 followers (fan made)
Some FAQs:
What was Ben Coates's New England Patriots jersey number?
Ben Coates wore jersey number #87 during his tenure with the New England Patriots.
How much is Ben Coates's trading football card value?
Ben Coates's trading football card price ranges from $0.34 to $4.03.
When did Ben Coates retire from NFL?
Ben Coates retired from NFL after the 2000 season with Baltimore Ravens.