Success comes to those who seek it. And Benjamin David Simmons is a perfect example. For people, who don't know this young player, Ben Simmons is an Australian basketball player. He plays for the Philadelphia 76ers of the NBA.
Simmons serves as the point guard/forward for Philadelphia. He is the two-time NBA All-Star for the season 2019 and 2020.
How did he end up becoming a basketballer, or is this just the start? We shall discuss all his journey from beginning to end, right here in this article.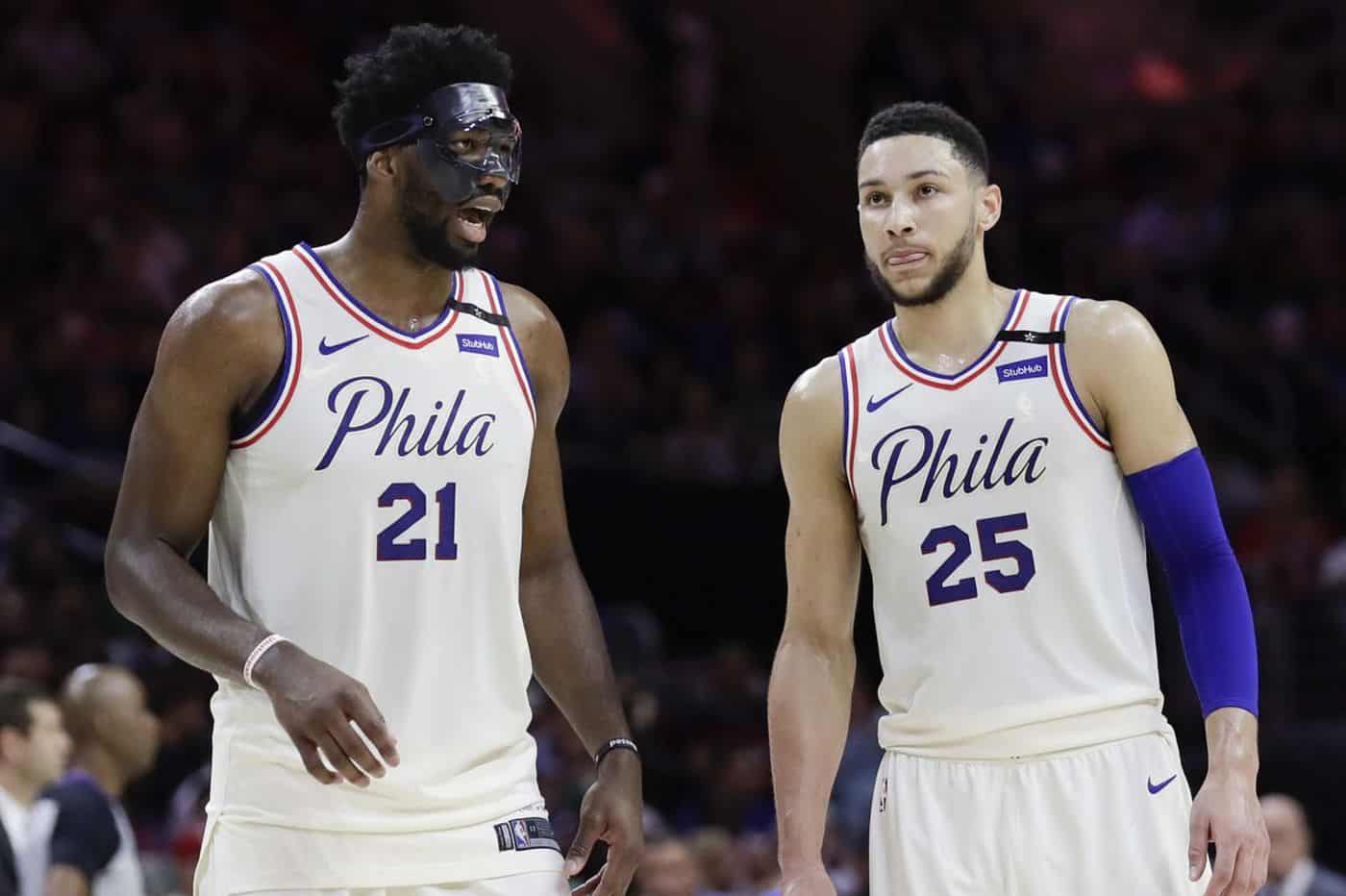 But, before that, let's plunge into some quick facts about our young player Ben Simmons.
Quick Facts
| | |
| --- | --- |
| Full Name | Benjamin David Simmons |
| Birth Date | 20 July 1996 |
| Birth Place | Melbourne, Victoria |
| Nick Name | Ben, Simmo |
| Religion | Christian |
| Nationality | Australian/American |
| Ethnicity | Mixed |
| Education | LSU |
| Horoscope | Cancer |
| Father'sName | Dave Simmons |
| Mother'sName | Julie |
| Siblings | Melissa, Emily, Liam, Sean, and Olivia |
| Age | 26 Years Old |
| Height | 6 ft 10 in (2.08 m) |
| Weight | 240 lb (109 kg) |
| Shoe Size | 14 (us) |
| Hair Color | Black |
| Eye Color | Dark Brown |
| Shirt Number | 25 |
| Build | Athlete |
| Marital Status | Single |
| Girlfriend | Kendal Jenner |
| Position | point guard/forward |
| Profession | Basketball player |
| Net Worth | $7.5 million |
| Salary | $10.5 million |
| Currently Plays for | Philadelphia 76ers |
| League | NBA |
| Active Since | 2016-present |
| Social Media | Facebook, Instagram, Twitter |
| Merch | Books, Jersey & Poster |
| Last Update | November, 2022 |
Ben Simmons | Early Life, Family, And Education
Outgrowing his love and passion for basketball, he started playing at the age of seven. Young Ben got enrolled for the U-12 representative team for the Newcastle Hunters.
He also experimented with other sports, played for the junior rugby league, and the local Newcastle Rugby League for South Newcastle.
He moved back to Melbourne at the age of ten and continued playing there with the Knoxx Riders.
Besides basketball and rugby, he also played Australian football for Beverly Hills Junior Football Club. He also got awarded with league's best and fairest award in the Yarra Junior football league.
He was titled MVP after he helped his team to assert the Year-7 Division 1A Basketball premiership.
With the pace of time and interest in sports, he got distracted. Finally, he had to focus on one. Eventually, he chose basketball for his career.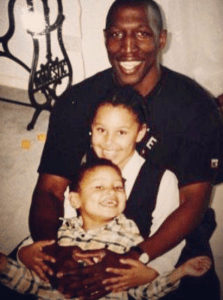 Ben attempted Box Hill Senior Secondary College in 2011 before shifting to the US. He also took up a scholarship later at the Australian Institute of Sport in 2012.
Parents and Siblings
Ben's father, Dave, is an African-American. Dave was a professional basketball player who spent thirteen seasons in the Australian National Basketball League.
Dave, the netizen of New York, also played college basketball for the Oklahoma City University. Ben's father was a popular sports fanatic, a fan favorite for teams like the Melbourne Tigers and Newcastle Falcons.
Dave played for six teams that included the Canberra Cannons and Sydney Kings. Moreover, to pay homage, the Melbourne Tigers retired his No. 25 jerseys.
After his basketball career ended, he got employed as a coach for Hunter Pirates between 2003 and 2005.
Talking about Ben's mother, Julie Simmons, who was Julie Tribe before. She was a white Australian. She was a cheerleader for the Melbourne Tigers; that's when the two met.
Julie was married to another man then, but in 1989, they met and started dating each other. They got married.
They have an elder daughter, too, Olivia Simmons, who was born in December 1991. His mother, Julie, had four children from her previous marriage. They are Melissa, Sean, Emily, and Liam.
To add on, Sean is also his roommate, protector, and spokesperson. Emily Simmons has previously competed in women's rowing discipline for Washington State University.
She is the wife of former NFL player Michael Bush. Olivia Simmons is an Assistant coach of the Southwest Baptist Bearcats men's basketball team.
Ben Simmons | High School Career
Ben shifted to the United States in 2013 to share a game against strong players who could give him tough-level competition.
He played for Montverde Academy in Montverde, Florida. He led Montverde to win the High School National Tournament against New Jersey's St Benedict.
Ben also played in the Jordan Brand Classic International Tournament. After that, he went on to join the Big V competition for the Bullen Boomers in Australia. He scored 12.3 points, 8.5 rebounds, 2.5 assists, 1.3 steals, and 2.3 blocks per game.
Coming to his junior year at Montverde, he assisted his team to a 28-0 score, which led them to win another High School National Tournament.
Ben scored an average of 18.5 points during the game, 9.8 rebounds, and 2.7 assists per game.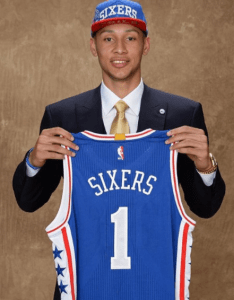 He also scored a total of 88 blocks during the season. His jaw-dropping performance led him to win the tournament MVP. He also was titled America's top high school junior.
Later he was also titled MVP at the National Basketball Players' Association Top 100 camp.
On 12 November 2014, Simmons inked a National Letter of Intent to play college basketball for Louisiana State University (LSU). He kept playing well for the Louisiana entire season.
Furthermore, Ben became the starter for the east team at the McDonald's All-American Game. He was the second most high school student from Florida to win the Morgan Wootten Award.
Ben also got the Naismith Prep Player of the Year and Gatorade National Player of the Year. With his presence, he successively led Montverde to win the High School National Tournament third time.
The 76ers point guard got named a five-star recruit by ESPN, ranking him as the no 1 player in the country.
Ben Simmons | College Career
Ben played for the LSU Tigers men's basketball team in the first game of a five-game tour in Australia as a freshman.
He led the Tigers to win against Newcastle All-Stars in the first game. The Tigers led their five-game Australian tour with a 3–2 record.
After returning to the US, he got featured on the cover of Blue Ribbon College Basketball Yearbook for its 35th anniversary.
He got SEC Preseason Player of the Year and was titled to the Associated Press preseason All-America team.
Ben kept proving himself as a player and earned him the best all-around player since LeBron James by Magic Johnson, an NBA Hall of Fame.
All's well that end's; Ben was also listed to All-Southeastern Conference First tam. He also led the Freshman of the Year at the 2016 SEC voting.
Ben Simmons | Professional Career
Philadelphia 76ers (2016–present)
Simons declared for the 2016 NBA draft waiving his final three years of college. He also signed a deal with sports agency Klutch Spots the same week.
Before his NBA selection, he was questioned by a media analyst on his behavior, but Bett Brown dismissed the claims.
Brown was a family friend and Philadelphia's coach. Soon, Ben was selected for the draft 2016 by Philadelphia with the number one overall pick.
He signed a rookie contract with the 76ers and joined the team for the 2016 NBA Summer League.
Ben's performance in the first three games was not that good. Despite this, he received all the appreciation. He received All-Las Vegas Summer League First Team honors.
During the training session, the 76ers player got his right ankle hurt and rolled. Later, he went for an x-ray and MRI and realized that he had a fracture in his right foot. He was waived for the 2016-17 season and showed no sign of recovery.
The NBA player made an outstanding comeback in the 2017/18 season. He was considered the third rookie play to record 1000 points, 500 rebounds, and 500 assists.
Ben was honored with Eastern Conference Rookie of the Month in February, March, and April and the Eastern Conference Player of the Week in April.
The basketballer was also awarded the Rookie of the Year and named to the NBA All-Rookie First Team.
He soon began his training sessions with his brother and coach Liam Tribe-Simmons and became the second-fastest player in the NBA to record 2,000 points, 1,000 rebounds, and 1,000 assists.
Ben was the first Australian to be named to the Eastern Conference All-Star reserve.
National Team Career
Since his jovial days, he was offered to play for the national team. At the age of 15, he represented Australia at the 2012 FIBA Under-17 World Championship.
He performed for the senior side in the 2013 FIBA Oceania Championship, where they received Gold. Ben has also explained his thought on playing in the 2020 Tokyo summer Olympics.
Ben Simmons | Career Stats
| | | | | | | | | | | | |
| --- | --- | --- | --- | --- | --- | --- | --- | --- | --- | --- | --- |
| Year | GP | GS | MPG | FG% | 3P% | FT% | RPG | APG | SPG | BPG | PPG |
| Playoffs | 22 | 22 | 35.9 | .552 | .000 | .653 | 8.1 | 6.8 | 1.5 | .9 | 15.0 |
| Career | 275 | 275 | 33.9 | .560 | .147 | .597 | 8.1 | 7.7 | 1.7 | .7 | 15.9 |
| All-Star | 2 | 0 | 23.0 | .923 | .000 | .500 | 6.0 | 6.0 | 1.5 | .5 | 13.5 |
You can get more details on his stats on Basketball-Reference.
Ben Simmons | Personal Life, Relationship, And Girlfriends
If we go according to online sources, Ben has been linked with many celebrities and non-celebrities. To name them, they were Brittany Renner, Amber Rose, Dylan Gonzalez, Tinashe.
But, as of now, Ben has been linked with Kendell Jenner since 2018. Although they have never admitted their relationship officially, the couple was seen hanging out with each other on several occasions.
However, as of now, the two have steered their path away from each other. Currently, Jenner is in a relationship with another NBA player named Devin Booker.
They even celebrated their one-year anniversary recently, on June 12, 2021. Furthermore, Ben is also rumored to be in a relationship with British television and radio presenter Maya Jama.
Nevertheless, Maya and Ben haven't officially confirmed their relationship. But, the TV presenter recently flew to Philadelphia to see the basketballer and spend some time with him.
A facetime screenshot of the pair chatting was recently leaked, and both of them seemed pretty shy and giggly. Furthermore, they keep liking and commenting on each other's posts.
Besides that, they are often spotted together, and these signs are enough to catch the thing between them. Previously, Jama was in a relationship with rapper Stormzy.
Ben Simmons | Net Worth and Salary
After knowing his college career, professional career, and national team career, we can pretty much assume that his net worth must be really high.
He is a basketballer with passion and dedication, and guess, someone with basketball running in his veins.
As maintained by Gossip Gist,
Ben Simmons has an accumulated net worth of $75 million as of 2022.
Coming to his salary, only a slow, and steady increment can be found. As a rookie player, he used to earn $6.4 million in 2018-19, leveled upto $8.1 million in 2019-20, and $10.5 million in 2020-21.
Endorsements And Other Ventures
In the Showtime documentary film One & Done, Simmons showed up a glimpse into his time as a one-and-done college player.
Simmons has inked an endorsement deal with Nike worth $20 million. In addition, he recently announced his announcement for Joe Biden and Kamala Harris for the 2020 United States presidential election.
https://t.co/tilVl2jf2a https://t.co/2pC5NdAkcG

— Ben Simmons (@BenSimmons25) August 26, 2020
Moreover, he is a supporter of the Essendon Bombers in the Australian Football League and in a paid partnership with @kelloggsfrostedflakes and Tony the Tiger to help spread the word about #MissionTiger.
Ben has also been involved in a project named Do more to end racism.
Ben Simmons | Social Media Presence
To all the BEN fans, there is nothing to worry about. We can easily catch him on his Instagram, Twitter, and Facebook profiles. He stays abundantly available there.
He keeps posting about his family, friends, tournament, lavish lifestyle, tours, and adventures that he opts for.
Facebook- @ben.simmons.025 and has 497,559 followers.
Twitter- @BenSimmons25 and has 982.9k followers.
Instagram-@bensimmons and has 5.3m followers.
Not to mention, he has a youtube channel, too, with 91.9k subscribers.
Also, read about another fantastic NBA player Alize Johnson.
Ben Simmons | FAQs
What is Ben Simmons' reach?
Ben has a 12-foot-6 maximum vertical reach. Furthermore, he has the highest reach of any player.
Who is Ben Simmons' agent?
Agent Rich Paul represents the basketballer. He is the founder of Klutch Sports Group and is representing many well-known NBA players like Anthony Davis, Draymond Green, LeBron James, Lonzo Ball, etc.
What is Ben Simmons' defense and offensive rating?
Simmon's defense rating is 106.6 offensive rating for the 2020-21 season is 114.0.
Is Ben Simmons being traded?
Although there are rumors about his trade, Ben's agent recently confirmed that the 76ers would offer Simmons a $170 million max contract extension. So, it is safe to say that the Philadephia team is in no rush to lose the three-time NBA All-Star.
What is Ben Simmons' haircut called?
The NBA player's haircut is called the hi-top fade, or simply ask your barber to do the Ben Simmons haircut.
What is Ben Simmons' net worth?
The athlete's net worth is estimated at $75 million.