Bernhard Russi has dedicated his entire life to downhill skiing, first as a world and Olympic champion in the 1970s and subsequently as an Olympic downhill course designer since 1988.
He claims to have started skiing at the age of two, which may not be an exaggeration given his achievements while representing Switzerland at the international level.
Bernhard Russi, born on August 20, 1948, is a retired World Cup alpine ski racer from Switzerland. He was born in Andermatt in the canton of Uri.
Even though he has retired from his professional career, he is still quite active and is perhaps one of Switzerland's most well-known figures because of his numerous media appearances.
In addition, he is an Olympic, World champion, and World Cup in the downhill event. The article here covers everything there is about Bernhard Russi.
So first of all, let's take a look at quick facts about him.
Bernhard Russi: Quick Facts
Full Name
Bernhard Russi
Birth Date
August 20, 1948
Birth Place
Andermatt, Uri, Switzerland
Nickname
Not Available
Age
74 years old
Religion
Not Available
Nationality
Swiss
Ethnicity
Swiss
Education
Not Available
Zodiac Sign
Leo
Father's Name
Not Available
Mother's Name
Not Available
Siblings
Not Available
Height
6 feet ((183 cm)
Weight
71 kg (157 lb)
Build
Athletic
Hair Color
Blonde
Eye Color
Dark Brown
Marital Status
Married
Wife
Mari Bergström
Children
2: son and daughter
Ex-Wife
Michèle Rubi
Profession
Professional sky racer
World Cup debut
January 8, 1968 (age 19)
Retired
March 1978 (age 29)
Disciplines
Downhill, Giant Slalom
Club
SC Gotthard Andermatt
Olympics Medals
2 (1 gold)
World Championship Medals
3 (2 gold)
Worldcup Wins
10 – (9 DH, 1 GS)
Awards
Swiss Sportsman of the Year
the Étoile d'Or (the Gold Star)
Net Worth
$1 – $6 million
Favorite Player
Not Available
Social Media
None
Website
bernhardrussi.ch
Merch
Alpine Ski Race Suit, Alpine Ski Race Helmet
Last Update
March, 2023
Professional Career
Russi made his World Cup debut at 19 in giant slalom at Adelboden in January 1968. In December 1969, he returned to the World Cup circuit full-time after competing in two races in 1968 and six in 1969.
Moreover, on February 1, he finished fourth in the Downhill in Garmisch-Partenkirchen. Thus, he earned a spot on the Swiss team for the 1970 World Championships.
In addition, he won his first event, the downhill, ahead of Austrian Karl Cordin and Australian Malcolm Milne.
Bernhard was second in 1973 and third in 1976 and 1977, and his two downhill titles were in 1971 and 1972. His highest overall finish was sixth, which he accomplished three times in 1971, 1972, and 1977.
The Winter Olympics also functioned as the world championships for alpine skiing from 1948 to 1980.
The world championships (1970) and the Olympics (1968) were included in the World Cup season rankings during the early seasons. However, these big tournaments were eliminated beginning with the 1971 season.
Learn About; MS Dhoni Bio: Wife, World Cup, Army & Net Worth >>
Disappointing Games
Bernhard's performance at the 1974 World Championships on home snow was disappointing.
He finished thirteenth in the downhill at St. Moritz. Russi came close to retaining his Olympic title in the 1976 Olympics in Innsbruck, Austria, but finished second.
Russi's performance at the 1978 World Championships in Garmisch, where he finished fifteenth in the downhill in late January, was disappointing, as it was in 1974.
He resigned from international racing a few days later with ten World Cup victories, 28 podiums, and 52 top-ten finishes.
Injury
During the late 1960s, Russi's racing career was hampered by his job as a stuntman in On Her Majesty's Secret Service, which was shot in Switzerland. Unfortunately, during the shoot, he shattered a cervical vertebra.
After a rehabilitation period, he competed in the Downhill Race at Val d'Isère on December 14, 1969, for the first time in several months, placing 14th.
He earned World Cup points by finishing in the top ten for the first time. In addition, he was the 15th racer on the start list on fresh snow, which was a suitable figure for such conditions.
Despite sustaining a hand fracture in a practice race a week prior, he won despite discomfort throughout his winning run.
Russi skied his winning run without ski wax because his coach, Paul Berlinger, scraped it off his skis right before starting.
Post- Retirement
Russi is presently the chairman of the FIS Alpine Committee and a technical advisor for downhill course design.
Moreover, he was the Rosa Khutor course's construction supervisor in Krasnaja Poljana (2014 Winter Olympics).
He also works as a ski race commentator for Swiss television. Russi is also a brand ambassador for Subaru, a Japanese automaker, and other Swiss brands.
His first feature film was The thin line: Life on the edge (2008). He appeared as himself in the movie. In addition, he was 60 when he starred in this movie.
Moreover, he is also known for his work on Sapporo 1972: XI Olympic Winter Games (1972), Superstars (1973), and Der Club (1985).
Russi's also the president of the Andermatt Realp Golf Club, one of the area's two highly recognized courses.
Architect
Bernhard was commissioned by the International Ski Federation (FIS) to design Olympic runs in the 1980s. Sometimes this meant flying over the chosen spot in a helicopter with topographical studies.
In addition, he then skied the proposed slope himself to find a route that would bring out the best in the world's finest skiers. Olympiabakken, the downhill piste for the 1994 Winter Games in Lillehammer, was created by Kvitfjell (NOR).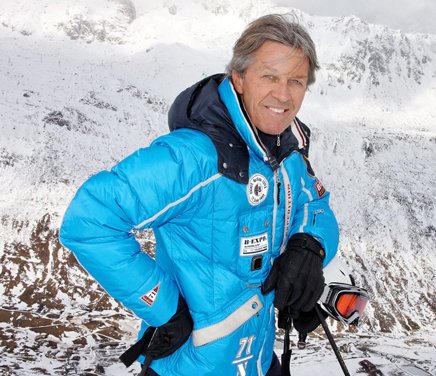 It has been used for every World Cup after that. The Rosa Khutor alpine resort course in Russia's Caucasus Mountains is one of his most recent works. There he was charged with developing a new course for usage at Sochi 2014.
Other times, he's been asked to renovate existing pistes, such as the legendary Bellevarde Face in Val d'Isère. It served as the spectacular backdrop for the downhill competition at the Albertville Winter Games in 1992.
In addition, the Grizzly course in Snowbasin for Salt Lake City 2002 and Barchetta in Sestrière for the 2006 Turin Winter Games.
Bernhard Russi: Mountain Man
Russi has often stated that creating great ski routes requires the ability to visualize what is needed to draw the most out of competitors.
In addition, it is an understanding of the peculiarities of a mountain to maximize the use of its contours.
He explained, "I respect the sport. It's something I think about every day, whether I'm working or vacationing. Skiing is my entire life!"
Bernhard Russi: Wife
Bernhard is married to his longtime girlfriend Mari Bergström. She is originally from Sweden. The couple shares a daughter.
However, his marriage to Mari is second. Previously, he was married to Michèle Rubi. She is also an athlete and was a three-time Swiss Skiing Champion in 1970.
In addition, Russi and Mari have a son together.
Chaos in Award Ceremony
According to Russi, in 1970, he surprisingly became the downhill World Champion. The whole media hype was pure chaos, his caregiver had lost sight of him, and the traffic in town had collapsed.
All he knew was that the award ceremony was to take place sometime after the race in Ortisei/St. Ulrich. He hitchhiked back to the hotel – the Spaniards took him.
Later he realized with horror that his official team clothing was already on the way to the Award Ceremony. Fortunately, the hotel host quickly drove him with the help of a police escort on backroads to Ortisei/St. Ulrich.
However, the clothes that he should have worn at the ceremony were still nowhere to be found. Finally, about two minutes before the ceremony, Kurt Schneider helped him out and lent Russi his official coat.
According to Russi, it was at least two sizes too small. Nonetheless, he relished every second of the award ceremony, which evokes many emotions to this day.
He explained, "As soon as the opening notes of the national anthem were played, tears streamed down my face. It was so emotionally draining that I didn't even notice they were playing the British national song instead of the Swiss."
Achievements
Bernhard Russi's World Championship triumph was also his first World Cup race victory because the World Championships counted towards the World Cup at the time.
On Mt. Eniwa, he won the gold medal in the same sport two years later at the 1972 Olympics in Sapporo, Japan. Roland Collombin of Switzerland won silver and completed a Swiss one-two.
In 1971 and 1972, Russi won the World Cup season title downhill.
He was named Swiss Sportsman of the Year for the second time this year, as well as the Skieur d'Or and the Étoile d'Or (the Gold Star) for the world's best ski racer of the year.
Moreover, no Olympic downhill champion has successfully defended his title (2018); Russi is the only defender to medal.
Champion
On the piste at Sasslong in Val Gardena on February 15, 1970, 22-year-old Swiss Bernhard Russi proclaimed his entrance on the big stage in a spectacular way. He outperformed all of the favorites to win the World Downhill Championships.
That set the tone for a decade at the top of downhill, when he routinely shared the podium with legends of the era like Franz Klammer of Austria.
In addition to 28 downhill podium finishes and ten World Cup victories, Russi won gold at the 1972 Winter Olympics in Sapporo. Moreover, he claimed silver four years later in Innsbruck behind Klammer.
Russi declared his retirement from professional skiing shortly after scoring a final podium finish at Cortina d'Ampezzo in December 1977.
However, that was only the beginning of a new chapter in what had been a lifetime love affair with downhill skiing.
You might want to read about; Tegla Loroupe Net Worth: Salary & Endorsements >>
Bernhard Russi: Net Worth
Bernhard has an estimated net worth of $1- $6 million. His primary source of wealth is his professional career as a skier.
Apart from this, Russi has also appeared in different media, which earned him a decent wealth. Moreover, he is also involved in various endorsements.
Social Media Presence
Unfortunately, Bernhard Russia is not found on any social media platforms. He is more of a secretive and private person. He likes to keep his personal life lowkey.
Read next; Jeremy Menez Bio: Wife, Contract, Stats & Net Worth >>
Frequently Asked Questions
When did Bernhard Russi retire?
Bernhard Russi retired at the age of 29 in March 1978. He said his disappointing showcase downhill prompted his retirement.