If you are a true baseball fan and are interested in knowing which baseball player has the best career batting average, keep reading. We have just the list prepared for you!
Baseball is one of the oldest sports leagues. So many players came and went; however, few immortalized themselves in baseball history.
There have been players considered the best batsmen, catchers, hitters, etc. But today, we are looking at the prominent figures who have the best career batting average.
It is not an easy thing to maintain the level of play. But these players that we are listing today have a consistent record in their play.
Now, let us dive into the list straight away without further delay.
10 Baseball Players With Best Career Batting Average 2022
The list has been compiled with the help of trusted sources from the internet like ESPN, TheMoney, etc. But before getting into the facts, let us take a quick look at the list below.
10. Babe Ruth
We are starting our list with Babe Ruth. Ruth was born on February 6, 1895. He is considered one of the greatest baseballs of all time, who played 22 seasons in MLB.
Ruth began his career as a pitcher for the Boston Red Sox. He made his debut in 1911 and gained his greatest fame as a slugging outfielder for the New York Yankees.
Similarly, Ruth was also part of the Boston Braves before retiring from baseball. Aside from having one of the best batting averages, he also was a seven times World Series champion. Additionally, he won many awards and titles during his professional career.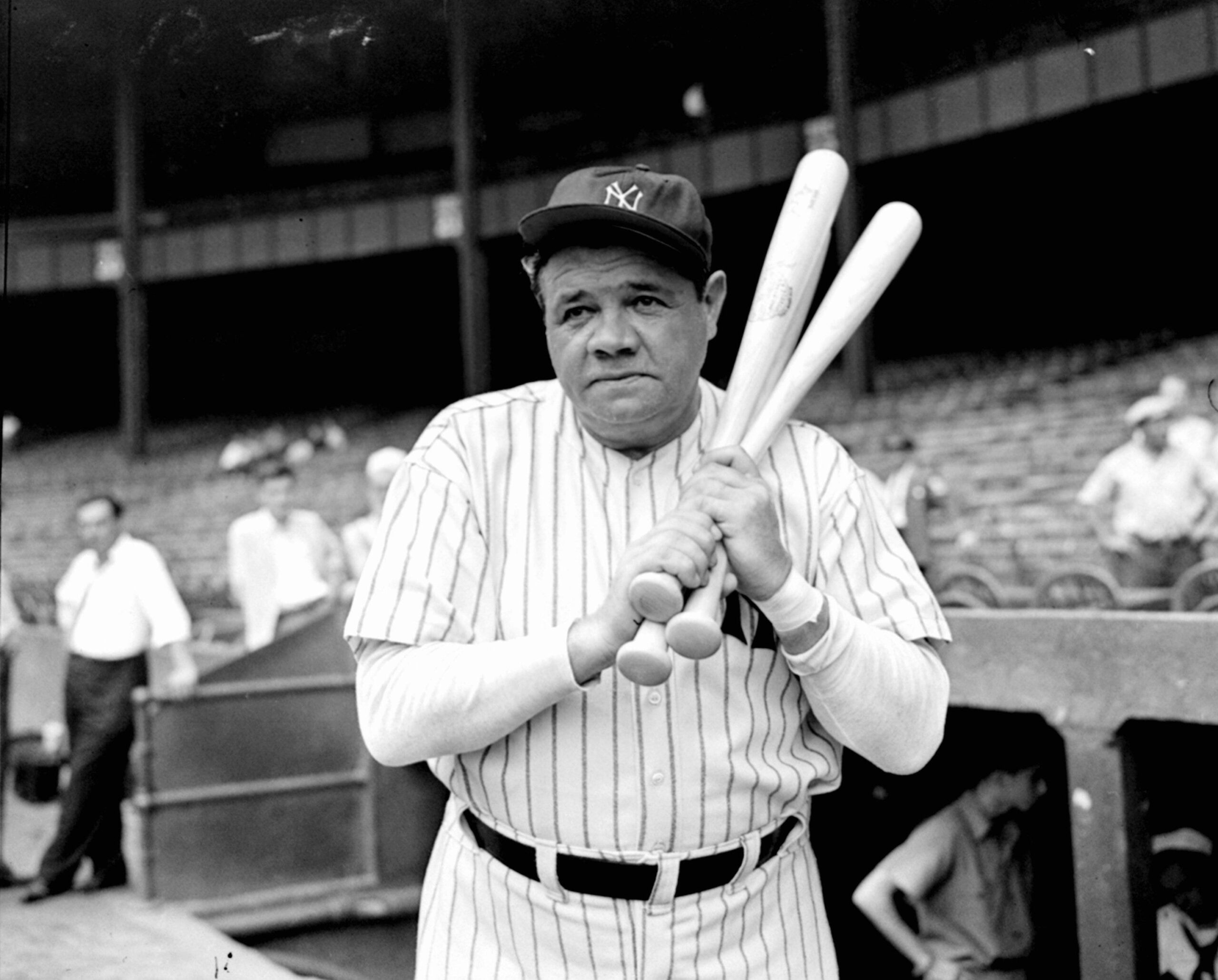 Ruth was the target of intense press and public attention for his baseball skills and off-field controversies. However, he became one of the greatest sports heroes in American culture.
In 1936, he was inducted into the Baseball Hall of Fame as one of the first five inaugural members. He recorded 2.873 hits, 714 home runs, 2,214 runs batted in, 94-46 win-liss record, and a 2.28 earned run average in his entire career.
Sadly, Ruth passed away on August 16, 1948, at age 53.
MLB has some of the most incredible batters in the league. Click here to read about the 13 best pinch hitters in MLB right now!
9. Harry Heilmann
The next player on our list is Harry Heilmann. Nicknamed "Slug," Heilmann was born on August 3, 1894, and made his MLB debut in 1914 with Detroit Tigers.
He played professional baseball for 19 seasons and 17 seasons in MLB. After his debut with the Tigers, he also played for the Cincinnati Reds in 1930 and 1932.
Heilmann's batting average is 12th highest in MLB, while it ranks 3rd among the right-handed batters. Similarly, he is one of the six players in American League history to hit .400 for a season.
In 1932, Heilmann retired from baseball. His 542 doubles were ranked sixth, and his 1,543 RBIs were ranked eighth in MLB. Likewise, he had hit 2,660 and made 183 home runs in his entire MLB career.
He passed away at 56 on July 9, 1951, due to lung cancer. Heilmann was inducted into the Baseball Hall of Fame six months later in 1952 posthumously.
8. Dan Brouthers
On our number 8 on the list of baseball players with the best career batting average is Dan Brouthers. Born on May 8, 1858, Brouthers played the first baseman in MLB.
Brouthers was nicknamed "Big Dan" for his 6 feet 2 inches height and 207 pounds. It was considered significant by the 19th-century standard. However, his size might have contributed to making him one of the dominant hitters.
In addition, Brouthers is recognized as the first great slugger in baseball history. He was one of the greatest sluggers of his era and held the record for career home runs spanning 1887 to 1889.
Big Dan made his MLB debut in 1879. He played with many different teams during his career, including the New York Giants' last one. He had a successful run in the MLB and was one of the 29 players to have appeared in MLB games in four decades.
Brouthers MLB career includes 2,296 hits, 106 home runs, and 1,296 runs batted in, on top of having one of the top batting averages. He passed away at the age of 74 on August 2, 1932.
The Veterans Committee inducted Brouthers into the Baseball Hall of Fame in 1945 posthumously.
Go through Amazon's Most Reviewed Cheer Shoes!
7. Ted Williams
Ted Williams started his MLB journey at 19 years old. Born on August 30, 1918, he began as a left fielder, playing for the Boston Red Sox in 1939.
Williams is regarded as one of the greatest hitters in baseball history. Because of his talents and skill, he earned many nicknames during his career. For example, Teddy Ballgame, The Splendid Splinter was a few nicknames.
However, William's playing career was interrupted by military services during World War II and the Korean War. After three years of service, he returned to play baseball in MLB.
On top of his batting average, Williams also had many titles and award wins during his playing career. A few of those highlight wins include nineteen times All-Star, two times AL MVP, six times AL batting champion.
In 1960, he retired from a professional playing career. William became the Baseball Hall of Famer in 1996. Similarly, for his contribution to the country, he was presented with the Presidential Medal of Freedom by President George H.W. Bush in 1991.
This legendary baseball figure died at the age of 83 on July 5, 2002.
6. Billy Hamilton
Billy Hamilton is on number 6 with the best career batting average. Nicknamed "Sliding Billy," he was born on February 16, 1866.
Sliding Billy made his MLB debut in 1888 with the Kansas City Cowboys. In his career spanning 1888 to 1901, he was also part of the Philadelphia Phillies and Boston Beaneaters.
One of the 19th-century star players, Hamilton set the record for most runs scored in 1894. Similarly, he also has the record for the most stolen bases in one game and most consecutive games scoring one or more runs.
At retirement, Hamilton had one of the best career batting averages of .344, 2,154 hits, 40 home runs, 742 runs batted in, and 912 stolen bases.
Sadly, Sliding Billy passed away at the age of 74 on December 15, 1940. Hamilton was inducted into the National Baseball Hall of Fame in 1961 by the Veterans Committee posthumously.
The hitters are the backbone of any team in baseball, but who are the best hitters in the MLB right now? Click here to find out!
5. Tris Speaker
Tris Speaker is one of MLB's greatest offensive and defensive center fielders. On April 4, 1888, he was born and made his MLB debut in 1907 with the Boston Americans.
Nicknamed "The Gray Eagle," it is impressive not only his batting average. Speaker also has an MLB career record with his 792 career doubles. Furthermore, his fielding glove was known as the place "where triples go to die."
The speaker played in the minor leagues before making his debut in the major league. He played for other teams during his playing career, including Cleveland Indians, Washington Senators, and Philadelphia Athletics.
Similarly, his notable career highlight wins and awards include three times World Series champions, AL batting champion, AL MVP, etc.
The speaker's career statistic in MLB at the time of his retirement was 3,514 hits, 1,529 runs batted in, and 117 home runs. After his retirement, he became a minor league manager and part-owner.
Speaker became the Baseball Hall of Famer in 1937. One of the legends in baseball history, he sadly passed away at 70 on December 8, 1958.
4. Ed Delahanty
Nicknamed "Big Ed," Ed Delahanty was a professional baseball player. On October 30, 1867, he was born and made his MLB debut with the Philadelphia Quakers in 1888.
Big Ed was one of the game's early renowned power hitters. He played in the minor league before making his major league debut. He and his brothers Frank, Jim, Joe, and Tom were the most prominent members of the largest siblings to play in MLB.
During his career, Delahanty was part of the Cleveland Infants, Philadelphia Phillies, and Washington Senators.
Likewise, some of his career highlight wins and awards include NL batting champion, two times NL home run leader, three times NL RBI leader, etc.
Unfortunately, this renowned power hitter died mysteriously in 1903 at age 35. He was swept over Niagara Falls, but mystery surrounds his death.
Delahanty's MLB record had 2,596 hits, 101 home runs, 1,464 runs batted in, and 455 stolen bases. He was inducted into the Baseball Hall of Fame by the Veterans Committee in 1945.
3. Shoeless Joe Jackson
Famously remembered as "Shoeless Joe," Joseph Jefferson Jackson was an American outfielder who was part of the MLB in the early 1900s. Born on July 16, 1887, he made his MLB debut in 1908 for the Philadelphia Athletics.
During his playing career, Jackson played with three teams. While debuting with the Athletics, he played for the Cleveland Naps / Indians from 1910 to 1915 and Chicago White Sox from 1915 to 1920.
Shoeless Joe was one of the star players in MLB. His playing career, however, only spanned for 12 years.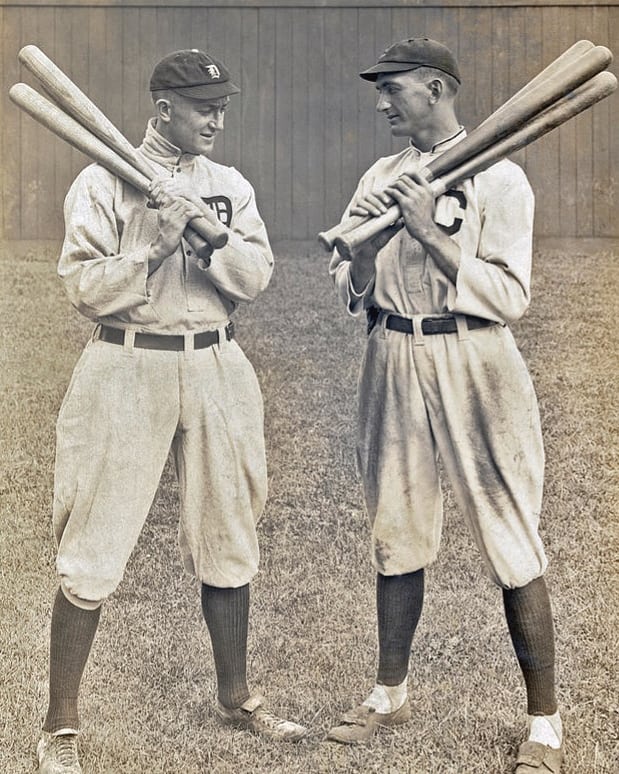 Due to his association in the scandal of 1919, where White Sox members were found participating in fixing the World Series, his career abruptly ended in his prime.
Jackson still holds the Indians and White Sox franchise record for triples in a season and career batting average. His notable career win included World Series Champion in 1917.
At the end of his career, Shoeless Jackson had MLB statistics of 1,772 hits, 54 home runs, and 785 runs batted in. He passed away at age 64 on December 5, 1951. His average career batting ranks third on the list.
2. Rogers Hornsby
The second place for the best career batting average goes to "The Rajah," Rogers Hornsby. Born on April 27, 1896, he was a baseball infielder who made his MLB debut in 1915 for the St. Louis Cardinals.
Hornsby player in several semi-professional and minor leagues before making his MLB debut. In his 23 seasons with the MLB, he spent 12 seasons with the Cardinals.
Other than the Cardinals, Hornsby also played for teams like New York Giants, Boston Braves, Chicago Cubs, and his final St. Louis Browns. During his playing career, he established himself as one of the best hitters of all time.
Similarly, Hornsby is the only player to hit home runs and bat .400 in a single year. His other notable wins and awards include World Series Champion, two times NL MVP, two times Triple Crown, etc.
Although he was one of the best hitters in MLB, Hornsby had a problem getting along with his fellow teammates. Then, after he retired from his playing career, he worked as a manager and coach.
In 1942, Hornsby became the Basketball Hall of Famer. He passed away at age 66 on January 5, 1963.
There are many good third basemen in the MLB. Looking at the rankings and data, we have compiled a list of the 12 best third basemen right now!
1. Ty Cobb
And here we have made it to the number 1. Ty Cobb is the baseball player with the best career batting average in baseball history. Born on July 17, 1961, he made his MLB debut in 1905 with the Detroit Tigers.
Nicknamed "The Georgia Peach," he played as an outfielder for 22 seasons in MLB. Cobb played with the Tigers from 1905 to 1926. After that, he signed with the Philadelphia Athletics from 1927 to 1928.
During his career, he made 90 MLB records, which still stand today. For example, aside from his highest career batting average, he has the highest career batting, most career games played, a modern record for most career stolen bases, etc.
Along with the various record, Cobb also has many career highlight awards and wins. He transitioned into a coaching career after retiring from his playing career.
His MLB statistics at the end of his career had 4,189 hits, 117 home runs, 1,938 runs batted in, and 892 stolen bases.
Similarly, Cobb was inducted into the inaugural Baseball Hall of Fame with the most votes than any player. The Georgia Peach is one of the greatest players in baseball history. Unfortunately, this legendary figure passed away at the age of 74 in 1961.
Conclusion
This concludes our list of baseball players with the best career batting average. Baseball history has seen many great players making it to that list.
These players' records made during their careers will not be surpassed by any other players easily, anytime.