We are all aware of f1 (formula one) car racing, but are we aware of the f1 powerboat racing?
F1 powerboat racing is an international motorboat racing competition for powerboats conducted by the Union Internationale Motonautique.
In addition, this racing event is promoted by H2O Racing. Therefore, it is also called F1H2O.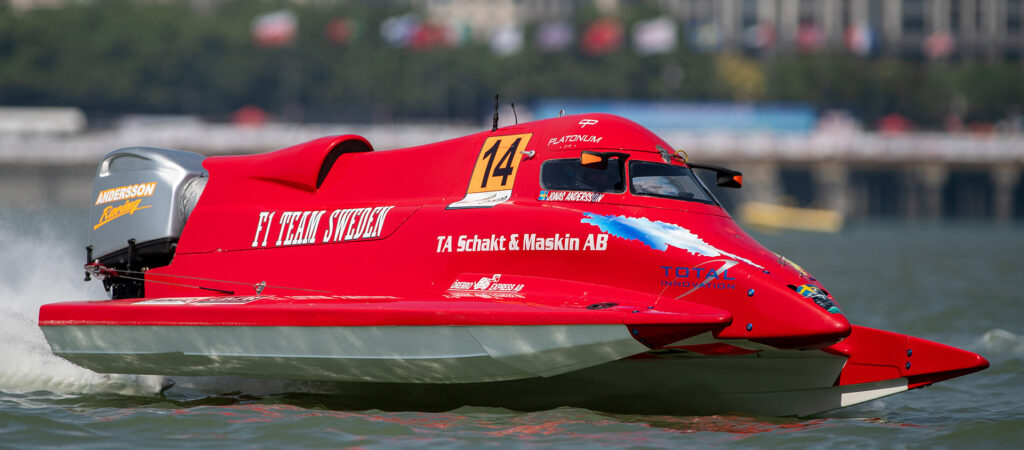 Here, we have listed some of the best players in the F1 powerboat racing arena. Check out the list below!
10 Best F1 Powerboat Racing Players in the World
Today's ranking is based on the official ranking done by the F1H2O. So, have a look at the top players and their rankings.
| | | |
| --- | --- | --- |
| Rank | Name of the Racer | Country |
| 10 | Ferdinand Zandbergen | Netherlands |
| 9 | Kalle Viippo | Finland |
| 8 | Bartek Marszalek | Poland |
| 7 | Sami Selio | Finland |
| 6 | Marit Stromoy | Norway |
| 5 | Alec Weckstrom | Finland |
| 4 | Peter Morin | France |
| 3 | Shaun Torrente | United States |
| 2 | Thani Al Qemzi | U.A.E |
| 1 | Jonas Andersson | Sweden |
10. Ferdinand Zandbergen
Height: 185 CM
Playing for Sharjah Team in the F1H2O, Ferdinand Zandbergen is one of the industry's most prominent f1 powerboat racing champs.
Born on 19th October 1995, Zandbergen is the third youngest racer in the ranking. Moreover, this dutch racer's f1 powerboat racing career is shocking.
Because although he recently started racing, he has managed to pull himself into the top 10 list.
9. Kalle Viippo
Height: 190 CM
Born on 27th December 1998, Kalle Vippo is a Finnish f1 powerboat racing expert who also happens to be the second youngest racer on the list.
Playing on behalf of team Sweden, Viippo has managed to land on the top ranking purely because of his skills and dedication.
Besides, looking at Viippo's race, one can quickly tell that he has a promising future ahead of him.
8. Bartek Marszalek
Height: 183 CM
Weight: 83 KG
Ranked 8th on the ranking, Bartek Marszalek is one of the f1 powerboat racing elite in F1H2O. Born on 9th September 1983, this Polish racer has ten years of racing experience in F1H2O.
Similarly, 2019 is considered his best season; this was when he finished fifth in the overall standings with a career-best third-place finish in Sharjah, U.A.E.
Marszalek came from a racing family and began racing in 2005 in the Formula 250 class, eventually winning the Polish Championship.
He moved to the Formula 350 class the following season and finished second in the World Championship.
7. Sami Selio
Height: 182 CM
Weight: 90 KG
Sami Selio is a Finnish f1 powerboat racing world champion who has piled up 151 starts in his 22 years on the circuit.
To clarify, he finished seventh in the championship standings and crossed the 1000-point barrier in 2021.
And, let's not forget that Selio was named "Rookie of the Year" in his debut season in 1998 and is a two-time World Champion.
Similarly, Selio's first victory came in 1999, when he finished third in Istanbul, Turkey, followed by his first qualifying pole in Portugal in 2006.
Most importantly, in 2007, his first career victory was in La Rochelle, France. This was when he first secured his first world championship win. Later, in 2010 he won the title again.
6. Marit Stromoy
Height: 160 CM
Weight: 60 K.G.
The only woman on the ranking, Marit Stromoy is one of the most prominent f1 powerboat racing champions in the powerboat racing industry.
Moreover, this talented Norwegian powerboat racer has created history twice. First, she became the first woman to win pole position in F1H2O at Portimao, Portugal, in 2011.
Second, she entered the exclusive Grand Prix Winners Club with a stunning and historic first victory in Sharjah, U.A.E., in 2015.
Likewise, she made her first professional debut in the F1H2O World Championship in 2007 and has since raced in 89 Grand Prix. She finished fifth overall in 2015.
Also, did you know that in 1989, Stromoy, at the age of twelve, made her first racing debut?
However, she only began racing in S-550 in 1993 and has since won the European Championship three times (1996, 1998, and 1999) and the Nordic Championship twice (1996, 1999).
However, Stromoy later switched to F-2000 in 2000, placing second in the U.A.E. Presidents Cup in 2002 and second in the Nordic Championship in 2003.
5. Alec Weckstrom
Height: 178 CM
Weight: 72 KG
Born on 27th May 1998, Alec Weckstrom is the youngest f1 powerboat racer on today's list.
Moreover, this young Finnish racing champ plays for the team Gillman Racing. Son of another f1 powerboat racing legend, Michael Weckstrom, Alec Weckstrom joined Gillman Racing after signing a three-year contract with them.
Weckstrom is stepping up to the World's finest in-shore catamaran series, the UIM F1 H2O World Championship, after a stellar 2020 F4 season.
Plus, at eight, the young prodigy was a karting sensation, holding his own against current Formula One talents like Max Verstappen, George Russell,
Lance Stroll
, and Lando Norris in both the Finnish and European Championships.
So, one wouldn't be surprised to see Alec following his father's footsteps to the top.
4. Peter Morin
Height: 182 CM
Weight: 83 K.G.
In 2021, our 4th ranking racer, Peter Morin, had his most outstanding season in his brief F1H2O career, winning two podiums and finishing fourth overall.
In addition, he won the rookie of the year award after placing 12th in the championship standings with 10 points and the best performance of sixth. This was in 2017, at his first debuted race in F1H2O.
Well, feats like these are expected from a seven-time World Endurance Championship champion in Class 3.
Likewise, he is a multiple French Champion in S3000, having won the title six times and finishing the second five times.
He also won the Rouen 24hr for the first time in 2006, and then again with teammate Philippe Chiappe from 2013 to 2017.
3. Shaun Torrente
Height: 178 CM
Weight: 65 KG
Shaun Torrente is one of the most exciting and dedicated racers in the f1 powerboat racing community. Besides, he has also won the 2018 world championship.
In addition, this American racer finished second in the championship race in 2016 and 2013 and third overall twice.
Although Torrente made an unlucky debut in the tournament in 2007, he returned in 2011 to join Team Qatar for his first entire season.
He has nine victories and 14 podium places in 52 races, including nine pole positions.
However, after joining the Victory Team at the Grand Prix of France in 2015, Torrente worked for three years with Qatar and then moved to Team Abu Dhabi at the end of 2017.
2. Thani Al Qemzi
Height: 185 CM
Weight: 80 K.G.
Having competed in 138 races since his first debut in Sharjah in 2000, Thani Al Qemzi is one of the World's top f1 powerboat racing veterans.
In 2021, in one of his best seasons, Ql Qemzi won a race finishing third in the World. Born on 23rd December 1978, this U.A.E. champ has 38 career podiums with eight Grand Prix wins.
In 2009, he had his most outstanding season, finishing second in the World Championship with 143 points, including a victory in Portimao, Portugal, and six podiums.
Apart from this, he is also one of the most achievements holding powerboat racers in F1H2O.
1. Jonas Andersson
Height: 177 CM
Weight: 75 K.G.
Finally, at the number one spot in today's ranking, we have Jonas Andersson, an f1 powerboat racing legend who is known to throw everything he's got to achieve a win.
Born on 19th June 1974, Jonas Andersson finished second in the drivers' championship in 2021.
During his run in F2000 racing in Europe and the Middle East, he won the F2000 World Championship back-to-back in 2003 and 2004.
Nevertheless, Andersson won seven races, finished on the podium 15 times, and qualified in pole position four times in his 99 Grand Prix appearances.
In 2008, he won his first race in St Petersburg and finished third overall in the championship.
Conclusion
So, these are the top 10 f1 powerboat racing champions in the World. Some of them are new to the sport, so we barely have any information about them. However, they have made their presence known after coming in the top 10 ranks.
From this, we can see that in sports, one doesn't have to be popular to reach the top spot. With hard work and dedication, one can quickly get to the top, just like some young athletes on the list.
So, out of these extraordinary talents, which one was your favorite one? Feel free to let us know in the comments below!
Interested in cars? Click here to learn more about the World's Top 10 Fast & Furious Cars.