The core for any great team in NFL history always starts with a great coach. Therefore, today we will be discussing the best NFL coaches of all time.
From drawing up plays to finding players' true potential, NFL coaches do it all. Thus, one can argue that coaches hold a massive influence on a team's success.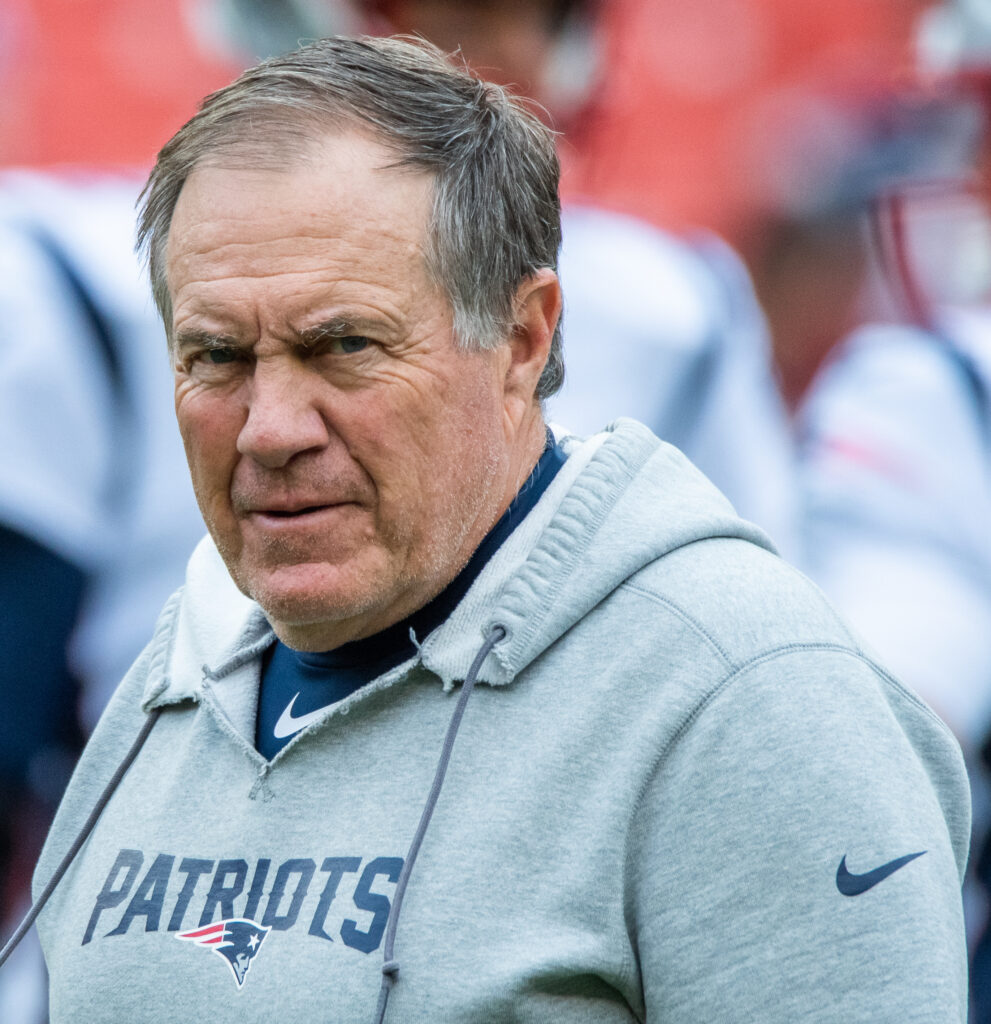 Although there are going to be a lot of decent coaches through the league who have certainly made an impact on their team's performance, recognizing them as one of the best NFL coaches of all time is not as easy as you may think.
As a result, there are very handful of coaches that make it into the list. Hence, let's dive right into knowing the 13 best NFL coaches of all time.
13 Best NFL Coaches of all Time
The best coaches mentioned below are assembled based on their achievements, career percentage, and meaningful impact.
Most of them are compiled in reference to Bleacher Report, ranker.com, ESPN, and NFL Stats.

Further, before jumping into the details about the 13 best NFL coaches of all time, let us quickly view the names present in the list.
| | | |
| --- | --- | --- |
| Ranking | Coaches Name | Active Years |
| | | 1969 – 1978 |
| 12. | Joe Gibbs | 1978 – 1992, 2004 – 2007 |
| 11. | Bill Parcells | 1979 – 2006 |
| 10. | Curly Lambeau | 1919 – 1953 |
| 9. | Tom Landry | 1960 – 1978 |
| 8. | Chuck Noll | 1960 – 1991 |
| 7. | Paul Brown | 1930 – 1975 |
| 6. | Jimmy Johnson | 1965 – 1996 |
| 5. | Bill Walsh | 1960 – 1994 |
| 4. | George Halas | 1920 – 1967 |
| 3. | Don Shula | 1958 – 1995 |
| 2. | Vince Lombardi | 1939 – 1969 |
| 1. | Bill Belichick | 1975 – Present |
Out of three championships in the Oakland Raiders franchise history, the most remembered one is under head coach John Madden.
In ten years with the Raiders, Madden averaged .759 career percentage, the highest in NFL history for any coach.
His Raiders were very dominant in both the end. However, they could never figure out a way outside AFC Championship.
Madden tried multiple different strategies, which indeed colored the Raiders' regular season. Nonetheless, the narrative ended the same during playoff time.
Finally, after his Raiders won seven divisional titles, they gave it all to win one Super Bowl Championship. Not to mention, the team Madden put together also went on to win another Super Bowl after he left Raiders.
Further, John's Raiders went 103-32-7 in the regular season and 9-7 in the playoffs during his tenure with Oakland. Overall, he is also inducted into the Pro Football Hall of Fame for the class of 2006.
Hence, even after these many years, Madden is still remembered as one of the franchise and NFL's greatest coaches of all time.
Also, check out the Top 15 NFL Defenses of all Time >>
12. Joe Gibbs
A good amount of praise should go to the then Washington's owner Jack Kent Cooke, who had a good eye for greatness.
Further, he is the reason why the Washington football team still admires Joe Gibbs. Gibbs was a strong head coach who revolutionized Washington's losing culture.
He first began to build a good roster by trading the top picks. Similarly, Gibbs then set up different quarterbacks and running backs play, making the team even stronger.
In 16 years with Washington, Gibbs had four Super Bowl appearances while winning three of them.
He won those three Super Bowls with three different quarterbacks, which shows Joe's incredible ability to work with any player to success. He was superb in understanding players' true capability and made plays that profited them.
Hands down, Gibbs was the greatest thing that ever happened to Washington. Hence, this is why Washington has not been in the headlines since he retired.
11. Bill Parcells
If you had Bill Parcells as your head coach, the team is definitely going on a winning streak. He did this with four different teams that were nowhere to be found as contenders.
Hence, the Giants, the worst NFL team in history, miraculously won two Super Bowls after hiring coach Bill Parcells.
Similarly, the Patriots were facing financial miseries and were losing it all. However, after three years of the arrival of Parcells, the Patriots were in Super Bowl.
Additionally, the Jest, who barely had a winning season in a decade, won 12 games in a season under Parcells.
Likewise, the Cowboys speedily deteriorated after being into the Super Bowls. Therefore, they hired coach Parcells that rebuilt the team and placed them back in the playoffs.
Further, there was no worst team in the NFL that the great Parcells couldn't convert into a contender. His process of rebuilding the team was very effective and on point.
10. Curly Lambeau
Curly Lambeau was the founder of the Green Bay Packers, who also coached the team for thirty-year.
He surrounded himself with the spectacular coaching staff and elite players. As a result, Lambeau's Packers won eight divisional titles where they were mesmerizing to watch.
Similarly, they successfully won six NFL championships while repeating three of them. Hence, they are the only NFL team in history to win three consecutive titles.
Further, with a record of 27 winning seasons, it's hard not to acknowledge him as the greatest. Lambeau was so good that there was barely a team that could break his defense.
He had a border sense of the game and was always known for doing some bizarre experiments which actually worked.
Likewise, he created the wide receiver and linebacker positions that are vital in today's football. That man was surely a shining armor for the city of Green Bay.
You might also like to read about the Top 50 NFL Fantasy Players of Current Year >>
9. Tom Landry
Tom Landry took an exceptional move of becoming the head coach of the Dallas Cowboys. Obviously, a head coach position is a big deal and is hard to turn down.
Nonetheless, working with a team as trash as the Cowboys then was a huge step. As a result, Landry's Cowboys went 18-46-4 in his first five seasons.
Many believed it was time to part ways with Landry, but Dallas shockingly extended his contract to 10 years. As it turns out, that was the best decision that the Cowboys took.
Landry converted Dallas into a team that remained a contender for over two decades. His strategy was prolonged, but it delivered 100% in the long term.
Further, as a head coach, he took the team to 13 divisional titles while having 5 Super Bowl appearances. Out of five, the Cowboys won two championships under head coach Landry.
8. Chuck Noll
The history of the phrase "Steel Curtains" used by the Steelers is due to Chuck Noll's Curtain defense.
He, along with this coaching staff, remodeled the Cover-2 defense into an iron wall. As a result, they smothered the entire league's offense.
They caused so much havoc in NFL that the league was forced to revise the rule books. Further, Noll's Steelers won nine divisional titles while winning four Super Bowls.
Not to mention, Pittsburgh had never won the Super Bowl since they were founded. Then Noll arrived and instantly made the Steelers into a dominant contender.
To elaborate, the Steelers had 15 winning seasons, out of which they had 12 playoff appearances.
There was never stopping this man. He always came up with some strategies to make his team even more robust. Thus, he will forever be referred to as one of the best NFL coaches of all time.
7. Paul Brown
Arguably the best coach to ever coach in the 90s was Paul Brown. He was a reservoir of knowledge when it came to experience in coaching.
Not to mention, he invented the playbook for football during his high schooling period. Hence, you can clearly paint an image of why he is considered a reservoir.
Further, he is the primary reason why modern football is the way it is. From 40-yards dash to wearing a face mask, this man wrote it all.
On top of that, he founded the Cleveland Brown, a disastrous force with a quick offense and a brutal defense.
Likewise, he unified professional football by signing two African-American players without drawing any attention to himself or the players.
The coaches mentioned above or before him were born in a world he created. Therefore, Brown may not rank high but will forever be one of the best NFL coaches of all time.
Enjoy the write about, 13 Biggest Tackles in NFL History >>
Jimmy Jhonson might not have had years of success in his book but three years with the Dallas Cowboys felt like an eternity. Johnson was different than other coaches, while others stacked up franchise players, he traded them.
As a result, the Cowboys fans hated his guts, mainly when he traded the team's best player midseason.
Seeking other fresh legs and minds rather than veteran players was a significant part of his success. Hence, his Cowboys won two back-to-back super Bowls and stunned the league.
Likewise, Johnson also refigured the Dolphins into a potential contender of their conference.
Despite Miami never winning a Super Bowl under him, he definitely made them a better team.
Further, coach Johnson's technique might be abnormal to the fan's and analysts' eyes, but he certainly knew the outcome of his decision.
5. Bill Walsh
Bill Walsh had an engineer's mind; he read the defense so well and made a lethal offense that no one could predict or counter. His fantastic play was the primary reason for the 49er's success in the postseason. Therefore, the 49ers bagged a total of three Super Bowls.
Walsh was so smart that any player who played under him took their game to the next level. Further, his offense always had precision; never once did it fail to deliver.
With fantastic quarterbacks at his arsenal, coach Walsh quickly spread fears amongst the league. Hence, under Walsh, the 49ers made a dynasty that is still remembered.
Likewise, he also won the 1981 Coach of the Year Award and was inducted into the Hall of Fame.
4. George Halas
The two-time NFL coach of the year was just something else when it came to keeping his squad at the top.
He coached the Decatur Staleys, which is now known as the Chicago Bears. Further, he formed a T-formation offense that favored the under-center quarterback.
Therefore, the offense seems to attract much attention, as it won him games after games. In the 40 seasons with the Bears, he stacked up 324 wins and six NFL titles.
Moreover, the NFL would never be the way it is now without the lights of Halas, also known as papa bear.
No doubt, Halas is a top-five guy in any conversation that revolves around the best NFL coaches of all time.
Don't forget to check out about the Top 12 Best NFL Wide Receivers In The World >>
3. Don Shula
There are just no words to describe the lights of Don Shula. He is the man who created the NFL's only perfect win-season team, the Dolphins, who went 17-0 in the 1972 season.
Shula coached two teams, the Colts and the Dolphins. Further, he took both the team to the finals. That's how influential his coaching ability was.
No doubt, if he had coached 32 teams, they would also end up winning the Super Bowl. You could barely contain his offense; Shula had plays that had no answer to.
Over the course of his years, he won sixteen division titles while having six Super Bowls appearances. Out of six, he dominantly won two Super Bowls.
On top of that, no coach in the history of the NFL has won more games than the late great Don Shula.
2. Vince Lombardi
Vince Lombardi is considered the father of football. He has inspired a lot of players and coaches to have an approach of "will to win is the only thing."
If you still don't have a picture, then know this, the Super Bowl trophy is named after him. Yes, that's how important and influential the man is to NFL.
Further, he was the head coach of the Green Bay Packers, who won two three NFL and two Super Bowl championships.
The league was far less competitive than what it is today. As a result, people may say otherwise when they hear his name on the list.
However, to have had a book and documentary made over him just portraits his greatness.
To talk about the best NFL coaches of all time and not have the name of Bill Belichick is just unacceptable. This man has defined his ear; from exploiting free agency to sharpening a player's ability, Belichick is the perfect coach to do it all.
Further, he is a defensive tactician, the best in the league now and most probably forever. There is no comparison when it is about Belichick, he is simply the greatest.
With nine Super Bowls appearances, he has won six of them. Further, he has had 13 undrafted players play for him in separate times for the Super Bowl.
Hence, this is spectacular coaching and scouting ability. Not to mention, he was the prime factor for landing the league's greatest quarterback, Tom Brady.
Like him or hate him, he is just the finest coach to have ever stepped foot in NFL.
Conclusion
Coaches don't get the spotlight in football as much as a player. However, their contribution behind the scene of a football match is incomparable.
Significantly, these 13 legends who will forever be known as one of the best NFL coaches of all time have done it all in such grand fashion.
As a result, let's appreciate these individuals for their impressive work and dedication to their field.