It aspires to see a person who follows their passion, makes it happen, and turns their passion into action. While talking about the passion pursuer, Bethe Correia is one of the leading examples, who left a job as the Accountant to become a Mixed Martial Artist (MMA).
In 2012, Bethe astonishingly started her professional fighting career by winning six-fight straight in just a year.
Bethe Correia achieved a new height of success in a short time; she became the third Brazilian woman to sign a contract with the Ultimate Fighting Championship (UFC). She is known for her striking and grappling technique used in wrestling.
Bethe 'Pitbull' Correia is a Brazilian Mixed Martial Artist who has a current affiliation with the Ultimate Fighting Championship (UFC) women's bantamweight division. "Pitbull" is her nickname, which she has acquired during her involvement with the Pitbull brothers.
Bethe journey to MMA started when she left her job as an Accountant and made her professional debut in MMA in 2012. Bethe thought she was "too hyperactive for office work," and she says fighting was something that gave her actual meaning of living life.
At first, Bethe joined for training in Sanda, the Chinese self-defense combat sport.
After getting training in the Chinese self-defense combat sport, Bethe got a chance to meet with Patricio Freire, ' A Bellator Featherweight Champion,' who encouraged her to compete in pro-Mixed Martial Arts.
Let's take a quick ride to this MMA fighter's journey, her early life, professional career, personal life, Net Worth.
Quick Facts
| | |
| --- | --- |
| Full Name | Bethe Correia |
| Birth Date | June 22, 1983 |
| Age | 39 Years Old |
| Birth Place | Campina Grande, Paraiba, Brazil |
| Residence | Natal, Rio Grande do Norte |
| Nickname | Pitbull |
| Religion | Not Known |
| Nationality | Brazilian |
| Ethnicity | Latino |
| Education | School of Accounting |
| Horoscope | Cancer |
| Father's Name | Jose Correia |
| Mother's Name | Tiana Correia |
| Siblings | Three siblings |
| Siblings Name | Tatiana Correia, Suzana Correia |
| Height | 5 feet 5 inches (165 cm) |
| Weight | 61 kg (135 lbs) |
| Build | Athlete |
| Eye color | Light brown |
| Hair Color | Blonde |
| Profession | Mixed Martial Artist |
| Debut | 2012 |
| Association | Ultimate Fighting Championship |
| Division | Bantamweight |
| Reach | 64" |
| Leg Reach | 36.5" |
| Stance | Orthodox |
| Style | Striker, Jiu-Jitsu, Sanda, Kung Fu, Boxing |
| Years Active | 2012 to Present |
| Sexual Orientation | Straight |
| Relationship Status | Married |
| Husband | Edelson Silva |
| Net Worth | $2 million |
| Salary | $88 000 annually |
| Social Media | Twitter, Instagram |
| Last Update | June, 2023 |
Bethe Correia | Early Childhood, Parents, Education & Horoscope
Bethe Correia was born on June 22, 1983, in the northeastern interior town of Campina Grande, Paraiba, Brazil, as the youngest of four children. She was born to Jose Correia and Tiana Correia. Bethe has three elder siblings, and among them, she was youngest, stubborn, and hot-blooded as a child.
Her father was a banker, and Bethe also intended to follow in her father's footsteps to become an accountant, and for that, she earned a degree in accounting from the School of Accounting. But, she cannot match her spirit for the formal office work and realized that she was "too hyperactive for office work."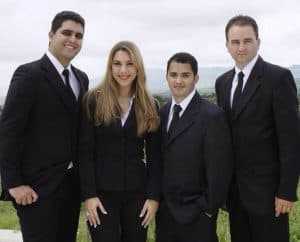 Bethe actual journey to fighting started when she started working out to lose her weight to overcome boredom. She had impressive skills in fighting, and during this time, she met Patricio Freire at Gym in Natal, Brazil.
Freire was impressed by Bethe's smack punches, and he offered her to train at his gym. Correia's horoscope chart shows that she belongs to the Cancer Zodiac. Some of the characteristics traits of Cancer are Tenacious, Persuasive, and moody.
Bethe seems to align with cancer characteristics because her persuasive nature is seen in her struggle & achievement even after changing a career at a late stage.
After quitting her job as an accountant, Bethe started learning Jiu-Jitsu, Sanda (the Chinese self-defense combat sport), and the Pitbull brothers' amateur wrestling technique. It was where she received her nickname as "Pitbull."
She earned a blue belt in Brazillian Jiu-jitsu and a purple sash in Kung Fu under Patricio Freire's training. Initially, Bethe had no plan of joining the professional fight. Still, gradually after the training and few accomplishments, she thought it was a try and finally decided to compete in MMA.
Bethe Correia | Mixed Martial Arts Career
Initial Career and UFC
Bethe Correia's professional fighting debut started in May 2012 against Daniela Maria da Silva, her native Brazilian; as soon as she got inside, she showed a fantastic performance, winning the first fight of her life unanimous decision.
After that, she won five more fights within the thirteen-month. No doubt, Bethe performance was the talk of the town in the MMA, which lead her to the next level journey of fighting world-class fighters.
In October 2013, Bethe got a deal offer to sign with the Ultimate Fighting Championship. And her first fight under UFC was setup with MMA's Veteran Julie Kedzie on December 7, 2013.
Julie Kedzie had a record of completing 28 professional fights already, but that didn't affect Bethe. She won against the veteran fighter via a split decision.
After that fight, she continuously won the next two UFC fights against Jessamyn Duke and Shayna Baszler. The MMA fighter gained a victory against Duke by a unanimous decision and Baszler by a technical knockout.
Fight Against Ronda Rousey
After winning back to back, three consecutive UFC, Bethe was challenged by former Strike force bantamweight champions Sarah Kaufman and Miesha Tate. However, Bethe was more interested in putting up a fight against Ronda Rousey.
She is already a UFC bantamweight Championship titleholder and the most feared fighter in the world. UFC scheduled the bout for August 1, 2015, in Brazil. Rousey won the fight by undefeated 10-0 win streak and won the fight by technical knockout within the first round.
Thereafter, the fighter faced another loss against Raquel Pennington. Nevertheless, good days were ahead for Correia as she won against Jessica Eye at UFC 203.
At UFC Fight Night: Belfort vs. Gastelum, Bethe tied with American professional fighter Marion Reneau. However, she lost her next two matches against Holly Holm and Irene Aldana via a Knockout and submission.
On September 10, 2016, Bethe faced Jessica Eye at UFC 203 and won the split decision.

Bethe faced Marion Reneau, and the fight ended with a majority draw. On March 11, 2017, at UFC Fight Night.

On June 17, 2017, at UFC Fight Night, Bethe faced Holly Holm and lost the fight via knockout.

At UFC on ESPN + 17, Bethe faced Sijara Eubanks and won the fight by unanimous decision.

Correia was scheduled to fight Wu Yanan for her retirement fight at UFC Fight Night 185.
Bethe Correia | Professional Record Breakdown
17 Matches
11 Wins
5 Losses
By Knockout
2
2
By Submission
0
1
By Decision
9
2
Draws
1
Bethe Correia | Highlights, Awards and Achievements
Unbeatable for the first nine professional fights of her Career back to back

Third Brazilian women to get signed to UFC.

Two wins by knockout

Eleven wins and one draw in her 17 professional fights
Bethe Correia | Body Measurement, Height, & Fighting Style
Bethe has athlete bodybuilding type withstanding 5 feet 5 inches tall, weighing approximately 61 kg. She has blonde hair with light brown eye color. Bethe is famous for her extraordinary moves; Correia uses mostly boxing and grappling techniques.
Correia is very aggressive during games and uses spinning back fist counter strikes. She is also known for using verbally offensive comments against her opponents.
Bethe's marriage took place when she was during her college pursuing accounting. However, her first marriage didn't last long because of their disagreement in her professional fighting career. There is no information available about her Ex-husband, and she has not spoken on this topic so far.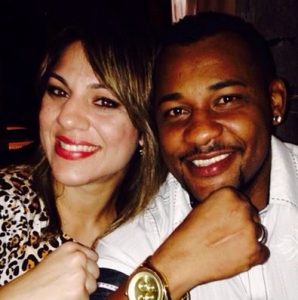 Bethe is now married to her longtime boyfriend, Edelson Silva, who also seems to be a former boxer and Anderson Silva's boxing coach. Silva helps Bethe with the coaching techniques and supports her professionalism. Bethe's sister Suzana Correia works as a manager for Bethe.
You might also want to check: Felice Herrig Bio- MMA, UFC, Age, Next Fight, Nationality, Net Worth, Married.
Tatiana Correia is Bethe's sister, who had breast cancer. Bethe dedicated her win against Sijara Eubanks to her sister, quoting a heartfelt message. She said that she got motivated to win this fight from her sister battling cancer. Also, Bethe had a back injury during that fight.
There is no exact information on the Net Worth availability of Bethe Correia; however, few articles suggest that her net worth is approximately 2 million dollars.
The average UFC fighter makes about more than 1 million dollars per year. Correia's salary is estimated to be $ 88 000 annually.
Furthermore, UFC fighter also makes additional money from the sponsorship, advertisements, and special discretionary bonuses at UFC, which is not disclosed to the public.
However, many top-level fighters also get pay-per-view cuts; UFC fighters like Amanda Nunes & Holly Holm are the highest earners who earn approximately 2 million dollars annually.
Bethe is also very active in the usage of different social media platforms. She is on Instagram as @bethecorreia with more than 195 thousand followers. She usually posts her families' pictures, hanging out with her sisters, and training videos.
Similarly, Bethe also has a Twitter account as @Bethe with more than 30 thousand followers. She is very active on Twitter and usually tweets about boxing, contemporary issues, and training videos.
♨️Seguimos em constante evolução AABB Natal.@edelsonboxe @luerber_pef @bethe @ufc #mmatraining #ufc #ufcvegas #especifctraining

📇Mário Novaes (1999) pic.twitter.com/RoZqW3QYBc

— Mario Novaes (@marionovaes19) October 26, 2020
Through her social media, she has announced her final fight deal with UFC. She shared a lengthy post describing details of her respect & gratitude towards UFC. There is no disclosed reason for her retirement; however, she just said that "Fighters knows when to stop."
There is no doubt that Bethe was one of the MMA's fighters with skilled technique, quite an engaging attitude, and aggressive nature. Many fans will miss Bethe's unique punches in the bout.
Correia got herself in a fight with a taxi driver while traveling in a street in Rio de Janeiro with her boyfriend Edelson Silva & sister Suzana Correia. Later, this issue was dragged to a police station, and she also received an occasional threat on social media with pictures of guns.

Bethe received a lot of negative press when she made a controversial statement against Ronda Rousey's father. Moreover, she had said that "I hope Rousey didn't commit suicide when she loses at UFC 190". For which Ronda replied with the below tweet.
@bethecorreia suicide is no joke or selling point. My father will be with me the day I hand you the comeuppance you deserve.

— Ronda Rousey (@RondaRousey) May 28, 2015
Common Queries:
Ronda Rousey won the fight against Bethe Correia. The fight was held on August 1, 2015, in Rio De Janeiro, Brazil. Furthermore, Rousey knocked out Correia in less than a minute.
When did Holly Holm fight Bethe Correia?
Holly Holm fought Bethe Correia on June 17, 2017. Moreover, Holm won the match by a knockout.
Where is Bethe Correia from?
The MMA fighter is from Campina Grande, Paraíba, Brazil. Furthermore, Correia was born there.
What did Bethe Correia say about Ronda Rousey's family?
Before the Correia Vs. Rousey match, Bethe said she hopes Rousey doesn't commit suicide after losing the match against her. The comment was an attack on Rousey's father, who had committed suicide when Ronda was only eight years old.