The NFL has an equitable share of successful and unsuccessful coaches. However, the New England Patriots coach, Bill Belichick, is regarded as one of the most successful and respected coaches in the NFL.
Bill Belichick holds six Super Bowl wins record as a head coach and two as a defensive coordinator. Besides, only three coaches in the NFL are successful in winning the Super Bowl six times.
Belichick stands as the longest active coach working in the NFL. He has completed 31 seasons for the league. Furthermore, Bill is the only active head coach, coaching for the National Football Tournament.
Although Belichick works for the Patriots, he operates as the authority. Without Belichick's agreement, there is no change in the management of the Patriots. So, we can understand how much the team respects him.
Before we know about Belichick's career and status, let's learn quick facts about him.
Bill Belichick | Quick Facts
| | |
| --- | --- |
| Full Name | William Stephen Belichick |
| Birth Date | 16 April 1952 |
| Birth Place | Nashville, Tennessee, United States |
| Nick Name | Bill |
| Religion | Christianity |
| Nationality | American |
| Ethnicity | White |
| Education | Graduated from Phillips Academy |
| Horoscope | Aries |
| Father's Name | Steve Belichick |
| Mother's Name | Jeanette Belichick |
| Siblings | Information Not Available |
| Age | 71 years old |
| Height | 5 feet 9 inches |
| Weight | 75 Kilograms |
| Hair Color | Dark Brown |
| Eye Color | Light Brown |
| Build | Muscular |
| Profession | NFL Coach |
| Super Bowl | Six |
| Active Years | 1979-present |
| Sexual Orientation | Straight |
| Marital Status | Divorced |
| Wife's Name | Debby Clarke |
| Kids | Three; a daughter and two sons |
| Net Worth | $60 Million |
| Social Media | User Not Available |
| Merch | T-shirt, Hardcover, Paperback |
| Last Update | June, 2023 |
Early Life, Family, and Education
Bill [William] [Stephen] Belichick was born on 16 April 1952 to Steve Belichick and Jeanette Belichick. He was born and raised in Nashville, Tennessee.
Bill's father, Steve Belichick, was a famous football player turned to coach. He played for Detroit Lions during his adult days. However, Steve was a prominent coach for Hiram College's football team.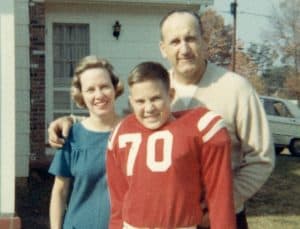 There is no known information about Bill's mother. Although some rumors are claiming, she worked as an assistant with his father.
Bill's parents share a Croatian heritage. His grandparents migrated to the United States from a small town in Croatia during the industrialization period.
It's sad to say that his parents are no more in this world. Bill's father, Steve, died on 15 November 2005. And mother Jeanette passed away in September 2020.
Bill Belichick | Education
Belichick completed his primary schooling in his hometown. From primary school, Bellichik started to work with his father in the club. He used to go to school, and in the holidays, he used to learn coaching techniques with his father.
Bill and his family went to Annapolis, Maryland. There, his father began to work as an assistant coach.
Bill got named after College Football Hall of Fame coach Bill Edwards. Edwards is his godfather.
Similarly, Belichick went to Andover, Massachusetts, for a university degree. He graduated from the Philips Academy with improvisation in his grades.
Also, read this Joachim Low Bio: Age, Salary, Wife, Germany, Coach Wiki.
After some time, Bill enrolled for a degree in economics. He completed his degree from Weyslan University, Middletown. There he started to work as an assistant with the head coach, Ted Marchibroda.
Bill Belichick | Coaching Career
Belichick worked in his college football team. There he learned to practice defensive coaching. Belichick progressed in a short period because he had learned many things from his father – and godfather.
Bill did not work in the college's team. Instead, he started to search for jobs in the NFL teams. He approached the Detroit Lions – where his father used to play. And Belichick also requested a career in the Denver Broncos.
Work with the New York Giants
Despite his enthusiasm, Bill's dream of getting a job in the NFL teams did not work. After approaching so many clubs and managers, in 1979, the New York Giants finally hired him.
The team management recruited Bill as a defensive coordinator and worked under the head coach Bill Parcells. Parcells was a Super Bowl-winning coach.
Bill stayed in the Giants for 12 seasons.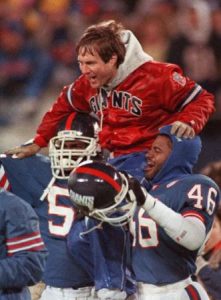 Under his defensive coordination, the Giants gained the Super Bowl in 1986 and 1990. Likewise, Bill's popularity grew more robust, and he was offered a job in several NFL clubs. Bill worked with the Giants for eleven years. Then, in 1990, he left the Giants.
Contract with Cleveland Browns
After winning two Super Bowls, Bill was no more a defensive coordinator. The team management of the Cleveland Browns appointed him as their head coach. He worked in the Browns for four years.
During his tenure, Belichick was successful in getting the Browns into playoff victory for the first time. Against the New England Patriots, the team made victory.
Belichick got criticized after selling their primary quarterback Bernie Kosar in the middle of the season. Kosar moved to the Dallas Cowboys, and the team acquired the Super Bowl in the same season.
After the incident, Belichick's reputation on the club declined. He approached other clubs for coaching. Instead, the management of the Browns fired him in 1996.
Bill Belichick's Career After 1996
Belichick signed a contract with the New England Patriots as assistant head coach. His ex-boss Bill Parcells was the head coach for the Patriots. Bill worked under him again.
The Patriots won the AFC championship. But they lost in the Super Bowl with Green Bay Packers. Overall, with this record, Bill's work as an assistant coach was satisfying.
However, Bill's interest in work declined in the Patriots. After a year, he decided to leave the club. It's unknown why he left the club. But media reports claim he wanted to be the head coach, so he decided to go.
Tenure with the New York Jets
In 1997, Bill moved to the New York Jets. But again, the Jets' management signed him as an assistant coach and defensive coordinator.
It's funny to say that Bill left the Patriots having some bitterness with Bill Parcells. However, the team's committee forced him to work under Parcells.
Also, read Jenn Sterger Bio: Early Life, Career, Controversy, Social Media.
Amid the bitterness with Parcells, Bill worked with the Jets for two years. Moreover, Bill got contacted by the Patriots to become their head coach. After some time, Jet's management agreed to give Bill some settlement.
Back Again with the Patriots
With an agreement, Bill got hired as the head coach of the Patriots in 2000. The owner of the club handed full responsibility for the club.
After that, Bill hasn't stopped doing extraordinary things for the club. He has made numerous records while coaching for the patriots.
From 2000-2020, Belichick has earned six Super Bowls. This record is only entitled to two other coaches. Bill's glorious career made the Patriots one of the most valuable teams in the NFL.
According to Bill:
"Mental Toughness is doing the right thing for the team when it's not the best thing for you"
Similarly, Bill also led the Patriots for three consecutive Super Bowls in four years. He is the only coach in the NFL to do so.
Nowadays, Americans celebrate Bill as a living legend. He has also received a prestigious award from the President of the United States during a ceremony.
Bill Belichick | Book
Bill is not only recognized all over the world through his coaching career and has a number of fans worldwide. If you want to get more information on Bill, there are several books published describing the life of Bill.
To name a few of Bill Biography in the form of books includes Belichick: The Making of the Greatest Football Coach of All Time, The Strategy concepts of Bill Belichick, Fridays with Bill, and many more.
Bill Belichick | Boats
For the past few years, Bill has been sailing around Massachusetts and Florida in a boat. He has named the boat "VII Rings" after winning a total of seven super bowls. Later on, again, after winning the super bowl, the boat got its new name.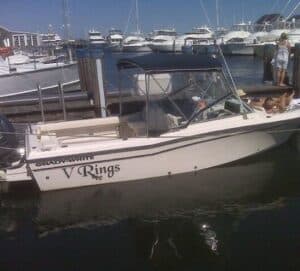 Bill Boat's name changes according to time and often. It is also said that he donated his V Rings powerboat to sail Newport in 2017.
Bill Belichick | Medal of Freedom
The medal of freedom is especially given for meritorious contribution. It may be anything from security or national interest of US, world peace or cultural or any other significant public or private endeavors.
Bill, in the beginning, was ready to accept this award, but later on, he decided not to receive the award.
He threw an official statement and told that:
Recently, I was offered the opportunity to receive the Presidential Medal of Freedom, which I was flattered by out of respect for what the honor represents and admiration for prior recipients," the Patriots' head coach said in a statement.
"Subsequently, the tragic events of last week occurred, and the decision has been made not to move forward with the award.
"Above all, I am an American citizen with great reverence for our nation's values, freedom, and democracy. I know I also represent my family and the New England Patriots team.
"One of the most rewarding things in my professional career took place in 2020 when, through the great leadership within our team, conversations about social justice, equality, and human rights moved to the forefront and became actions. Continuing those efforts while remaining true to the people, team, and country I love outweigh the benefits of any individual award."
Bill Belichick | Personal Life, Wife, and Kids
Bill and his ex-wife, Debby Clarke, separated in 2006. There is no known information about Debby Clarke and her occupation.
The couple has three children; Amanda, Stephen, and Brian. Bill's all three children associated with the NFL – like his father.
Similarly, Amanda, Bill's daughter, is currently an assistant coach for the Ohio State Buckeyes. Whereas his two sons, Stephen and Brian, are involved with the Patriots.
He is residing in a house in Hingham, Massachusetts, due to Covid-19. Nowadays, there are fewer matches in the NFL, so Bill is enjoying his holidays.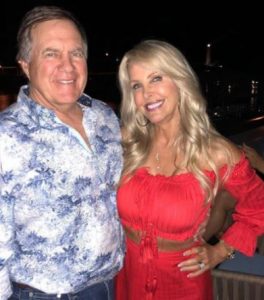 He is not single. Bill is in a relationship with Linda Holiday, an executive director of the Bill Belichick Foundation. Bill and Linda have been in a relationship since 2007. Yet, the couple has not tied their knots.
Several magazines published their pictures in 2007. After that, their relationship was disclosed. These days, they freely appear together in different events.
Bill Belichick | Net Worth
Belichick is the biggest superstar of the NFL. So, it is apparent that he is a rich man. But his exact amount of earnings is not available to the public. Most of the income source Bill's comes from his coaching career.
By calculation, his estimated earnings, lavish mansion, and car collections, Bill Belichick's Net worth sums $60 Million.
But some sources claim Bill earns about $12 million a year. He is the highest-paid coach in the NFL. He is the highest-paid coach of all sports played in America.
Furthermore, Belichick also regularly donates a fair amount of money through his foundation. There is a foundation running by the name – Bil Belichick Foundation – concentrates on helping to assist the poor footballers in America.
Not to mention Bill is enjoying his life and living a luxurious life with his family and wife.
Social Media Engagement
Belichick does not use any social media. He is neither available on Instagram nor Facebook or Twitter. However, Belichick's foundation runs a social media account that regularly updates his daily activities.
Moreover, the foundation's posts give us detail on Belichick's personal life and professional life. There is some information on Bill's girlfriend Linda's social media account. She uses Twitter, where she uploads about Bill.
It seems Bill is avoiding social media – or he is using it undercover – without exposing himself to the public.
Quotes
"You have to go with the person who you have the most confidence in, the most consistent. And if it doesn't work, it doesn't work, but I'm going down with that person."
"Mental toughness is doing the right thing for the team when it's not the best thing for you."
"There is an old saying about the strength of the wolf is the pack, and I think there is a lot of truth to that."
Some Queries:
Why did Bill Belichick lose his weight?
Belichick lost his weight because his doctor advised him to do so. He is now nearly 70, so the doctors advised him to stay healthy.
Is Belichick retiring? How is his coaching tree?
No, Belichick is not retiring. He said he would continue coaching for the next five years.
As a matter of fact, Bill Belichick's coaching tree is not a success. Well, his assistant's record to date barely makes it up to a combined record of 208-296-1 and a brutal .413 winning percentage.
When is Bill Belichick's contract up? What is his coaching record like?
Bill Belichick's contract is until 2020 for the New England Patriots.
Bill Belichick maintains a coaching record of 280–136 (.673) in the regular season, 31–12 (.721) in the postseason, and 311–148 (.678) as in his career.
What was Bill Belichick's Documentary related to?
A documentary named 'Belichick & Saban: The Art of Coaching' was released on December 4, 2019. This Documentary explores the four-decade-long friendship between the two most successful and revered coaches in football history, i.e., Bill Belichick and Nick Saba.