With NBA 2020-21 season nearing its end with only three games left to determine the winner, the NBA teams prepare for building a new strong team for the next season.
While NBA players whose contracts are ending with the current team also look for a new home.
Hence the whole NBA is buzzing with the news of players' trades, drafts.
Recently, the NBA buzzed with the news of Damian Lillard wanting a trade from Portland Trail Blazers.
And Blazers fans worried about their team's future without their star player. But the news turned out to be just a rumor.
As Damian Lillard himself debunked the news saying it's not true.
He also said he wants to stick with the Blazers till the end but also wants to see the progress of the team toward championships.
Even though his future is unsure, however, the fans can breathe a sigh of relief right now.
Damian Lillard's trade rumor.
Recently, NBA buzzed with Damian Lillard's trade news after Henry Abbott of TrueHoop reported, "Portland Trailblazers star Damian Lillard will reportedly make a trade request in the days to come."
Another report said that the LA Lakers are looking for a trade for Damian that includes Schröder, Kuzma and 3 First Round picks between now and 2025 as well as multiple second-round picks.
Eventually, the news spread soon reaching the ears of Damian, who is currently gearing for this years' Tokyo Olympics for the team USA.
Subsequently, Damian denied all the rumors, saying it's not true.
Damian Lillard says he woke up to reports of him on the verge of requesting a trade "is not true." And says secondly, "I haven't made any firm decisions on what my future will be."

— Chris Haynes (@ChrisBHaynes) July 16, 2021
"It's not true," said Lillard, a USA Basketball banner hanging behind him. "I said the last time I spoke to you guys [that] a lot of things are being said, it hasn't come from me."
Well that settles it … right?
Despite saying the news is untrue, he also made it clear that his decision in the future can change.
His decision depends on the progress the Blazers team made on the road to winning the championship.
"I'll also say that I haven't made any firm decisions on what my future will be," Lillard continued. "There's really no need for anybody else to speak for me … if there is something to be said, I'll speak directly with my team and with [Blazers GM] Neil [Olshey]. That's that," added Damian.
Damian finished with a great performance the season.
The six-time All-Star who averaged 28.8 points and 7.5 assists per game this past season
"The best way to put it is to be more urgent about what our next step is and how we move forward. We're not a bad team; we're a winning team," Lillard said.
"I just think we've reached that point where it's like, 'OK, it's not enough.' Do we actually want to win it all? Is that what we're shooting for? We've got to do things to show that," he added.
Despite being home to one of the greatest NBA players and being one of the best teams in the NBA, the Blazers still unable to take the championship is a very unfortunate situation.
The Blazers have entered the playoffs every season for the past five years. They even reached the NBA conference finals in the 2018-2019 season, where the Golden State Warriors swept them with 4-0.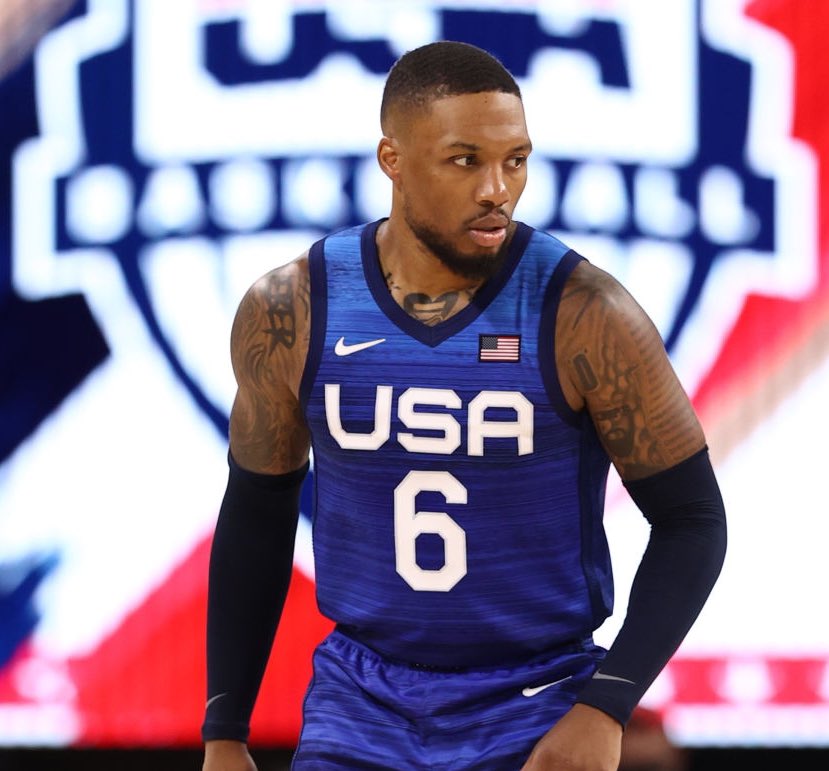 This season was no different either.
The Blazers played well in the regular games this season, finishing 6th in the Western Conference with 42-30.
Entering the playoffs right away where they faced Denver Nuggets. The 7-game series started well for the Blazers with them taking the win in Game 1 of the first round of playoffs.
And Damian playing great and along with one of the legendary performances in Game 5.
Where he even forced overtime not one time but two times.
Despite all the efforts, the Blazers failed to take the win and eventually lost the series to Denver Nuggets 4-2.
Hence, this season ended for Blazers in the first round.
Lillard wants Blazers to make progress.
While many criticized the players for the loss, Lillard had a different opinion on that matter.
"We have had so many teams in the league that doesn't make dramatic changes to their roster."
They change coaches and the team improves," Lillard said. "Maybe because they needed a fresh voice, somebody new to follow. Sometimes a coach is just that great.
Likewise, Lillard added, "I don't disagree that maybe Chauncey can really change our team and make us a better team and get us going in that direction. "I think if you look at our team as it is, going into next season, I don't see how you can say 'this is a championship team."
"It just needed a new coach' when we just lost in the first round to a team that was hurt."
Therefore, Damian wants the Blazers to make moves that can turn the team for the better.
"The best way to put it is to be more urgent about what our next step is and how we move forward. I think we have a lot of pride about [how] we made the playoffs all these years in a row. We're not a bad team," Lillard said. "We're a winning team."
In addition, Lillard said," We're in the playoffs every year. We are in a great environment, a great city. We have great fans. It's a lot of positives. I just think we have reached that point where, OK, it's not enough. Do we really want to win it all? Is that what we're shooting for? And we got to do things to show that. We have to put action behind that desire to win at that level. That's been my only thing this entire time."
Being one of the best, his decision will have a great impact on the Blazer's future.