In his 11 years of NBA career, Bob Pettit played gracefully with physical strength, agility, and speed on the court. He won the 1958 NBA championship as part of the Milwaukee/St. Louis Hawks.
He is the first NBA player to score more than 20,000 points. After a long basketball career, he decided to retire in 1965.
He started playing basketball very early and enjoyed a successful career in the league. However, he had a rough start, and things were not as good in the initial phases of his career.
But Bob never lost hope and focused on his perfecting his craft. Because of that, he became such a great name in NBA history.
In fact, in 2016, Bob Petti was honored with his statue at the Pete Maravich Assembly Center adjacent to the Shaquille O'Neal statue raised in 2011.
Without further ado, let's dive into the life of Bob Pettit. Here we discuss his early life, career, net worth, personal life, and many more.
But first, let's have a look at his facts table.
Quick Facts
Name
Robert E. Lee Pettit Jr.
Birthplace
Baton Rouge, Louisiana, United States
Birthdate
December 12, 1932
Age
90 Years Old
Nationality
American

Ethnicity
White

Religion
Christianity
Nickname
Bob
Height
6'9″/2.06 m/206 cm
Weight
93 kg/205 lb.
Hair Color
Black
Eye Color
Brown
Profession
Basketball Player
Affiliation
NBA
NBA Draft
1954
Score
More Than 20,880 Points
Playing Career
1954-1965
Points
26.4 ppg
Grandkids
10
Father Name
Unknown

Mother Name
Unknown

Education
Baton Rouge High School
Louisiana State University
Number
9
Star Sign
Sagittarius
Position
Center, Power Forward
Team Coached
Atlanta Hawks
NBA Pick
1954 / Round: 1 / Pick: 2nd Overall
Net Worth
$2.5 Million
Yearly Salary
Unknown
Sexual Orientation
Straight
Marital Status
Married
Wife
Carole Crowell
Children
3
Achievements

NBA Champion (1958)
2× NBA Most Valuable Player (1956, 1959)
11× NBA All-Star (1955–1965)
4× NBA All-Star Game MVP (1956, 1958, 1959, 1962)
10× All-NBA First Team (1955–1964)
All-NBA Second Team (1965)
NBA Rookie Of The Year (1955)
2× NBA Scoring Champion (1956, 1959)
NBA Rebounding Leader (1956)
NBA Anniversary Team (25th, 35th, 50th, 75th)
No. 9 Retired By Atlanta Hawks
Consensus First-Team All-American (1954)
Consensus Second-Team All-American (1953)
No. 50 Retired By LSU Tigers

Social Media
Inactive
Merch
Signed NBA Floorboard, Collegiate Basketball Card, Bob Pettit: The Drive Within Me (Autobiography)
Last Update
November 2023
Early Life, Family & Education
Bob was born to his parents in Baton Rouge, Louisiana, on December 12, 1932.
Nothing much has been mentioned about his parents, especially his mother, but Bob's father was the sheriff of East Baton Rouge Parish.
Pettite's father was the one who pushed him to pursue basketball, and his father used to make him practice in the backyard till he improved his skills.
Young Bob had an average childhood and attended a simple church school. He got all the basic facilities and didn't face many struggles as a child.
He had a perfect height, which became a plus point. One of the main reasons for Bob's inspiration was his family members' support and strength.
He struggled initially as a freshman and a sophomore. But after immense practice, Bob was finally selected to play in the Noth-South All-Star Game.
Regarding his academic record, Bob joined Baton Rouge High School and was later offered scholarships from 14 different universities.
Bob decided to join nearby Louisiana State University. He was in that university for four years and was not allowed to play varsity basketball as a freshman.
Age, Height & Physical Appearances
Bob is 90 years old, born under the sun-sign Sagittarius. People of this sun sign are usually determined, ambitious, and focused.
Bob somewhere matches the character. Moreover, Bob is known as Robert E. Lee Pettit by his birth name.
During his basketball days, Bob had an incredible physique as a result of a particular diet plan and exercised those days routinely.
However, as he has grown older, he can't exercise as it requires a lot of stamina, but Bob has tried maintaining his body.
He weighs around 205 lb. and is 2.06 m tall, with beautiful brown eyes and grey hair.
The ex-LSU player, with a lean and tall physique, was also considered one of the most handsome players during his career.
Besides, Bob belongs to the white ethnicity and is a Christian by religion.
Bob Pettit Statue
In 2016, LSU and NBA icon Bob Petti was honored with his statue wearing the 50-number jersey of LSU.
The statue is at the plaza on the north end of the Pete Maravich Assembly Center adjacent to the Shaquille O'Neal statue raised in 2011.
Bob Pettit, with his 10 grandchildren, was present in the ceremony to pull the large tarp away before the start of Saturday's Florida-LSU basketball game.
The former NBA player appreciated his statue, "I like it very much. I wish I had that many muscles and that much hair, but I thought it was a great job."
Bob Pettit's Career Accolades
Early Career
As mentioned earlier, Bob was interested in basketball from a very young age.
Although he was not considered a good player in the initial days, later, he turned out to be one of the best players in school due to constant practice and hard work.
After he joined LSU, he scored first in three consecutive games with an average of 25.5 points per game for the Southeastern Conference.
Due to his splendid performance in his junior year, he was honored with selection to the All-SEC and All-American teams.
He has given a good number of wins to LSU. As a result, LSU retired his jersey number 50 in 1954, making him the first Tiger athlete to receive this distinction in any sport.
He was also given the title of a living legend of LSU due to his outstanding performance.
Professional Career
After a successful university basketball career, Bob was drafted into NBA in the second round by the Milwaukee Hawks.
He signed with the team for $11,000, an all-time high for an NBA rookie then.
However, in the beginning, he was 200 lb., due to which his games were affected.
Hence, during his training days, the coach shifted Bob's position from the center to the forward.
Bob had a tough time adjusting to his new position, and others were also skeptical about Bob's NBA performance, as he was a newbie.
He had no experience in professional basketball, even though he had an excellent college career.
Nonetheless, Bob proved everyone wrong by grabbing the NBA Rookie of the Year award with an average of 20.4 points per game in 1955.
Bob went on playing basketball with great passion and dedication.
He was named NBA All-star Games MVP in 1956. Besides, Bob also won NBA regular season MPV awards two times.
Furthermore
As time passed, Bob improved his game, and he was made a new career-best every year.
Bob was named one of the top 50 mark payers in the history of the NBA in 1960.
In 1961, Bob gave his career-best score average of 31.1 points per game. Even though he was performing well, the Hawks slipped to the fourth position.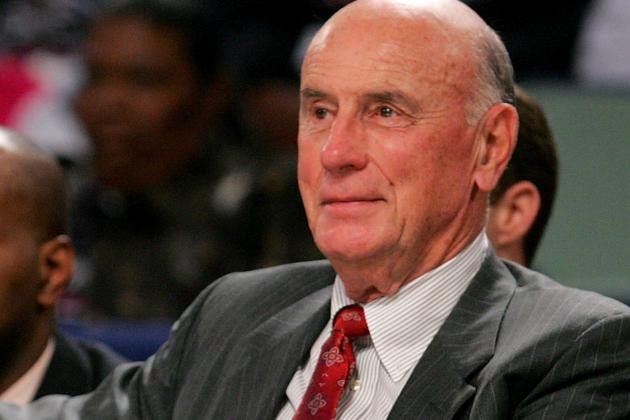 Sadly, due to injury, Pettit had to end his career at the peak of his game in 1965. He became the first NBA player with 20,000 plus points.
Bob played 11 seasons in NBA, and undoubtedly, it is an extended period. He is the only retired player after Alex Groza, who averaged more than 20 points per game every season.
In 1970, Bob was inducted into the Naismith Memorial Basketball Hall of Fame.
Post Retirement
After retiring, Bob started to work in the banking industry. For almost 23 years, he worked for notable banks in Baton Rouge and Metairie.
After a successful career in banking, Bob proceeded towards financial consulting and even started an economic consulting firm, which he quit in 2006.
Wife & Kids
Even though Bob is a public personality, he likes to keep his personal life private. However, Bob's fans are always eager to know about his life's different dips and highs.
Talking about Bob's love life, Bob was married to his beautiful wife, Carole, in 1965. This lovely couple had three kids together.
Bob is a proud grandfather with ten grandkids from all his children.
Unfortunately, Bob's wife, Carole, passed away in 2010. Since then, Bob has been alone and is passing his life with the memories of his wife.
Net Worth
When Hawks signed him, he had only $100 in his bank. His first professional contract paid him $11,000 a record at the time for a rookie.
Bob has earned a significant amount of fortune in his life, with most coming from his basketball career.
However, 23 years in banking and the financial firm have also helped him earn a lot of money.
As per many sources, Bob Pettit's net worth is around $2.5 million as of November 2023.
Sadly, Bob has not revealed anything related to his assets.
Trivia
Pettit's graded nine regular cards by PSA reached over $1,500 at auction.
Bob was twice (during the 1955–56 and 1958–59 seasons) the NBA scoring champion.
After missing 30 games due to injury in his last season, he retired at 32 in 1965.
Pettit became the second rookie to win All-Pro honors.
Search Graph
Bob is a former NBA player who played for 11 NBA seasons in the league and was the first player to score more than 20,000 points.
The graph of Bob illustrates the search rate for the past twelve months.
Frequently Asked Questions (FAQS)
What is the highest average point of Bob Pettit?
In 792 regular season games, Pettit averaged 26.4 points, 16.2 rebounds, and 3.0 assists.
What was the NBA career span of Bob Pettit?
Bob played basketball in 11 seasons of the NBA.