Bobby Portis' brothers: Jarod, Jared & Jamaal, have always supported him throughout his career journey. The Portis brothers faced difficult times during childhood as their mother had to raise them single-handedly.
But the days of struggle were a few steps from a bright future.
Now, Bobby, who is the eldest of all, is an aspiring figure of dedication to his younger brothers & many who are fascinated with the NBA.
Currently, Bobby Portis (b. February 10, 1995) is a power forward/center for Milwaukee Bucks (2021- now). With the Bucks, he even became the 2021 NBA Champion playing alongside an elite player like Giannis Antetokounmpo.
A native of Little Rock, Arkansas, Portis stepped into the NBA as the first-round pick of the Chicago Bulls in the 2015 NBA draft.
Afterward, he saw him playing for teams: Washington Wizards & New York Knicks before the Bucks acquired him as a free agent.
Who Are Bobby Portis' Brothers?
The NBA player is the eldest among four siblings; his younger brothers are Jarod, Jared & Jamaal (chronologically).
Bobby Portis and his brothers were never really close to their father, Bobby Sr. Their mother, Tina Edwards, raised them as a single mother.
After giving birth to Portis Jr., Tina went back moved back to her hometown of Little Rock and basketball at Hinds Community College. It would inflict basketball interest on her son Bobby.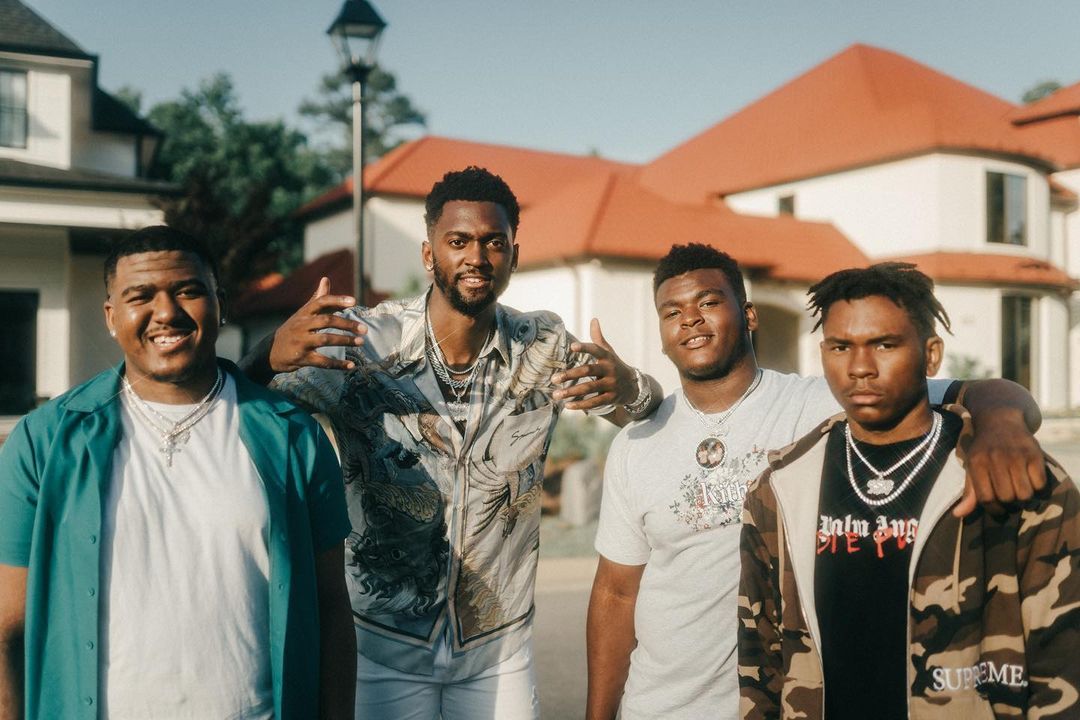 While Portis Jr. went to NBA, his younger brothers are on their own way. They are his greatest supporters & share a strong bond with each other.
Jaord Porits, the second-eldest of four, is a 2023 graduate of the University of Arkansas with a Bachelor's degree in Business, Management, and Marketing.
According to his Instagram (@jarod_rising) bio, he is an avid enthusiast of fashion & design.
Bobby's other brother Jared, who goes by @jarringo on Instagram, proclaims him an athlete. The youngest of all, Jamaal, is a student-athlete who played in the varsity basketball team at Maumelle High School, wearing the #50 jersey.
Brothers Into Business & Philanthropy
All of the Portis brothers promote Under Dog, an apparel line. The clothing business sells t-shirts, hoodies, and caps.
Moreover, they have seen the struggles of their single mother, Tina, who used to work at American Airlines & meet the month's end raising four kids all by herself.
Even more, in November 2006, a week before Thanksgiving, Bobby's mother & his siblings were evicted from their house due to financial struggles. Their 'belongings were boxed up and placed into a U-Haul truck.'
At that time, Portis Jr. was only 11 years old, while his brothers were all below four.
It led Bobby Portis Jr. and his three brothers to establish Bobby Portis Foundation in Arkansas. The charitable organization that organizes programs and initiatives for single mothers.
Also, the NBA star launched a campaign with the Milwaukee mayor and the Wisconsin Department of Transportation in October 2022 to reduce reckless driving and speeding in Wisconsin.
NBA Career & Achievements
When Bobby Portis was with the Bulls on December 19, 2015, he played against the New York Knicks. Also, on October 28, 2016, the rookie contract with the Bulls and Portis was extended through the 2017-18 season.
Furthermore, on January 6, 2017, Bobby was assigned to the Windy City Bulls.
In the Bulls' season opener on October 18, 2018, Portis lost to the Philadelphia 76ers. Moreover, on October 25, the player was out for 4-6 weeks because of a sprain of the MCL of his right knee.
Eventually, Portis returned to the lineup after sitting out nearly seven weeks on December 10. Again, he suffered a right ankle sprain on December 20 in a match against the Brooklyn Nets.
However, the player came back on January 6 after missing seven games.
In addition to that, Potis was traded with Jabari Parker to the Washington Wizards on February 6, 2019. After two days, he made his debut, scoring game-high points against the Cleveland Cavaliers.
After a few months, Bobby signed a contract with the New York Knicks on July 9, 2019. Additionally, on November 26, 2020, the player signed a contract with the Milwaukee Bucks.
He also won the NBA championship in 2021 with the Milwaukee Bucks.