At the time of his death on October 25, 1995, the American tennis champion who was the World No. 1 amateur in 1939 and World No. 1 professional in 1946 and 1947 Bobby Riggs net worth was around $5 million.
On December 26, 1941, he marked his debut in professional tennis.
As a talented 21-year-old amateur in 1939, Riggs achieved remarkable success.
He secured victory in the singles title at Wimbledon, clinched the U.S. National Championships (now known as the U.S. Open), and reached the runner-up position at the French Championships.
He once again became the U.S. champion in 1941, following a previous runner-up performance.
At the 1939 Wimbledon Championships, he exhibited his versatility by triumphing in both the Men's Doubles and the Mixed Doubles events.
Bobby Riggs Net Worth
Bobby Riggs net worth was estimated to be around $5 million at the time of his passing.
He made most of his money from his successful tennis career, brand deals, books, and clever business ideas.
Battle of the Sexes
In 1973, Bobby Riggs saw an opportunity to not only earn money but also generate publicity for the sport of tennis.
He made a surprising return from retirement with the goal of challenging one of the world's most accomplished female players to a match.
Riggs boldly asserted that the women's game was inferior and that even at 55, he could defeat a top female player.
Despite several unsuccessful attempts to entice Billie Jean King into accepting his challenge, Riggs eventually found a willing opponent in Margaret Court.
At the time, Court was 30 years old and was the world's top-ranked female player.
The historic match took place on May 13, which also happened to be Mother's Day, in Ramona, California.
After Margaret Court's loss to Riggs, Billie Jean King had a change of heart and decided to accept Riggs' challenge.
The much-anticipated showdown occurred in the Houston Astrodome on prime-time television, specifically on Thursday, September 20. This historic match was billed as "The Battle of the Sexes."
Oddsmakers and sports writers initially favored Riggs to win, given his previous victory against Court.
Riggs managed to establish an early lead in the match, but Billie Jean King emerged victorious, defeating Riggs in straight sets with scores of 6–4, 6–3, 6–3.
As a result, she claimed the $100,000 winner-takes-all prize in a highly memorable and significant moment in tennis history.
Bobby Riggs Earnings From The Battle Of The Sexes
On the other hand, Riggs claimed that he had earned $1.5 million from the match, factoring in income from endorsements, personal appearances, and TV rights.
He had ambitious plans to transform the match into an annual franchise, wherein he would take on the highest-ranked female player in an "all or nothing" singles challenge, potentially earning even greater sums of money.
However, his hopes for a recurring spectacle were shattered by his humiliating defeat at the hands of Billie Jean King.
In the aftermath of his loss, Riggs persistently sought a rematch against Billie Jean King, but she consistently declined his offers, denying him the opportunity to regain his reputation and fortune in the tennis world.
Gambling & Side Hustle
Bobby Riggs was renowned for his reputation as a hustler and gambler.
In his 1949 autobiography, he made a remarkable claim that in 1939, he had amassed $105,000, which would be equivalent to approximately $2.20 million in today's currency.
He achieved this by placing bets on himself to triumph in all three Wimbledon championships: the singles, doubles, and mixed doubles events.
It's important to note that at that time, most forms of betting were illegal in England.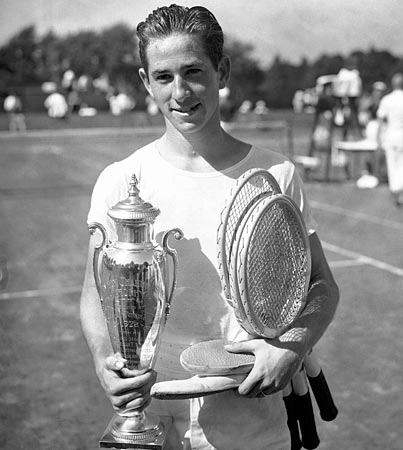 Riggs began his remarkable journey with a modest $500 bet on his chances of winning the singles competition, ultimately turning it into a substantial sum, equivalent to about $1.5 million in 2010 dollars.
According to Riggs, due to World War II, he could not repatriate his winnings out of the country.
Consequently, when the war concluded in 1946, he discovered an even larger sum awaiting him in England, having accrued interest over the years.
FAQS
What Was Bobby Riggs Net Worth?
At the time of his passing, Bobby Riggs net worth was estimated to be around $5 million.