Bol Bol is a professional basketball player of the National Basketball Association (NBA). Just in his early-20s, Bol has achieved many things as a player that some people can only dream of.
From playing for small teams and clubs and making it to the most significant league NBA, he has almost achieved it all.
The Sudanese-born is currently playing for the Denver Nuggets in the NBA. Interestingly, the young player has also been center listed as one of the tallest players in the NBA league.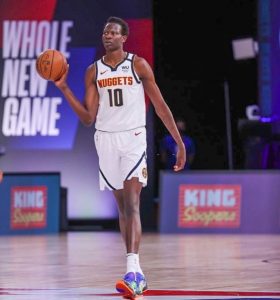 Today, we will be learning more about this talented player, Bol Bol, and his career. Likewise, we will also mention details regarding his childhood, age, height, family, education, net worth, and many more.
So let's get started then.
Quick Facts
Full Name
Bol Manute Bol
Birth Date
November 16, 1999
Age
22 Years Old
Birth Place
Khartum, Sudan
Nick Name
Bol
Religion
Christianity
Nationality
American
Ethnicity
Sundanese
Education
Blue Valley Northwest High School
Bishop Miege High School
Mater Dei High School
University of Oregon
Horoscope
Scorpio
Father's Name
Late (Manute Bol)
Mother's Name
Ajok Kuag
Siblings
Ten siblings, some of which are;
Madut Bol (brother)
Chris Bol (brother)
Abuk Bol (brother)
Ayak Bol (sister)
Height
7 feet 2 inches (2.18 meters)
Weight
100 kg (220 lbs)
Hair Color
Black
Eye Color
Black
Body Measurement
41-35-34
Build
Athletic
Married
No
Girlfriend
Unknown
Children
No
Profession
Basketball player
Net Worth
Under Review
Salary
$50,000
Affiliations
NBA
Active Since
2014
Social Media
Instagram, Twitter
Last Update
September, 2022
Bol Bol Wiki-Bio | Early Life, & Parents
Bol Manute Bol professionally Bol Bol was born in Khartoum, Sudan, to parents Manute Bol and Ajok Kuag. Interestingly, Bol was named after his late great-grandfather and Dinka chief Bol Chol Bol.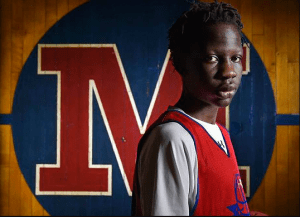 Besides his parents, he has four siblings, two brothers named Madut Bol and Chris Bol and two sisters named Abuk Bol and Ayak Bol. Not to mention, he also has six half-siblings from his father's first marriage.
Additionally, Bol's father, Manute, was a professional basketball player and political activist and was considered among the best shot-blockers in sport's history.
Likewise, he was also the only NBA player to retire with more career blocked shots than points scored.
But, despite his father's status, Bol's first years were not the easiest, leading to an incident that changed the course of his life.
In 1998, while a missile from the American army struck the north of the country during the second Sudanese civil war.
His father, Manute, was accused of being a spy and was barred by the Sudanese government from fleeing to the United States.
Sadly, in 2001, Bol and his family traveled to Cairo, Egypt, where they got grounded for many months due to visa problems, although they already had tickets to the United States from American friends.
Later that same year, when Bol was two years old, his family flew to Connecticut on the American east coast as designated political refugees.
Moreover, he started playing basketball at age four upon encouragement from his father, although he was initially interested in playing football.
"I REMEMBER BASKETBALL; AT FIRST, IT WASN'T REALLY MY THING. I WAS CRAZY ABOUT FOOTBALL, AND MY DAD FORCED ME TO PLAY BASKETBALL A BIT. HE CAME TO SEE ME ONE DAY AND SAID: "I KNOW HOW YOU FEEL BECAUSE EVEN WHEN I WAS YOUR AGE, I WANTED TO KICK A BALL. BUT MY FAMILY, GIVEN MY SIZE, QUICKLY DISSUADED ME." HE WAS RIGHT! "
After that, he eventually began training with his father in the gym. And at age seven, he moved to Olathe, Kansas, a city with a large South Sudanese population, to begin his career.
Likewise, in his seventh grade, he got featured in a highlight video at an Indianapolis basketball camp, which caught a lot of attention, including CBS Sports and The Washington Post.
"I TRULY FELL IN LOVE WITH BASKETBALL WHEN I WAS IN THE SEVENTH GRADE AFTER MY FIRST BASKETBALL MIXTAPE WENT VIRAL. IT WAS For THE FIRST TIME THE WORLD REALLY SAW ME PLAY. I JUST GOT A LOT OF POSITIVE FEEDBACK. IT MADE ME LIKE BASKETBALL EVEN MORE."
Likewise, when he was in the eighth grade, Bol also got his first NCAA Division I offer from New Mexico State. Other than that, he is American by nationality and Sudanese by ethnicity.
How tall is Bol Bol? Age and Height
The professional basketball player was born on November 16, 1999, which makes him 22 Years Old at the moment.
Not to mention, Bol's birthday falls under the star sign of Scorpio. And from what we know, the people of this sign are known to be passionate, loyal, and talented.
Likewise, the NBA's tallest player stands at a towering height of 7 feet 2 inches (2.18 m) and has an athletic build with a bodyweight of 100 kg (220 lbs).
As for his body measurements, his chest measures 41 inches (104 cm), biceps measure 35 inches (88 cm), and waist measures 34 inches (86 cm). Other than that, Bol Bol has got short black hair and a pair of black eyes.
What high school did Bol Bol go to? High School & College Career
As for Bol's high school education, he attended Blue Valley Northwest High School and started his high school career.
At the beginning of his freshman basketball season, he played for the junior varsity team.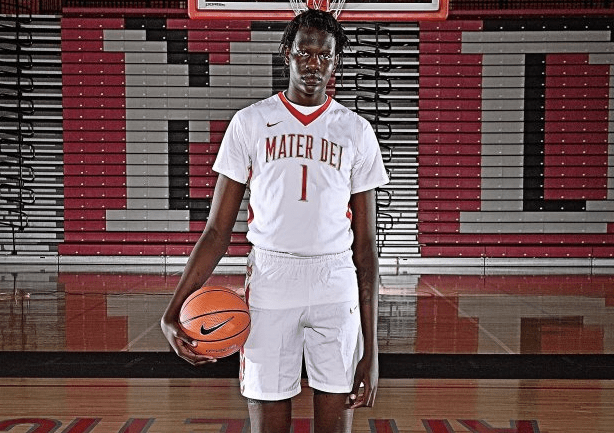 But later, as Bol did not live in his school district, he transferred to Bishop Miege High School in Roeland Park, Kansas, and continued his freshman season.
While there, he made his debut for the Bishop junior varsity team on December 11, 2014, and displayed his shot-blocking and shooting ability.
Moreover, in May, Bol participated at Under-15 Amateur Athletic Union (AAU) team KC Run GMC at the Jayhawk Invitational in Kansas City, Missouri, and scored 15 points in one game.
By then, he started receiving interest from several NCAA Division I programs, including Kansas and Oklahoma.
Likewise, in his sophomore season, Bol got ranked as one of the top players in the class of 2018 by recruiting service 247Sports.
After that, Bol transferred from Bishop Miege to Mater Dei High School in Santa Ana, California, for his junior year in November 2016.
Likewise, after completing his junior season, in 2017 Bol transferred to Findlay Prep in Henderson, Nevada, and finished his senior season earning All-USA Boys Basketball Second-Team honors from USA Today High School Sports.
Similarly, he was also selected for the 2018 McDonald's All-American Boys Game but was unable to play due to his injury.
Due to Bol's successful high school season and outstanding playing skills, he received many offers from Arizona, USC, Oregon, Kentucky, and UCLA, for playing college basketball.
"I WAS ALREADY VERY POPULAR IN UNIVERSITIES, AND I GOT MY FIRST SCHOLARSHIP OFFER WHEN I WAS 13, THROUGH NEW MEXICO STATE COLLEGE. IT IS WHERE I REALIZED THAT I COULD TURN PROFESSIONAL AND THAT I COULD TRY TO FOLLOW IN MY FATHER'S FOOTSTEPS IN THE NBA."
Later, Bol decided to choose Oregon State University and start his college basketball career there.
After joining as a freshman in the 2018–19 season, he entered the season being one of the best prospects for the 2019 NBA draft.
Sadly, during one of his games against San Diego, Bol injured his left foot, which left him out to compete for the rest of the season. So, he decided to go for the NBA draft only after his freshman season.
Click to buy Bol Bol's rookie card, follow the link here!
What team is Bol Bol in 2020?
NBA Career
After getting drafted with the 44th pick of the 2019 NBA draft by the Miami Heat, Bol started his NBA career. Initially, he was the top 5-10 pick but got slid in the draft until the second round.
Later, he was then traded to the Denver Nuggets as it would take a long time for Bol to play at the NBA level.
Because Bol was coming off from foot surgery, and he needed some time to get healthy and learn the NBA game.
But again, The Nuggets also sent him to the Windy City Bulls.
There he got a chance to improvise himself and found a rhythm. Sadly then, COVID-19 hit, and the Nuggets didn't play from March 11 until July 1.
On September 6, Bol signed a two-way contract with the Nuggets and split time with the Windy City Bulls.
Moreover, he made his first double-double in the NBA G League on November 20 against the Fort Wayne Mad Ants. Eventually, he made his NBA debut in the 2020 NBA Bubble on August 1, 2020.
Bol Manute Bol's Achievements and Stats
Although, Bol Bol isn't mostly seen as a solid player or someone who is arguably vital. However, he portrays his own particular set of positional skills with a unique mix of defensive skills.
As a general fact, Bol Bol has a wingspan of 7'7″ and a reach of 9'7½".
Apparently, he is a versatile shooter with fluid ball handling. With those strengths, Bol Bol has maintained an average of 3.0 points, 1.5 rebounds, and 0.4 assists.
Furthermore, starting since 2019 NBA Draf6t, Bol Bol has yet to set his mark and obtain his series of feats. To date, he has claimed the 2018 McDonald's All-American.
You might be interested in buying Bol Bol's autographed items like jersey, cards, and many more. Click to follow!
Bol Bol and Tacko Fall
As most people compare these two giants NBA players, they both have their own best features and skills. However, let's take a quick dive into them.
First and foremost, they are both young yet NBA legends. As we all know, Bol is 7 feet 2 inches with a wingspan of 7'7″ and a reach of 9'7½", while Fall is reportedly 7 feet 5 inches with an 8'4″ wingspan and a standing reach of 10'2″.
How much does Bol Bol make a year? Net Worth & Income
Bol Bol has made a successful career out of this game. Along with the name, he has accumulated impressive wealth as well. As of 2022, Bol's net worth is estimated to be around $1 million.
Moreover, he has signed a two-year contract worth $4,219,392 with the Denver Nuggets, including $4,219,392 as guaranteed money and an annual average salary of $2,109,696.
Likewise, in the 2020-2021 season, he will earn a base salary of $2,058,240, carrying a cap hit of $2,058,240 and a dead cap value of $2,048,780.
Well, it is an astounding amount for someone young like him. Additionally, Bol has just debuted in the NBA.
Therefore, he still has many years left to name himself and earn even more cash in his professional career.
Nonetheless, since Bol has made it to the basketball biggest league, we can fully expect his net worth to increase in the coming years.
Other than this, young Bol has not disclosed his exact income sources, and his assets are also under wraps at the moment.
Shoe Wear and 2019 NBA Draft Suit
As most people wonder, what shoe and which size does Bol Bol features. As to clear everyone's doubt, Bol Bol wears Nike Kobe 5 Protro shoes on court.
In the 2019 NBA Draft, Bol Bol had everyone mesmerized with his style skill as he showed up with a whopping $100,000 suit.
To elaborate, Bol Bol was donned in a black suit with a massive spiderweb that wrapped itself around the tall prospect's left shoulder.
As a match up, the same spider web was in his right leg as a smaller version. Additionally, he accessorized his get up from a collection by Atlanta rapper Young Thug with dazzling diamond earrings.
Bol Bol Personal life | Is he married?
By surfing Bol Bol, several social media handles, and information available on the internet, it seems that Bol is currently single and is entirely focusing on his career instead of being in a romantic relationship.
When it comes to Bol, his professional life is much discussed compared to his personal life.
So nothing much is known about his past affair and girlfriends. Likewise, Bol has also not been in any relationship rumor or spotted with any other girl.
However, one thing can be said Bol is not a married man. And, because he is only 21, we can agree with that. It seems that his career is the main focus right now and he doesn't want to be in any love relationship.
As his age goes by, indeed, Bol will have someone by his side. However, if there will be any official announcement or rumor regarding his love life or affairs in the future, we will update for sure.
Social Media Presence
Bol Bol is a social media celebrity as well. Bol has accumulated millions of followers on social networking sites and has created an extensive social media profile.
On Twitter, Bol is available as @bolbol and has 74.8K followers on his Twitter account.
After joining the site back in September 2010, he has tweeted around 110 tweets since then. Similarly, on Instagram, he is available as @bolbol and has 1 million followers.
Tattoo
Bol Bol is a naturally funny guy who is simple with intriguing features. Yes, Bol Bol does have a tattoo, and it's his one and only.
To elaborate, he has his tattoo on his right leg from this scene in SpongeBob (Episode 1, Season 1).
Apparently, Bol is a huge Spongebob Squarepants fan, and he stated that he had watched every episode of it.
Furthermore, his tattoo depicts Squidward with the word "Loser" pointing at him. As a statement, Bol had said that the very first episode is his favorite episode of all.
Additionally, he wanted to imprint that scene cause it was his favorite moment and not cause Squidward was his favorite character.
Some FAQs:
Who is Bol Bol's dad?
Manute Bol is Bol's father, who was an American professional basketball player and political activist.
What happened to Bol Bol's foot?
Bol suffered from an ankle injury, leading to an eventual stress fracture in his foot while playing during one of his games at Oregon State.
What is the current rating of Bol Bol in NBA 2K20 My Team?
Bol Bol currently has an Overall 2K Rating of 71 with a Build of a 3-Level Scorer.
What is the jersey number of Bol Bol?
Bol Bol features in the jersey number 10 for the Denver Nuggets.