Fans online have been playing detective to uncover the mystery of Brady Cook's heart, and it turns out he's dating college athlete Carli Schieferle!
The quarterback has been sensational for the Missouri Tigers this season and has garnered much attention from fans all over about his dating life.
Cook's Instagram posts suggest that he has known Carli since 2016. However, when they started dating is yet unknown.
Brady Cook, born on October 12, 2001, is the quarterback for the Missouri Tigers. Born in St. Louis, Missouri, the quarterback attended Chaminade College Preparatory School in Missouri.
As a senior at Chaminade, Cook contributed 33 touchdowns for 3,194 yards, earning him a 3-star recruit rating and the number one quarterback in Missouri.
Cook redshirted in 2020, serving as the backup to Bazelak. His significant debut came in a 43-6 loss to the Georgia Bulldogs.
In the 2022 season, the quarterback became a regular starter, notching 14 touchdowns, 7 interceptions, 2,739 passing yards, 585 rushing yards, and 6 rushing touchdowns for the Tigers.
Recently, Cook completed 25 out of 29 passes for 395 yards and four touchdowns, securing a 38-21 win and the Manning Award.
Who Is Brady Cook's Girlfriend?
Brady Cook has been in a relationship with his girlfriend, Carli Schieferle, for a long time. According to reports, the couple has known each other since 2016.
Despite them making very public posts about each other on their social media handles, not much is known about how they met and how their relationship started.
However, Carli posted her first picture with Cook on her Instagram in 2017. Additionally, Cook posted a similar-looking picture in 2017 on his Instagram.
This might suggest that the couple started dating in 2017, as Cook's caption read, "It's been a long time coming."
The loving couple has been together ever since, as their social media accounts are filled with pictures of one another.
On April 1, 2021, Cook shared a picture of them together, captioned "Still Kickin' it," and they were spotted enjoying a boat ride at the Lake of the Ozarks.
Moreover, in a recent post, Carli was seen celebrating with Cook post-match in the Faurot Field Stadium.
Cook's Journey To Tigers Quarterback
Brady Cook was born to parents Jim and Amy Cook in St. Louis, Missouri. He grew up in a house with strong sporting influence, as his mother was a soccer player at Truman State.
Furthermore, he had an uncle, Matt Martin, who played basketball at Missouri Baptist, while his grandfather, Ron Martin, played college baseball.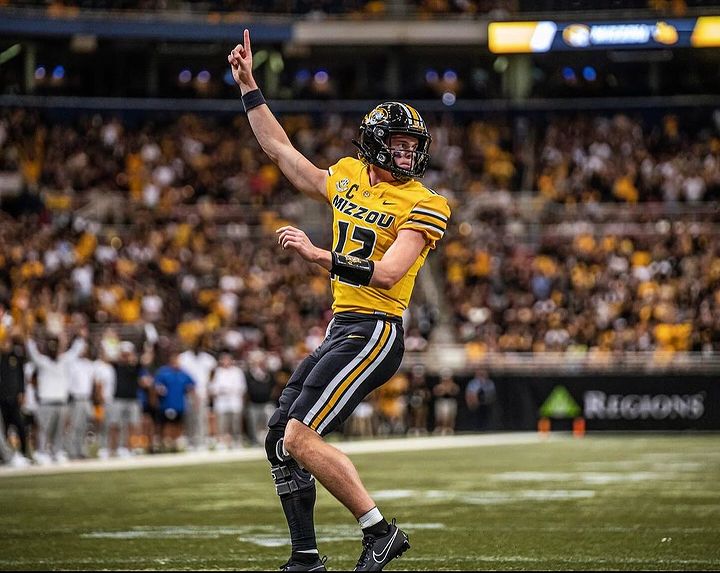 Thus, Cook grew up loving sports and, more specifically, was a huge fan of the Missouri Tigers. Furthermore, Cook knew he wanted to be at the University of Missouri from a young age.
Moreover, he loved playing catch in Faurot Field parking lots, waiting for his heroes to create magic on the field.
Without a doubt, the quarterback showed great promise, even as a sophomore at Chaminade. However, in his senior year, the quarterback made an even bigger impact.
In no time, Cook caught the eyes of the coaches at Missouri. Furthermore, Cook had his eyes set on the Tigers, and nothing could change his desire to become a Tiger QB.
Despite a rocky start to his Tigers career, with hard work, a positive attitude, and determination, Cook was named the starting quarterback on August 10, 2022.
The Tigers quarterback seemed overjoyed with the position he has achieved and seemed confident that he has more to offer his fans.