Braun Strowman, the former title receiver of the Arnold Amateur Strongman Championship, former strongman, and a professional wrestler. He is also known under the ring name The Titan.
Also known as the Black sheep of the Wyatt Family, which was emerged in 2016, he is a fierce wrestler. But, if we discuss the true passion of Braun, the word that fits him ideally would be 'destruction.'
Besides, this fierce WWE wrestler is also famous for his excellent work ethic, professionalism, splendid in-ring performances, and raw power.
Wherever Braun stands today in WWE, it is all because of his dedication and hard work.
Nonetheless, his presence and larger-than-life horrifying gimmick have taken WWE with a storm. Undoubtedly, in the short period of his career, he has garnered a considerable fan base.
Since the beginning of his journey in the WWE roster, he has had a presiding impact in the company.
In the initial days of Braun's career, he has worked a lot with Matt Henry, Bray Wyatt, and Finn Balor as his coaches.
Nonetheless, Braun has portrayed himself as a nightmare for any superstar against him in WWE.
In 2020, this fondness for demolition had given him Single championship Reigns, which is still with him.
He was on a break for a long time due to a serious blood infection, but on 29 January, he returned to WWE after recovery, and it was exciting to see him return.
The rest of his journey will be exciting as it unfolds in the coming future.
Now, let us start this article with quick facts about him without further delay.
Quick Facts
Full Name
Adam Scherr
Famous as
Braun Strowman
Date of Birth
6 September 1983
Place of Birth
Sherrills Ford, North Carolina, United States
Parent's Name
Rick Scherr and Sara Scherr
Sister's Name
Hannah Scherr
Nationality
American
Horoscope
Virgo
Age
39
Height
6 feet 8 inches
Weight
175 kg
Body build

Chest- 62 inches
Waist 42-inches
Biceps-24 inches

Eye color
Dark brown
Hair color
Dark brown
Ethnicity
American-Scottish
Food Habit
Non- Vegetarian
Hobbies
Fishing, traveling, hunting
Favorite Foods
Pizza, Grilled Vegetables
Favorite Beverage
Monster Energy
Favorite WWE superstars
Steve Austin, Hulk Hogan
Favorite song
Skrillex's "First of the year."
Favorite Band
Metallica
Profession
Professional Wrestler
Affiliation
WWE
Relationship status
In Relationship
Mentor
Mark Henry
Introduction song
"I am stronger" by CFO$.
Catchphrase
Get these hands.
The main event in the career
After winning Arnold Amateur Strongman Championship
Net worth
$2 million
Social Media
Instagram, Twitter
Salary (annually)
$300000
Merch
Braun Strawman Action Figure
Last Update
May, 2023
Braun Strowman: Early Life
Braun Strowman, a.k.a Adam Joseph Scherr, was born on 6 September 1983 at Sherrills Ford, North Carolina, United States.
He is an American professional wrestler. He has gained fame with his ring name Braun Strowman.
Braun's father, Rick Scherr, was a former Slow-Pitchball softball player known as "Crusher." Braun had always looked up to his father, inspiring him towards sports.
Strowman got hooked to a strongman career and earned several competitions for the U.S in 2009- 2012.
Hence, he became the fastest sportsman to become a professional strongman in history. He made his appearance in the cage match during Wrestlemania 37.
Braun has grown up loving and playing these three sports: American football, wrestling, and track. However, even though he was good at extra activities like sports, he was not good at his studies.
His dream was to play college football, but as he couldn't go to college due to his lower academic performance, he had to give up his dream of being a footballer.
However, Braun enrolled in a community college and played football semi-professionally for the Hickory Hornets.
Later, he tried his luck in wrestling, and now he comes on the list of the biggest WWE superstars.
Everyone in Braun's family is tall like him; it is in their genes; his sister Hannah also is tall like her brother. You can follow her on Instagram to know more about her.
About his education, Braun has done his schooling at Bandy High School in Catawba, North Carolina.
Braun Strawman: Career
Before Braun started his career as a wrestler, he worked as a mechanic and security guard in North Carolina.
However, the love for sports inside him pulled him to be part of strongman. Besides, he participated in many events and earned many championship trophies and medals, which have now been a decor piece in his room.
For three years, he got bound to be a strongman, and at that time, he did his work with complete dedication, which helped him win several competitions for his country.
Therefore, he successfully became the promptest sportsman to become a professional strongman in history.
Do check this list to know who are the top wrestlers of all time>>
WWE Career
Braun making his WWE debut has its own story. Mark Henry, the most muscular man in the world, was the one who brought Braun into WWE.
Mark had eyes for the talent and spotted Braun. He immediately knew Braun would do something in WWE.
Later, Mark himself took the initiative to introduce Brawn to WWE officials. Later, it helped Braun shape his career.
First, Braun was sent to NXT, but he had done a movie before making his NXT debut. However, that movie did not give in much popularity; the movie's name was Three Count.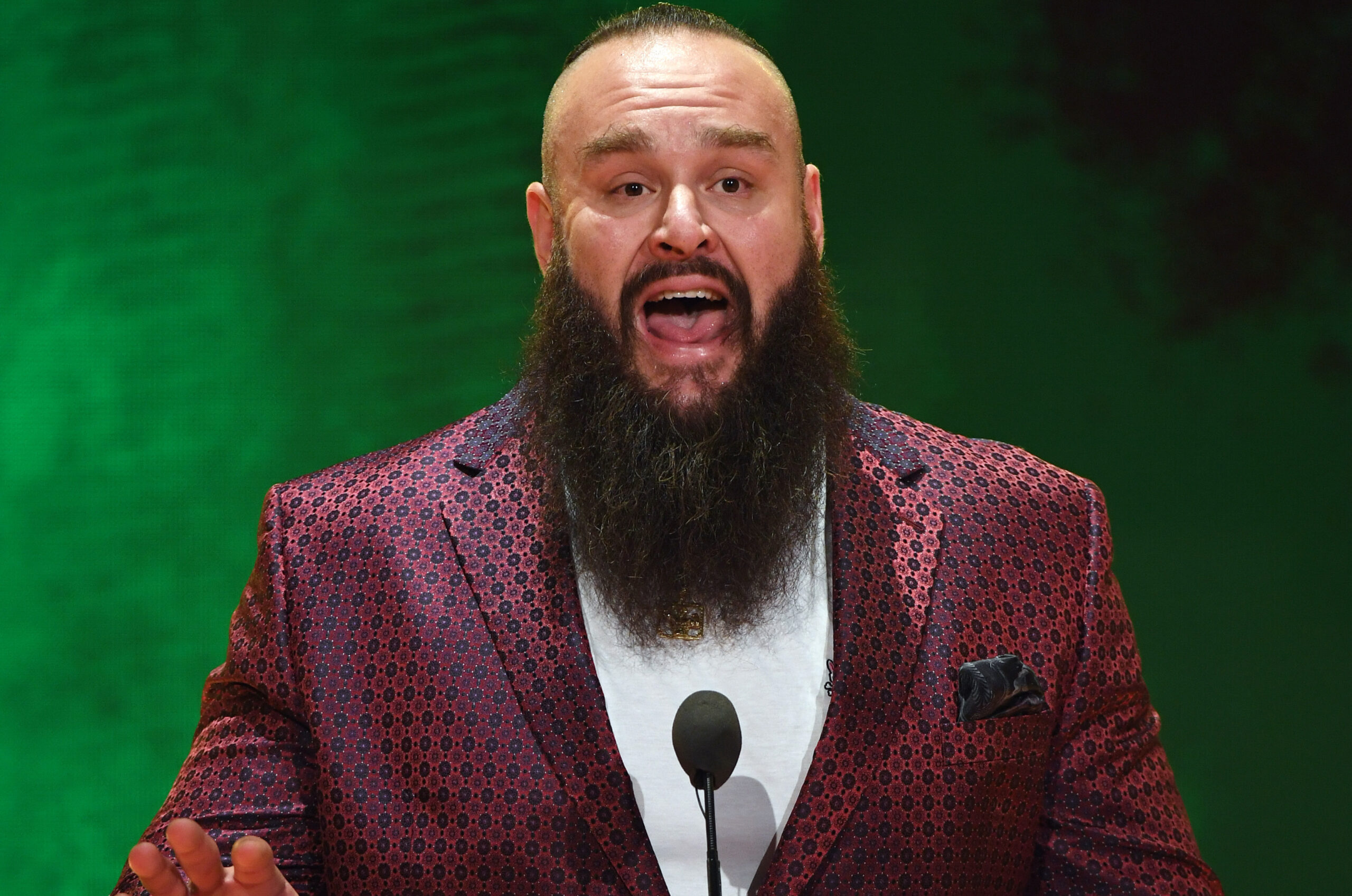 He inked a contract with WWE in 2013 and was sent to the WWE performance center Arnaldo, Florida, to enhance his skills in wrestling. There he was given his ring name Braun Strowman.
The journey of WWE wasn't easy for him; WWE audiences did not like him much in his debut match and fat-shamed him as he was bulky.
His first match was against Dean Ambrose and Roman Reigns, and he was teamed up with the Wyatt Family.
Furthermore,
Strowman is considered the monster among men, and indeed, his gimmick has done justice to the name. However, from 2016, everyone started taking Braun seriously and considered him a good wrestler.
Braun has been in great fights, from John Cena to Broke Lesner to The Undertaker, he has defeated them all. Today Braun has become a favorite fan character, and everyone adores him.
His detachment from the Wyatt family was a good step for his career as it gave him an individual focus. However, even after so much of suitable matches, he was released by WWE on 2 June 2021.
Now, he is currently working in the Independent Circuit. Nonetheless, this is not the end for the man of destruction. It is his new journey, and there's still a long way to go for him.
Age, Height, and Body Measurements
At the time of writing, Strowman is 39 years old. Nevertheless, he goes by one motive in life: never giving up and accepting all the challenges ahead.
As per the recent reports, Braun had taken a break from his career as he suffered from a blood infection. Braun lost almost two pounds because of the infection but what is good is he is excellent now.
He has a tall height of 6 feet and eight inches and weighs around 385 lbs (175 kg).
Now about his body measurements, the width of his chest is 62 inches, waist is 42 inches, and his biceps 24 inches. Apart from that, what compliments his look is his brown hair and eyes, similar to his father.
From scrolling through Braun's Instagram handle, we have found that he lost over 35 lbs through hard training and exercise, and he even shared a picture of it. These changes had only brought him more attention for sure.
In the post, Braun has also shared he was struggling with depression and drinking, which eventually led him to gain some extra pounds and become overweight.
Get to know who are the richest wrestlers in the history of WWE>>
Braun Strawman: Lifestyle and Net Worth
Braun Strowman is an emerging star; he has earned a net worth of $2 million. Similarly, as per his WWE contract, he earned $1.2 million as an annual salary.
Likewise, Braun is very passionate about cars, and undoubtedly if you have a seven-figure income, you can afford as many cars as you want.
Dodge Ram 2500, Toyota Supra, 1987 Buick Grand National are some of the luxurious cars in his collection.
Braun needs to take special care of his diet to maintain his body. Further, he eats like a monster, and his typical breakfast includes two chick breasts, eight scrambled eggs, three pieces of chunked bacon, and marble raisin toast with a large OJ and water.
He intakes around 15000 calories daily.
Braun Strawman: Relationship and Personal Life
There are many speculations that Braun has dated Kailey Dawn Farmer. Kailey, aka Kamilla Kaine, is a wrestler who is currently active on NWA Power in 2010.
Moreover, the rumors surfaced that Braun has been dating Raquel Gonzalez for a while now. Raquel is the reigning NXT Women's Champion and has defeated Ember Moon.
But the assumed pair has neither confirmed nor denied their relationship.
Additionally, Raquel took to Instagram and thanked Braun Strowman and IFBB Pro Israel Hernandez Jr. for guiding her throughout six months and getting in the best shape of her life.
Not only a good wrestler, but he is also a good human being. He is the godfather to Knash Rotunda, son of Bray Wyatt and JoJo Offerman.
However, Strowman does not let anyone get into his personal space. So, nobody knows about his personal life. But as soon as we get any information regarding it, we will update you soon.
Social Media Presence
Braun Strowman is active on social media with his real name, Adam Scheerr99.
Nonetheless, many people love him and follow him on Instagram and Twitter. Strowman has around $1 million followers on Instagram and nearly $700k followers on Twitter.
Get to know about Robin Christensen-Roussimoff, daughter of Andre The Giant>>
Frequently Asked Questions (FAQs)
Is Braun Strowman coming back to WWE?
For now, no, Braun Strowman is not coming back to WWE.
Are Braun Strowman and Brains Strowman brothers?
No, they are not. However, Braun and Brains are very similar in appearance, but they are not twins.
Did Braun Strowman have a growth spurt?
He faced a significant growth spurt in high school; he was 5 feet 8 inches during his first year and grew to 6 feet 5 inches by the time he graduated.