Brock Lesnar is perhaps the biggest name in the wrestling world. He has earned the cheers and love of millions of fans around the world.
The former Mixed Martial Artist has been the world champion in WWE eight times and the WWE Heavyweight champion two times.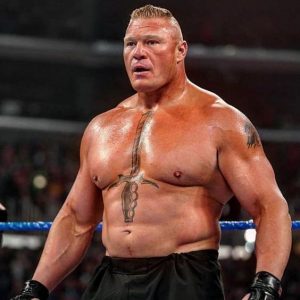 He is the single person in history who has won both WWE Championship and UFC Championship. Quite astonishing.
Although many have known about his success in WWE and UFC, only his hardcore fans know he has a career as a National Football League (NFL) player in his earlier days.
So, stick with this article until the end to know many more facts about his personal and professional life. Moreover, the achievements he received in multiple fields will undoubtedly inspire you.
Quick Facts
43 years old (as of June 2021)
Full Name
Brock Edward Lesnar
Birth Date
July 12, 1977
Birth Place
Webster, South Dakota, US
Nickname
The Conqueror, The Beast Incarnate, The Anomaly
Religion
Christianity
Nationality
American
Ethnicity
White
Education
University of Minnesota

Webster High School

Zodiac
Cancer
Father's Name
Richard Lesnar
Mother's Name
Stephanie Lesnar
Siblings
Three ( Two brothers and a sister)
Age
Height
6 feet 1 inch (185 cm)
Weight
130 kg (286 lbs.)
Favorite Food
Steak
Build
Athletic
Eye color
Blue
Hair Color
Blonde
Profession
Professional Wrestler,

Mixed Martial Artist

Active years
2000-present
Marital Status
Married
Wife/ Spouse's Name
Nicole McClain (Former Fiancée)

Rena Greek (m. 2016)

Children
Two
Net Worth
$28 million
Salary
$12 million
Social Media
Facebook, Twitter
Merch
Toys, Shirt, Wrestling Cards
Last Update
November, 2023
Brock Lesnar: Early Life, Family, and Education
On July 12, 1977, Brock was born in Webster, South Dakota. His parents, Stephaine and Richard Lesnar were dairy farmers in Webster.
The wrestler grew up with two older brothers, Troy and Chad, and a younger sister Brandi.
Lesnar completed his high school education at Webster High School and later went to Bismarck State College. On receiving a scholarship, he transferred to the University of Minnesota for his junior and senior college levels.
Lesnar joined the Army National Guard at the early age of 17. However, he had to do an office job there due to his blindness to red-green colors.
Eventually, he had to work for a construction company after the military force discharged him for failing a computer typing test.
Brock Lesnar: Career
Amateur Wrestling
Lesnar started participating in amateur wrestling during his high school days. While in senior year, he came third in the state championships.
In his second year at Bismarck State College, Brock won the National Junior College Athletic Association's heavyweight wrestling championship.
Then, he received a wrestling scholarship at the University of Minnesota. In four years of college, the South Dakotan possibly won all the major amateur heavyweight wrestling titles.
WWE Career
Ohio Valley Wrestling
Lesnar was signed by the then-World Wrestling Federation (WWF) and sent to OVW for development in 2002.
With Shelton Benjamin, he formed a tag team, "The Minnesota Stretching Crew," that won three OVW Southern Tag Team Championships.
WWE Championships
After his debut on WWF television in March 2002, he was drafted to the Raw brand. Soon, he had a feud with The Hardy Boyz: Matt and Jeff. Notably, on consecutive Raw nights, Brock defeated both of them by knockouts.
He joined the SmackDown brand in July 2002. In August, he became the youngest WWE Champion at age 25 by defeating The Rock at SummerSlam.
In the same year, he was involved in a feud with The Undertaker against whom he is retaining the champion's title with a double disqualification at Unforgiven and a win at No Mercy.
Brock guaranteed his WWE Championship match following the Royal Rumble win against The Undertaker.
He won the Championship, the second for him, at WrestleMania XIX, defeating Kurt Angle. In September 2003, he conquered his third WWE Championship, defeating Angle in an Iron Man Match at SmackDown.
Later in 2004, Eddie Guerrero defeated Brock Lesnar at the No Way Out PPV. As Eddie portrayed his signature Frog Splash on Lesnar, he took his first championship title.
WWE departure
Brock was involved in feuds on numerous occasions with Goldberg and Hardcore Holly. To start a career in the NFL, he left WWE following the fan-interrupted match with Goldberg.
Later, for three years, Brock pursued his career in New Japan Pro-Wrestling. He won the IWGP Heavyweight Championship on his debut match, becoming among the few Americans to win it. They defended the title on several occasions until finally losing out to Kurt Angle. After the game, he left wrestling for the NFL. I
Return to WWE
In April 2012, Lesnar returned to continue his WWE career. To avenge not meeting his contract demands, Brock had several fights with Triple H, injuring him on many of them.
Brock earned the name "The Streak Breaker" as he ended the Undertaker's 21 matches unbeaten streak.
WWE Heavyweight Championships
Lesnar won the match against John Cena to become WWE World Heavyweight Champion at SummerSlam. He came up with his signature catchphrase, "Suplex City," during his match against Roman Reigns.
Brock defeated Goldberg at WrestleMania 33 to win his fifth WWE world title.
He defended the title against Sama Joe, in a fatal four-way match at SummerSlam, in a triple threat match against Strowman and Kane, and on multiple other occasions for 504 days to achieve the sixth-longest world championship reign in WWE history.
Later, in November 2018, he became the first-ever two-time Universal Champion defeating Strowman for the vacant title left by Roman Reigns. He successfully defended the title for 156 days.
Returning to Raw in 2020, he tied the record for most eliminations (thirteen) in a Royal Rumble match.
NFL Career
Stating that he always wanted to play football, he left WWE for the NFL after March 2004.
Now people say I can't play football, that it's a joke. I say I can.
Brock signed for the Vikings in July 2004, where he played multiple preseason games after recovering from several injuries. He did not go as the Vikings' representative in NFL Europa because of his desire to stay with his family.
Mixed Martial Arts Career
Brock won his first official MMA match against Min-Soo Kim at the Dynamite in the K-1 MMA league, Hero's.
UFC career
In October 2008, Brock joined UFC, where he debuted against former UFC Heavyweight Champion Frank Mir. He became the UFC Heavyweight Champion in November 2007 against Randy Couture at UFC 91.
In 2010, Lesnar fought against Cain Velasquez at the Honda Center in Anaheim, California, United States. During the UFC 121, Cain dethroned Brock's championship.
Suffering from diverticulitis, he could not perform well and lost many matches, including the title defenses. Consequently, he retired from MMA although being offered a "ten times more salary" deal.
However, he returned to UFC 200 in July 2016, representing Canada against Mark Hunt.
Later, the match was overturned to a "no contest" after Nevada State Athletic Commission suspended him to confirm two positive tests for using a banned substance.
Following this, he retired from MMA for the second time.
Other Media
WWE Home Video released DVDs titled Brock Lesnar: Here Comes the Pain in 2003 and Brock Lesnar: Ear. Sleep. Conquer. Repeat in 2016. Both DVDs included his career and achievements in different runs at WWE.
He was also covered in several magazines like Flex, Muscle & Fitness, and City Pages, and video games like UFC Undisputed 2010, WWE 2k17, etc.
Also, he appeared in the films True Giants (2014), Countdown (2016) as himself, and Foxcatcher (2014) as a wrestler.
He was also seen in TV shows with UFC Primetime, The Tonight Show with Jay Leno (episode 93, 2012), three episodes in Rome is Burning, Late Night with Jimmy Fallon (episode 49 in 2011), SportsCenter, and many more.
Brock Lesnar: Championships and Awards
Having one of the most phenomenal careers in WWE history, and an excellent short career in UFC, Brock has bagged many titles in his career.
He was two times NCAA Division I All-American, two times NJCAA All-American, and NCAA Division I and NJCAA Heavyweight Champion at the college level.
In his MMA career, he was a one-time UFC Heavyweight Champion. He received titles like Sports Illustrated's Top Newcomer of the Year in 2008, World MMA Awards' Breakthrough Fighter of the Year in 2009, and many more.
Talking about his professional WWE career, there is much to discuss. He won WWE Championship five times, the WWE Universal Championship three times, IWGP Heavyweight Championship two times.
In his early days, he earned the title of the youngest person to win the WWE Championship and still holds it.
Moreover, he has been rewarded the Most Improved Wrestler, the Wrestler of the Year, and the No. 1 rank in PWI 500 in 2003 by Pro Wrestling Illustrated. He had also been included in the Wrestling Observer Newsletter's Hall of Fame in 2015.
Brock Lesnar: Wife and Children
Brock is currently married to Rena Greek 'Sable' since May 6, 2006. With her, he has two sons: Turk and Duke. They are living happily on a farm in Maryfield, Saskatchewan.
I just don't put myself out there to the fans and prostitute my private life to everybody.
He was previously in a relationship with Nicole McClain, with whom he had twin sons and daughters: Luke and Mya Lynn. The wrestling veteran prefers a private life and does not like any questions involving his personal life.
You can read more about Mya Lynn Lesnar
Brock Lesnar: Net Worth and Salary
From his WWE and UFC career, Brock Lesnar has a net worth of an estimated $22 million in [current year].
Reports suggest that he earns a total of $500,000 for a single WWE prominent event appearance with a total salary of $12 million.
During his MMA times in 2011, he was the highest-paid fighter with an outstanding salary of $5.3 million.
With high earnings comes a well-off lifestyle. He owns many luxury cars, such as Range Rover. Mercedes Benz, Jaguar. His current residence at Maryfield is worth $2.1 million.
Brock Lesnar: FAQs
Which American political party does he support?
Brock Lesnar is found to be supporting the Republican Party.
Who is his agent? What is his MMA record?
Paul Heyman is Brock Lesnar's agent. As for his MMA record, Brock Lesnar features five wins, three losses, and a single contest.
Among those wins, he has three via knockout, single by submission, and decision each. Also, his losses portray two by knockouts and a single by submission.
Was he a drug addict?
During his early career in WWE, Brock was addicted to alcohol and painkillers. He urges, due to this reason, he is unable to recall "an entire two years" of his WWE career.
What disease did he have?
In his lifetime, he was diagnosed with mononucleosis and diverticulitis in 2009.
What are his finishing moves?
F-5 and Kimura Lock are the finishing moves that Brock frequently used in his career. His F5 move represents the key in the keyboard which states refresh.
What is his theme song?
Brock Lesnar's WWE entrance/theme song is Next Big Thing.
What tattoos has he got?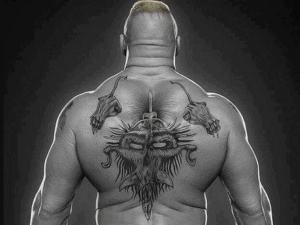 His tattoos include a 'Sword' on his chest and a large 'Demonic Skull' on his back.
Did Brock Lesnar fight Daniel Cormier?
Sadly, Brock Lesnar and Daniel Cormier's fight hasn't been arranged to date. Back in 2019, they did have a scheduled fight, however, Lesnar suffered from an injury and hence, couldn't fight.
Brock Lesnar: Social Media
Brock has accumulated a lot of his fan-following on his social media handles Twitter and Facebook.
Twitter: 1.4 million followers
Facebook: 11,096,377 followers