Brett Baty doesn't have a wife but has a girlfriend, Anna Sprys, a star collegiate volleyball player.
The sporty couple, Brett Batty and Anna Sprys, went public with their relationship last year in July.
Regarding love life, the New York Mets is not quite transparent about it and only shares limited pictures, but Anna has given a glimpse of how the relationship between the two is.
The young couple have visited their hometowns and might have had a formal introduction with their respective families. Though they might not be married, wedding bells are not off the cards.
Baty started the 2023 MLB season in the minor leagues but was soon called up after his exceptional performances. Now with teammates Francisco Lindor and Justin Verlander, Baty is looking to lead the Mets to the title.
Is Anna Sprys, Brett Baty Wife?
Anna Sprys is not Brett Baty's wife but is his girlfriend. In fact, the young couple only went public with their relationship last year, in July.
Brett might not be too fond of showing off his girl, but that hasn't stopped Anna from sharing their pictures on socials. Anna, who is available on Instagram, made her relationship public last year in July.
After sharing their first picture, Anna was seen at Citi Field rooting for her boyfriend and his team wearing the Mets' jersey. The baseballer left a comment that read, "Nice jersey 22."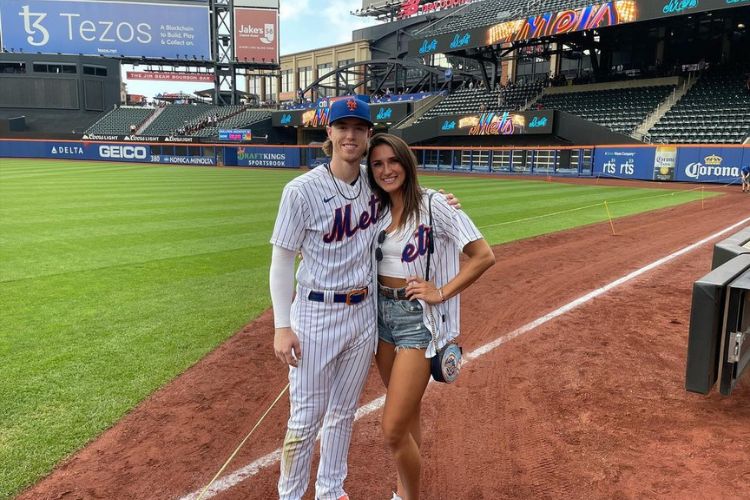 The only picture of the couple available on Brett's Instagram page was of her visiting his hometown in Texas. Brett captioned the post, "Got to show this Yinzer a little bit of the South."
This marked the first time Brett shared a picture of his girlfriend on his Instagram handle, giving a sneak peek to his fans on his dating life. If Anna visited Brett's hometown in November, then in December, it was Brett's turn to visit Anna's hometown, Pennsylvania.
On Christmas, the New York Mets player made it to Pittsburgh, Pennsylvania, to celebrate his first Christmas with Anna. With the 2023 MLB season in full swing, Anna was pictured on the sidelines of Oracle Park, rooting for the Mets against the Giants.
Brett Batty Girlfriend, Anna Sprys, Is A Volleyball Player
Brett Batty and his girlfriend are both stars of their respective sports. If Brett shines on a baseball pitch, then Anna's playground is the volleyball court.
A student at Binghampton University, Anna entered her fourth season as a volleyball player in February. Standing at 6ft, Anna plays as a middle hitter and has starred in 81 games for Binghampton.
This year, Anna graduated with a bachelor's degree in Accounting and has already enrolled in the MBA program at Binghampton. This could also possibly hint at Anna not making sports her long-term career.
She has previously interned for Waboba and PNC, working in the audit team of the latter. Her volleyball career might not be long-term, but she is currently enjoying every bit of it.
Partnering with Dunkin' Today in February, Anna celebrated National Girls & Women in Sports Day, serving guests at Dunkin' Restaurant. She is one of the 31 exceptional student-athletes Team Dunkin' has recruited in its program.