Enthusiastic and passionate linebacker Brian Urlacher is a former football player in the NFL. Throughout his 13-year career in the NFL, he played for the Chicago Bears.
Urlacher's skill as a player was recognized when he played for his university team. Additionally, he was one of the most decorated college athletes.
Besides, he is a well-known celebrity in sports as well. Urlacher's playing style, reputation, and accomplishment have made him a formidable figure.
Further, after his retirement, he briefly appeared as an analyst on Fox Sports 1. Brian was even voted into the Pro Football Hall of Fame on February 3, 2018.
Quick Facts:
Fullname
Brian Urlacher
Nickname
Grr-Lacher
Birthdate
May 25, 1978
Age
44 years old
Birthplace
Pasco, Washington, U.S.A
Parents
Bradley Urlacher
Lavoyda Urlacher
Sibling
Casey Urlacher
Body type
Athletic
Height
6'4″/1.93 m
Weight
117 kg/258 lb
Eye color
Blue
Hair color
Blonde
Skin
Fair
Education
Lovington High School
Texas Tech University
Profession
Football player
Position
Linebacker
Affiliated teams
Lovington High School Wildcats
New Mexico Lobos football team
Chicago Bears
NFL Debut
2000
Contract
Five-year contract($8 million)
Relationship status
Married
Wife
Jennipher Frost
Ex-Wives
Laurie Urlacher and Tyna Robertson
Children
Kennedy, Pamela, and Riley
Social Media
Instagram, Twitter
Net Worth
$18 million
Merch
Brian Urlacher: Windy City Warrior, Legend Football Card, Authentic Jersey, Signed picture, Autographed Lobos Mini Helmet
Last Update
March, 2023
Brian Urlacher |
Early Life, Family, and Siblings
Urlacher, the former NFL player, was born on May 25, 1978, in Pasco, Washington, US. However, he spent most of his childhood in Lovington, New Mexico.
He was born to parents Bradley Urlacher and Lavoyda Urlacher. Furthermore, his mother Lavoyda passed away in 2011 of unreported causes.
After Urlacher's parents separated, he was raised by his mother Lavoyda in New Mexico.
Moreover, he has a sibling named Casey. Similar to Brian, Casey also had a brief stint in the Arena Football League.
However, unlike his brother, his football career did not last long. Nonetheless, he had a bright future ahead. Casey was elected as mayor of Mettawa, Illinois, in 2013.
Brian Urlacher's Wife & Kids
Urlacher dated model and actress Jenny McCarthy in April 2012. Their relationship was stable for a considerable amount of time.
However, Jenny announced that her relationship with Urlacher ended in August 2012. Moreover, despite the heartbreak, Urlacher started dating Jennipher Frost.
Frost is a popular figure in the entertainment industry and a former contestant on America's Next Top Model.
Besides, after a long-lasting relationship, the couple exchanged wedding vows on March 13, 2016. The couple has been living a peaceful life together and has been showing no sign of separation.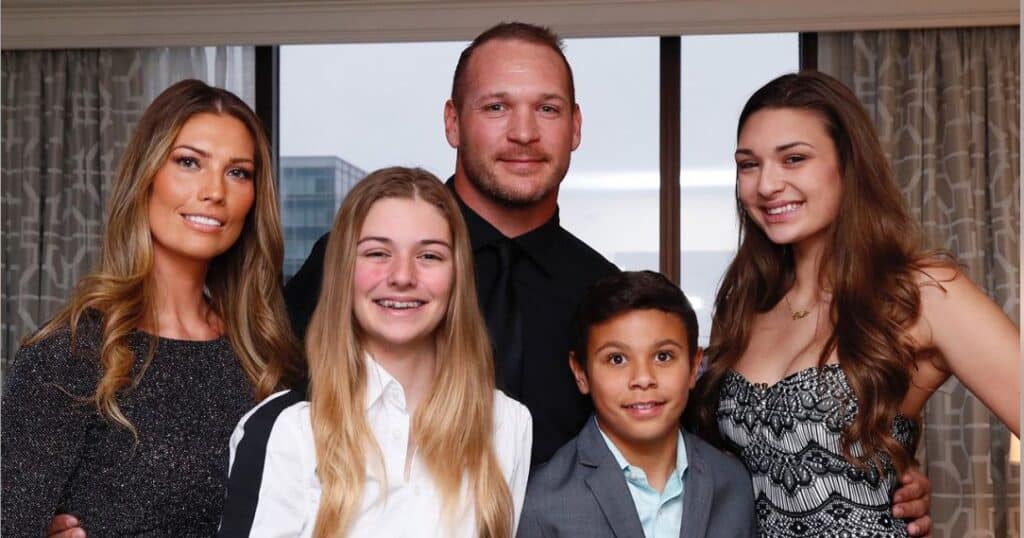 Further, the duo is renowned for its lifestyle. Thus, Urlacher and Jennipher make a public appearance on rare occasions.
You might also like to read about:<<Willie McGinest Bio: NFL, Philanthropist & Net Worth >>
Urlacher's affairs and ex-wives
Urlacher was previously married to his ex-wife Laurie Urlacher and Tyna Robertson. He has two daughters, Riley and Pamela, with his ex-wife Laurie Urlacher.
Additionally, Urlacher has a son, Kennedy, with his other ex-wife Tyna Robertson as well. He filed a suit against Tyna to establish the paternity of his son Kennedy in 2005.
According to the reports of genetic testing, it was stated that Urlacher was indeed Kennedy's father.
Urlacher's wife and Kennedy's mother were already popular names in the media. Moreover, she has claimed sexual assault against dancer Michael Flatley in the past.
Nonetheless, Urlacher and Tyna currently maintain joint custody over Kennedy. The star player has two daughters, Pamela and Riley, with his ex-wife Laurie Urlacher.
Currently, he lives with his daughter and has visitation rights with his son. Moreover, in 2017, Urlacher appealed at a Cook County Court.
Further, he requested the court to remove Tyna's custody over his son Kennedy after her husband, Ryan Karageorge, was shot and killed in their residence.
Brian Urlacher | Hair Treatment
Urlacher's Hair was a big topic of discussion among football fans for several years. He was widely popular as a formidable bald linebacker who disrupted the opponent's offense.
However, fans were surprised to see Urlacher with lush and silky Hair.
Despite criticism, Urlacher was confident about his hair transplant surgery. In addition, he has also publicly stated his endorsement deal with RESTORE Hair.
GQ states that it took eight hours for the follicle replacement surgery in regards to his hair transplant.
Moreover, he filed a lawsuit against the Florida hair clinic. Urlacher claims that the clinic has used his likeness without his knowledge and consent.
According to Chicago Tribune, his lawsuit seeks around $200,000 in damages.
How old is Brian Urlacher? Age, Height, and Weight
Urlacher has a great personality for a football player. Similarly, his physical appearance is undeniably at the top level as well. He is currently 44 years old.
His huge physique frames at the height of 6 feet and 4 inches. Furthermore, he weighs a massive 117 kg.
Urlacher's tough physique was one of his edges as a sportsman to succeed as a defensive player in the NFL.
Brian Urlacher | Early
Career
High School Career
Brian Urlacher immersed himself in sports during his youth years. It was during this time that the linebacker developed an interest in basketball and football.
As for his education, Brian attended Lovington High School and graduated in 1996. He spent most of his teenage years dedicating himself to sports and training in weight rooms.
Consequently, he made a steady progression throughout his high school year. Besides, it helped him gain adequate experience in football.
Besides, he served as a wide receiver, running back, and defensive back on his high school team. Moreover, apart from football, he received state-recognized honors in basketball as well.
Due to his accomplishment, the high school celebrates his legacy by naming a holiday after him.
College Career in New Mexico
After graduating from high school, Urlacher wanted to attend Texas Tech University.
However, he did not prefer to join the university because they did not grant him an athletic scholarship.
Shortly after, Brian Urlacher attended the University of New Mexico and majored in Criminology.
Further, during his time at the university, he was a part of the New Mexico Lobos football team. Dennis Franchione, the head coach at Lobo's, was impressed by Urlacher.
The New Mexico Lobos football team had multiple winning records during Urlacher's first two years. In addition, his contribution led the team to a trip to the 1997 Insight.com Bowl.
The Lobo's success prompted team coach Franchione to join Texas Christian University. It led to the hiring of Rocky Long, who was a former coach at UCLA.
After Long's arrival, Brian Urlacher flourished under his guidance. Furthermore, Long played Urlacher in a versatile role on both defense and offense and even as a receiver.
Moreover, Urlacher was converted into a "Lobo-Back," a ross between free safety and linebacker. The coach would then place Urlacher in a 3-3-5 defense scheme.
Further, Urlacher spent most of his time training with the team's defensive coordinator Bronco Mendenhall. He helped Urlacher to refine his sill as a prominent defensive back.
Besides, Long also utilized Urlacher's skill as a wide receiver during his final two years with the Lobos.
"Lobo-Back" – Urlacher, a prodigy in the making
Despite the decline of Lobo's performance due to the extensive change to the roster and formation. It did not have any effect on his progress of Urlacher.
He becomes one of Lobo's productive players.
Additionally, Urlacher was also a finalist for the Jim Thorpe Award. Besides, Urlacher also finished the twelfth on the Heisman Trophy ballot.
Further, he has received All-American honors from the Football Writers Association of America, Walter Camp, and the Associated Press.
Brian Urlacher played the final game of his collegiate years at the 2000 Senior Bowl. Besides, he was one of the top players in the tournament.
Besides, the school held a ceremony at halftime in honor of his success in 2006.
Brian Urlacher Wife |
Professional career
NFL Draft
At the start of the 2000 NFL draft, Urlacher was one of the most talented collegiate prospects.
Additionally, he demonstrated his impressive strength by bench pressing 225 pounds an astonishing twenty-seven times.
After the remarkable demonstration of his physique, the Bears drafted him in the ninth overall pick.
Besides, Brian Urlacher was also elected to Pro Bowl after his NFL Rookie of the Year Ward win in 200. Additionally, he also won the NFL Defensive Player of the year award in 2005.
You might also like to read about: <<Aaron Donald Bio: Wife, Kids, Contract, Draft, NFL & Rams >>
Brian Urlacher Bears
Brian Urlacher signed a five-year contract with the Bears worth $8 million. The deal was also inclusive of a $5.5 million signing bonus.
After entering the Bears squad, head coach Dick Jauron perceived him as a versatile outside and middle linebacker.
Consequently, it led him to appoint Urlacher as a starting strongside linebacker.
However, he could not perform in the position, which led him to lose his starting position to Rosevelt Colvin.
Consequently, Jauron kept Urlacher on the sideline. Shortly after, the Bears suffered a crushing 41-0 defeat to Tampa Bay Buccaneers.
Nonetheless, Brian Urlacher regained his starting position after Barry Minter suffered an injury. Further, he fit in perfectly in the middle linebacker position.
A legacy left behind.
Shortly after his debut, football fans from across the nation voted him to play as an alternate middle linebacker at the 2001 Pro Bowl.
His legacy on the team progressed through each shot. Urlacher became one of the greatest defensive players in the history of the Bears.
Further, he became the first player in Bear's franchise history to record a 90-plus yard fumble return for a touchdown. Brian achieved the feat against Atlanta Falcons on October 7, 2001.
His progression did not witness any hindrance as in 2000, he went on to win the NFL Defensive Player of the Year.
Moreover, in 2012 Brian Urlacher received the Ed Block Courage Award. It is given to an athlete who demonstrated courage and commitment to sportsmanship.
During the award ceremony, Urlacher thanks the Bears while giving his acceptance speech. Also, he dedicated the award to his beloved late mother.
Retirement
Urlacher announced his retirement after leaving a legacy at the Bears on May 22, 2013. During his time in the NFL, he started in all of the games but except two in 182 games.
Thus, Urlacher holds a third-most franchise record behind Olin Kreutz (183) and Walter Payton (184). Additionally, he records 41.5 sacks, 1 779 tackles, 11 forced fumbles, and 16 fumble recoveries.
Brian Urlacher | Summary Career Stats
| | | | | | |
| --- | --- | --- | --- | --- | --- |
| Summary | G | AV | Sk | Solo | FF |
| Career | 182 | 152 | 41.5 | 1046 | 11 |
Brian Urlacher |
Other work
Apart from his career in the NFL, Urlacher appeared on the game show Wheel of Fortune in 2002. Remarkably, due to his sheer intuition and luck, he was able to win over $47 000 for charity.
In addition, he has made several appearances in a commercial for Comcast, McDonald's, Campbell's Chunky soup, Glacéau, and Domino's Pizza.
Besides, in a commercial at a spa, Urlacher shared a spotlight with Peyton Manning.
Similarly, Nike aired a special commercial dedicated to Urlacher containing clips of his high school career.
However, Urlacher states that he felt uncomfortable while appearing in those commercials.
Besides, apart from the commercial, he was also the spokesperson and athlete for Sega Sports' NFL 2K3.
Moreover, he was fined US$100,000 for wearing a hat he wore a day before Super Bowl XLI.
He promoted Glacéau vitamin water, a non-NFL-approved sponsor. It led to the authorities taking legal action against him.
Additionally, Urlacher also intended to make an appearance in a pay-per-view event in the NWA-TNA promotion. However, the Bears organization stopped him from doing so after its discovery.
Furthermore, Urlacher modeled for new uniforms, which Reebok marketed in 2012.
Shortly after, he announced his role as an analyst in July 2013 for Fox Sports 1 on Fox Football Daily.
He was part of the sporting program alongside Curt Menefee and Jay Glazer. Besides, he participated in the USO Chairman's Holiday tour event in December 2014.
During the event, Urlacher provided entertainment to US soldiers in five countries across the world.
Brian Urlacher |
Reputation
Following his successful NFL career, Urlacher has gained massive popularity with the fans.
Further, Urlacher's jersey sales rival those of the NFL superstars such as Michael Vick and Brett Favre on a national level.
Besides, his coaches and teammates have praised him for his athletic ability and character.
Further, Tank Johnson, Urlacher's former teammate, called him to testify during a court hearing in 2007.
Moreover, despite winning the NFL Defensive Player of the Year Award for the 2005 season, he was named the second most overrated player.
As a response, Urlacher stated,
"Just watch the film. I don't know what people are saying, but I'm not too worried about it anymore. All I CAN DO IS GO OUT THERE AND PLAY HARD AND TRY AND HELP MY TEAM WIN,AND THAT'S WHAT I'M GOING TO KEEP GOING."
Brian Urlacher Wife |
Controversies
Urlacher uploaded an Instagram story criticizing NBA players. The criticism was made for boycotting playoff games regarding the police shooting of Jacob Blake in Kenosha, Wisconsin.
Additionally, Urlacher also liked a post that supported the suspect, Kyle Rittenhouse. Further, he stated "Patriot Lives Matter," which generated significant opinion coverage and news.
Regarding the matter, the Bears responded with a statement,
"The social media posts in no way reflect the values or opinions of the Chicago Bears organization."
Brian Urlacher |
Net Worth
Urlacher has accumulated his share of fortune during his time in the NFL. The excellent athlete has made a tremendous amount of money from his work.
His estimated net worth stands at $18 million as of 2023. However, his salary has been kept private for an undisclosed reason.
Not to mention, Brian Urlacher has been on the billboard several times across the Chicago area. The billboards include phrases such as "HAIR LACHER" and "Hall of Fame Hair."
Later, Restore Hair put up ten more billboards of Urlacher for the former Bears linebacker's birthday.
You might also like to read about: <<Devin Goda Bio: Family, NFL, Partner, Model & Net Worth >>
Social Media Presence:
Brian Urlacher is quite active on social media. He has several followers on his social media accounts. You can follow him via these links,
Instagram: 171k followers
Twitter: 320k followers
Some FAQs:
Did the authorities arrest him for any controversies?
No, he has never been arrested despite his involvement in a few of them.
Is Brian Urlacher a motivational speaker?
Yes, recently, he has dedicated himself to numerous events as a motivational speaker.
How much is a Brian Urlacher Fleer rookie card worth?
Brian Urlacher's Fleer rookie card price ranges from $9.99-$16.03.
Is Brian Urlacher a Hall of Famer? What is his Madden rating?
After the end of Brian's NFL career, in 2018, he was announced as one of 27 semi-finalists for the Pro Football Hall of Fame Class.
The respective nomination was his first, and it came during his first year of eligibility. Moreover, on February 3, 2018, Urlacher was voted into the Pro Football Hall of Fame.
As for his Madden rating, Brian Urlacher has a 94 overall rating in Madden 12. He has an 84-speed rating to go along with 89 acceleration and 86 agility.
Is Brian Urlacher's jersey retired?
Urlacher was the first-ever athlete inducted into the University of New Mexico's Football Wall of Fame.
Additionally, because of his legacy, on November 9, 2013, the school retired his No. 44 jerseys during a game against Air Force.
Did Brian Urlacher make a Super Bowl appearance?
Yes, Brian Urlacher made one Super Bowl appearance starting as a middle linebacker for Chicago Bears in Super Bowl XLI against the Indianapolis Colts.
Does Brian Urlacher like fishing?
Yes, Brain Urlacher is pretty into this fishing thing. After his retirement from the NFL, Brain spends most of his time traveling and fishing on his boat.
Interestingly, Brian and some business partners also own a charter boat for fishing called "The Linebreaker," based in southwest Florida.