Brill Garrett is the wife of Jason Garrett, a former football player who works as a football analyst for NBC Sports as of 2023.
Jason previously served as the offensive coordinator for the New York Giants and head coach for the Dallas Cowboys from 2011 to 2019.
In Jan 2023, Jason backed out of consideration for the Stanford job and chose to stick with his NBC gig.
Before his coaching job, he was a college football quarterback and also played in the NFL.
Mrs. Garrett describes herself literacy advocate, and she teamed up with former first lady Laura Bush to host the 2018 Celebration of Reading in Dallas/Ft Worth.
Not to mention, this Harvard graduate is one lucky woman to spend life with her beloved husband. Aside from that, the two now enjoy a lavish life in their residence in Dallas, Texas.
Today, we will take a closer look at her life and everything we are unaware of, from her education to her relationship with her husband, Jason. Make sure to read till the end to know more.
Quick Facts
| | |
| --- | --- |
| Full Name | Brill Garrett (Aldridge) |
| Birth Date | December 8, 1965 |
| Birth Place | Illinois, USA |
| Known as | Wife of Jason Garrett |
| Religion | Christianity |
| Nationality | American |
| Ethnicity | White |
| University | Princeton University, Harvard University |
| School | Central High School |
| Horoscope | Sagittarius |
| Father's Name | Jeffrey Aldridge |
| Mother's Name | Judy Aldridge |
| Siblings | Brother |
| Age | 57 Years Old |
| Height | 5'8″/1.72 m/172 cm |
| Weight | 60 kg/132 lb. |
| Eye color | Blue |
| Hair color | Blonde |
| Profession | N/A |
| Marital Status | Married |
| Husband | Jason Garrett |
| Net Worth | $500k |
| Social Media | N/A |
| Merch of Jason Garrett | Autographed Card |
| Last Update | June 2023 |
Who Is Brill Garrett? Who Are Her Parents?
Brill Garrett was born Brill Aldridge in Illinois to her parents, Jeffrey Aldridge and Judy Aldridge.
Mrs. Garrett grew up alongside her brother, Jeff Aldridge. But the whereabouts of her parents and brother are unknown at the moment.
As for her academics, Brill was a student at Central High School located in Hinsdale, Illinois.
After completing high school in 1984, she enrolled at Princeton University. Garrett also acquired a law degree from Harvard University.
Age, Height & Ethnicity
The gorgeous wife of Jason Garrett is a total beauty, and we can see why Jason would be attracted to her in the first place.
Brill was born in the year 1965, which makes her 57 years old as of 2023. She celebrates her birthday on December 8, and her zodiac sign is Sagittarius.
And people under this sign are known to be free-spirited, smart, and risk-takers.
Brill stands at 5 feet 8 inches (1.73 meters) and weighs around 60 kg (132 pounds).
Maybe it's her diet or some secret, but Garrett has maintained her body and has a toned physique. She has shoulder-length blonde hair and vivid blue eyes, which complements her appearance.
Personal Life
As we know, Brill Garrett is a married woman and is the wife of a former American football player and coach, Jason Garrett.
The couple tied the knot sometime in 1994 when Jason was still active as a player and was with the Miami Dolphins. Likewise, their intimate wedding ceremony was attended by their loved ones only.
However, their history dates back to their student days when both of them were studying at Princeton University.
According to the reports, the couple met for the first time during their geology class.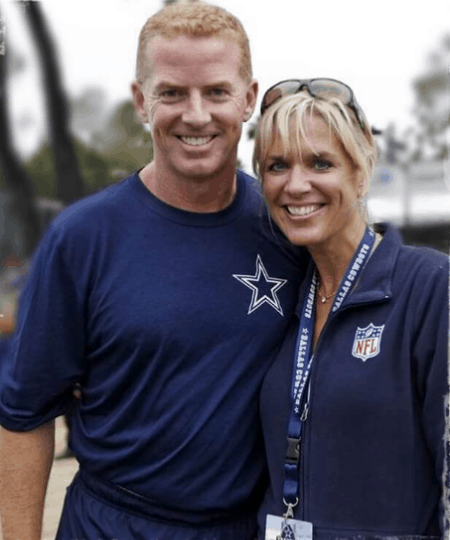 Instead of just jumping onto the wagon, both gave time to complete their education and build their careers.
As a matter of fact, Brill was aware of Jason's fondness for her but stayed quiet about it. They took time and slowly started dating and eventually fell madly in love with each other.
Jason and Brill probably dated for around ten years before Jason popped the question.
As of 2023, the happy duo has been married for almost 29 years.
At an award function in 2017, Jason thanked his wife and described her as a best friend who is also his biggest supporter and pillar.
This is not the first time Jason has acknowledged his wife for his achievements. In fact, both of them have never shied away from praising each other at public events.
However, they don't have children to date. They have not publicized any plans on having one anytime soon, either.
It seems the duo is happy with each other's company. Currently, they are spending their blissful time together in their home in Dallas, Texas.
What Is Brill Garrett's Profession?
Unlike her relationship with Jason, little light is shed on her professional career. As mentioned, she is a literacy advocate and has acquired a law degree from Harvard University.
In 2018, she teamed up with the former First Lady, Laura Bush, and hosted the Dallas/Ft Worth Celebration of Reading.
Husband of Brill Garrett, Jason Garrett
In this article, we have heard numerous times about Jason Garret and his time as a professional football player. But just how good was he during his professional days? Let's find out.
Jason Calvin Garrett was born in Abington, Pennsylvania, on March 28, 1966, which makes him 57 years old.
While he was in high school, Garrett played football, basketball, and even baseball. After getting accepted to Princeton University, Jason started playing collegiate football.
He followed his father, Jim Garrett, to Columbia University, where his father was the head coach.
Likewise, Jason and his two brothers again transferred to Princeton after his father left Columbia University.
Finally, in 1988, young Garrett graduated from Princeton with a degree in history.
He received the Asa S. Bushnell Cup as the IVY League Player of the Year and continues to hold the Ivy League career record for completion percentage with 66.5%.
NFL Journey
Following his graduation, the New Orleans Saints signed him as an undrafted free agent after the 1989 NFL Draft.
He then played for the San Antonia Riders and the Ottawa Rough Riders before finally signing with the Dallas Cowboys in 1993.
Despite his limited time on the field, Jason played as a backup quarterback for Troy Aikman for the Cowboys and won three Super Bowls.
Later, he spent three seasons with the New York Giants and then played with the Tampa Bay Buccaneers and the Miami Dolphins for a short stint.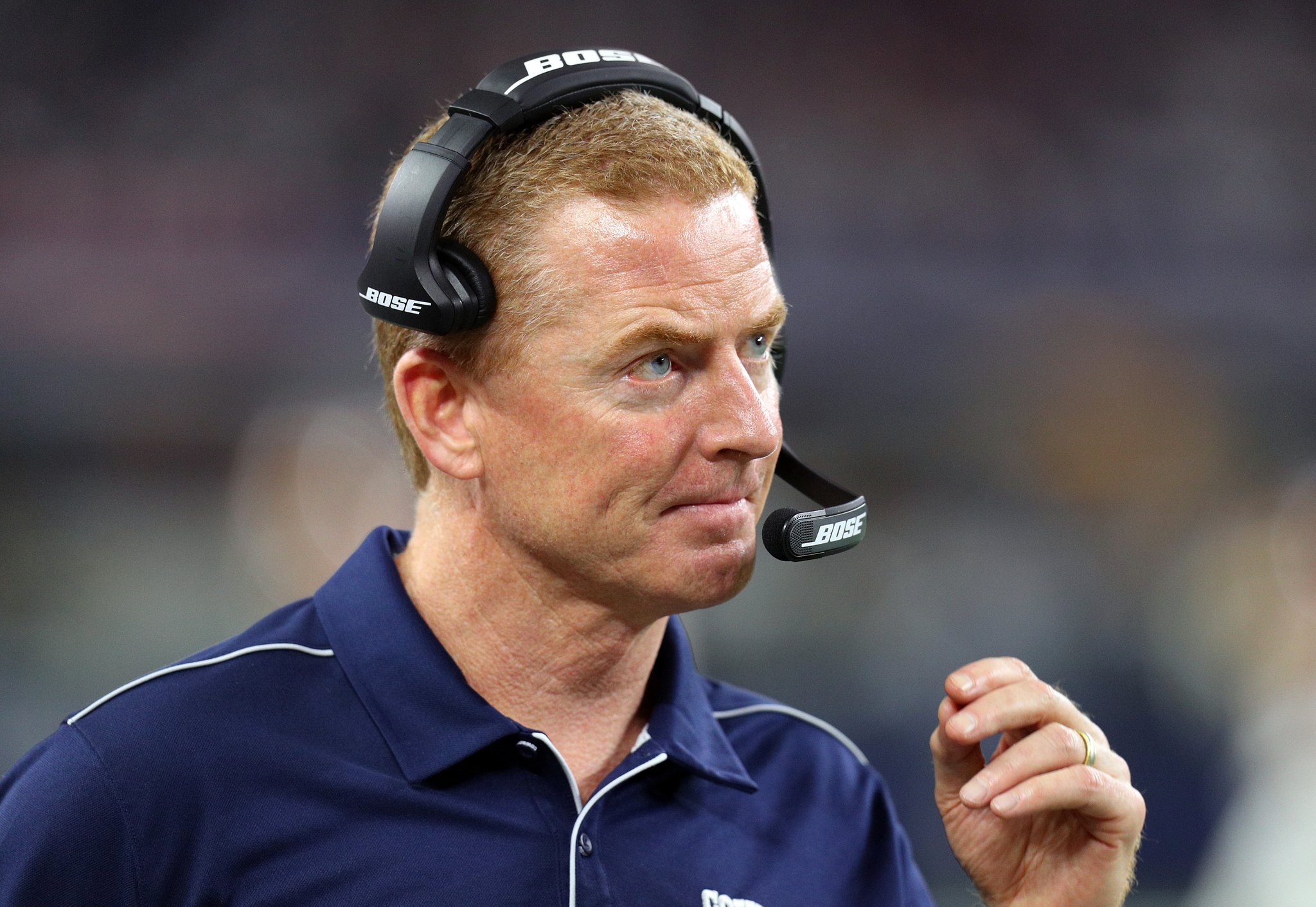 Sadly, he decided to retire from professional football in 2004 and started his journey as a coach as a quarterbacks coach for the Dolphins for the 2005 season.
In 2010, Jason served as the head coach of the Cowboys after being promoted from being an offensive coordinator and assistant head coach.
Later, Garrett served as the offensive coordinator for the Giants and joined Duke University football as the head coach after being fired by the Giants.
Salary & Net Worth
A literacy advocate, Brill Garrett is a woman who encourages reading for our young generation.
But since her professional details are unavailable, we cannot be sure about her income and earnings.
But some sources claim her net worth to be around $500k. Still, the exact number and her field of operation are unknown.
Meanwhile, her husband, Jason Garrett, has an impressive net worth of $18 million as of June 2023.
Also, the former professional football player reportedly earns $6 million annually as a football commentator.
Looking at it, there is no doubt that the Garrett couple lives a luxurious life.
Popularity
Being married to a former NFL player, coach, and football analyst, Brill has gained thousands of fans.
The above graph shows brief information about the popularity of Brill Garrett based on Google searches in the United States over a year.
Frequently Asked Questions (FAQS)
Where does Brill Garrett reside?
Jason and Brill reside in their Dallas house, which they purchased in 2011.
What is the Maiden name of Brill?
Before her marriage, Brill's maiden name was Aldridge, and after marriage, she became Garret.
Did Jason and Brill test positive for Corona virus?
Yes. Jason tested positive for Coronavirus, but Brill tested negative.