'Just remember that nothing is as bad as it seems, and nothing is as good as it sometimes appears.' This quote rings true to Troy Aikman. This is because of several ups and downs in his career and personal life.
As an American quarterback player for Dallas Cowboys in NFL, Troy has to lead the team to win many awards and Super Bowl Championship. In the same way, he has always been a winner from an early age.
Retirement from sports after 12 years, Aikman continued his profession as a commentator in different sports news channels.
His dedication and hard work in every field are outstanding. Being a good father of 4 children and husband of Catherine Mooty, he has managed everything well.
Lots of more to talk about, Troy Aikman. So stay with us until the end of the article. But, before that, let's have a look at the quick facts about Troy Aikman.
Quick Facts:
Full Name
Troy Kenneth Aikman
Birth Date
November 21, 1966
Birth Place
West Covina, California, United States
Nick Name
The Godfather Roy
Religion
Lutheran
Nationality
American
Ethnicity
White
Education
Henryetta High School

UCLA Extension

The University of Oklahoma

Horoscope
Scorpio
Father's Name
Kenneth Aikman
Mother's Name
Charlyn Aikman
Siblings
2
Age
56 Years Old
Height
6'4 ft
Weight
100 kg
Sexual Orientation
Straight
Hair Color
Blonde
Eye Color
Blue
Body Measurement
Updating Soon
Net Worth
$25million
Marital Status
Married
Wife
Catherine Mooty
Children
Yes
Profession
American Football Player

Announcer, Commentator

Position
Quarterback
Jersey number
#8 (Dallas Cowboys)
Active Years
1989-2000
Tv Shows
Thursday Night Football,

The Big Game: All-Access Pass

Awards
Super Bowl Most Valuable Player Award
Social Media
Instagram, Twitter
Merch
Autographed Jersey, Bobblehead, Book
Last Update
December, 2022
Where is Troy Aikman from? Early Life, Family, Education
Born on November 21, 1966, Troy's birthplace is West Covina, California, United States. He is the younger son of Kenneth Aikman and Charlyn Aikman.
Troy's father worked in pipeline construction. Aikman grew up in California with his two elder sisters Tammy and Terri.
In the meantime, when Troy turned eight months, his parents noticed that his legs were slightly bowed below his knees and his toes curled under his feet.
After consulting with Dr. Bill McColl, he conformed that Troy had a mild form of clubfoot.
For 13 months, he wore the casts on his feet and then special shoe for 3 years after casts were removed from his feet.
By the time when Troy turned 12 years, his family shifted to Henryetta, Oklahoma. He joined Henryetta High School to complete his high school education.
After that, he pursued his degree from UCLA Extension and the University of Oklahoma.
How old is Troy Aikman? Age, Height, Physical Appearance
As of now, Aikman is 56 years old with the Scorpio sun sign. People believe that a person with Scorpio sun sign is calm and cool behavior with their mysterious appearance.
In some sense, Troy also matches this character. The native American follows the Lutheran religion and belongs to the white ethnicity.
With a stunning body appearance, California possesses a height of 6 feet 4 inches and weighs around 100kg. Yet, even at this age, Troy is fit and good-looking.
He has got an athletic physique and trained body thanks to his years of training. However, to this date, he follows a strict workout routine and only eats healthy foods.
Troy mentioned that he usually eats fruits, veggies, fish, and lean meats in an interview. Likewise, he also said that he has cut back on sweets like peanut M&M's and ice cream.
Besides, Aikman has got blonde hair with blue eyes. However, the young man has not revealed anything related to his body measurements.
Troy Aikman Career | Collegiate and Professional
Early Career
From an early age, Troy showed his interest in baseball rather than football. He always dreamed of playing baseball at the University of Southern California and then going onto the majors with his friend.
As the young boy grew up, he started liking football more than baseball. Dallas Cowboys became his favorite team, and Roger Staubach was his favorite player.
During high school, he participated in various events and was an all-around great guy in high school.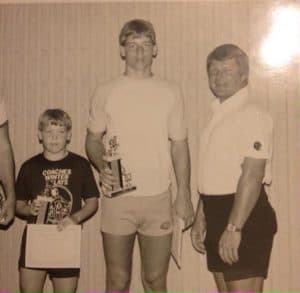 Many colleges wanted Aikman to play baseball for them, but he thought to continue football and joined the University of Oklahoma coached by Barry Switzer.
As a freshman in 1984, he started from the quarterback position. Unfortunately, during the second season against Miami Hurricanes, he got tracked and broke his ankle.
Eventually, Troy left the game and transferred to UCLA with his coach Terry Donahue. However, due to some college rules, he didn't involve in any games for the first season.
At UCLA, Troy played 2 games, one with Aloha Bowl and Cotton Bowl. They won against Aloha Bowl with 20-16 and beat against Cotton Bowl with 17-3.
In the end, Troy completed his career as the number two career passing leader in UCLA history.
Dallas Cowboys
In 1989, the native American became the number one draft pick by the Cowboys Dallas. However, during the debut season in NFL, Troy lost against New Orleans Saints with a 28-0 loss.
He lost the first four of his game, broke a finger, and recorded a 1-15 loss that year. Troy faced a lot of negativity, and some headlines referred to him as 'Ache Man.' Troy once said:
I know how difficult my rookie year in the NFL was and I know how competitive this sport is
With a good start in the year 1992, he completed the regular season with 13-3. Aikman led the Cowboys to a 52-17 victory against the Buffalo Bills in Super Bowl XXVII.
After recording 22 of 30 passes for 273 passes and 4 touchdowns, California was named Super Bowl MVP.
In 1993, Troy and Dallas Cowboys won the Super Bowl XXVIII against the Bills with a score of 30-13. Unfortunately, due to several injuries, The Godfather Roy missed the game of 1994.
Scoring 3,300 yards, the Cowboys finished the best record in the NFL in 1995. Similarly, the same year, the Cowboys won the Super Bowl XXX against Pittsburgh Steelers with a score of 27-17.
Furthermore, Troy became the first quarterback in Cowboys history with 3000-yard seasons in 1997. Despite missing 5 games, Aikman helped Dallas to the NFC East title and the playoffs.
After several health issues during the 2000 season, he ended his career as the Cowboy's all-time leading passer in April 2001.
The main reason for retirement was the persistent back problem issues he faced during the 2000 season.
Finally, his 12 seasons record for the Cowboys is set as 2,898 completions in 4,715 attempts for 32,942 yards and 165 touchdowns.
Post-retirement
Troy retired from his football career when he was just 34 years. As soon as he retired in 2001, the quarterback joined Fox's NFC telecasts as a color commentator.
Not to mention, the quarterback player hosted a sports radio show on Sporting News Radio.
Aikman is also featured in the Simpsons episode 'Sunday, Cruddy Sunday' with Miami Dolphin quarterback Dan Marino.
After his university degree in Sociology, he participated in UCLA's social department commencement ceremony in 2009.
Likewise, in 2010, Aikman became a member of the National Football Foundation and a co-spokesman for Rent-a-Center.
After 25 years of his end of college athletics career, Aikman was honored with Silver Anniversary Award in November 2013. This award is given annually to 6 former college athletes, and Troy was also one of those.
Later in the year 2014, he became a partner and spokesman for IDLife. At present, he works as a television sportscaster for the Fox network.
Don't forget to check out: <<Joe Montana Bio: Age, Wife, Career, Education, Net worth, IG Wiki>>
Troy Aikman | Achievement, Awards, and Nomination
Not to mention, Aikman has a successful football career. Along with different teams, he leads the match and also the winner of many awards and championships.
Now let's have a quick look at some of his awards and achievements throughout his life.
1983 – Oklahoma high school state championship
1986 – Pac-10 Offensive Player of the Year
1987 – Lead UCLA Bruins to Aloha Bowl victory
1988 – Davey O'Brien Award, All-American 'Player of the Year'
1993 – Named Super Bowl's Most Valuable Player
1997 –Named as The Walter Payton NFL Man of the Year
2005 – Inducted into the Dallas Cowboys Ring of Honor
2004, 2005, 2006 – Nominated as 'Sports Emmy Award for Outstanding Sports Personality.'
2013 – NCAA Silver Anniversary Award
Who is Troy Aikman Wife? Personal life and Kids
Successful with his career, Troy's love life doesn't seem to be much interesting. During his teenage period, he dated country singer Lorrie Morgan.
After a few years, the relationship didn't work out as expected, and the couples split. However, later in the year 2020, on April 8, Troy tied the knot with Rhonda Worthey.
She is a former Cowboys publicist. Soon after the marriage ceremony, the couple became parents of 2 daughters: Jordan Ashley Aikman and Alexa Marie Aikman.
Jordan was born on August 24, 2001, and Alexa on July 30, 2002. However, the relation between the Aikman couples didn't work out, so they announced their separation on January 24, 2011.
Six years after separation from Worthey, Troy announced his engagement with Catherine Mooty. Also known by Cape, she is a high-end fashion retailer.
The couples started dating in 2016 and eventually tied the knot on September 1, 2017, at Four Seasons Resort The Biltmore, Santa Barbara, California.
Before Troy, Mooty was married to Jerry Mooty. The reason for their splits is still unknown.
Mooty's couples served the parents of their two sons. After the divorce, Mooty looks after the kids as a single mother.
For Troy and Catherine finding each other was like giving love a second chance. Likewise, they live a happy life with 4 children. 2 daughters from Troy and 2 sons from Catherine.
You might also want to read: <<Jimmy Johnson Bio: Net Worth, Height, Hall Of Fame, Wife>>
What is Troy Aikman's net worth? Net Worth and Salary
Most of Aikman's income comes from his football games. Similarly, being one of the league's highest-paid quarterbacks, anyone can predict that Troy's net worth is quite impressive.
As of 2022, this quarterback player's net worth is estimated to be around $25 million.
Furthermore, different reports claim that his signing contract with the NFL for 8 years was $50 million in 1993.
Even after he retires from sports, Troy is engaged in various jobs and ventures these days. He is currently working as a sportscaster for the Fox network, with which he is paid around $1 million annually.
With all this information, it's sure that Troy is living a luxurious life with his wife and kids. But, besides that, there is no information regarding his personal assets, house, car, etc.
Social Media Presence:
Troy is on Instagram, with more than 274k followers. He is quite active with his social media and shares pictures related to his daily life.
Moreover, there are family photos, vacation shots with friends, trips to the gym, and selfies in the sun.
Similarly, Troy is equally active on Twitter, with 1.2 million followers. He continually tweets breaking news and rumors that bubble up in the football world.
Additionally, he is seen in many interviews describing stuff related to career and life.
Some FAQs:
What is Troy Aikman's rookie card value?
Troy Aikman's rookie card price ranges from $0.01 to $169.25. His rookie card estimated market value is $9.61.
When did Troy Aikman establish Aikman enterprises?
Troy Aikman enterprise was established in 1992. It was established with the aim of providing financial support for the psychological, physical, social, and educational needs of children.
Who will replace Troy Aikman on Fox Sports?
According to Michael McCarthy, FOX is eyeing on the former Nigerian-American linebacker and young broadcaster Emmanuel Acho as a possible replacement for Troy Aikman.
Did Joe Buck and Troy Aikman make fun of military flyover?
Joe Buck and Troy Aikman faced some criticism for comments they made about military flyovers that were caught on the mic during the Packers-Buccaneers game.
They were broadcasting the game for Fox and just randomly commented on the flyover during their commercial break.
Later their comments appeared on the raw feed, which wasn't the part of the broadcast shown on Fox.
The video circulated all over social media, and they were heavily criticized. However, later Joe and Troy both clarified and apologized for their comments.
Did Troy Aikman have a lot of concussions?
In an interview with Sports Illustrated, Aikman mentioned that he has battled with many concussions during his career. He said that he had suffered between six and eight concussions during his 12 seasons.
Likewise, Troy also said that his head injury left him no memory of the NFC championship game in 1994.