Brittany Starr Bowe is an American speed skater and former inline skater. She has two bronze medals from the 2018 and 2022 Olympics.
She has bagged eight gold, one silver, and two bronze medals from the world inline speed skating championships.
Aside from skating her way into our hearts, Brittany won the gold medal in the roller-coaster at the 2007 Pan American Games.
In 2015, Brittany bagged three-straight gold medals in the 5,000-meter relay at the World Inline Speed Skating Championships. Furthermore, she won the 2015 World Sprint Championships.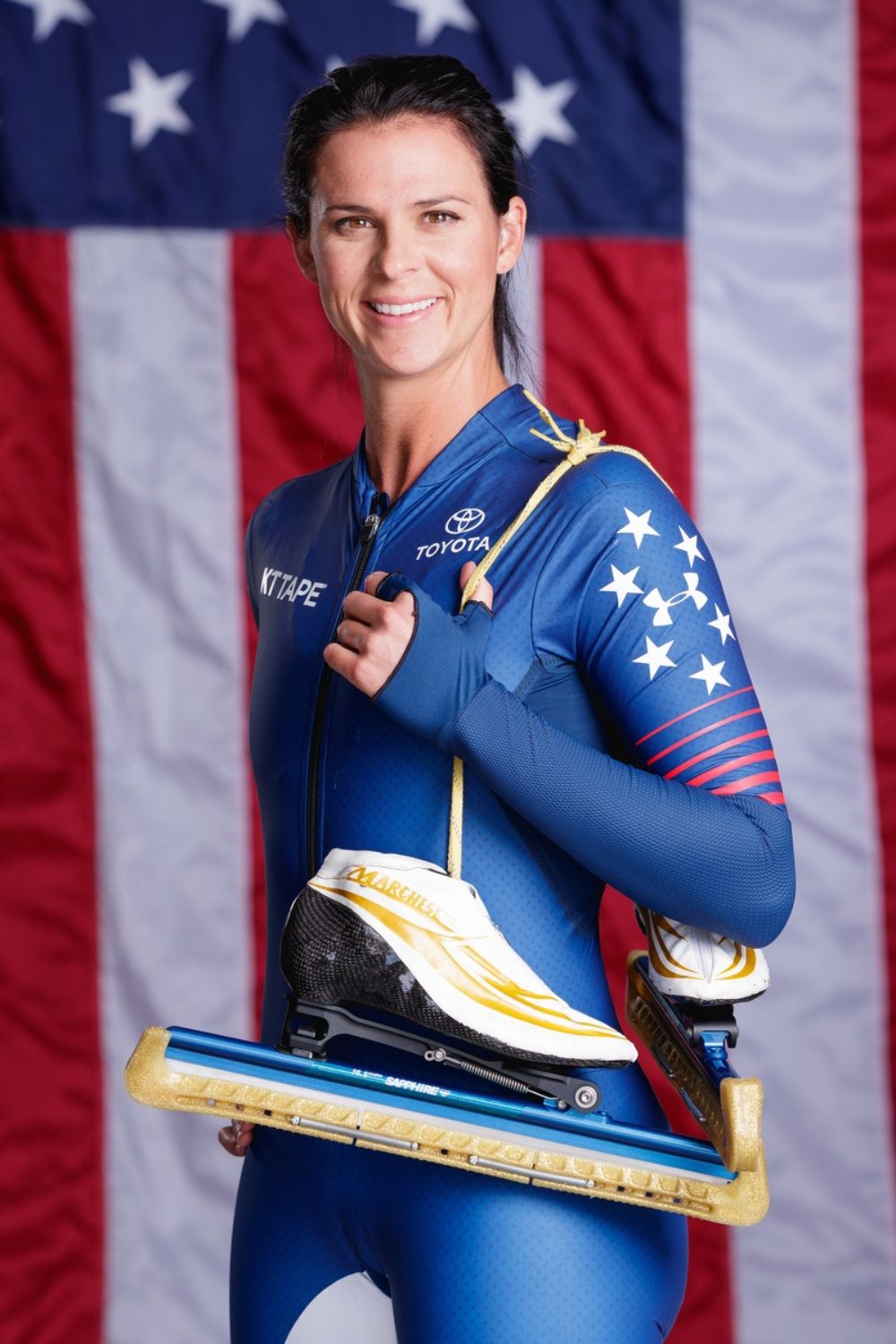 She has won a bronze medal at the 2022 Winter Olympics in speed skating.
Apart from skating, she was also a basketball player. Bowe played basketball for Florida Atlantic University as a Point Guard.
"When I'm starting a race, I just completely narrow down my vision and focus on what's directly ahead of me."
Please keep reading to learn more about her professional career, accomplishments, earnings, family, and personal life.
Before that, let's glance at some quick facts about Brittany.
Brittany Bowe | Quick Facts
| | |
| --- | --- |
| Full Name | Brittany Starr Bowe |
| Birth Date | February 24, 1988 |
| Birth Place | Ocala, Florida |
| Nick Name | Speed Star |
| Religion | Christianity |
| Nationality | American |
| Ethnicity | White |
| Education | Trinity Catholic High School, Florida Atlantic University Graduate |
| Horoscope | Pisces |
| Father's Name | Michael Bowe |
| Mother's Name | Deborah Bowe |
| Siblings | Brooke Bowe |
| Age | 35 Years Old |
| Height | 5'7″ (1.70 m) (170 cm) |
| Weight | 66 Kg (145 lb) |
| Accomplishments | Seven Straight Gold Medals On The World Cup Circuit In The 1,000 Meters |
| Hair Color | Brown |
| Eye Color | Brown |
| Tattoos | Yes |
| Build | Athlete |
| Marital Status | Unmarried |
| Girlfriend | Yes |
| Sponsors Partner | Team USA, UNDER ARMOUR, USANA, |
| Profession | Football Player |
| Net Worth | $3- $5 Million Estimated |
| Salary | Not Known |
| Coached By | Ryan Shimabukuro |
| Active Since | Since 1996 |
| Social Media | Instagram, Twitter, Facebook |
| Merch | Trading Card |
| Last Update | May, 2023 |
Brittany Bowe | Early Life, Parents, And Education
The inline speed skater and former basketball player Brittany was born on February 24, 1988. Her hometown is Ocala, Florida.
Bowe is of American nationality and belongs to the white ethnicity. And her zodiac sign is Pisces.
Her dad is Michael Bowe, and her mom is Deborah Bowe. Brittany has a sister named Brooke Bowe.
Likewise, Brittany completed her high school at Trinity Catholic High School. She received her degree from Florida Atlantic University in sociology and social science.
Her friends and coaches describe her as resilient, dedicated, and incredibly kind.
Brittany Bowe | Professional Career
Inline Speed Skating
Since her childhood, Bowe has had a massive interest in sports. At the age of 8, the young Bowe practiced inline skating.
In no time, she excelled at it and competed at higher levels. And she eventually participated in the World Championship from 2002 to 2008.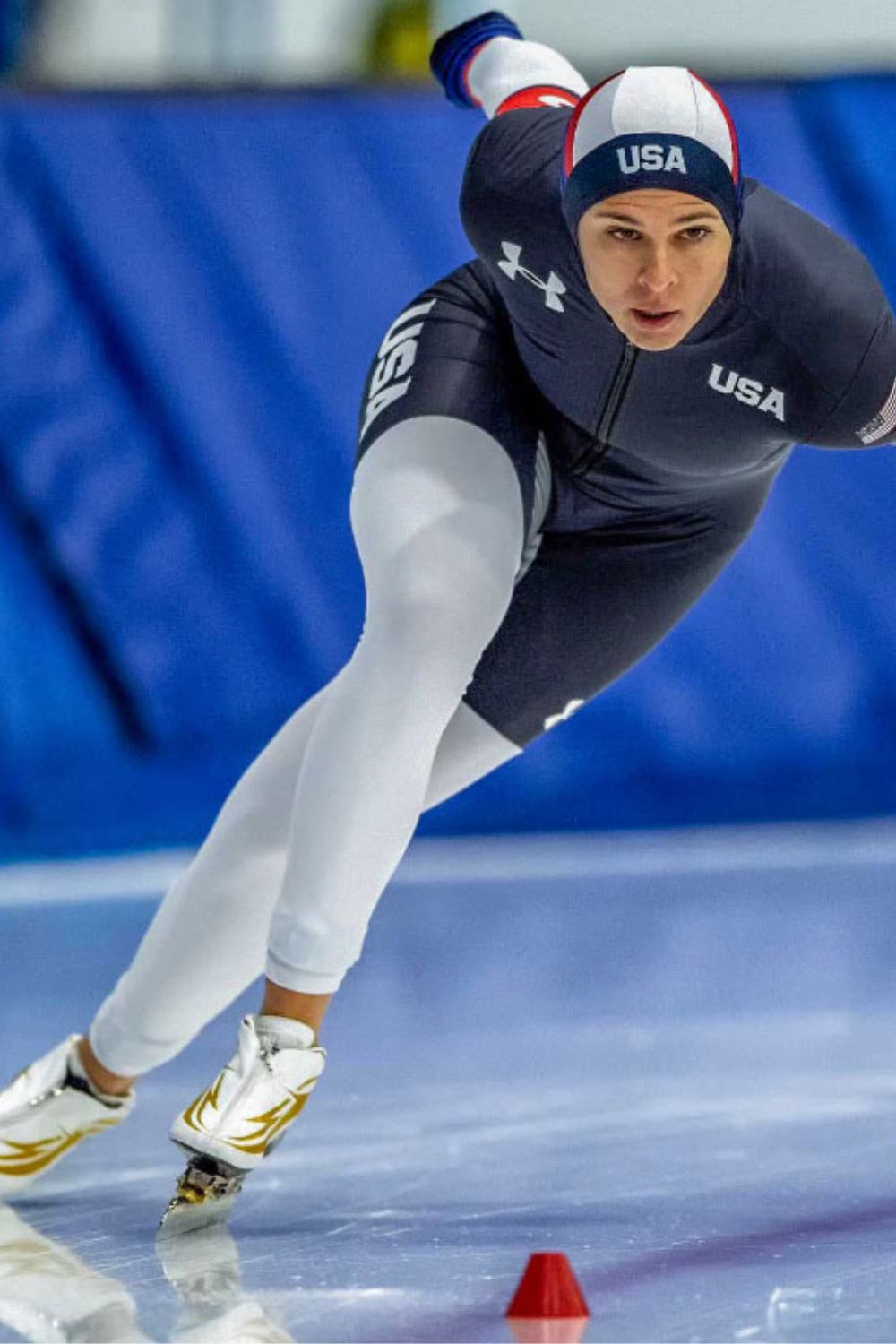 Brittany bagged 32 medals at the championships, including 11 from the senior championships. Commendable!
Career As A Basketball Player
The veteran Brittany Bowe is not only limited to inline or speed skating. To many's surprise, she was a prominent basketball player.
Bowe concentrated on the basketball games after competing in the 2008 World Championships (inline speed skating). She served as a Point-Guard for Florida Atlantic Bowls in her college years.
Speed Skating
After college graduation, Brittany left her basketball career. Inspired by skaters like Chad Hedrick and Heather Richardson, she participated in the 2010 Winter Olympics.
Brittany's devotion to the game made her one of the prominent names in the skating world. Very soon, she tasted the fruit of success.
On January 20, 2013, young Bowe bagged her first podium in the ISU Speed Skating World Cup.
Likewise, she accomplished the third position in both races 1000 meters from the World Cup stop in Calgary, Alberta, Canada.
Brittany then managed to win her first World Cup gold medal in the 1000 meters just three weeks later. The events took place at World Cup Stop in Erfurt, Germany.
All-inclusive, she ranked second in the women's 1000 meters World Cup, just behind her role model Heather Richardson.
Career Journey 2013 Onwards
In March 2013, Brittany won her first World Championships medal (bronze). In this World cup, she performed exceptionally well.
She was just behind the Russian speed skater Olga Fatkulina and Dutch all-rounder speed skater Ireen Wust.
That same year, Bowe set a new world record of 1000 meters with a time of 1:12.58 in the World Cup stop in Salt Lake City.
Here, you can see how Brittany smashed the 1500m world record:
Despite all her achievements, the 2014 Winter Olympics may not have been her best game yet. Brittany was 13th in 500 meters, 8th in 1000 meters, and 14th in 1500 meters.
However, Bowe claimed all the glory the following year with gold medals in 1000 meters and 1500 meters.
Furthermore, she has bagged silver in 500 meters. Above all, she won the 2015 World Sprint Championships.
During the 2014-15 World Cup, Bowe bagged four podium placings, three silver, and one bronze, for an overall 5th place in the 500 meters World Cup.
In 2019, Brittany Bowe, a Two-time Olympic speedskater and a World Champion was inducted into the Florida Atlantic University's Athletic Hall of Fame.
Beijing Olympics 2022
During the U.S. Olympic trials, Bowe qualified for the 500m, 1000m, and 1500m events.
However, she gave up her spot in the 500m event to her teammate Erin Jackson who failed to qualify for the Olympics due to a slight slip-up.
View this post on Instagram
Brittany gave her spot to Jackson, who went on to win gold in the Beijing Olympics 2022, because she felt Erin earned the place.
This gesture showed great sports spirit and genuine kindness on Bowe's part.
The speed star went on to win a bronze medal in the 1000m event crossing the line in 1:14.61.
Recent Events
Brittany was engaged in these 2022 events.
January 5-9: USA Olympic Team Trials – Milwaukee, Wisconsin.
February 3-19: Olympic Winter Games – Beijing, China.
March 2-5: ISU World Championships – Hamar, Norway.
March 11-12: ISU World Cup #5 – Heerenveen, Netherlands.
Awards & Achievements
2020/21 National Long Track Team
2020 World Single Distance Championships 1000m 8th; 500m 13th; 1500m 14th
2020 World Sprint Championship
World Single Distance Championships – 2019
2019 World Sprint Championship (Overall bronze)
Long Track World Cup – 2017/18
Participated in the 2016-17 National Long Track Training Program
Received bronze at 1000 meters 2016 World Cup Heerenveen
Gold – 2015 World Sprint Championship
2014-15, World Single Distance Championships
1000 m silver 2012/13 World Cup
Brittany Bowe| Age, Height & Tattoo
The 'Speed Star 'of the United States is 35 years old. Bowe stands at around 1.70 m.
Furthermore, Bowe weighs 145 lb. Since she is an athlete, you can bet she has a toned body.
Aside from that, Brittany has a tattoo inked on the right side of her stomach.
Her eyes and hair color are both brown. Her body measurements are 37-25-39 inches.
Besides this, there is no info about her shoe and dress sizes.
Brittany Bowe | Personal Life & Girlfriend
Brittany Bowe is not a married girl. But that does not mean Bowe is single by any chance.
The World Champion is dating her girlfriend, Manon Kamminga. Yes, Bowe is a lesbian and proud of it.
Who Is Manon Kamminga? How Did They Meet?
Also known as Manon Marriet Kamminga, Manon Kamminga is a speed and marathon skater from the Netherlands. Much like Brittany, Manon is a successful inline skater as well.
Bowe's partner has been part of Renault Ladies Team Marathon racing. Furthermore, she played for the Dutch skating team, Liga.
She started her inline skating in 2010. So far, Manon has won several medals and championships.
Right now, Brittany and Kamminga are in a happy relationship. They are often spotted together at parties, pubs, and beaches.
However, when and how they met is still a mystery to the fans. But some speculate the two might have encountered during one of the championships. But nothing has been confirmed yet.
Who Is Brittany Bowe's Sister?
Brittany Bowe is very close to her family. Especially her sister Brooke, an Instagram sensation, Professional Dancer, and Choreographer.
Furthermore, she has a YouTube channel named Meet the Instructor: Brooke Bowe. On her channel, she teaches about dancing and choreography.
You'll Love This: Ekaterina Gordeeva Bio: Daughters, Net Worth & Husband>>
Brittany Bowe's Hobbies And Personal Interests
Undoubtedly, Brittany Bowe is a dedicated speed skater. It is also known that her family and sisters are equally vital to her.
Besides her professional life and family, she has a keen interest in other things. She is fond of traveling and loves to travel to several places.
For hobbies mostly, Brittany likes outdoor activities, including mountain climbing and bike riding.
Likewise, Bowe is an avid basketball fan. She is a supporter of the Los Angeles Lakers.
Moreover, she is a massive fan of the late American Basketball player Kobe Bryant.
Brittany Bowe | Flag Bearer
LGBTQ inclusion, Brittany, as a gay athlete, reaches out to a community that is frequently impacted by prejudice and exclusion.
She hopes that others can learn from her experiences on and off the ice.
Her successes, failures, determination, perseverance to overcome, strength, and confidence in her identity and sexual orientation.
Among the two USA flag bearers, Brittany is the one flag bearer and the only flag bearer for Team LGBTQ.
During the Parade of Nations at the Beijing Winter Olympics' Opening Ceremony, flag bearers have the unique distinction of serving as the primary nation's representative.
Brittany Bowe is the only publicly out LGBTQ athlete to receive this honor at the Olympics in 2022.
View this post on Instagram
In 2021, Brittany Bowe did a #UPAgain Pride episode in pride month with @guillaume_cizeron in The Up Again Show by ISU Speed Skating, captioned with
"We all have a story; there will always be someone who can relate. So keep sharing and keep yourself surrounded by people who lift you up."
Speed Star Bowe | Net Worth & Sponsors
Undoubtedly, Brittany Bowe has had a successful professional skating career. She has been doing this for more than a decade now.
Therefore, she has accumulated quite an amount. Then, what is her income?
Usually, a professional speed skater like her can make more than $70,000 a year in the United States.
Participating in National and International competitions may raise it from $150,000 to $200,000, including match-winning prizes.
Brittany is a champion player and participated in several World Championships and even in Winter Olympics. Therefore, we can assume her annual income ranges from $150,000 to $200,000.
And she has an estimated net worth of $3- $5 million approx.
Besides this, she earns from her sponsors, UNDER ARMOUR, Team USA, USANA, and Deloitte.
Brittany Bowe | Social Networking Profile
Speed star Britany is not only popular in her game. She is famous on social media too.
One can easily see her on Instagram, Twitter, and Facebook.
.@brittanybowe took home her first Olympic medal at #PyeongChang2018. Celebrate our Athlete Ambassador's return home with us at the #BigRedBall2018!

Learn more 👉https://t.co/rF7MFpLF0I pic.twitter.com/Y6dzTKzrBU

— Right To Play USA (@RightToPlayUSA) March 15, 2018
Trend Graph
The search graph of Brittany is in the plateau range, although we can see her peak in the graph.
It was because she participated in the 2022 Winter Olympics as her fans searched for her to know her progress.
Brittany Bowe | FAQs
When is Brittany Bowe going to celebrate her marriage?
There is no info about her marriage. Currently, Bowe is leading a happy life with her partner Manon Kamminga.
What illness does Brittany Bowe have?
After colliding with a teammate during training in 2016, she suffered a concussion. Subsequently, she was diagnosed with post-concussion syndrome and postural orthostatic tachycardia syndrome (POTS).
Learn More About Debi Thomas Bio: Early Life, Career, Net Worth & Personal Life>>