In the world of ice speed skating, Chad Hedrick is a household name. His unique technique, called DP or Double push, has revolutionized the inline speed skating world.
During his entire career, Hedrick has won 50 world championships and 93 national championships. Additionally, he has a brand of inline skating wheels, which is named after him.
His legacy in the Olympics remains undisputed as he won a pair of silver & bronze (Olympic medals) in the 2010 Olympic Winter Games.
With these, the American-born has a total of five Olympic medals under his name.
Additionally, none of the skaters in history have accumulated a comparable collection of podium appearances.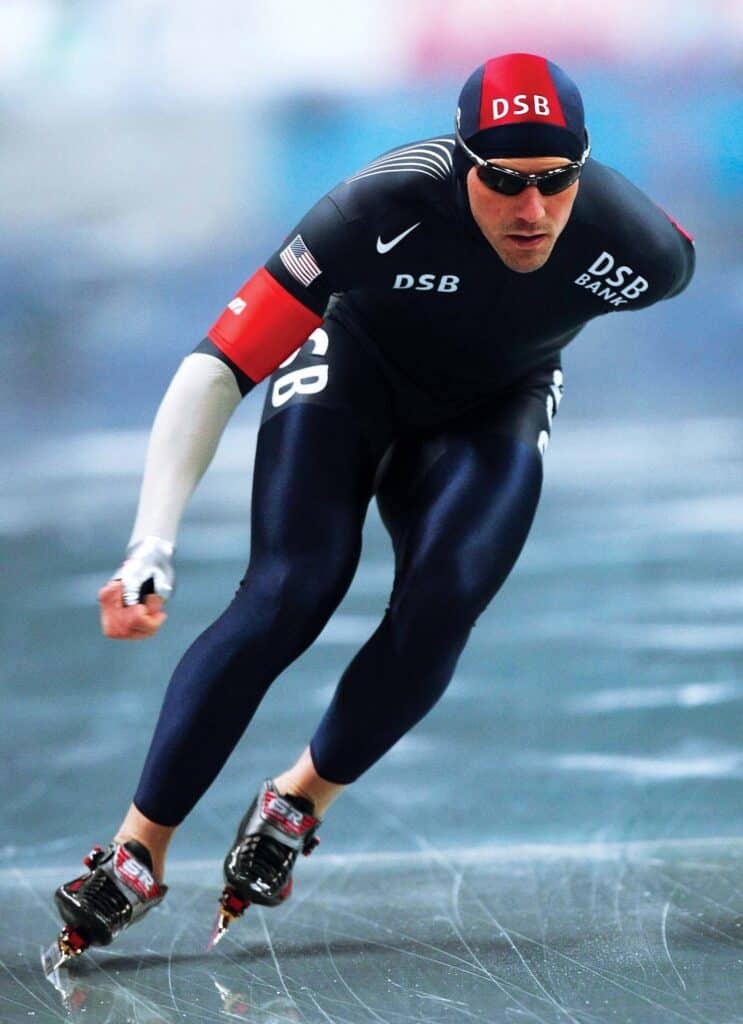 Thus, Chad is considered to be one of the most excellent all-around skaters in history.
Quick Facts
Name
Chad Hedrick
Nickname
The Exception/ The Paris Hilton of Speedskating
Birthdate
April 17, 1977
Age
46 years old
Birthplace
Spring, Texas, USA
Parents
Paul Hedrick & Wanda Hedrick
Sibling
Natalie Hedrick
Height
5'10″/1.78 m
Weight
78 kg/172 lb
Body type
Athletic
Eye color
Light brown
Hair color
Black
Skin
Fair
Education
Brill, Strack, and Klein High
Profession
Speed skater
Figure skater
Current status
Retired
Olympic accomplishments
3 medals (Gold, Silver & Bronze)
Skill
Double push
Relationship status
Married
Wife
Lynsey Elizabeth Adams
Marriage Date
June 7, 2008.
Wedding location
Houston, Texas
Featured TV show
"Whose Wedding Is It Anyway"
Children
Hadley, Harper, and Hogan
Social Media
Instagram
Twitter
Brand
DP52 Racing
Net Worth
$18 million
Merch
Olympic Cut Signature, Autographed FDC
Last Update
December, 2023
Chad Hedrick

|

Early Life & Background

Chad, the inline speed skater, was born on April 17, 1977. He was born to his father, Paul Hedrick, and his mother, Wanda Hedrick.

Along with his sister, Natalie, the two grew up in the city of Spring, Texas. Not to mention, Hedrick has been into skating since the age of two.

Soon after, he started to play with his sated at his parent's skating rink.
Moreover, Chad became a National Champion at the early age of eight. He had exponential growth since then as he became the World Champion at the age of sixteen.
Furthermore, the technique he often used started to be referred to as the double push. Then it became a standard for elite skaters around the world to demonstrate their skill and talent.
You might also like to read about Jonathan Marchessault: Career, Marriage & Net Worth >>
Chad Hedrick | Marriage, Wife & Children
Chad is a happily married man with a loving and supportive family. He tied the knots with his long-time girlfriend, Elizabeth Adams, on June 7, 2008.
Their wedding ceremony was held among selected individuals and at a private location in Houston, Texas.
Furthermore, their wedding was featured on "Whose Wedding Is It Anyway," a Style Network reality show.
Moreover, soon after their marriage, the couple had their first child in 2009. Their eldest daughter Hadley was born in March 2009.
Besides, their second daughter Harper was born in December 2010. After that, the two welcomed their third child, a son named Hogan, in 2014.
Chad Hedrick

| Skating Career
Inline speed skating
Chad was inspired by Derek Parra, who is a former inline skater turned ice skater. He was star-struck after Derek won the gold medal at the 2002 Olympics.
Consequently, it led Chad Hedrick to switch to the Ice. After just one year of ice training, Chad won the World All-round Speed Skating Championships in February 2004.
During the event, Chad even knocked off the world record points by reducing it to 150.478.
Moreover, he set six world records by being the first man to skate 6.2 miles (10,000m) in history in under 13 minutes.
Besides, Chad lived up to his reputation by winning the gold medal in the 5,000 meters event on March 12, 2004. The World Single Distance Championships was held in Seoul, South Korea.
Additionally, during the same year, Hedrick successfully defended the 5,000m world title in Inzell, Germany. However, he lost the World All-round Speed Skating Championships title in 2005 to Shani Davis.
Nonetheless, Hedrick, aka The Exception, remained a renowned figure as he currently ranks 3rd in an unofficial world ranking.
The Formidable Ice Man
Chad Hedrick, the "Iceman," earned his nickname from his loving fans because of his skill and talent on the Ice.
Despite being a fresher in skating, Chad did not disappoint and improved as time went by. Furthermore, just a few years after his debut, he was awarded the Oscar Mathisen Statuette in 2004.
Likewise, the respective award is only given to the top speed skater performer in the world of that individual year.
Also, Hedrick established himself among the best long-distance skaters in the world. He proved his worth after setting world records in the 10,000, 5,000, and 1,500, all between November-December in 2005.
You might also like to read about Deryk Engelland Bio: Ice hockey, NHL & Family >>
Chad Hedrick | Olympics Career
In 2006, Chad decided to make his way to the Winter Olympics to win the three major events. Additionally, Hedrick predicted that he would equal Eric Heiden's five gold medals.
His legacy continued as he grabbed the gold medal at the 2006 Olympic Winter Games (5,000m event). Chad won the prestigious award by beating the top contender Sven Kramer of the Netherlands.
However, in the team pursuit, Shani Davis and Chad got into a controversy. The incident arose when Shani elected not to compete, stating it would interfere with his 1,000m event.
But Hedrick insisted that Davis should have competed in the race to strengthen their lineup.
Further, Eric Heiden, an Olympic-team physician, and five-time gold medalist stated that Shani made the right decision by not participating in the team pursuit.
Moreover, it would have ruined Davis's chance at securing the gold medal, which he did.
Consequently, without Shani Davis, the US pursuit team struggled and was placed in the 6th position.
Nonetheless, at the end of the Olympics, Chad won three medals. Moreover, he became the third American to win three consecutive skating medals in a single Olympics.
Besides, Chad continued to speed skate internationally, finishing fourth in the 2008 World All-around event.
A legacy left behind.
Chad Hedrick, one of the most decorated ice speed skaters, stepped on a pair of inline skaters at 17 months.
After that fateful moment, Chad set his sight on greatness. He won 52 World Championship victories and nine consecutive World Overall Championships.
Further, he switched to ice skating in 2002 and became the World All-around Champion in less than two years.
All good things must come to an end, and just like that, in 2010, at the age of 33, Chad announced his retirement.
The gifted skater currently spends his time giving motivational speeches across the USA. Additionally, Chad devotes himself to the ministry of "Double Push."
In the initiative, he talks to the audience about how his faith played a significant role in his success.
Besides, he started "DP52 Racing," a speed skating equipment company along with these activities.
Further, the 'Chad Hedrick Foundation' he has organized has raised thousands of dollars for the Special Olympics.
Chad Hedrick Height | Age, Height & Weight
As a former ice speed skater, Chad has maintained an athletic body at the age of 46. He is a prime example of the term "age is just a number," as he occasionally demonstrates his skill on Ice.
Further, he keeps himself in top shape through strict dieting and a daily workout routine.
Hedrick is a muscular man standing at the height of 5 feet and 10 inches. Additionally, he weighs around 78 kg.
Despite his immense physical stature, Chad is light as a feather on the Ice. Besides, his flexibility has allowed him to execute swift techniques precisely.
You might also like to read about Tim Brant's Bio: Early Life, Family, Wife, Career & Achievements >>
Chad Hedrick | U.S. and World Roller Speed Skating Records
(3,000m relay race) National roller skating record in 1993

(5,000m relay race) National inline skating record in 1998

(1,000 and 1,500m race) The National outdoor track record in 1998 and 1999

(3,000m-male-female relay race) National inline skating record in 1998

(15,000m race) National outdoor track record in 1998

(1,500m race) National inline skating record in 1996

(500 and 1,000m) National outdoor road record in 2001

(1,500m race) National outdoor road record in 1998

(10,000m race) National outdoor road record in 2001

(1,500m race) World outdoor road record in 1999

(10,000m race) World outdoor road record in 1996

(15,000 m race) World outdoor road record in 2000
Chad Hedrick

|

Athletic accomplishments, Awards & Honors

Hedrick is a six-time World Record Holder
All-round samalog-150.478 (Hamar, Norway, February 8, 2004)

5000 m, 6.09,68 (Calgary, Canada, November 13, 2005)

10000 m, 12.55,11 (Salt Lake City, USA, December 31, 2005)

3000 m, 3.39,02 (Calgary, Canada, March 10, 2005)

All-round samalog, 148.799 (Calgary, Canada, January 22, 2006)

1500 m, 1.42,78 (Salt Lake City, USA, November 18, 2005)
Awards and Honors
Chad is one of the most excellent speed skaters in history. His exceptional skill and abilities on the Ice have earned him an appropriate nickname, "The Exception."
Chad has amassed numerous medals, awards, and honors throughout his career through inline and Ice competitions.
Chad Hedrick

| Net Worth and Salary

Through his career in speed skating and ice skating career, Chad has earned himself a fortune.

Currently, Chad Hedrick is a licensed realtor who works for eXp Realty, going From Gold to Sold.

His estimated net worth stands at the value of $18 Million.
Chad Hedrick | Social Media Presence
Chad Hedrick is a public figure on social media platforms such as Twitter and Instagram.
On his Twitter account, Chad has accumulated a massive 14.5k followers. You can keep in touch up with his professional and personal life through his Twitter account.
We are having a blast here at @TeamUSA's Winterfest presented by @Hersheys, cheering on #TeamUSA all the way from Hershey, PA! I can't believe the #WinterOlympics are almost over, but #HersheysGold keeps the party going!" #TasteTheGold pic.twitter.com/GL0rl4JVtr

— Chad Hedrick (@chadhedrick) February 20, 2018
On the other hand, he's pretty active on Instagram as well. He has over 11.5k followers on Instagram.
Chad Hedrick | FAQs
Is there bad blood between Chad and Shani Davis?
No, the controversy between the duo was because of professional reasons. So, no bad blood at the moment.
Is Chad Hedrick a real estate agent?
Yes, the renowned Olympian has also dipped his toes in the real estate waters. He specializes in Buyer's Agents, Listing agents, Commercial Real Estate, Luxury Listing specialists, Luxury Home Marketing, and so on.
You can find more about his real estate journey on Compass.
Is Chad Hedrick active?
Chad is active in other activities, such as handling his brand and traveling across the country, giving motivational speeches based on faith.