Major League Baseball accounts for an equal part of successful and unsuccessful managers.
However, only some of the managers can lead their teams to countless wins during their careers. Buck Showalter is one of them.
Showalter is a three-time American League Manager of the Year award-winning manager. During his career, Buck has won numerous prestigious awards.
Buck Showalter is also one of only a few managers to serve more than three decades in the MLB. Buck
Showalter is a manager who completed more than three thousand games as a manager for the various teams. Likewise, Showalter has also worked as a former television analyst in the ESPN network.
Moreover, Buck also contributed to the Yankees' television show. He is also a television personality.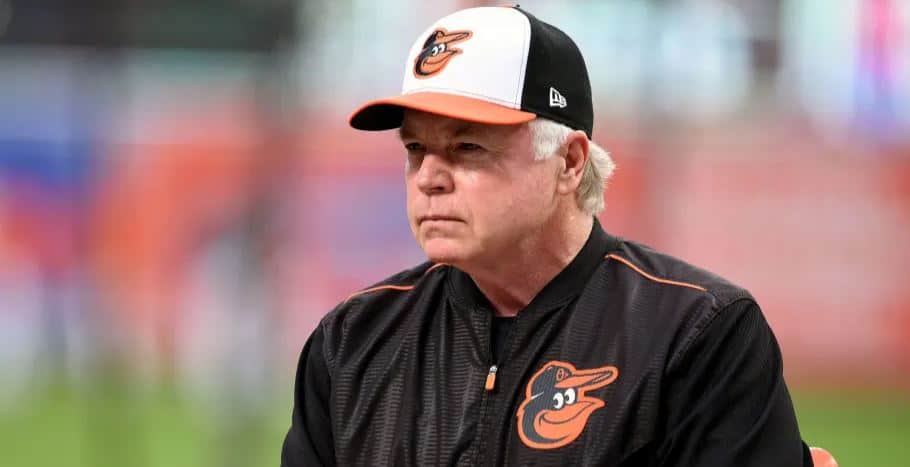 Before we learn more about Showalter, let's explore some quick facts about him.
Quick Facts:
Full Name
William Nathaniel Showalter III
Popular As
Buck Showalter
Birth Date
May 26 1956
Birth Place
Defuniak, Florida, United States
Nick Name
Buck
Religion
Christianity
Nationality
American
Ethnicity
White
Education
Completed Degree from Mississippi State University
Horoscope
Gemini
Father's Name
William Nathaniel Showalter II
Mother's Name
Lina Carrie Spires Showalter
Siblings
Information Not Available
Marital Status
Married
Spouse
Angela Showalter
Children
Two
Children's Name
Allie Showalter

Nathan Showalter

Age

67 years old

Height
5 feet 7 inches
Weight
88 Kilograms
Hair Color
Salt and Pepper Colored
Eye Color
Light Brown
Build
Muscular
Profession
Retired MLB manager
Manager of the Year Awards
3 Times
Active Years in MLB
1992-2018
Net Worth
$14 Million
Social Media
User Not Available
Merch
Hat, T-shirt, Snow Globe, Garden Gnome
Last Update

November, 2023
Buck Showalter | Early Life, Parents, and Education
William Nathaniel Buck Showalter III was born on May 26 1965 in Defuniak, Florida. He was born to William Nathaniel Showalter II and Lina Carrie Spires Showalter.
His father, Showalter II, was a high school teacher and American football player. Showalter II used to teach in the same school where Showalter used to read.
Whereas his mother, Lina, was a housewife. She was a proud mother of her son, who visited and saw Showalter's managerial technique in the baseball field.
Showalter's father passed away several years ago. There is no detailed information regarding this. However, his mother, Lina, died in October 2015.
In his childhood days, he used to go with his father to the football field. There, Showalter played football and Baseball. And he also learned to manage the players.
Also Read: <<Pat Venditte Bio: Age, Career, Net Worth, Wife, MLB, Instagram Wiki>>
Education
Buck started to go to the nearby school in his hometown, Defuniak. He completed his primary schooling there. After that, Showalter moved to Mississippi.
He studied at the State University of Mississippi. Buck's concentration of degree was on Baseball's theory. However, he also played football during his college days.
Despite joining the university for study, Buck displayed his talents through batting skills. After holding an average of .459, the university's team eventually promoted Buck as a full-time player.
He completed his degree in 1975. After that, Buck searched for jobs in different Baseball teams and found some. However, he was not satisfied with the position.
Buck Showalter | Career
Showalter started to play Baseball after joining the university. People primarily knew him as Nick in the game. The university's team selected Buck as a pitcher.
People did not appreciate Buck's game and his talents in his early days. But after playing in the Cape Cod Baseball League people, and the team recognized Showalter's skills.
After that, his career in Baseball was cherished for a few years.
Showalter holds a batting average of .459. And also, he made 17 home runs while playing in the different leagues.
However, he did not desire to play for the major leagues. That's why he stopped playing and focused on searching for a manager's position in different teams.
Finally, Showalter got selected as a manager in the Minor League team Oneonta Yankees. His managerial skills led the teams to 114 victories in a short time. The Yankees also managed to win the league.
For Buck's contribution to the minor league, the committee named him manager of the year. Also, Buck's name got enlisted in the New York Penn Hall of Fame.
Also, Read This: <<Willie Stargell Bio: Career, Net Worth, MLB, Legacy Wiki>>
Contract with the New York Yankees
After finishing a glorious career in the minor league, Buck got a call to join as a manager in the major leagues – from different teams. However, he signed a contract with the New York Yankees.
Buck spent years in the Yankees. During his tenure, he successfully led the team for 313 victories. Also, Buck was able to take the team for two playoff wins.
In 1995, the Yankees entered the playoffs for the first time after 1981. It was a breakthrough for Showalter. It was only possible because of him.
Because of Buck's hard work, the Associated Press awarded him American League Manager of the Year. In a short period, Buck was able to win numerous prestigious awards.
However, after spending years with the Yankees, Buck decided to move into the other club. He was not satisfied with the team management. So, he left the club in 1996.
Signing with Arizona Diamondbacks
After moving to Diamondback, the committee gave him only two years to improve the club. Moreover, they warned his failure would lead him to get fired.
Showalter began to work under pressure. With a time limit, he prepared a good team for the league. Likewise, Showalter managed the team with 65-97 records, which was not useful.
But, in the next season, he managed to lead the team with an astonishing record of 100-62. Also, the Diamondbacks acquired National League West title.
In two years, Buck made the team one of the fastest-growing in the league. Starting from scratch, he built perfection.
Hired by Texas Rangers
Showalter entered in the Ranger's ground on October 11, 2002. With a lot of experience, he began to do coaching for the freshly arrived youth players.
The team was not doing well when Showalter went there. But after his new techniques, the Rangers won back-to-back matches with astonishing records.
During his coaching period, the Rangers were successful in acquiring a 71-91 record. Before that, the record was never achieved by the Rangers in their playing history.
But after four seasons, Showalter was unsuccessful in bringing the trophy home. That's why the team management decided to fire him.
In 2006, he was forced to leave. However, Showalter finished his career with a 319-329 record.
Coaching with Baltimore Orioles
After a humiliating incident with the rangers, Buck decided to join the Orioles. During an interview with the media, Buck said he was not giving up his hopes after the incident and will bring the title for Orioles.
Buck was able to lead his team for the American League Division Series. The team's win percentage was .574, and the Orioles won 94 matches in a season.
Furthermore, the first time in 2012, the Orioles defeated Buck's ex-team, Texas Rangers. That's how he sorted out the revenge and his humiliation.
Showalter stayed with the Orioles till his retirement. He was able to accomplish several records, including winning his 3rd-time Manager of the Year award.
However, he also faced the worst times while doing coaching with the team. Showalter lost 115 matches in a season, which was the worst time of all.
In 2018, he was fired from the team due to inconsistent performance. Moreover, he also decided to retire after the incident.
Read this: <<Kyle Hendricks Age, Stats, Contract, Wife, Jersey, Net Worth, MLB>>
Buck Showalter | Personal Life
Buck Showalter is married to Angela Showalter. They married in 1983. The couple tied their knots secretly.
In January 1987, the couple was blessed with their daughter, Allie. And after five years, they were blessed with a son, Nathan.
There are no rumors of quarrels or divorce about the couple. However, there was a controversy circling about Buck's affair during working with the Orioles.
But the rumors faded away. Now the couple is living happily together in their home in Dallas.
Their son, Nathan, married Rebecca Gardener. They tied their knots in 2017. And their daughter married Andrew Robinson in 2013. Buck has already become a grandfather. His daughter is a mother to a son.
Angela Showalter is a celebrity in her hometown. She is a respected person because she frequently donates to charities that promote foster care.
Want to read more? <<Bubba Starling: Bio, Age, Career, Girlfriend, Net Worth & Social Media>>
Buck Showalter | Autograph
Here's a picture of a baseball card with Showalter's autograph:
Buck Showalter | Salary and Net Worth
Showalter is a rich personality. He has earned a lot of money during his career. Buck had an annual salary of 2-3 million dollars. However, he also earned it while working with the ESPN network.
Combining his all assets, Buck Showalter's net worth sums $14 million.
These days, he is retired. Buck is not earning any money at all. Despite his retirement, Buck has enough money to live a luxurious life.
Social Media Presence:
Buck Showalter is not present on any social media website. In a world full of technology, it isn't easy to believe that someone is not using social media.
However, we do not know whether he is using it secretly or not. His wife, Angela Showalter, is also not available on Instagram, Facebook, or Twitter.
But there is an account on Twitter matching her name and posts, which is not active since 2011.
Also, the couples' children's social media account is not reachable. So, it's sad to say there are no private posts to discover the Showalter family.
Some FAQs:
Is Buck Showalter still in Baseball?
No, Showalter decided to retire after 2018 when he was fired from the Baltimore Orioles.
Why was Buck fired from the Yankees?
In 1996, Showalter missed his flight for a game, so the Yankees decided to move him.
What is Buck Showalter doing now?
Buck Showalter is currently doing nothing. He is enjoying his work-free life.
How much is Buck Showalter's baseball trading card worth?
Buck Showalter baseball trading card price ranges from $0.34-$5.75.
What is Buck Showalter's take on rules on baseball?
Buck Showalter is very disciplined and equally controlling. He also stresses the importance and necessity of following unwritten rules on baseball. He believes that while the game is going on, the player has to play.
What is Buck Showalter's current job?
Buck Showalter is currently working as an analyst for the YES Network.
Is Buck Showalter a Hall of Famer?
Buck Showalter was named as an inductee in the New York–Penn League Hall of Fame in August 2017.
How much is Buck Showalter Baltimore house worth?
According to sources, Buck Showalter Baltimore house is worth $1.495M.
Did buck Showalter play baseball at the major-league level?
No Buck Showalter never played professional baseball at the major-league level.