Mark LoMonaco (aka Bubba Ray Dudley) is an American professional wrestler who goes by the ring name Bully Ray. He signed with the National Wrestling Alliance (NWA) and made his return to Impact Wrestling on October 7, 2022.
If you ask any wrestling fanatic, you would probably find the answer to who Bully Ray Dudley is.
Bully Ray is widely known for his appearances with D-Von Dudley in Extreme Championship Wrestling (ECW), World Wrestling Federation (WWF), and Total Nonstop Action Wrestling (TNA).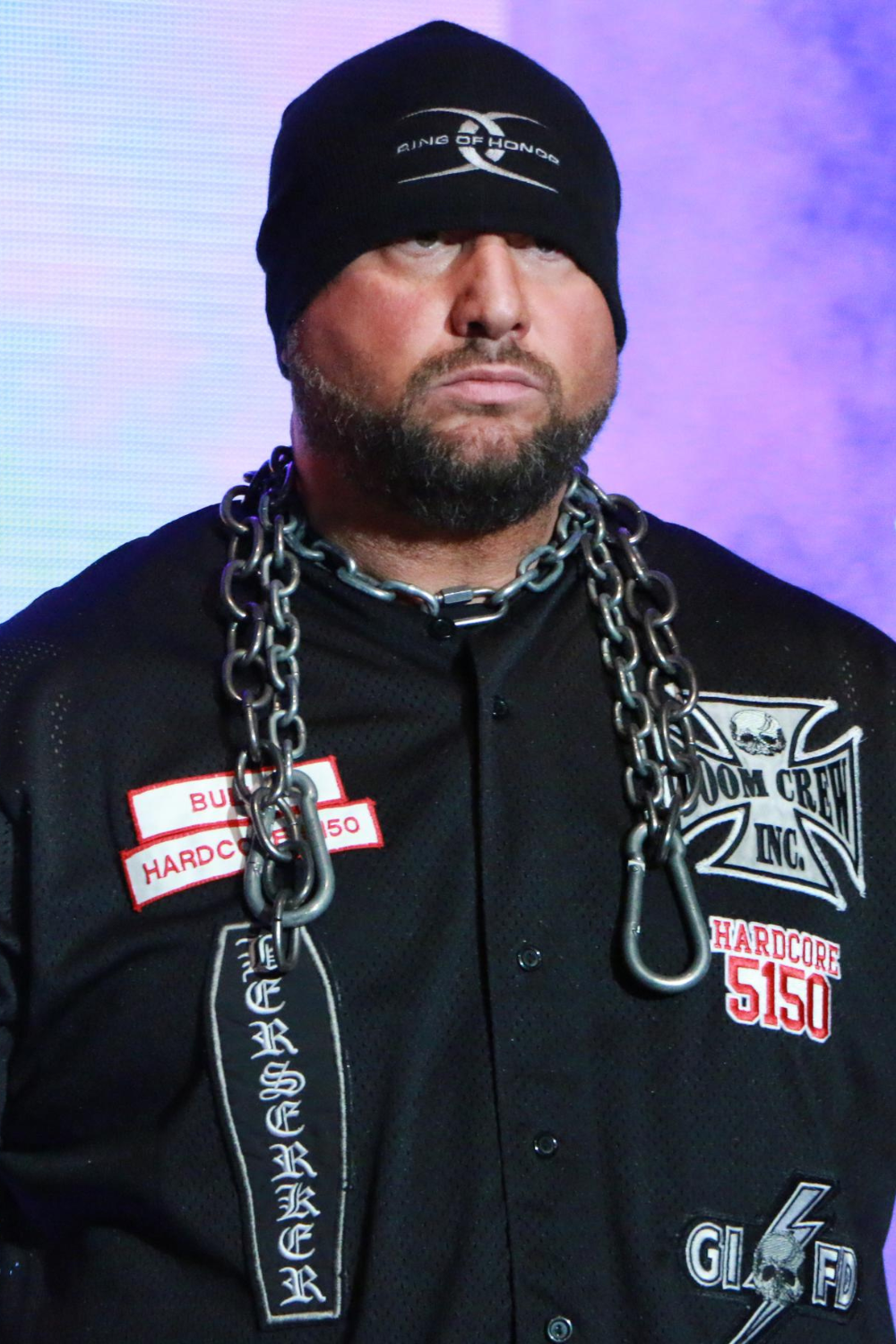 Ray is also known as Bubba Ray Dudley and Brother Ray. LoMonaco gained more popularity after teaming up with D-Von Dudley in The Dudley Boyz.
Bully Ray was ranked No. 4 among the top 500 wrestlers in Pro Wrestler Illustrated and won many heavyweight championship awards.
He currently co-hosts a radio talk show, Busted Open, along with Dave LaGreca. Ray and his co-host Dreamer were involved in an argument in one episode of his podcast in December 2022.
To know more about the pro wrestling champion, let's read further.
Bully Ray | Quick Facts
| | |
| --- | --- |
| Full Name | Mark LoMonaco |
| Birth Date | July 14, 1971 |
| Birth Place | Queens, New York, United States |
| Known As | Bully Ray, Brother Ray, Bubba Ray Dudley |
| Religion | Not available |
| Nationality | American |
| Ethnicity | White |
| Education | Not available |
| Horoscope | Cancer |
| Father's Name | Not available |
| Mother's Name | Not available |
| Siblings | Not available |
| Age | 51 Years Old |
| Height | 6'3″/1.9 m/190 cm |
| Weight | 127 kg/280 lb. |
| Hair Color | Brown |
| Eye Color | Hazel Brown |
| Build | Muscular |
| Relationship Status | Single |
| Ex-Partner | Velvet Sky (Jamie Lynn Szantyr) |
| Profession | Former Professional Wrestler, Radio Talk Show Host (current) |
| Net Worth | $3 million |
| Social Media | Twitter |
| Last Update | March2023 |
Bully Ray And The Dudley Boyz
Any wrestling fan would know about the professional wrestling tag team, The Dudley Boyz, or Team 3D.
ECW's tag team included Bubba Ray Dudley (Mark LoMonaco) and D-Von Dudley (Devon Hughes). Apart from the two of them, many other pro wrestlers joined the team, notably Spike Dudley.
Moreover, the Dudley family consisted of many illegitimate children of "Big Daddy" Dudley as part of the portrayal.
As the WWE owned the rights to their names, the Dudley brother became known as Brother Ray and Brother Devon after joining TNA (Total Nonstop Action Wrestling).
In addition, they got the team name Team 3D because of their finishing move called Dudley Death Drop. Also, Bubba changed his name to Bully during his TNA career.
After a brief conflict with each other, whether it was real or scripted, Devon and Bully reunited as part of Aces and Eights.
Bully Ray And Devon
The rise of half-brothers, Bully Ray and Devon, began in Extreme Championship Wrestling. Together, the half-brothers won the ECW World Tag Team Champions eight times.
After joining the WWF/WWE, they became the World Tag Team Championships' eight-time winners.
Similarly, the Dudley brothers won the National Wrestling Alliance World Tag Team Championship after joining TNA. They were the two-time winner of the TNA World Tag Team Championship.
The Kayfabe half-brothers are also one of the most prominent tag teams in professional wrestling history, with more than twenty tag-team championship titles.
Bully Ray | Career
Wrestling Career
Mark LoMonaco made his wrestling debut in 1991 as Mongo Vyle, his ring name back then. In 1995, LoMonaco entered a tryout session with Extreme Championship Wrestling.
After his impressive tryout, the then- ECW owner hired Mark and was recast as Buh Buh Ray Dudley of the Dudley Family.
In 1999, Buh Buh Ray and his half-brother, D-Von (Hughes), left ECW to join the World Wrestling Federation, where the spelling "Buh Buh" changed to "Bubba."
In 2002, the Dudley brothers left WWE and joined Total Nonstop Action Wrestling. However, none of them restrained from using "Dudley" in their names.
Later, Bubba and D-Von were legally instructed not to use the trademark name, which led the brothers to take legal action. The Dudley brothers were forced to change their ring names as the rights of the name were under WWE.
It was in May 2011 that LoMonaco renamed himself Bully Ray, after defeating Amazing Red.
On May 8, 2015, Ray made an appearance as the special guest referee for the TNA World Heavyweight Championship match between Kurt Angle and Eric Young in an episode of Impact Wrestling.
Similarly, Bully Ray and D-Von made a surprise appearance in the WWE, restoring the Dudley Boyz tag team persona in the episode of RAW on August 24, 2015.
After competing in the Ring of Honor for 3 years, Ray left the show as his contract expired on April 1, 2020.
Ray made an appearance as the special guest commentator for the NWA World Women's Championship on June 11, 2022, and on the June 14 episode of NWA Powerr, the Hall of Famer was attacked by Mike Knox and VSK.
Bully made his return to Impact Wrestling at Bound for Glory on October 7, 2022, where he won the Intergender Call Your Shot Gauntlet.
Hall of Fame
After the feud between Carters, it was announced on the Slammiversary night that Bully would be inducted into the TNA Hall of Fame in 2014. However, he was not the only one to be inducted into the Hall of Fame.
Along with his brother, Devon, Bully would be called to the TNA Hall of Fame as Team 3D for Bound for Glory.
Moreover, Team 3D defeated Tommy Dreamer and Abyss at Bound for Glory on their last contract date. After the end of the contract, Ray made a special appearance as a guest referee for the TNA heavyweight championships.
However, in mid-2015, Bully Ray left the company as he was not happy with the current state of affairs.
Broadcasting Career At Sirius XM
After dominating the wrestling world, LoMonaco is currently a co-host for Busted Open at Sirius XM Holdings Inc.
Sirius XM is a well-known American broadcasting company in New York City with branches outside of the U.S. as well.
Busted Open is one of the few recognized shows covering all PRO WRESTLING from Monday to Saturday.
With his energetic power of speech and field experience, he might also dominate the broadcasting aspect of wrestling.
Heated Debate
In December 2022, in a recent episode of the podcast 'Busted Open,' WWE Hall of Famer Bully Ray stormed off the podcast after getting into a heated argument with his co-host, Tommy Dreamer.
Bully Ray co-hosted the podcast along with ECW legend Tommy Dreamer, Mark Henry, and Dave LaGreca as the lead host of the Busted Open podcast on SiriusXM Fight Nation channel 156.
The argument started when Ray and Dreamer hosted the podcast together in the absence of LaGreca, and the WWE Hall of Famer accused Dreamer of trying to do his job as lead host after Dreamer announced a break.
After the break, Ray seemed furious as Dreamer welcomed listeners back. The ECW legend started to talk about a subject but was interrupted by Ray.
Bully Ray said, "Time out. Time out. Just so you know. When LaGreca is not here, I'm the lead host of the show. You're the co-host of the show and you do a damn fine job. But do me a favor, don't do my job for me. Ok, so I'll tell what, why don't you take this segment and why don't you do it by yourself as I thought would happen at the top of the show, one of us is gonna get annoyed. So I'm annoyed first. You take this segment Tommy. You talk about whatever you want."
Bully Ray | Achievements
2005 – World's Strongest Tag Determination League

2007 – Tag Team of the Year

Destiny Heavyweight Championship

Eight times ECW World Tag Team Championship

Hustle Super Tag Team Championship

International Wrestling Grand Prix Tag Team Championship

Pennsylvania Heavyweight Championship

Ring of Honor World Six-Man Tag Team Championship

Squared Circle Wrestling Tag Team Championship

TNA World Heavyweight Championship

TNA World Tag Team Championship

2014 TNA World Cup of Wrestling

2014 TNA Hall of Fame

Ten times WWF Hardcore Championship

Eight times WWF World Tag Team Championship

2018 WWF Hall of Fame

2013 Aces and Eights Worst Gimmick
Team 3D Academy
Besides his wrestling and broadcasting career, Bully Ray is also the owner of Team 3D Academy.
Team 3D Academy focuses on training young athletes who want to make a career in wrestling.
Located in Danbury, Connecticut, U.S.A., the academy is a training house for pro wrestling. Not to mention, Bully Ray himself is one of the trainers, along with Tommy Dreamer.
Bully Ray | Height, Weight, And Physical Appearance
The heavyweight champion weighs 127 kg (280 pounds) and stands tall at 6 feet 3 inches (1.90 meters).
Besides, LoMonaco has a muscular body, as most professional wrestlers have. And while we look at his build, we can certainly notice that the former pro wrestler has worked on his body quite well.
Bully Ray has hazel brown eyes and likes to keep his hair extremely short with noticeably neat facial hair. He has a pleasant smile, although he maintains an aggressive demeanor in the ring.
Bully Ray | Relationships, Wife, And Affairs
Bully Ray And Brooke Hogan
Although this relationship was scripted or was only a storyline for the fans, Brooke Hogan and Bully Ray tied the knot in the ring of Impact Wrestling.
Brooke Hogan is the world-renowned pro wrestler Hulk Hogan's daughter. After finding out about his daughter's relationship with Ray, Hulk suspended Ray indefinitely in 2013 until Bully saved him in a kidnapping incident.
Later, Ray proposed to his girlfriend, Brooke Hogan, and the two got married inside the wrestling ring in the presence of their family and friends.
After a short while, in one of THE Impact Wrestling episodes, Ray announced that he HAD ended the relationship with Brooke Hogan and was dating Brooke Tessmacher.
However, there are no details regarding Ray's affair with Tessmacher.
Bully Ray And Velvet Sky
Ray revealed on The Opie and Anthony Show that he was dating Jamie Lynn Szantyr, a.k.a. Velvet Sky, in real life. The couple met during their wrestling career.
Velvet Sky is also a former professional wrestler who has won numerous championship awards during her career, including the TNA Women's Knockout Championship. Moreover, she ranked No. 11 among the top 50 female wrestlers in Pro Wrestler Illustrated.
Not only that, the gorgeous Sky is currently a fitness trainer at NASM Fitness, and she also has modeling experience.
In November 2021, the WWE Hall of Famer announced his split from his longtime girlfriend and former wrestler, Velvet Sky, via Twitter.
Bully Ray | Net worth
Averagely, a pro wrestler earns $500,000 per year, while few of them take home $1 million or more.
Ray's net worth is estimated to be around $3 million.
Bully Ray earned between $500k and $1 million during his days as a pro wrestler.
Meanwhile, as a talk show host and the owner/trainer at a wrestling academy, he still earns a pretty good amount.
However, his assets' details are not available, but the heavyweight champion must undoubtedly live like a champion.
Net Worth of Bully Ray In Different Currencies
Here is the net worth of Bully Ray in different currencies, including the Euro and Pound.
Currency
Net Worth
Euro
€1

,879,140

Pound Sterling
£1

,663,080

Australian Dollar
A$2

,963,110

Canadian Dollar
C$2

,705,590

Indian Rupee
₹165

,755,000

BitCoin

฿120
Bully Ray | Social Media Presence
The WWE Hall of Famer is active on Twitter. He frequently tweets about his podcast episodes, wrestling matches, and some funny materials.
Twitter: 420k followers
MERRY CHRISTMAS!!!
🎄🎅🏼🎄🎅🏿🎄🧑🏻‍🎄🎄🧑🏿‍🎄 pic.twitter.com/Upi1Nf1eLQ

— Bully Ray (@bullyray5150) December 25, 2022
Bully Ray | Popularity
Bully gained popularity from his WWE career with his half-brother and has currently been the talk of the town after his podcast episode aired where he gets in an argument with his co-host.
The above graph shows Bully's popularity based on Google searches in the United States over a year.
Bully Ray | FAQs
Why was Bubba spelled "Buh Buh"?
Because of Bubba's unusual staged character who stuttered in ECW, Ray struggled to say Bubba and instead said, "My name is Buh-Buh-Buh" until his teammate smacked him.
Then, he would fluently say his name, Bubba Ray Dudley. Because of the stuttering, the name "Buh Buh" stuck with him for a while.
Are D-Von and Bubba real brothers?
No. They acted as half-brothers in pro wrestling, but even though they are not brothers in real life, they are close friends.
When did Bully Ray retire?
After 26 years of pro wrestling, Bully Ray retired in 2017.
Why did Bully Ray leave TNA?
Bully, left TNA after being unhappy with the current state of affairs within the company.
What happened to Bully Ray?
Bully, suffered from a concussion at an event that left him having to spend the evening in an emergency room. Even after a few weeks, he did not recover from the injury.
Is Bully on the Busted Open Podcast?
Yes, he is in the Busted Open Podcast.
What is the fan incident of Bully?
At a Ring of Honor event, Bully behaved rudely with a fan because the fan made the worse comments. Later the case went for a serious investigation.