Terry Eugene Bollea, known worldwide as Hulk Hogan, is a retired professional wrestler, musician, actor, and entrepreneur.
He is one of the most renowned faces in wrestling and is beloved by people of all ages.
Hogan became popular far and wide after he joined the World Wrestling Federation (WWF), now called WWE, and eventually became the most prominent figure in American wrestling.
Recently, he was rumored to be paralyzed after having back surgery that cut off his nerves and left him with no feeling in his lower body.
Fellow wrestler and Hulk's longtime friend Kurt Angle broke the news on his podcast on January 29, 2023, and even said that it was revealed to him by Hogan himself.
However, after a few days, on February 3, he was photographed walking with a cane and even called out the false rumor through a video message addressed to the fans.
The great Hulk Hogan is doing fine and is as energetic as he was in his prime, brother!
Before looking into his life in detail, check out quick facts about him.
Quick Facts
Full Name
Terry Eugene Bollea
Birth Date
August 11, 1953
Birth Place
Augusta, Georgia, USA
Zodiac Sign
Leo
Nick Name
Hulk Hogan, Hulkster, Hollywood Hogan, Hulk Boulder, Mr. America, The Super Destroyer, Sterling Golden
Religion
Christianity
Nationality
American
Ethnicity
Scottish, Italic & French
Father's Name
Pietro 'Peter' Bollea
Mother's Name
Ruth V. Bollea
Siblings
Alan Bollea, Kenneth Wheeler
Education

Robinson High School
Hillsborough Community College
University of South Florida

Age
69 Years Old
Updated Height
6 ft 4 in/ 1.95 m/195 cm
Weight
302 pounds/ 137 kg
Body Measurement
58-37-24 inches
Hair Colour
Blonde
Eye Colour
Light Brown
Married
Yes
Spouse

Linda Claridge (M. December 18, 1983- Div. November 20, 2007)
Jennifer McDaniel (M. December 14, 2010- Div. February 28, 2022)

Children
Brooke Hogan and Nick Hogan
Profession
Former Professional Wrestler, Singer, Actor, Entrepreneur
Net Worth
$25 million
Active Years
August 9, 1977-January 27, 2012
Social Media
Twitter, Instagram, Facebook, YouTube, Website
Merch
Signed T-Shirt, Signed Poster
Last Update
June 2023
Height, Weight, & Body Measurements
Hulk Hogan is a bulky figure in wrestling and maintains himself quite well. In fact, he is one of the big names in the industry depicting good visuals.
At present, Hogan towers at a height of 6 feet 4 inches (or 1.95 m) which was decreased after surgery, while weighing 303 pounds (or 137 kg).
His body measurements are 58-37-24 inches. To illustrate, his chest size is 58 inches (147 cm), his waist measures 37 inches (94 cm), and his biceps size is 24 inches (61 cm).
Similarly, he wears a shoe size of 12 US (47 EU or 11.5 UK). Overall, his toned body is all thanks to his hours at the gym and his maintained diet plans.
Despite his age, Hogan goes through an intense workout regularly. He has a private gym built in his home for easy accessibility.
Moreover, his diet is simply eating healthy, while he states that a nice glass of wine and a healthy amount of chocolate are big parts of his diet.
As for his physical appearance, Hogan is fair-skinned with a white-trimmed mustache.
Not to mention, his mustache is his trademark, often known as the classic horseshoe or biker mustache.
Apparently, that mustache grows along with the corners of lips, down the side of the mouth to the jawline, forming an inverted horseshoe.
However, back in 2020, Hogan shaved his beard and mustache, as he stated, and everyone started calling him Santa.
Indeed, people were baffled for a moment, but yes, they couldn't help but admire his new looks. Since then, he has again outgrown his classic mustache.
Early Life, Family, & Education
Terry Bollea was born in Augusta, Georgia, USA, on August 11, 1953, to construction worker father Pietro 'Peter' Bollea and homemaker and dance teacher Ruth V. Bollea.
His family later moved to Tampa, Florida, when he was one and a half years old. As a kid, he was interested in baseball and even played in Little League Baseball as a pitcher.
An injury ended his baseball dreams early despite attracting big-name teams like New York Yankees and Cincinnati Reds.
He began simply watching professional wrestling when he was 16 years old. "Superstar" Billy Graham piqued his interest in wrestling and became his inspiration.
Hogan was impressed with his looks and wanted to look just as fierce and "inhuman" as him.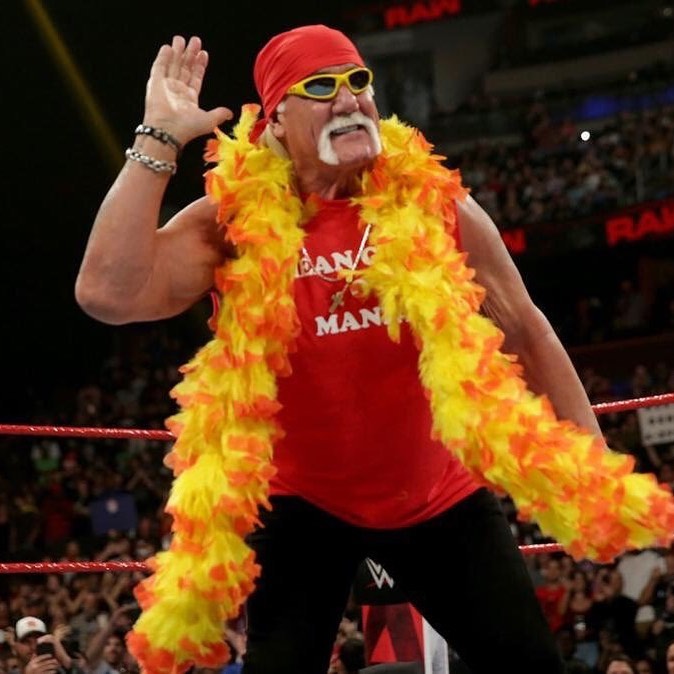 Hogan studied at Hillsborough Community College and the University of South Florida. However, he dropped out of the university to focus on his music career as he had no time to attend classes with lots of gigs on his hand.
Hogan played fretless bass guitar and later formed a musical band called 'Ruckus' with two local musicians in 1976. Their band soon became famous in the Tampa region.
During one of their performances, Hulk was seen by Jack and Gerald Brisco, brothers who wrestled.
They were quite impressed with his physique and asked Hiro Matsuda, a wrestler trainer, to train him. In 1976, the two brothers asked him to join wrestling, and Hogan eventually agreed.
Professional Career
Early Days
Hulk Hogan trained with Matsuda for more than a year before he was officially given his first match against Brian Blair in Fort Myers, Florida, on August 10, 1977.
After this, Hogan started to wrestle wearing a mask and donning the persona of "The Super Destroyer," a hooded character played by the famous wrestler Don Jardine first and many wrestlers later on.
Break from Wrestling
He eventually took a hiatus from his wrestling career as he believed that he could not work with Hiro Matsuda, his trainer, anymore because of his overbearing training regimes.
Hogan started working at a club called 'The Anchor Club' for a man called Whitey Bridges, who later became good friends with him.
They even started a new gym together called the 'Whitey and Terry Olympics Gym.'
Officially Back to Wrestling
Later, Hulk's friend Ed Leslie came to join them and help them in their business. As Leslie and he began working out in their gym together, Leslie developed a good physique.
This reminded Hulk of his wrestling days, and he convinced Leslie to join him on this journey.
After calling Billy Graham for a wrestling job outside Florida, they started their wrestling career as tag team partners in Alabama territory.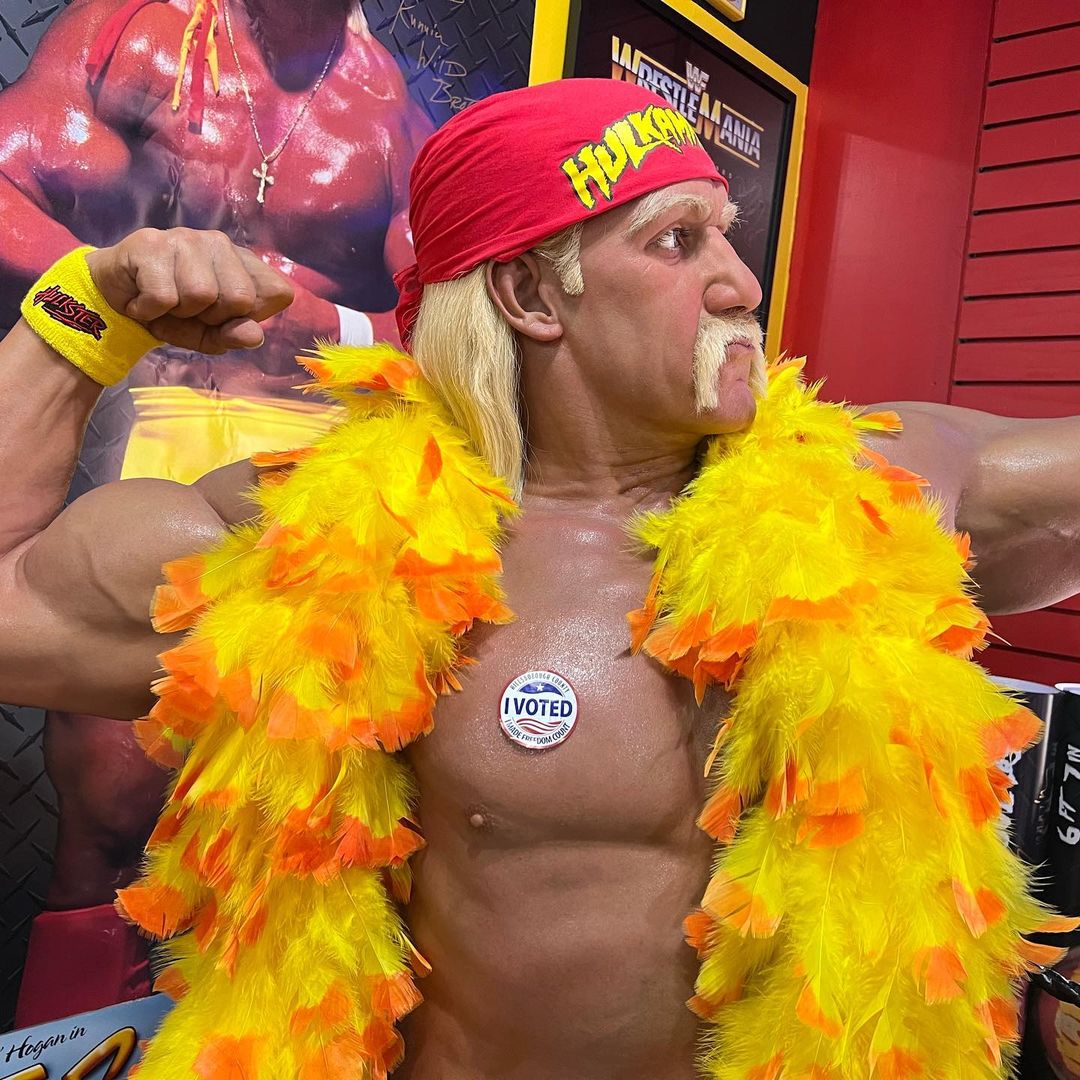 Hogan later moved to Memphis, where he even appeared in a talk show with the actor Lou Ferrigno, who starred in the television series 'The Incredible Hulk.'
Lou mentioned that the wrestler was physically larger than the Hulk, and he really liked the name.
He joined the World Wrestling Federation in 1979, where the owner/producer Vincent J. McMahon gave him the Irish name Hogan.
Hence, it became the birth of an incredible wrestling name, "Hulk Hogan." In the WWF, he continued to win matches and the heart of the viewers.
Stint In Japan And Return To WWF
Hulk also appeared in the New Japan Pro-Wrestling in the 1980s. In addition, he occasionally toured the country and fought.
Even though Hogan's wrestling style vastly differed from the Japanese style, the Japanese fans still called him "Ichiban," meaning number one.
He wrestled against many prominent Japanese wrestlers, such as Tatsumi Fujinami and Abdullah the Butcher.
Hulk Hogan was a recognizable name when he returned to the WWF again, which had been going under plans of revamping by its owner Mr. McMahon.
McMahon used Hulk Hogan as his attraction piece. His ring gear also developed to the now-classic yellow and red color scheme clothes that he teared up to flex his muscles.
In his interviews, he called his fans Hulkamaniacs and introduced his three "demandments," namely training, prayers, and vitamins. He later added believing in oneself as the fourth demand.
Hogan gained international momentum as he became the face of wrestling. McMahon pushed WWF to become a household entertainment source, amplifying the stardom of Hulk even more.
As a result, he went on to win an overwhelming number of matches, making him the best and the most loved wrestler of all time, even today.
With his popularity on the rise, he became one of the most-named celebrities in the Make-A-Wish Foundation.
In addition, he appeared on the covers of Sports Illustrated magazine, becoming the first-ever wrestler to do so.
Furthermore, Hogan appeared in numerous television talk shows and even had a cartoon character based on him.
Hulk Hogan vs. Andre, the Giant
Everyone knows about the André the Giant–Hulk Hogan rivalry, which is considered one of the greatest in professional wrestling history.
In fact, they both gave hardcore performances throughout their journey.
The rivalry took place for the World Wrestling Federation (WWF, now WWE). Glancing back, the two first met in the ring in 1980, when Andre was the face and Hogan was the heel.
They fought 16 times that year, resulting in numerous victories for Andre. In 1981, Hogan left WWF, and they had a tenure as friends till 1986.
During the friendship era, they appeared in many notable fights as a team. However, their feud continued to grow in the following years, which eventually led them to accuse each other and end their friendship.
All in all, Hogan body-slammed Andre and won the WWF World Heavyweight Championship at WrestleMania III in 1987.
Following it, they had many main events amidst their smaller fights. Apparently, they met again for the WWF World Heavyweight Championship (Andre vs. Hogan II), which Andre won.
After that, they fought on WrestleMania IV in 1988 and later meet-up in 1990 before WrestleMania VI.
Awards & Accolades
Hogan has numerous awards for his name as he has been a prominent figure in wrestling since the 1970s.
His acting, singing, video games, and radio career have also given him numerous awards and achievements.
Some of them are listed below:
3-time winner in New Japanese Pro-Wrestling
Professional Wrestling Hall of Fame and Museum (2003)
Ranked No. 1 among 500 singles wrestlers of the PWI Years in 2003
Southeastern Heavyweight Championship (3 times)
WCW World Heavyweight Championship (6 times)
Best Foreigner Awards in Tokyo Sports (1983)
12-time World Wrestling Federation/World Wrestling Entertainment Champions
1998 Kids Choice Awards
2006 Teen Choice Awards
International Professional Wrestling Hall of Fame (2021)
Catchphrases
We can't deny that Hulk Hogan used to be one of the driving factors in the wrestling arena. Indeed, he bought evolution and, yet, more entertainment to his games and matches.
Hogan is iconic, not to mention his entrance song, "Real American." This song marks his territory, and everyone gets into the groove.
As a matter of fact, this was sung by an American guitarist, vocalist, producer, and songwriter, Ricky Dean Zehringer.
Before this song, Hulk Hogan used to have an album for his entrance and started using this in 1985.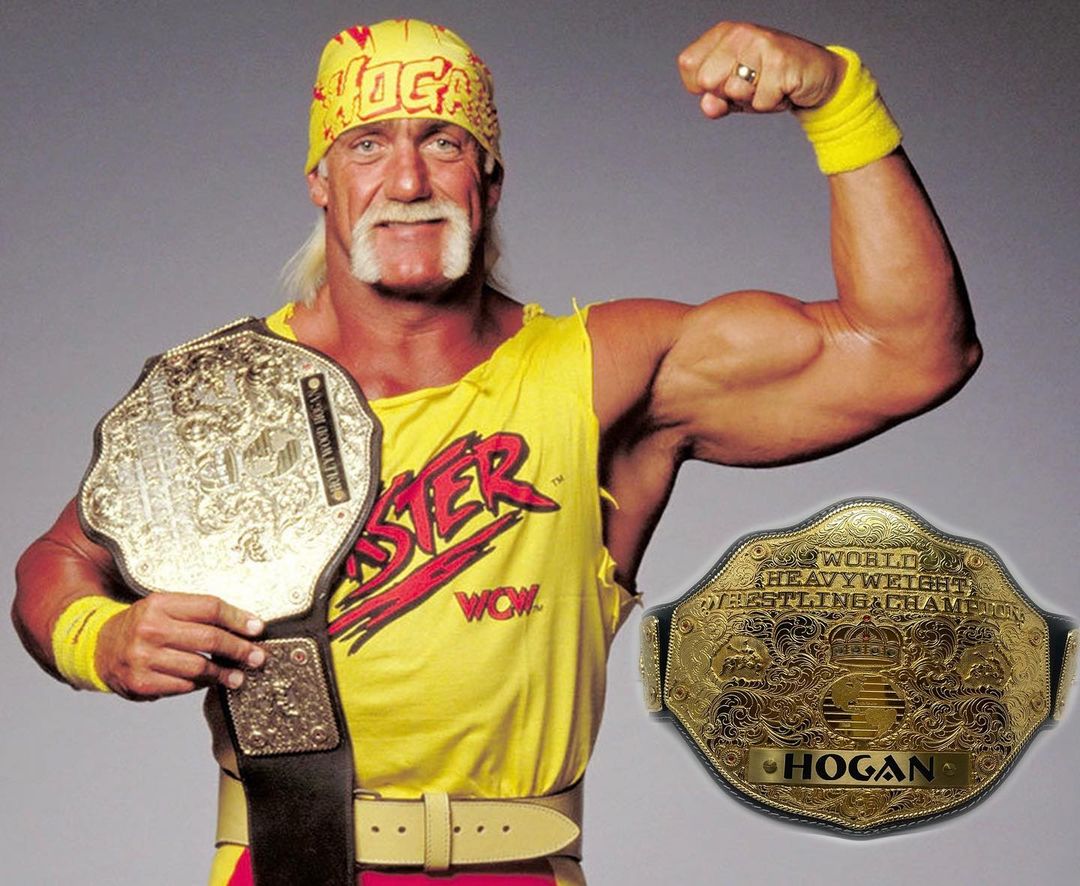 How can we forget his word, Hulkamania? Hulkamaniacs simply indicates to the people who were his fans.
Besides, Hogan has his own font designed by Jayde Garrow, which is simply named 'Hulkamania Font.' Apparently, this font is available in capital letters with limited punctuation marks.
Moreover, we can't get enough of his signature leg drop, which is the finishing move in his match. His move was the most dominating finisher to hit the wrestling world back in the day.
Everyone who used to watch him does know the common words and phrases he used frequently.
Catchphrases, to be exact! But, having said it, even most of us have practiced getting used to those phrases and impersonating him.
Anyways, bringing back those memories, here are some of his famous catchphrases to devour.
"Whatcha Gonna Do When Hulkamania Runs Wild on You?"
"You better eat your vitamins and say your prayers!!! "
"So, let me ask you something, brother!!!!"
Quotes
Alongside his phrases, you can give a quick catch to his inspiring quotes below to make your day.
"To all my little Hulkamaniacs, say your prayers, take your vitamins, and you will never go wrong."
"I woke up and realized life is great, and people are awesome, and life is worth living."
"Negativity and Hulkamania – 2 things that don't go together."
"I've always felt from everyone I talk to that the fans feel like I'm tangible, and they can talk to me, and they know me."
Business Ventures, Endorsements, & Net worth
Hulk Hogan has had an eventful business life as well. He opened a restaurant called Pastamania, which remained in operation for less than a year.
Similarly, he also has another restaurant called Hogan's Beach in the Tampa area. He later opened Hogan's Hangout in Clearwater Beach.
He partnered with Socko Energy to create Hulk Drinks. In addition, he has endorsed blenders and grills, along with microwavable hamburgers, cheeseburgers, and sandwiches sold at Walmart.
Hulk has been a part of multiple commercials for many companies like Rent-A-Center, made appearances on American Idol, and even launched various games based on himself.
He is estimated to have a net worth of approximately $25 million as of June 2023.
Acting Career
Hogan also had a pretty impressive acting career. Over the years, he has been seen in numerous television series and movies.
He appeared as Thunderclips in 'Rocky III' in 1982 and 'No Holds Barred' in 1989.
After that, he acted in family movies such as 'Suburban Commando' (1991), 'Mr. Nanny' (19930, 'Santa with Muscles' (1996), and '3 Ninjas: High Noon At Mega Mountain' (1998).
Apart from movies, Hulk also appeared in a handful of TV shows and commercials. His popular commercial was for Right Deoderant in 1992. He appeared in his own TV show, 'Thunder in Paradise,' in 1994.
Hogan played the role of Cutter in the action movie 'The Ultimate Weapon' in 1997.
'Shadow Warriors: Assault on the Devil's Island' and 'Shadow Warriors: Hunt for the Death Merchant' are other of his movies where he shared the screen with Carl Weathers and Shannon Tweed.
Recently, Hogan has become a busy voice actor, lending his voice to many cartoon characters like 'Robot Chicken,' 'American Dad' and the Adult Swim series 'China, IL.'
Reality Television & Hosting
He starred in 'Hogan Knows Best' as himself in 2005, which aired on VH1. The show focused on him and his family's life, including his then-wife Linda and their children, Brooke and Nick.
He hosted the comeback series of 'American Gladiators' on NBC in 2008. Hulk also judged 'Hulk Hogan's Celebrity Championship Wrestling,' which was short-lived.
Moreover, he judged the sixth season of 'Tough Enough' alongside Paige and Daniel Bryan in 2015 but was shortly replaced.
Music, Radio, & Video Games
On July 11, 1995, Hulk Hogan released his first album 'Hulk Rues,' with the Wrestling Boot Band.
He also sang 'I'm the Leader of the Gang,' a duet with Green Jelly in July 1973 that reached the UK Singles chart.
Hulk had cameos in several music videos, including Dolly Parton's self-titled show; he also appeared in her wrestling-themed love song 'Headlock on my Heart.'
Similarly, he was a regular guest on the 'Bubba the Love Sponge' radio show and his own radio show called 'Hogan Uncensored.'
Hogan has lent his voice and images to many video games, namely 'Saint Row: The Third,' 'Hulk Hogan's Main Event,' and 'This is the Police.'
Net Worth of Hulk Hogan in Different Currencies
Below is the net worth of Hulk Hogan in different currencies, including the Euro and Bitcoin.
Currency
Net Worth
Euro
€

23,335,000

Pound Sterling
£

20,658,750

Australian Dollar
A$

36,168,125

Canadian Dollar
C$

33,432,750

Indian Rupee
₹

2,071,575,000

BitCoin
฿

1128.68
Personal Life & Health
Reigion & Politics
Hulk Hogan is quite a religious man and has stated that he has been a devout Christian since he was fourteen years old.
Additionally, he is a big fan of Joel Osteen, a televangelist and minister at the country's largest mega-church.
He is a massive believer and often credits it for keeping him in a good place. However, when it comes to his political beliefs, Hogan is not interested.
Apparently, he believes they do not deliver their promises no matter who he votes for. Back in 2012, Hogan used to be an avid Romney supporter and had even voted for Obama.
However, later he questioned why he even voted for Obama in the first place, thus, showing his dissatisfaction with fiscal policy.
Wife & Relationships
On December 18, 1983, he married Linda Claridge; they had two children, a daughter named Brooke Hogan and a son named Nick Hogan.
In November 2007, Linda filed for divorce after Christiane Plante claimed that she had an affair with Hulk. He has written about this in his autobiography, where he denied ever cheating on her.
In 2012, a s*x tape of Hulk Hogan and Heather Clem was released online. Heather was the wife of the radio personality Bubba the Love Sponge.
Hogan labeled it as a mistake he made when he was with some friends, and he deeply regretted it. He even filed a lawsuit against them, claiming an invasion of his privacy.
In 2010, he again became a married man after his wedding to Jennifer McDaniel in Clearwater, Florida. Unfortunately, on February 28, 2022, he announced their divorce on Twitter.
Being a top entertainer, he has been the subject of various controversies and also has fallen prey to numerous lawsuits throughout the course of his career.
Richard Belzer's Lawsuit, Gawker's lawsuit, and Testimony in MaMahon Trial are some of his popular cases. Furthermore, he also filed a lawsuit against Laser Spine Institute for mal-practice.
Racist Restaurant
As we all know, Hulk Hogan has his own eatery, Hogan's Beach, in Tampa, Florida. Apparently, he manages and runs it and even decides the rules.
His one video got viral during one such tenure, which immediately caught him in controversy.
All in all, he was caught saying an n-word while making his dress codes as no low-hanging pants or shorts, no hats, caps, or visors worn sideways, and no oversized or excessive jewelry.
Right then, critics and people hit hard on him, and he was quick to make an apology. As he was criticized, Hogan backed off and admitted his mistakes.
"It was unacceptable for me to have used that offensive language; there is no excuse for it, and I apologize for having done it. This is not who I am. I am disappointed with myself that I used language that is offensive and inconsistent with my own beliefs."
-Hulk Hogan
Health
Hulk hasn't had the soundest health as he suffered from numerous health problems, particularly with his back, when he retired from professional wrestling.
This might have been the result of years and years of heavyweight training and jolting as a wrestler.
Back in 2020, he had 10-hour long spinal fusion surgery that mainly focused on restructuring and rebuilding his spine.
Likewise, he has done a total of 10 back surgeries in his life and was rumored to have his 11th, which was later disproved.
Regardless, he does whatever he can to bring awareness to a healthy lifestyle. In 2014, he was part of a breast cancer awareness program at the AT&T Center during WWE's Monday Night Raw.
An eccentric personality, Terry Bollea, aka Hulk Hogan, has had an eventful career with his ups and downs, but he is still just as charming and active in his life and work.
His life story will be shown through his biopic starring Chris Hemsworth and directed by Todd Phillips, which was announced on Feb 20, 2019.
The exact date of the release of the biopic has not been revealed.
Social Media Presence
The wrestler is active on social media, showcasing his private life on the internet.
In addition, Hogan shares his work and promotes his old and new businesses on social media.
View this post on Instagram
He has accumulated millions of followers on social media, which are listed below:
Facebook: 7.6 Million Followers
Twitter: 2.2 Million Followers
Instagram: 1.8 Million Followers
YouTube: 15.1K Suscribers
Popularity Graph
Hulk Hogan is a renowned figure in the entertainment business. Hence, he is searched by a number of fans and admirers from around the world.
The above data illustrates the search trends of Hulk Hogan within 12 months.
Frequently Asked Questions (FAQS)
When did Hulk Hogan join NWO?
Hulk Hogan joined the New World Order (NWO) on July 7, 1996.
When did Hulk Hogan have his debut match?
Hulk Hogan made his professional debut in the industry on August 10, 1977.
Does Hulk Hogan have a beach shop?
Yes, he owns a beach shop in the middle of Clearwater Beach's tourist district.
Where is Hulk Hogan's house?
Hogan currently resides at 1040 Eldorado Ave in Clearwater after selling his massive Belleair Manor for $6.2 million.
What were Hulk Hogan and Ultimate Warrior's tag team name?
They didn't have a tag team name and were simply called 'The Ultimate Warrior and Hulk Hogan.'